As a payroll representative, you play a crucial role in any business. Employers rely on you to make sure their employees get paid correctly and on time. It is important to have a well-crafted resume that highlights your qualifications, skills, and experience. This guide will provide you with tips and examples on how to create an effective resume that will help you stand out from the rest of the applicants.
If you didn't find what you were looking for, be sure to check out our complete library of resume examples.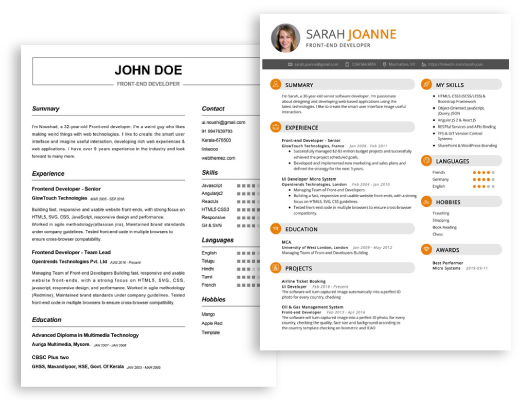 Start building your dream career today!
Create your professional resume in just 5 minutes with our easy-to-use resume builder!
Payroll Representative Resume Examples
John Doe
Payroll Representative
123 Main Street | Anytown, USA 99999 | Phone: (123) 456-7890 | Email: john.doe@email.com
I am a Payroll Representative with over 5 years of experience in the finance industry. I have a comprehensive understanding of payroll systems and processes, as well as strong communication and interpersonal skills. My experience covers the entire payroll cycle, from processing new hires and terminations, to processing deductions and payments, to filing taxes. I am confident that I can provide a superior level of support and service in any payroll setting.
Core Skills:
Payroll system experience
Knowledge of payroll laws and guidelines
Interpersonal and communication skills
Attention to detail
Proficient in Microsoft Office
Professional Experience:
Payroll Representative, ABC Company, December 2015 – Present
Process and submit accurate payroll records within the designated deadlines
Ensure compliance with payroll laws and regulations
Facilitate new hire and termination procedures
Process deductions and payments for benefits, taxes, and other payroll related transactions
Prepare and submit reports to financial departments
Maintain payroll records and provide support to management and staff
Payroll Assistant, XYZ Company, March 2012 – December 2015
Processed payroll data and prepared required reports
Verified and updated employee records
Ensured accuracy of payroll related taxes and deductions
Assisted in the resolution of payroll discrepancies
Assisted in the preparation of payroll budgets and forecasts
Education:
Bachelor's Degree in Business Administration, ABC University, 2010 – 2012
Payroll Representative Resume with No Experience
Resourceful Payroll Representative with over two years of experience in managing payroll, benefit, and tax administration for a large- scale organization. Energetic and organized with excellent decision- making skills and the ability to work independently or collaboratively to meet deadlines.
Core Skills
Hands- on experience with payroll processing
Proven ability to manage benefit and tax administration
Skilled in Microsoft Office Suite, ADP, and HR systems
Ability to maintain a high level of confidentiality
Excellent communication and interpersonal skills
Responsibilities
Processed payroll for over 500 employees each pay cycle
Ensured compliance with all local, state and federal payroll regulations
Managed all payroll- related tax filings and payments
Administered employee benefits, taxes and deductions
Processed payments for employee paychecks, direct deposits, and bonuses
Provided customer service to employees in responding to questions about payroll, benefits, and deductions
Payroll Representative Resume with 2 Years of Experience
Dynamic Payroll Representative with 2+ years of professional experience in the finance industry. Proven track record in accurately managing the payroll process with a keen eye for detail. Possesses excellent organizational, communication, and problem- solving skills needed to create a successful payroll system.
Core Skills:
Knowledge of payroll regulations, policies, and procedures
Proficient in payroll software, such as ADP, Sage, and BrightPay
Understanding of payroll tax laws and government compliance
Excellent interpersonal and customer service skills
Strong analytical and problem- solving abilities
Experienced in managing multiple projects simultaneously
Computer proficient, including Microsoft Office Suite
Responsibilities:
Process payroll for multiple entities in a timely manner
Ensure accuracy of all payroll information and maintain confidentiality
Manage payroll deductions and ensure compliance with relevant laws
Calculate, review, and issue employee paychecks and/or direct deposits
Track and reconcile payroll data on a daily basis
Research and resolve payroll discrepancies
Prepare and submit payroll- related reports to management
Respond to employee inquiries pertaining to payroll issues and policies
Payroll Representative Resume with 5 Years of Experience
A highly talented and experienced Payroll Representative with a comprehensive background in providing customer service and managing payroll for a variety of organizations. Adept at troubleshooting payroll issues, handling employee benefits inquiries and providing detailed payroll reports. Possess a strong ability to operate a wide variety of payroll software. Has excellent organizational, analytical and problem- solving skills.
Core Skills:
Strong customer service skills
Ability to handle payroll inquiries
Proficient with payroll software
Excellent organizational and problem- solving skills
Ability to perform detailed payroll reports
Excellent communication and interpersonal skills
Familiarity with payroll laws and regulations
Responsibilities:
Responding to employee inquiries and resolving their issues
Verifying accuracy of payroll documents and employee records
Managing payroll by calculating pay and deductions
Preparing payroll reports to track attendance, work hours and overtime
Ensuring compliance with federal and state payroll regulations
Managing payroll taxes and deductions for benefits and other deductions
Reviewing and processing payroll transactions accurately
Maintaining payroll records and files
Assisting with processing of new hires and terminations
Completing and filing payroll tax forms
Payroll Representative Resume with 7 Years of Experience
Highly organized and detail- oriented Payroll Representative with 7 years of experience in payroll processing and management. Experienced in navigating payroll systems, payroll regulations, and employee inquiries. Possesses excellent problem- solving and customer service skills. Dedicated to providing accurate payroll services in a timely manner.
Core Skills:
Payroll Processing
Employee Benefits Administration
Employee Records Maintenance
Payroll Regulations
Customer Service
Problem Solving
Analytical Thinking
Microsoft Office Suite
Responsibilities:
Managed payroll processing for over 500 employees in multiple countries
Ensured accurate processing and maintenance of employee records
Handled employee inquiries and provided assistance with payroll issues
Researched and resolved discrepancies and errors in payroll files
Monitored changes in payroll laws, regulations, and standards
Administered employee benefits and deductions
Generated payroll reports and financial statements
Maintained payroll databases and records
Developed policies and procedures for payroll management.
Payroll Representative Resume with 10 Years of Experience
Dynamic and dedicated Payroll Representative with 10 years of experience in financial accounting, payroll processing, and payroll administration. Experienced in determining, calculating, and recording payroll information, as well as handling and processing employee benefits. Demonstrated ability to effectively and accurately manage sensitive payroll accounts and information.
Core Skills:
Proficient in payroll processing, employee benefits and financial accounting
Strong administrative, organizational and problem- solving skills
Excellent communication and interpersonal skills
Proficient in computers and Microsoft Office Suite
Strong customer service orientation
Ability to multi- task in a fast- paced environment
Responsibilities:
Processed payroll for up to 500 employees, ensuring accuracy and timeliness
Maintained employee payroll and benefit records in compliance with government regulations
Updated payroll information and pay changes in payroll system
Resolved payroll discrepancies, payroll deductions, and other employee inquiries
Performed monthly, quarterly and year- end reconciliations, as well as audits
Provided support to Human Resources in the areas of payroll, employee benefits and compensation
Processed new hire, termination, and other personnel action forms
Prepared, evaluated and processed employee time sheets, records, and earning statements
Provided support with employee taxes and garnishments, and prepared quarterly and year- end tax forms
Assisted with the implementation of new payroll systems and processes
Payroll Representative Resume with 15 Years of Experience
I am an experienced Payroll Representative with 15 years of hands- on experience in every aspect of payroll operations. My roles have included processing employee payroll, managing payroll systems, and providing support for payroll- related inquiries. I have gained in- depth knowledge of payroll regulations, laws, and best practices, as well as the ability to provide accurate and timely payroll calculations. My passion for payroll is demonstrated through proactive problem- solving, excellent customer service, and a desire to stay up to date with the latest advances in payroll processing. My skill set also encompasses various software and databases, as well as strong organizational and communication skills.
Core Skills:
Process payroll for large organizations
Knowledge of payroll regulations and laws
Familiarity with payroll systems and software
Excellent customer service
Outstanding organizational skills
Proven problem- solving abilities
Excellent communication skills
Responsibilities:
Process payroll for all employees in accordance with applicable laws, regulations, and organizational policies
Maintain payroll records and ensure accuracy of data entered
Prepare and issue payroll checks and/or direct deposits
Provide payroll- related support to employees
Respond to inquiries regarding payroll calculations and deductions
Process and reconcile employee deductions
Coordinate with other departments and vendors to resolve payroll discrepancies
Develop and implement processes to ensure timely and accurate payroll processing
Prepare budget reports, audit reports, and other reports related to payroll operations
In addition to this, be sure to check out our resume templates, resume formats, cover letter examples, job description, and career advice pages for more helpful tips and advice.
What should be included in a Payroll Representative resume?
A Payroll Representative is responsible for processing payroll and ensuring that employees get paid accurately and on time. An effective Payroll Representative resume should highlight these skills and qualifications:
Proven experience in payroll processing, preferably in a similar role.
Knowledge of payroll laws, regulations, and best practices.
Strong organizational skills to manage multiple tasks and prioritize workload.
Excellent interpersonal and communication skills, both written and verbal.
Proficient in the use of payroll and accounting software.
Ability to analyze data, interpret and reconcile payroll documents.
Excellent problem-solving and decision-making abilities.
Ability to work independently and as part of a team.
Ability to maintain confidentiality of sensitive payroll information.
Bachelor's degree in accounting or finance preferred.
What is a good summary for a Payroll Representative resume?
A Payroll Representative is responsible for ensuring that all employees are paid accurately and in a timely fashion. They are responsible for maintaining employee payroll records, preparing payroll reports and tax forms, and responding to payroll inquiries. A good Payroll Representative resume should highlight a candidate's knowledge of payroll procedures, customer service skills, and ability to manage complex payroll systems. It should also include any relevant experience and qualifications, such as any certifications or degrees in accounting, finance or business. Additionally, a good Payroll Representative resume should demonstrate the candidate's knowledge of current payroll legislation, their proficiency with payroll software, and their clear understanding of the company's payroll policies.
What is a good objective for a Payroll Representative resume?
A Payroll Representative is a key member of the finance team who is responsible for processing payroll and managing employee compensation. If you're applying for a position in this role, your resume should reflect your commitment to accurate, compliant payroll practices and your ability to work with both people and systems. Here are some examples of good objectives for a Payroll Representative resume:
To utilize my knowledge of payroll processing and accounting to ensure accurate and timely payroll processing in a compliant manner.
To work collaboratively with finance, HR, and other departments to ensure that payroll is processed accurately and efficiently.
To utilize my experience in payroll systems and data entry to accurately enter wage and hour information into the payroll system.
To be a reliable and responsible payroll representative who can handle confidential information with the utmost discretion.
To provide employees with accurate and timely payment information, resolving any discrepancies quickly and efficiently.
To use my organizational skills to maintain accurate payroll records, ensuring compliance with all relevant laws and regulations.
How do you list Payroll Representative skills on a resume?
Payroll representatives are responsible for providing support to employers and employees with payroll processing, handling taxes, and other related duties. When crafting a resume for a payroll representative, it is important to highlight the skills necessary to excel in the role. Here is a list of essential payroll representative skills to include on your resume:
Proficiency with Payroll Software: Payroll representatives must be able to work with payroll processing software to process salaries and benefits.
Calculation Skills: Payroll representatives must be able to accurately calculate wages and deductions.
Time Management: Payroll representatives are often responsible for meeting tight deadlines. It is important to demonstrate the ability to manage time efficiently.
Organization: Payroll representatives must keep track of large amounts of data such as taxes and deductions. They must be able to remain organized and have excellent data entry skills.
Communication: Payroll representatives must possess excellent communication skills in order to effectively interact with employers and employees.
Attention to Detail: Payroll representatives must be detail-oriented and have a high level of accuracy when processing payroll.
Problem Solving: Payroll representatives must have the ability to troubleshoot and resolve issues quickly and effectively.
By including these essential payroll representative skills on your resume, you will be able to demonstrate to potential employers that you are the right fit for the job.
What skills should I put on my resume for Payroll Representative?
Having a resume that properly showcases the skills necessary to be a successful Payroll Representative is key to landing a job in this field. When putting together your resume, consider including the following skills:
Experience: Demonstrate your knowledge in the field by including any prior experience you have in payroll. Include any relevant work history that showcases how you used your skills to manage payroll operations.
Attention to Detail: Payroll Representatives must pay close attention to detail and have a strong understanding of payroll principles. Make sure to include any courses or certifications you have that demonstrate your knowledge of these principles.
Problem Solving: Payroll Representatives must have the ability to analyze data and resolve any payroll issues. Be sure to list any problem-solving skills you may have, such as analyzing trends, developing solutions, and creating reports.
Organizational Skills: Payroll Representatives must be able to organize payroll data, so be sure to include any relevant organizational skills such as filing, data entry, and managing databases.
Communication: Employers look for candidates with strong interpersonal skills. Make sure to list any experience you have in dealing with customers or clients, as well as any other communication skills that could be beneficial in this role.
By including these skills on your resume, you can show potential employers that you possess the necessary skills to be an effective Payroll Representative.
Key takeaways for an Payroll Representative resume
For a Payroll Representative, the resume should clearly demonstrate the ability to process payrolls with accuracy and efficiency. It should also showcase the ability to handle complex payroll issues and to maintain payroll records. Additionally, the resume should highlight a candidate's knowledge of taxation, payroll compliance, and industry standards.
Below are some key takeaways for a Payroll Representative resume:
Demonstrate proficiency in payroll processing software, payroll tax filing software, and payroll management systems.
Highlight experience with filing payroll taxes and other payroll-related reporting requirements.
Demonstrate understanding of payroll procedures, taxation, and compliance regulations.
Showcase ability to answer questions, resolve payroll issues, and maintain complete and accurate records.
Detail any experience working with management or other team members to ensure timely and accurate payroll.
Demonstrate competence with accounting principles and payroll reconciliations.
Detail experience with employee benefits such as 401K, vacation and sick leave, and other payroll deductions.
By showcasing these key takeaways on a Payroll Representative resume, a candidate can demonstrate the capability to handle complex payroll tasks and regulations with accuracy and efficiency.
Let us help you build
your Resume!
Make your resume more organized and attractive with our Resume Builder