The payroll processor role is a critical and necessary part of any organization. As a payroll processor, your job is to process payroll for employees accurately and timely, as well as stay abreast of changing laws and regulations regarding payroll. As such, the resume you create to market yourself for this role must clearly demonstrate your qualifications, skills, and experience within the field. This guide will provide you with the tips and examples you need to create an effective and compelling resume for a payroll processor position.
If you didn't find what you were looking for, be sure to check out our complete library of resume examples.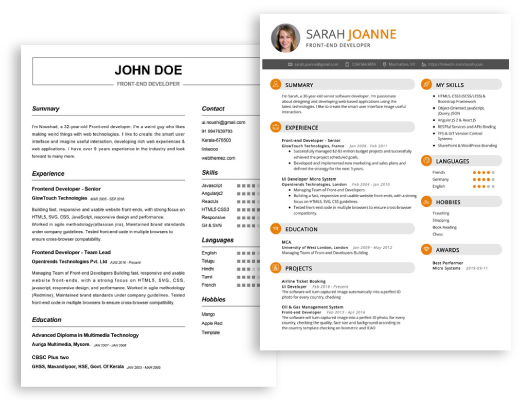 Start building your dream career today!
Create your professional resume in just 5 minutes with our easy-to-use resume builder!
Payroll Processor Resume Examples
John Doe
Payroll Processor
123 Main Street | Anytown, USA 99999 | Phone: (123) 456-7890 | Email: john.doe@email.com
Motivated payroll processor with 10+ years' experience in payroll administration, management, and reconciliation. Skilled in researching and resolving discrepancies, as well as dedicated to accurate and timely payroll processing with a commitment to providing exceptional customer service. Adept at drafting payroll policies, coordinating with multiple stakeholders, and staying up to date with the ever- changing payroll laws and regulations.
Core Skills:
Payroll Administration
Reconciliation
Time and Attendance
Customer Service
Tax Reporting
Benefit Administration
Payroll Analysis
Regulatory Compliance
Process Improvement
Professional Experience:
Senior Payroll Processor, ABC Company, 2020 – Present
Responsible for processing payroll for over 500 employees
Handle end- to- end payroll processing, from data entry to payroll checks and direct deposits
Reconcile payroll data and generate payment reports
Ensure compliance with relevant laws and regulations
Research and resolve discrepancies between payroll records and employee records
Create and implement payroll policies and procedures
Payroll Processor, XYZ Company, 2015 – 2020
Processed payroll for over 3,000 employees
Ensured accuracy and timeliness of payroll processing
Calculated and recorded payroll taxes and deductions
Updated payroll records and employee files
Developed and maintained effective relationships with employees and other stakeholders
Education:
Bachelor of Science in Accounting, University of XYZ, 2011
Certified Payroll Professional, American Payroll Association, 2017
Payroll Processor Resume with No Experience
Recent college graduate with strong communication and organizational skills looking for first job in payroll processing.
Proficient in Microsoft Office Suite and QuickBooks with the ability to learn new software quickly.
Motivated to gain valuable work experience in payroll processing while providing excellent service to customers.
Core Skills
Excellent communication skills
Strong organizational and administrative abilities
Proficient in Microsoft Office Suite and QuickBooks
Strong problem- solving skills
Ability to prioritize tasks and work under tight deadlines
Responsibilities
Verifying and entering employee payroll data into company's payroll system
Ensuring accuracy of payroll information before submitting for processing
Assisting with preparing and distributing payroll reports
Reconciling and balancing payroll accounts
Resolving payroll issues and inquiries in a timely manner
Filing and maintaining payroll documents
Payroll Processor Resume with 2 Years of Experience
Motivated and detail- oriented Payroll Processor with 2 years of experience in processing multiple client payrolls. Adept at maintaining accurate records, ensuring timely payments and providing superior customer service. Skilled in using payroll software and programs to ensure accuracy and compliance with regulatory agencies. Looking to leverage my skills and expertise to help streamline payroll processes and ensure accurate reporting.
Core Skills:
Payroll Processing
Data Entry
Compliance
Customer Service
Computer Proficiency
Detail Oriented
Problem Solving
Responsibilities:
Processed weekly, bi- weekly and monthly payrolls for multiple businesses
Ensured accuracy of payroll data by verifying and validating employee information
Calculated wages and total taxes owed for all employees
Maintained accurate payroll records for all employees
Provided excellent customer service to clients by responding to questions and resolving issues
Produced and maintained reports on payroll discrepancies and errors
Ensured compliance with state and federal regulations, including labor laws
Payroll Processor Resume with 5 Years of Experience
Results- driven Payroll Processor with 5 years of experience managing payrolls for large corporations. Proven ability to accurately calculate employee wages, deductions, bonuses and commissions. Possesses excellent organizational and communication skills and a thorough understanding of payroll regulations. Dedicated to ensuring staff members are paid on time and in accordance with company policies.
Core Skills:
Payroll Processing
Tax withholding
Data entry
Record keeping
Confidentiality
Team collaboration
Problem solving
Responsibilities:
Processed payroll for a large company of 500 employees
Entered accurate employee earnings, hours worked, reimbursements, deductions and bonuses
Calculated and distributed wages, commissions and bonuses
Prepared and managed tax withholdings in accordance with IRS regulations
Generated employee payroll reports and provided detailed summaries to department managers
Reconciled payroll records to ensure accuracy
Tracked employee attendance and PTO
Maintained employee files in accordance with state and federal privacy regulations
Payroll Processor Resume with 7 Years of Experience
Accomplished, results- driven payroll processor with extensive experience in payroll administration. Proven ability to accurately process and manage payroll for small to large- scale organizations using advanced payroll processing systems. Adept in understanding applicable payroll laws, ensuring compliance with all applicable regulations, and working with high- level executive and administrative staff. Excellent communicator, with a demonstrated commitment to achieving customer satisfaction.
Core Skills:
Timely payroll processing
Advanced payroll systems experience
Expertise in payroll laws and compliance
Problem- solving and organizational skills
Strong communication and customer service
Proficient in MS Office Suite
Adaptable to changes regarding payroll
Responsibilities:
Processed bi- weekly, semi- monthly, and monthly payrolls for a large- scale organization
Administered direct deposit of employee wages and salary payments
Reviewed payroll changes, including new hires and terminations
Ensured accuracy of payroll by verifying employee time and attendance records
Handled tax filing, such as payroll taxes and garnishments
Responded to employee's inquiries regarding payroll deductions and salary payments
Verified accuracy of payroll data entry into the system
Collaborated with HR staff to ensure accuracy of employee- related transactions
Payroll Processor Resume with 10 Years of Experience
Dependable and detail- oriented Payroll Processor with 10+ years of experience in payroll processing, compliance, and reporting. Demonstrated ability to accurately maintain and reconcile payroll records and to process multi- state payrolls. Experienced in payroll system setup, testing and documentation. Adept at working with tight deadlines and managing multiple projects simultaneously.
Core Skills:
Payroll Processing
Payroll Reporting
Compliance
Payroll Reconciliation
Multi- State Payrolls
Payroll System Setup
Testing and Documentation
Deadline Management
Project Management
Responsibilities:
Processed bi- weekly payrolls for up to 500 employees
Reviewed and processed new hire paperwork and updated employee payroll records
Administered all garnishments, wage attachments, disability and other payroll deductions
Monitored and enforced compliance with all applicable wage and labor laws
Reconciled payroll discrepancies and discrepancies between payroll and general ledger
Compiled, prepared and submitted payroll and tax reports
Analyzed, tested and documented payroll system functionality, made adjustments as needed
Maintained confidentiality of all payroll reports and records
Resolved employee inquiries in a timely and courteous manner
Payroll Processor Resume with 15 Years of Experience
Having 15 years of experience as a Payroll Processor, I possess a solid background in all aspects of payroll processing, resolving payroll issues, and troubleshooting discrepancies. I am well- versed in auditing and maintaining payroll records, as well as supporting payroll- related activities. I am a detail- oriented professional with the ability to work with accuracy, dedication, and speed. Additionally, I am experienced in utilizing various payroll systems and software.
Core Skills:
Payroll Processing
Problem- Solving
Auditing and Maintaining Records
Supporting Payroll- Related Activities
Utilizing Payroll Systems and Software
Data Entry and Analysis
Accurate and Timely Processing
Administrative Support
Excellent Communication Skills
Responsibilities:
Generating and distributing payroll checks
Ensuring all earnings and deductions are accurately calculated
Correcting payroll errors and discrepancies
Auditing and performing calculations for bonuses, commissions, and other compensation
Maintaining accurate payroll records and filing reports in a timely fashion
Responding to employee inquiries and resolving payroll- related issues
Establishing and maintaining positive relationships with employees
Reconciling and verifying payroll data in various systems
Processing payroll- related documents and other administrative duties
Assisting with the preparation of payroll reports for management
Assisting in the development and implementation of payroll processes and procedures.
In addition to this, be sure to check out our resume templates, resume formats, cover letter examples, job description, and career advice pages for more helpful tips and advice.
What should be included in a Payroll Processor resume?
A payroll processor is an essential member of any team, taking responsibility for both processing payroll and managing the financial aspect of employee compensation. To stand out when applying for a payroll processor job, the resume needs to reflect a well-rounded set of skills and demonstrate an understanding of the payroll process.
To ensure a successful job application, here are some must-have items to include in a payroll processor resume:
Extensive knowledge of payroll processing and accounting principles
Familiarity with payroll software (e.g. ADP, QuickBooks, etc.)
Ability to analyze data and identify discrepancies
Excellent organizational and time-management skills
Strong attention to detail
Thorough understanding of payroll laws and regulations
Proficiency with MS Office suite
Experience handling confidential employee records
Good communication and interpersonal skills
Ability to work independently and as part of a team
Excellent problem-solving skills
What is a good summary for a Payroll Processor resume?
A good summary for a Payroll Processor resume should highlight the applicant's knowledge of payroll regulations, their efficiency in running payroll processes and their experience in processing payrolls for multiple organizations. The summary should emphasize the candidate's ability to accurately process payrolls on multiple platforms, their ability to stay current on the latest payroll regulations and their commitment to accuracy and confidentiality. Additionally, the summary should include the candidate's experience working with different payroll systems and softwares, their ability to manage payroll inquiries in a timely manner and their enthusiasm for working as part of a team.
What is a good objective for a Payroll Processor resume?
A payroll processor is responsible for accurately processing payrolls for businesses. They must be detail-oriented and organized to ensure accuracy and timeliness. When creating a resume, it is important to have a strong objective that outlines the skills and qualifications that make you the best candidate for the job.
A good objective for a payroll processor resume should highlight your skills and abilities related to payroll processing, as well as any experience you may have in the field. Here are some examples of objectives for a payroll processor resume:
To use my advanced knowledge of payroll processing, accounting principles, and data entry to ensure accurate and timely payrolls
Seeking a position as a payroll processor to utilize my experience in payroll processing, bookkeeping, and data analysis
Experienced payroll processor looking to contribute my expertise in accounting, payroll processing, and problem solving to a growing organization
To utilize my knowledge of payroll processing, data entry, and accounting principles to effectively manage payrolls
Looking to secure a position as a payroll processor to contribute my expertise in payroll processing, data entry, and solving complex problems
How do you list Payroll Processor skills on a resume?
When it comes to listing Payroll Processor skills on a resume, it is important to make sure that you highlight the specific aptitudes, abilities, and knowledge that you have acquired through your work experience. A Payroll Processor is responsible for a wide range of tasks including calculating payroll, reconciling account balances, preparing payroll taxes, and providing customer service. To demonstrate your proficiency in these areas, here are some of the Payroll Processor skills you can list on your resume:
Expert knowledge of payroll processing systems, software, and processes
Proficient in MS Office and other accounting/finance software
Ability to calculate payroll and reconcile discrepancies
Excellent customer service skills, with strong communication abilities
Knowledge of payroll laws, regulations, and compliance requirements
Attention to detail and accuracy in dealing with numbers
Highly organized, with the ability to multi-task and meet deadlines
Proven problem-solving and troubleshooting abilities
Experience with employee onboarding and exit processes
Recordkeeping and archiving skills
Reliable, trustworthy and committed to safeguarding confidential information
What skills should I put on my resume for Payroll Processor?
When you're applying for a payroll processor role, there are certain skills and qualifications that employers will be looking for on your resume. It's important to include these skills so that an employer can see that you have the experience required to do the job. Here are some of the skills and qualifications you should include on your resume for a payroll processor role:
Knowledge of payroll processing regulations and laws: Payroll processing requires knowledge of applicable state and federal laws, regulations, codes, and standards. Therefore, you should demonstrate on your resume that you have a good understanding of payroll processing regulations and laws.
Ability to use payroll software: A payroll processor needs to be able to use payroll software to manage employee information and process payroll. Make sure to include any relevant experience you have with payroll software on your resume.
Detail-oriented: Payroll processing requires attention to detail, as any mistakes made can impact an employee's pay. Ensure you demonstrate on your resume that you are detail-oriented and have a sharp eye for catching errors.
Strong organizational skills: As a payroll processor, you will be working with different employee records and need to be able to keep them organized and up to date. Demonstrate on your resume that you have strong organizational skills.
Able to work under pressure: The payroll department is a busy workplace and you must be able to work efficiently and accurately under pressure. Show on your resume that you have the ability to stay focused and efficient when working in a fast-paced environment.
By including these skills and qualifications on your resume, you will demonstrate to employers that you have the experience and qualifications necessary for a successful payroll processor role.
Key takeaways for an Payroll Processor resume
When writing a resume for a Payroll Processor position, there are certain key points that should be highlighted in order to effectively communicate your qualifications and experience.
First, it is essential to highlight your experience with payroll processing software and other payroll-related programs. Be sure to include both the type of software you are familiar with and the amount of experience you have using it.
Second, demonstrate your knowledge of payroll procedures. This could include describing the process of setting up new employees in the payroll system, processing time cards or calculating taxes.
Third, showcase your attention to detail and accuracy. Payroll processing requires a high level of accuracy, and employers want to know that their payroll processor is diligent and pays attention to the details.
Fourth, highlight any additional skills that may be helpful. These could include knowledge of accounting principles, customer service experience, or the ability to work with a variety of computer programs.
Finally, emphasize any special certifications or qualifications that you possess. This could include certification from the American Payroll Association or other related certifications.
By following these key takeaways for a Payroll Processor resume, you can create a document that effectively communicates your qualifications and experience to potential employers.
Let us help you build
your Resume!
Make your resume more organized and attractive with our Resume Builder