Having a resume that accurately captures your experience as a payroll coordinator is essential to landing the job you want. A resume is the first thing a potential employer will look at, so it is important to make sure that it accurately reflects your skills, experience, and accomplishments. Whether you are a seasoned professional or a recent graduate, this guide will provide you with advice and examples to help you write an effective payroll coordinator resume. We will cover what recruiters are looking for, the best way to format your resume, and how to highlight your skills and experience.
If you didn't find what you were looking for, be sure to check out our complete library of resume examples.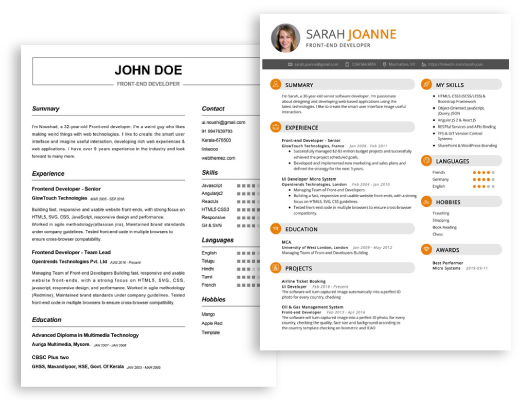 Start building your dream career today!
Create your professional resume in just 5 minutes with our easy-to-use resume builder!
Payroll Coordinator Resume Examples
John Doe
Payroll Coordinator
123 Main Street | Anytown, USA 99999 | Phone: (123) 456-7890 | Email: john.doe@email.com
A highly motivated and detail- oriented Payroll Coordinator with over 10 years of experience in the financial services sector. Possessing an in- depth understanding of payroll software, systems, and processes, I am adept at working collaboratively with colleagues and other departments to ensure employee payroll and compliance issues are addressed promptly and accurately. With a proven record of success in streamlining payroll processes and ensuring compliance with state and federal regulations, I am confident that I can make an immediate impact in any payroll coordinator role.
Core Skills:
Advanced proficiency in payroll software and systems
Comprehensive understanding of payroll compliance standards
Excellent organizational, problem- solving, and multitasking skills
Proven ability to effectively partner with other departments
Outstanding written and verbal communication
Superior time management skills
Professional Experience:
Payroll Coordinator, XYZ Financial Corporation, San Diego, CA
Developed, implemented, and monitored payroll policies and procedures.
Processed accurate and timely payroll for up to 500 employees and ensured compliance with all state and federal regulations.
Addressed payroll discrepancies and employee inquiries in a timely and professional manner.
Managed payroll processing for multiple states and locations.
Generated and reconciled monthly payroll reports for management review.
Education:
Bachelor of Science in Business, San Diego State University, San Diego, CA – 2009
Payroll Coordinator Resume with No Experience
Recent graduate with strong organizational and customer service skills seeking to use my knowledge and experience to become a Payroll Coordinator.
Core Skills
Excellent writing and communication skills
Strong ability to multitask and prioritize
Proficient in MS Office and Quickbooks
Able to work independently and collaboratively
Strong customer service skills
High attention to detail
Responsibilities
Process payroll for employees, including calculating pay, deductions, and allowances
Maintain accurate records of payroll activities and employee information
Audit payroll information for accuracy and completeness
Ensure compliance with state and federal payroll regulations
Prepare monthly and quarterly payroll tax reports
Assist with the reconciliation of payroll accounts and other related tasks
Payroll Coordinator Resume with 2 Years of Experience
Dedicated and highly organized Payroll Coordinator with 2 years of experience in payroll administration, accounting, and finance. Proven ability to maintain confidentiality, manage multiple tasks efficiently, and build positive relationships with employees. Experienced in auditing and processing payroll data, as well as resolving complex payroll issues.
Core Skills:
Payroll Administration
Accounting
Payroll Auditing
Data Entry
Problem Resolution
Payroll Tax Preparation
Financial Analysis
Customer Service
Interpersonal Relationships
Responsibilities:
Processed payroll for 500+ employees across 5 states
Reconciled payroll errors and discrepancies
Audited payroll data for accuracy and completeness
Prepared monthly payroll tax deposits and reports
Coordinated with the Human Resources team to ensure timely and accurate payroll processing
Developed and maintained procedures to ensure compliance with applicable laws and regulations
Handled all payroll- related inquiries in a timely and professional manner
Provided financial analysis and reports to the management team as needed
Payroll Coordinator Resume with 5 Years of Experience
Highly organized and detail- oriented Payroll Coordinator with 5+ years of experience in payroll processing and administration. Proven ability to handle the complexities of payroll systems and ensure accuracy while meeting tight deadlines. Experienced in running payroll reports, monitoring employee attendance, and reconciling payroll documents. Possess excellent communication, problem- solving, and customer service skills.
Core Skills:
Payroll processing & administration
Employee attendance monitoring
Payroll report preparation
Payroll reconciliation
Excellent problem- solving skills
Exceptional customer service
Attention to detail
Dependable and reliable
Responsibilities:
Collect and process payroll data for assigned department
Prepare and input payroll information into the system
Calculate and review payroll documents for accuracy
Reconcile payroll accounts and resolve discrepancies
Monitor employee attendance and time- off records
Generate payroll reports for management
Assist with payroll related inquiries and issues
Maintain confidential payroll records and files
Keep up to date with payroll regulations and laws
Payroll Coordinator Resume with 7 Years of Experience
Experienced Payroll Coordinator with 7 years of experience working in accounting and payroll departments. Skilled in management of funds and taking care of payroll and financial transactions. Adept at reporting and data calculations, and also proficient with HR activities. Possesses a Bachelor's degree in Accounting and knowledge in payroll systems and financial software.
Core Skills:
Financial management
Payroll systems
HR administration
Data calculations
Reporting
Computer proficiency
Financial software
Responsibilities:
Ensure accurate and timely processing of employee payrolls
Generate payroll reports and payroll tax information
Maintain payroll records, audit employee timesheets
Oversee payroll taxes and manage employee deductions
Respond to questions and inquiries regarding payrolls
Reconcile payroll discrepancies and ensuring accuracy
Assist with implementation of payroll related projects
Manage payroll processing for multiple locations
Prepare and issue paychecks and direct deposits
Coordinate with HR department for employee updates
Payroll Coordinator Resume with 10 Years of Experience
Analytical, detail- oriented Payroll Coordinator with 10+ years of experience managing payrolls for large companies. Skilled in leading payroll processes, data analysis, and audits. Highly organized and efficient in managing payroll systems and improving accuracy and efficiency. Possess an excellent record of accuracy and customer service, as well as excellent interpersonal skills.
Core Skills:
Payroll Processes
Data Analysis
Auditing
Data Entry
Customer Service
Interpersonal Communication
Microsoft Office Suite
Software Troubleshooting
Payroll Systems
Responsibilities:
Managed payroll processes for large companies, including data entry and accuracy checks
Analyzed payroll data, identified discrepancies, and audited payroll records
Reported discrepancies and errors to senior managers and recommended solutions
Processed payroll for over 1000 employees on a bi- weekly basis
Resolved payroll discrepancies and discrepancies with employee paychecks
Collaborated with HR management on new hires, employee terminations, and salary changes
Provided excellent customer service to employees and assisted with payroll inquiries
Trained new payroll staff and provided guidance on payroll systems
Verified timesheets and attendance records to ensure accuracy in payroll processing
Ensured compliance with all applicable laws and regulations regarding payroll processes
Payroll Coordinator Resume with 15 Years of Experience
Highly organized and experienced Payroll Coordinator with 15 years of experience in the financial field. Adept in problem solving, multitasking and collaborating with multiple departments. Possesses strong communication and customer service skills, as well as the ability to quickly adapt to changing business needs. Seeking to use my skills and background to contribute to a team- oriented environment.
Core Skills:
Excellent communication skills
Highly organized
Proficient in Microsoft Office
Problem solving
Multitasking
Attention to detail
Adaptable
Customer service
Responsibilities:
Process and verify timesheets, deductions and other payroll data
Collect new hire information and set up employee files
Manage and monitor employee attendance records
Prepare and process payroll checks
Generate payroll reports for management
Reconcile payroll discrepancies
Resolve payroll inquiries from employees
Prepare and submit quarterly and year- end payroll tax reports
Comply with federal and state labour regulations
Maintain up- to- date knowledge of payroll practices and procedures
In addition to this, be sure to check out our resume templates, resume formats, cover letter examples, job description, and career advice pages for more helpful tips and advice.
What should be included in a Payroll Coordinator resume?
When crafting a resume for a Payroll Coordinator position, it is important to showcase the skills and experience that demonstrate your ability to successfully manage payroll for a company. Here are some useful tips for making your resume stand out:
Highlight experience: Include relevant experience in payroll, bookkeeping, or accounting that showcases your knowledge of financial software, tax laws, and payroll procedures.
Include technical skills: Demonstrate your technical proficiency with payroll software, such as ADP, Paychex, or QuickBooks, as well as other tools related to payroll processing.
Emphasize organization: Showcase your organizational skills, noting any project or process management experience you have.
Detail communication skills: Payroll Coordinators must often communicate with management and employees, so be sure to mention any experience in customer service, writing, or public speaking.
Explain certifications: If you hold any relevant certifications, such as Certified Payroll Professional (CPP) or Fundamental Payroll Certification (FPC), list them in your education section.
By following these tips, you can create an impressive resume that will help you stand out from the competition and get the attention of potential employers.
What is a good summary for a Payroll Coordinator resume?
A Payroll Coordinator is responsible for the payroll functions for a business or organization, such as processing payroll payments, calculating wage and salary deductions, preparing payroll reports, and managing employee benefits. An effective Payroll Coordinator resume should detail the candidate's knowledge of payroll laws and regulations, their experience processing payrolls, and their skills in managing employee benefits. Additionally, the resume should highlight any experience with budgeting, forecasting, and payroll software. In addition to these qualifications, the resume should also include examples of successful payroll coordination and any awards or recognition received. Finally, the resume should also showcase the ability to work with a team and maintain high levels of accuracy and confidentiality.
What is a good objective for a Payroll Coordinator resume?
A Payroll Coordinator is responsible for the timely and accurate processing of employee payrolls. A good objective for a Payroll Coordinator resume should be focused on the skills and experience necessary to ensure successful payroll processing.
Highlight relevant experience, such as experience with payroll software or working in a team to process payrolls
Demonstrate proficiency in payroll processing, including preparing and processing payroll, handling deductions, and administering salary payments
Showcase organizational skills, such as managing payroll records, resolving discrepancies, and ensuring the accuracy of payroll data
Showcase knowledge of relevant payroll tax laws and regulations, including filing, deposits, and recordkeeping
Showcase ability to work well with staff and senior management
Demonstrate excellent communication and customer service skills
Showcase ability to work independently and meet tight deadlines
How do you list Payroll Coordinator skills on a resume?
Your resume should be a reflection of your skills, experience and qualifications as they pertain to the role of a Payroll Coordinator. To ensure that you are accurately conveying your qualifications and experience, you should be sure to list your skills, qualifications and experience in an organized manner on your resume.
Below is a list of skills and qualifications you should consider including in your resume when applying for a Payroll Coordinator role:
Proficiency in payroll accounting software, such as ADP and Ceridian
Knowledge of payroll tax regulations
Excellent knowledge of Microsoft Office Suite, including Excel, Outlook and Word
Strong attention to detail, accuracy and organization skills
Ability to work independently and meet deadlines
Excellent communication skills, both written and verbal
Ability to handle confidential information
Ability to manage multiple priorities
Ability to analyze and interpret data
Ability to develop creative solutions to payroll-related issues
Experience in payroll auditing and compliance
Supervisory experience
What skills should I put on my resume for Payroll Coordinator?
When it comes to crafting a resume for the position of Payroll Coordinator, it is important to showcase your skills and experience in an effective and accurate way. The following list of skills should be included on a resume for a Payroll Coordinator:
Knowledge of Payroll Accounting: Payroll coordinators must have an understanding of payroll accounting principles and the ability to accurately manage payroll records and calculations.
Proficiency in Payroll Software: Employers often require specific payroll software in order to process payroll, so a payroll coordinator must demonstrate their proficiency in the software and keep their skills up-to-date.
Understanding of Regulatory Requirements: Payroll coordinators must be aware of all applicable laws, regulations and guidelines surrounding payroll and must ensure that they are compliant with all relevant requirements.
Excellent Organizational Skills: A payroll coordinator must be organized and detail-oriented in order to manage payroll data accurately. They must also be able to multitask and prioritize tasks.
Analytical and Problem-Solving Skills: A payroll coordinator must have strong analytical and problem-solving skills in order to troubleshoot and resolve issues quickly and efficiently.
Strong Communication Skills: Payroll coordinators must be able to communicate effectively with all departments and understand the payroll needs of each.
By including these skills on your resume, you will demonstrate to potential employers that you have the skills and experience necessary to effectively perform the duties of a Payroll Coordinator.
Key takeaways for an Payroll Coordinator resume
Having a strong resume is essential for any job, but for those seeking employment as a payroll coordinator, it's especially important to include the right information. A payroll coordinator's resume should reflect their experience, skills, and knowledge of the payroll process. Here are some key takeaways to consider when constructing a resume for a payroll coordinator position:
Highlight relevant experience: Include any experience you have related to payroll, such as prior payroll coordinator positions, accounting, or bookkeeping. Make sure to include the details of the roles and responsibilities you had in each position and highlight any successes you achieved.
Showcase technical skills: Payroll coordinators need to possess a strong working knowledge of payroll systems, software, and processes. Include any skills related to payroll processing and systems, such as ADP, Ceridian, and Peoplesoft.
Present your organizational skills: Payroll coordinators must be able to keep records organized and complete tasks on time. Showcase your organizational qualities in your resume by highlighting the ways you have successfully managed large projects or complex tasks.
Stress accuracy and attention to detail: Payroll coordinators must have an eye for detail and be able to ensure accuracy on every task. Include any experience working with numbers or data and any other information that can show your attention to detail.
Following these key takeaways can help make sure your resume is tailored to the position of payroll coordinator. Highlighting your experience with payroll systems and software, as well as your organizational and numeric skills, will make sure your resume stands out.
Let us help you build
your Resume!
Make your resume more organized and attractive with our Resume Builder