Are you looking to create an impressive resume as a collector? If you are, you've come to the right place! This blog post will provide a comprehensive guide to writing a collector resume, including resume examples and tips for highlighting your valuable skills and experience. With the advice given here and a little bit of effort on your part, you'll be sure to create a resume that will stand out from the crowd and get you noticed by potential employers.
If you didn't find what you were looking for, be sure to check out our complete library of resume examples.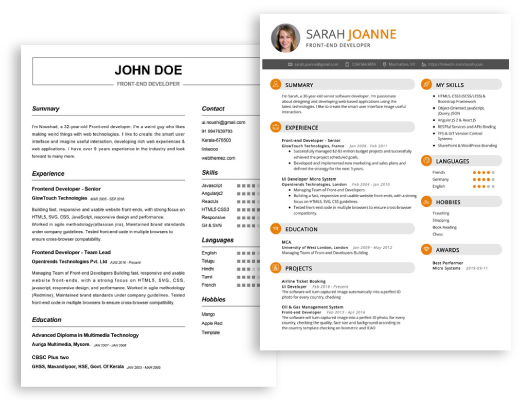 Start building your dream career today!
Create your professional resume in just 5 minutes with our easy-to-use resume builder!
Collector Resume Examples
John Doe
Collector
123 Main Street | Anytown, USA 99999 | Phone: (123) 456-7890 | Email: john.doe@email.com
Highly motivated and results- oriented Collector with 5+ years of experience in customer contact, collections, and accounts receivables. Highly knowledgeable about customer service, financial processes and procedures, and organizational systems. Demonstrated ability to maintain a positive customer service attitude in high pressure situations. Excellent problem- solving and critical thinking skills.
Core Skills:
Accounts Receivable Management
Collections/Customer Contact
Financial Processes/Procedures
Profit/Loss Analysis
Analytical & Problem- Solving Skills
Compliance with Regulations
Negotiations/Dispute Resolution
Risk Management
Professional Experience:
ABC Collections, Collector, 2015- Present
Managed a portfolio of accounts, providing customer service and collections support.
Processed payments and maintained accounts receivables.
Negotiated payment plans and disputed amounts with customers.
Researched data for delinquent accounts as needed.
Developed and maintained customer relationships.
XYZ Insurance Corporation, Collections Representative, 2010- 2015
Communicated with customers via phone, email, and mail.
Generated and updated reports on collections activities.
Reconciled account discrepancies and disputes.
Identified powerful strategies for collections.
Education:
Bachelor of Arts in Business Administration, ABC University, 2009- 2010
Associate of Arts in Accounting, XYZ College, 2007- 2009
Collector Resume with No Experience
Self- driven and organized individual with a passion for delivering high- quality customer service. Possessing excellent interpersonal and problem- solving skills, looking for an opportunity to utilize these abilities in the role of a Collector.
Core Skills
Strong customer service skills
Attention to detail
Ability to remain calm under pressure
Good problem solving skills
Excellent organizational skills
Excellent communication skills
Responsibilities
Review and assess customer accounts for collection
Manage customer accounts to ensure timely payments
Identify and analyze customer payment issues and make necessary adjustments
Conduct outbound calls to customers to collect overdue payments
Maintain and update customer account information in collections database
Provide accurate and timely reporting of customer accounts to management
Collector Resume with 2 Years of Experience
Highly motivated Collector with two years of experience in the accounts receivable department. Proven track record in managing delinquent accounts, reducing disputed accounts and maintaining accurate records. Excellent communication and interpersonal skills, and a knack for problem solving that allows me to maintain a healthy relationship with clients while ensuring timely payments.
Core Skills:
Delinquent Accounts Management
Record Keeping / Documentation
Problem Solving
Interpersonal & Communication Skills
Dispute Resolution
Negotiation
Responsibilities:
Contact delinquent accounts on a regular basis to determine reasons for nonpayment, review post- dated cheques, and arrange payment plans to ensure timely payment
Resolve disputes over invoice accuracy and amount due, while maintaining a healthy relationship with clients
Accurately maintain records and accounts receivable ledgers by entering payments, adjustments, and other transactions
Negotiate payment terms with clients and provide regular updates to management
Generate progress reports and analyze trends to identify areas requiring additional attention and suggest solutions to improve the process
Collector Resume with 5 Years of Experience
Experienced collector with 5 years of experience in the financial services industry. Extensive knowledge in principles and practices of collection, accounts receivable, customer service and problem resolution. Exceptional communication, interpersonal and organizational skills with strong attention to detail. Proven ability to cultivate successful relationships with both internal and external clients.
Core Skills:
Accounts Receivable
Customer Service
Collections
Problem Resolution
Communication
Interpersonal Skills
Organizational Skills
Attention to Detail
Time Management
Responsibilities:
Managed the collection of past due accounts while minimizing bad debt write- offs.
Analyzed credit histories and financial statements of customers to ascertain their credit worthiness.
Developed and implemented collection strategies and procedures to maximize cash flow.
Performed skip tracing activities to locate customers with past due accounts.
Negotiated repayment arrangements with customers to ensure timely collection of receivables.
Researched and resolved customer account issues, disputes and discrepancies.
Maintained records of accounts and updated customer contact information.
Provided high quality customer service to build relationships with customers.
Prepared daily, weekly and monthly reports on accounts receivable status.
Reconciled accounts to ensure accuracy of payments and credits.
Collector Resume with 7 Years of Experience
A highly motivated and professional Collector with 7 years of experience. A proven track record in the collection industry for managing accounts, gaining customer loyalty, and successfully resolving delinquent accounts. Excellent communication and customer service skills, able to work independently and with a team. Committed to ensuring equitable and efficient collections processes and procedures.
Core Skills:
Account Management: experience analyzing and managing accounts, updating credit reporting agencies, and resolving disputes.
Collections Strategies: knowledge of different collection strategies, including skip- tracing, collateral repossession, and legal action.
Negotiation: the ability to successfully negotiate and settle unpaid debts.
Customer Service: strong interpersonal and customer service skills, providing timely and accurate responses.
Computer Skills: adept in using Microsoft Office, computer databases, and other collection software.
Responsibilities:
Conducted initial contact with debtors, gathering payment and contact information.
Reviewed accounts to determine the legal status of each debt.
Negotiated payment plans, settlements and repayment arrangements.
Used skip- tracing techniques, public records and other resources to locate debtors.
Contacted customers to inform them of delinquent accounts and payment resolution options.
Resolved customer inquiries, researched billing disputes, and updated account information.
Maintained accurate records of accounts and communication with debtors.
Received and processed payments, updated accounts, and submitted updates to credit agencies.
Identified fraudulent activity and took appropriate action.
Complied with all federal and state laws, and company regulations.
Collector Resume with 10 Years of Experience
A highly experienced Collector with 10 years of experience in the banking and finance industry. Proactive and hardworking with excellent communication skills and a strong commitment to customer satisfaction. Skilled in processing of payments, loan negotiation and dispute resolution. Possesses a deep understanding of the rules and regulations of the banking and finance industry. A highly organized individual with a proven ability to manage multiple tasks and handle customer inquiries.
Core Skills:
Strong communication and customer service skills
In- depth knowledge of banking and finance rules and regulations
Excellent problem solving and analytical skills
Proficient in Microsoft Office and other related software
Highly organized and efficient
Results- oriented with a commitment to customer satisfaction
Responsibilities:
Processing payments and updating customer accounts
Negotiate loan terms and resolve customer disputes
Verify customer information and documents
Monitor overdue accounts and contact customers to collect payments
Provide assistance and customer service
Ensure compliance with applicable rules and regulations
Keep accurate records of collection activities and credit assessment
Maintain customer files and update customer account information
Collector Resume with 15 Years of Experience
Results- driven IT professional with 15 years of experience providing technical support and troubleshooting expertise for leading organizations. Proven success in identifying and resolving complex IT issues, implementing new technologies, and providing quality customer service. Possess a strong ability to multitask and collaborate with other IT personnel to ensure the successful completion of projects.
Core Skills:
Proficient in maintenance and troubleshooting of hardware and software systems
Highly knowledgeable in IT security protocols, networking, and cloud technologies
Experienced in developing, testing, and deploying secure applications
Exceptional problem- solving, communication, and organizational skills
Skilled in providing technical support and customer service
Responsibilities:
Managing IT projects from start to finish
Troubleshooting and resolving hardware, software, and network- related issues
Installing, configuring, and upgrading computer systems, networks, and peripherals
Maintaining and implementing IT security standards and procedures
Providing technical assistance and customer service to colleagues, partners, and customers
Evaluating and selecting appropriate software and hardware products
Monitoring system performance and conducting system maintenance activities
Preparing inventory and tracking reports of IT equipment and resources
In addition to this, be sure to check out our resume templates, resume formats, cover letter examples, job description, and career advice pages for more helpful tips and advice.
What should be included in a Collector resume?
A collector resume should include a detailed and comprehensive list of the qualifications and experience of the individual applying for the job. Here is a list of some of the key items to include in a collector resume:
Education: Include any degrees or certifications that may be applicable to the position, such as a university degree in business administration, accounting, finance, or economics.
Job Experience: Present relevant job experience that includes collection activities, such as telephone collections, legal collections, or accounts receivable management.
Technical Skills: Demonstrate proficiency with collection software, databases, and other IT systems.
Communication Skills: Demonstrate excellent verbal and written communication skills, with the ability to explain complex concepts in simple terms.
Customer Service: Demonstrate excellent customer service skills, with the ability to handle difficult situations and build strong relationships with customers.
Time Management: Demonstrate the ability to manage multiple tasks, meet deadlines, and follow up on overdue accounts.
Adaptability: Demonstrate the ability to work independently and adapt to changing priorities.
Teamwork: Demonstrate the ability to work as part of a team, with the ability to collaborate with colleagues and coordinate tasks.
By including this information on a collector resume, employers will be able to get a better understanding of the applicant's qualifications and experience.
What is a good summary for a Collector resume?
A Collector resume should include an effective summary that outlines key qualifications, experience, and skills. A good summary should highlight a candidate's experience within the collections field, as well as any certifications or special accomplishments. Additionally, the summary should showcase the candidate's exceptional customer service skills, ability to prioritize tasks, and proficiency in conflict resolution. Finally, the summary should demonstrate that the candidate is organized, detail-oriented, and has a passion for working in the collections field. An effective summary will help to set a Collector resume apart and showcase the candidate's ability to work within the collections field.
What is a good objective for a Collector resume?
A Collector resume should clearly outline the individual's ability to collect on past due accounts. A good objective for a Collector resume should highlight a combination of strong communication and negotiation skills, as well as a proven track record of success.
An ideal objective should include the following points:
Demonstrated success in collecting on past-due accounts and managing accounts receivable
Motivated and results-driven individual with excellent conflict resolution skills
Proven ability to handle sensitive customer information with confidentiality and discretion
Experienced in developing and implementing collection strategies to maximize recovery
Thorough understanding of collection laws and regulations
Proficient in using related computer applications and software programs
How do you list Collector skills on a resume?
bulletWhen listing collector skills on a resume, it is important to list the skills that most accurately reflect your abilities and experience. Here are some of the top collector skills that employers look for:
Strong verbal communication: Collectors must have excellent verbal communication skills to discuss payment plans and debt repayment options with customers.
Negotiation: Collectors should be able to negotiate payment plans and other terms with customers.
Conflict resolution: Collectors must be able to diffuse difficult situations and resolve conflicts effectively.
Analytical skills: Collectors should be able to analyze customer accounts to identify discrepancies and create payment plans.
Detail-oriented: Collectors must be detail-oriented to accurately process payments and keep records of customer accounts.
Time management: Collectors must be able to manage their time efficiently to ensure that accounts are processed and payments are collected in a timely manner.
Customer service: Collectors should be able to provide excellent customer service to gain customer trust and loyalty.
By including these collector skills on your resume, you can demonstrate to potential employers your ability to effectively manage collections and customer accounts.
What skills should I put on my resume for Collector?
When applying for a Collector position, you'll need to make sure your resume showcases your best skills and experience. Here are some key skills you may want to highlight on your resume:
Excellent communication: Collectors need to be able to communicate effectively and persuasively in order to collect payments and negotiate payment plans.
Knowledge of the Fair Debt Collection Practices Act: Collectors must adhere to FTC regulations when communicating with debtors, so knowledge of the FDCPA is essential to success in this role.
Analytical skills: Good Collectors have the ability to analyze accounts, develop collection strategies, and implement them.
Conflict resolution: Collectors should have the skills to remain professional and diplomatic when negotiating with debtors.
Attention to detail: Collectors must be able to review accounts and documents for accuracy and completeness.
Organizational skills: Collectors should know how to organize their work efficiently, prioritize tasks, and complete assignments within designated deadlines.
Time management: Collectors must be able to manage their time effectively while meeting goals and deadlines.
Key takeaways for an Collector resume
When writing a Collector resume, it can be difficult to decide what information to include and what to leave out. Here are some key takeaways to keep in mind when crafting a resume to help you stand out as a qualified Collector applicant.
Highlight your experience: Your resume should focus on the experience and skills that make you a valuable Collector. Include details on the types of collections you've handled, any debt recovery training you've received, and any specialized certifications or licenses that demonstrate your knowledge.
Demonstrate your communication skills: Collectors must be able to communicate effectively with debtors, so make sure to highlight your communication skills. Showcase any written or verbal communication experience you have, as well as any customer service experience you may have.
Showcase your technical skills: Many Collectors use specialized software to track debtors, so make sure to include any relevant computer skills or software experience you have.
Explain your problem-solving abilities: Collectors must be able to think on their feet and come up with creative solutions to difficult debt collection problems. Include details about how you've handled difficult debtors or how you've used innovative strategies to resolve debts.
Provide references: Adding references to your resume is a great way to show potential employers that you're a trustworthy and reliable Collector. Include at least two references from relevant people in the industry.
By following these key takeaways, you'll be able to create a winning Collector resume that will help you stand out among the competition. Good luck in your job search!
Let us help you build
your Resume!
Make your resume more organized and attractive with our Resume Builder