Writing a resume as a bookstore clerk can be tricky. Not only do you have to make sure that you list all your relevant qualifications, but you also have to make sure that you make yourself stand out among the other candidates. If you want to make sure that your resume stands out from the crowd, then you should use this bookstore clerk resume writing guide with examples. Here, you will find the tips, tricks, and examples that you need to craft an effective and attention-grabbing bookstore clerk resume. You will learn how to format your resume, highlight your skills, experience, and education, and land the perfect job in no time.
If you didn't find what you were looking for, be sure to check out our complete library of resume examples.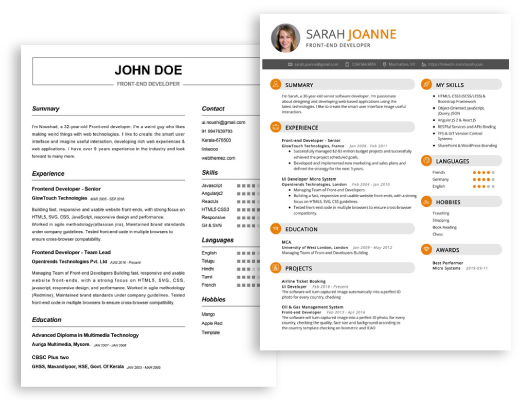 Start building your dream career today!
Create your professional resume in just 5 minutes with our easy-to-use resume builder!
Bookstore Clerk Resume Examples
John Doe
Bookstore Clerk
123 Main Street | Anytown, USA 99999 | Phone: (123) 456-7890 | Email: john.doe@email.com
I am an experienced Bookstore Clerk with 5+ years of experience in stocking shelves, processing customer orders, and other related tasks. I have strong knowledge of order processing and accounting principles, as well as excellent customer service skills. I pride myself on being a reliable and hardworking individual who takes initiative and is able to work efficiently and accurately in a fast- paced environment. I am confident that I can make a positive contribution to any team.
Core Skills:
Shelving and stocking
Order processing
Accounting principles
Customer service
Inventory management
Data entry
Cash handling
Professional Experience:
Bookstore Clerk
ABC Bookstore, San Francisco, CA
February 2015 – Present
Greet customers and answer inquiries regarding store products, policies, and services.
Process customer orders, check prices and availability of items, and ensure accurate billing.
Maintain accurate inventory levels, stock shelves, and rotate stock as needed.
Ensure store is kept neat, organized and well- stocked at all times.
Reconcile cash registers at the end of each shift and complete all accounting paperwork.
Education:
High School Diploma, ABC High School, San Francisco, CA, 2009
Bookstore Clerk Resume with No Experience
A recent college graduate with excellent organizational and interpersonal skills looking to begin a career as a Bookstore Clerk. Possesses a Bachelor's degree in English and a strong interest in books and literature.
Skills:
Computer literate
Customer service
Organizational
Communication
Problem- solving
Responsibilities:
Greet customers upon entering the store
Provide customer service
Answer customers' questions about books
Assist customers in selecting books
Receive and process payments
Maintain store's visual appeal
Receive and stock new books and merchandise
Ensure accurate pricing and restocking of shelves
Perform opening and closing tasks
Assist with managing inventory
Bookstore Clerk Resume with 2 Years of Experience
Dynamic and organized Bookstore Clerk with two years of experience in retail operations. Proven ability to handle multiple tasks simultaneously while meeting customer needs and ensuring a positive shopping experience. Highly organized and detail- oriented, with a commitment to providing excellent customer service.
Core Skills:
Exceptional customer service
Inventory management
Cashiering
Point- of- sale systems
Merchandising
Good communication
Attention to detail
Ability to learn quickly
Responsibilities:
Greeted and assisted customers in a prompt and friendly manner.
Processed transactions accurately and efficiently, utilizing point- of- sale systems and cash register.
Maintained an orderly and clean cashier workstation.
Resolved customer complaints and provided solutions to their inquiries.
Stocked shelves with merchandise and maintained displays.
Reviewed inventory and placed orders for additional stock as needed.
Performed other related duties as assigned.
Bookstore Clerk Resume with 5 Years of Experience
Seasoned Bookstore Clerk with 5 years of experience in providing customer service, stocking shelves, and assisting in store operations. Possesses a proven ability to identify customer needs, keep up with inventory and process customer payments. Committed to delivering outstanding customer service and creating a welcoming environment for all customers.
Core Skills:
Customer Service
Merchandising/Stocking
Cash Handling/Credit Card Processing
Inventory Management
Sales Strategies
Data Entry
Organizational/Time Management
Responsibilities:
Greeting customers and answering questions
Providing assistance to customers in locating items
Assisting customers with purchasing decisions
Processing customer payments
Organizing store shelves, stocking items, and maintaining displays
Utilizing price tags and labels to mark items
Recording inventory levels and tracking sales
Receiving deliveries and verifying shipments
Operating cash register and credit card processing equipment
Cleaning and maintaining the store in a tidy and organized manner
Bookstore Clerk Resume with 7 Years of Experience
Experienced Bookstore Clerk with seven years of diverse knowledge in retail customer service, inventory management, and cashiering. Possess excellent communication skills, a strong work ethic, and the ability to effectively interact with customers and colleagues. Capable of delegating tasks and making decisions swiftly while maintaining an organized work environment.
Core Skills:
Customer Service
Cashiering
Inventory Management
Organized Workplace
Delegating Tasks
Strong Work Ethic
Decision Making
Responsibilities:
Greet customers and assist them in locating products and services.
Maintain accurate records of sales and inventory levels.
Ensure the proper stocking of shelves and displays.
Perform cashiering duties using cash register, credit card machines, and other payment methods.
Provide customers with information about products and services.
Answer customer inquiries and resolve complaints.
Maintain a clean and organized store environment.
Assist in training new employees on store policies and procedures.
Ensure employee compliance with safety and security regulations.
Prepare and review merchandise orders.
Implement promotional campaigns and track results.
Bookstore Clerk Resume with 10 Years of Experience
.
A highly organized and self- motivated Bookstore Clerk with 10 years of experience in retail and customer service. Proven track record for providing exemplary customer service, managing inventory, and multitasking in a fast- paced environment. Skilled in strong communication, problem- solving, and team collaboration.
Core Skills:
In- depth knowledge of retail operations
Proficient in basic office software
Excellent ability to multitask
Exceptional customer service and communication skills
Advanced data entry and filing skills
Proven ability to work independently and in a team
Possesses strong organizational and planning abilities
Ability to work in a fast- paced environment
Responsibilities:
Greeted customers and provided assistance with their purchases
Processed customer payments using point- of- sale software
Assisted with inventory management, including stocking shelves, restocking merchandise, and gathering items for customers
Organized the store and kept merchandise displays neat and orderly
Maintained a professional and friendly environment in the store
Answered customers' questions about products and services
Handled and resolved customer complaints in a courteous and polite manner
Followed all safety and security protocols for the store
Bookstore Clerk Resume with 15 Years of Experience
Bookstore clerk with over 15 years of experience. I possess excellent customer service abilities, administrative skills and a knowledge of bookkeeping. Additionally, I have a passion for books and the written word. I am organized, detail- oriented and have a strong work ethic. My goal is to provide a great customer experience, helping the bookstore to be successful.
Core Skills:
Knowledge of bookkeeping
Excellent customer service skills
Strong communication
Time management
Organizational skills
Computer proficiency
Responsibilities:
Receive and process payments from customers
Assist customers with inquiries and orders
Stock and restock shelves with new and used books
Maintain cleanliness of the store
Monitor inventory levels and order new books
Attend to email, phone and online orders
Update records of sales, payments and inventory
Assist with marketing initiatives
Greet and direct customers in the store
Provide helpful suggestions to customers
Update knowledge of trends and new books
In addition to this, be sure to check out our resume templates, resume formats, cover letter examples, job description, and career advice pages for more helpful tips and advice.
What should be included in a Bookstore Clerk resume?
A resume for a bookstore clerk should include the following points:
Education: List your educational qualifications and degrees.
Skills: Include customer service, sales, and organizational skills, as well as any computer program experience.
Work Experience: Include any previous customer service or retail jobs, as well as any volunteering experience.
Special Qualities: Describe any unique qualities or qualifications you may have that would be beneficial to the job, such as language skills or familiarity with the bookstore's inventory.
References: Include contact information for at least two references.
What is a good summary for a Bookstore Clerk resume?
A Bookstore Clerk resume should be concise and highlight relevant past experience related to the position. Areas of expertise to focus on include customer service, sales and merchandising, technical product knowledge, and organizational skills. It should also list current certifications and other qualifications that are pertinent to the role. Additionally, the resume should include a summary of qualifications that outlines the clerk's experience, as well as any relevant skills and qualifications. It should also include education, any related certifications, and a brief description of any volunteer or professional experience. The summary should be an honest and accurate representation of the individual's abilities and experiences. Finally, the resume should contain references that demonstrate the clerk's ability to handle sensitive customer information.
What is a good objective for a Bookstore Clerk resume?
A Bookstore Clerk should have a resume objective that demonstrates their knowledge and skills in customer service, sales, and retail operations.
Provide excellent customer service: A Bookstore Clerk should be adept at providing outstanding customer service, including being friendly and helpful and being able to effectively assist customers with their needs.
Engage in sales and marketing: A Bookstore Clerk should have an interest in and knowledge of sales and marketing, including the ability to promote products and services to customers and the ability to track and analyze sales data.
Execute retail operations: A Bookstore Clerk should have experience with retail operations, including stocking shelves, maintaining inventory, and processing payments.
Demonstrate strong organizational skills: A Bookstore Clerk should possess strong organizational skills, including the ability to ensure that the store remains organized and clean at all times.
Maintain a professional attitude: A Bookstore Clerk should always maintain a professional attitude, engaging with customers and co-workers in a respectful and courteous manner.
How do you list Bookstore Clerk skills on a resume?
Bookstore Clerk skills are essential qualifications for a successful career in the retail industry. When applying for a bookstore clerk position, it is important to list all relevant skills on the resume in order to showcase your qualifications and stand out from other applicants.
When listing Bookstore Clerk skills on a resume, consider the following:
Knowledge of bookstore operations, including book ordering, inventory control, and customer service
Ability to provide helpful, courteous customer service
Excellent interpersonal and communication skills
Time management and organizational skills
Proficiency in the use of computers and related software
Ability to multitask and remain organized under pressure
Attention to detail and accuracy
Ability to work independently and in a team environment
Flexibility and adaptability to changing customer needs
Cash handling and other financial operations
Knowledge of POS systems and related procedures
Knowledge of local laws, codes, and regulations related to bookstores
Ability to lift, carry, and move heavy boxes
Ability to stand for long periods of time
What skills should I put on my resume for Bookstore Clerk?
The right skills on your resume as a Bookstore Clerk can help you stand out from the competition and land a job. To give yourself the best chance at success, here are some essential skills to include on your resume:
Detail-Oriented: As a Bookstore Clerk, you must pay close attention to detail. This means having a keen eye for pricing, stocking, and organizing the books in the store.
Interpersonal Skills: As a Bookstore Clerk, you serve as the face of the store and must be comfortable interacting with customers. Excellent communication and customer service skills are essential in this role.
Organizational Skills: The books in a bookstore must be organized in order to remain accessible and streamlined. Good organizational skills will help you keep the store neat and orderly.
Technology Savvy: Many of today's bookstores use computerized systems to keep track of sales, inventory, and customer data. Having a working knowledge of computers and digital technology will be an asset in this position.
Cash Handling: As a Bookstore Clerk, you may be responsible for handling cash transactions. It is important to have good math skills and cash handling experience.
Adding these skills to your resume will help you stand out from the competition and show potential employers that you are the right fit for the job.
Key takeaways for an Bookstore Clerk resume
If you are looking to apply for a position as a bookstore clerk, it is important to make sure that your resume stands out. Here are some key takeaways to keep in mind when crafting your resume:
Use a professional format. When creating your resume, it is preferable to use a simple, professional format that is easy to read and skimable. A simple format also allows you to highlight your most important accomplishments and qualifications.
Showcase your customer service skills. As a bookstore clerk, you will be interacting with customers on a daily basis. Make sure to include any relevant customer service experience you may have, such as working in retail or hospitality.
Highlight any related skills. If you have any related skills, such as familiarity with cash registers and POS systems, make sure to include those as well.
Offer any relevant additional information. If you have any other additional information that may be relevant to the bookstore clerk position, such as fluency in another language, make sure to include that as well.
Make sure to proofread. Before sending off your resume, make sure to read through it and check for any typos or grammar mistakes. A clean, well-written resume is essential for making the best impression.
Let us help you build
your Resume!
Make your resume more organized and attractive with our Resume Builder