A great bookkeeper resume is essential for those looking to get their foot in the door in the accounting and finance industry. The ability to accurately and effectively present an account of one's financial experience can help them stand out in a competitive marketplace. This guide provides an overview of best practices for writing a bookkeeper resume, with helpful examples to guide you through the process. With the right tools, you can create an effective resume that will make a lasting impression on potential employers.
If you didn't find what you were looking for, be sure to check out our complete library of resume examples.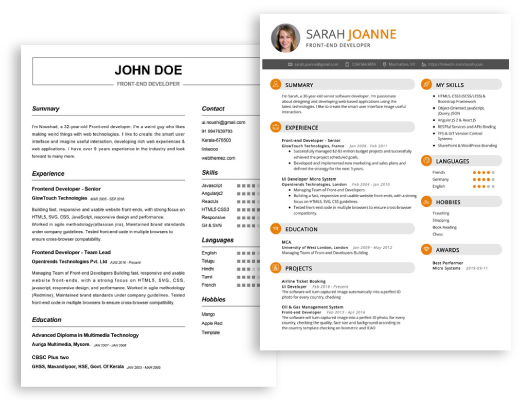 Start building your dream career today!
Create your professional resume in just 5 minutes with our easy-to-use resume builder!
Bookkeeper Resume Examples
John Doe
Bookkeeper
123 Main Street | Anytown, USA 99999 | Phone: (123) 456-7890 | Email: john.doe@email.com
I am a highly dedicated and experienced Bookkeeper with 5+ years of experience. I have a strong background in accounting and finance, making me an excellent candidate for any Bookkeeper role. I am adept at managing financial paperwork, balancing accounts, and handling payroll. I have a keen eye for detail and am highly organized, making me an ideal fit for any Bookkeeping role. I have a Bachelor's degree in Accounting and have successfully managed financial operations for a number of businesses.
Core Skills:
Financial Reporting
Ledger Maintenance
Account Reconciliation
Invoicing/Billing
Payroll Management
Transaction Processing
Budgeting & Forecasting
Financial Analysis
Professional Experience:
Bookkeeper, ABC Company, NY (2020 – Present)
Review daily financial transactions and ensure accuracy
Balance accounts and prepare financial statements
Reconcile bank and credit card statements
Prepare and process invoices and payments
Maintain and update payroll
Review and process expense reports
Assist in month- end closing process
Bookkeeper, XYZ Company, NY (2017 – 2020)
Monitored daily financial transactions and booked entries
Balanced accounts and prepared financial statements
Reconciled bank and credit card statements
Processed invoices and payments
Handled payroll and tax- related tasks
Prepared and submitted expense reports
Provided financial analysis and reports
Education:
Bachelor's degree in Accounting, ABC University (2015 – 2017)
Bookkeeper Resume with No Experience
A detail- oriented, organized, and self- motivated individual desiring to become a bookkeeper. Looking to gain more experience in the field and help an organization with its financial needs.
Core Skills
Highly organized
Knowledge of basic accounting principles
Proficient with accounting software
Strong interpersonal and communication skills
Excellent time management and problem- solving skills
Ability to work under pressure
Responsibilities
Managing company's day- to- day financial tasks
Entering financial data into accounting software
Issuing invoices and tracking payments
Reconciling accounts
Preparing financial statements and reports
Assisting with budgeting and forecasting
Ensuring timely payment of taxes and other financial obligations
Bookkeeper Resume with 2 Years of Experience
Resourceful, detail- oriented bookkeeper with 2 years of experience in accounting and finance. Possesses excellent analytical skills with a demonstrated record of success in identifying financial discrepancies, reducing errors, and streamlining processes. Proven expertise in producing financial reports with accuracy and timeliness. Extremely organized with the ability to manage multiple projects and meet tight deadlines.
Core Skills:
Bookkeeping
Financial Reporting
Accounts Receivable/Payable
Account Reconciliation
Budget Preparation
Tax Preparation
Risk Management
Financial Analysis
Auditing
Responsibilities:
Maintained and balanced general ledger accounts on a monthly basis.
Created and submitted financial statements, such as balance sheets, income statements, and statements of cash flow.
Conducted account reconciliations and resolved discrepancies.
Involved in budget preparation and monthly budget reviews.
Prepared payroll, sales tax, and other required reports.
Developed and monitored procedures for accounts payable, receivable, and payroll.
Assisted in the preparation of federal and state taxes.
Coordinated and performed internal audits to ensure accuracy and compliance with regulations.
Conducted new employee orientations and maintained employee records.
Bookkeeper Resume with 5 Years of Experience
Highly organized and efficient professional bookkeeper with 5 years of experience in full- charge bookkeeping, accounts payable/receivable, and payroll services. Proven ability to maintain accurate financial records and establish and manage financial systems. Skilled in producing timely financial reports and exercising good judgement in making decisions. Experienced in developing and ensuring internal controls, budgeting, and cash flow management.
Core Skills:
Bookkeeping
Accounts Payable/Receivable
Payroll Management
Financial Reporting
Budgeting
Tax Preparation
Internal Controls
Cash Flow Management
Responsibilities:
Maintained accurate financial records and generated detailed reports
Processed accounts payable/receivable, payroll, and general ledger entries
Managed day- to- day bookkeeping activities, including bank and general ledger reconciliations
Developed and maintained financial systems and records, ensuring data integrity
Prepared and maintained budgets and monitored cash flow
Drafted and filed financial documents for government agencies
Assisted in the preparation of tax returns and audits
Addressed customer inquiries and maintained relationships with vendors and clients
Bookkeeper Resume with 7 Years of Experience
Dedicated and highly organized bookkeeper with seven years of experience in financial recordkeeping. Possesses strong interpersonal skills, as well as the ability to communicate effectively with team members and clients. Experienced in utilizing financial software to analyze and process financial documents, while also ensuring accuracy and compliance with internal and external standards.
Core Skills:
Financial analysis
Documentation
Account reconciliation
Data entry
Tax preparation
Recordkeeping
Auditing
Problem solving
Responsibilities:
Prepare and submit monthly financial reports to management
Reconcile accounts and manage discrepancies
Ensure accurate and timely data entry of financial information
Maintain accurate documentation of all financial records
Prepare and submit all required tax documents
Audit and review all financial records for accuracy
Analyze financial statements and trends to identify areas of improvement
Monitor accounts receivable and accounts payable to ensure timely payment and collection of funds
Bookkeeper Resume with 10 Years of Experience
Highly organized and detail- oriented Bookkeeper with 10 years of experience in financial management and accounting. Proven track record of success in ensuring accurate and timely financial reporting, bookkeeping and accounting activities. Experienced in accounts receivable, accounts payable and payroll processing. Possess excellent communication and problem solving skills.
Core Skills:
Accounts Receivable/Accounts Payable
Financial Record- Keeping & Reporting
Tax Preparation & Audits
Budgeting & Forecasting
Cost Analysis & Cost Control
Microsoft Office Suite
QuickBooks and other Accounting Software
General Ledger Maintenance
Process Improvement
Responsibilities:
Managed daily financial operations including accounts receivable, accounts payable, payroll, and general ledger functions.
Prepared detailed financial statements and reports.
Reconciled bank statements, credit card statements and other financial accounts.
Managed all aspects of accounts receivable and accounts payable, ensuring accuracy of invoices and payments.
Assisted with budgeting and forecasting activities, ensuring accuracy of cash flow forecasts.
Developed and implemented cost control and cost analysis procedures.
Prepared quarterly and yearly tax reports.
Assisted with external audits.
Developed and maintained effective communication with vendors and clients.
Developed and implemented process improvement initiatives.
Bookkeeper Resume with 15 Years of Experience
Experienced bookkeeper with over 15 years of finance and accounting experience. Solid background in bookkeeping and accounting principles, practices, standards, laws and regulations. Highly proficient in QuickBooks, Microsoft Excel, and other accounting software. Excellent problem- solving and organizational skills with the ability to manage multiple tasks and deadlines. Possess a CPA license.
Core Skills:
Bookkeeping
Accounting Procedures
Financial Statements
Financial Analysis
Budgeting
Payroll
Tax Preparation
Auditing
Reconciliation
QuickBooks
Microsoft Excel
Responsibilities:
Manage full- cycle bookkeeping and accounting functions, such as invoicing, accounts receivable and payable, payroll, bank reconciliation and month- end reporting.
Ensure accuracy of financial records in compliance with local, state and federal regulations.
Prepare and submit financial and tax reports in a timely fashion.
Maintain detailed and accurate records for client accounts.
Develop and implement effective internal controls to ensure accuracy of financial data.
Analyze and interpret financial information to identify potential areas of improvement.
Generate monthly financial statements, analyze and interpret results.
Assess and implement changes to improve efficiency and accuracy of accounting operations.
Provide support during audits and tax filings.
In addition to this, be sure to check out our resume templates, resume formats, cover letter examples, job description, and career advice pages for more helpful tips and advice.
What should be included in a Bookkeeper resume?
A bookkeeper resume should accurately reflect the job seeker's experience and qualifications. In this blog, we'll cover the essential elements of a bookkeeper resume and explain what should be included in each section.
Experience
Record of relevant bookkeeping experience
Any experience working with accounting software (e.g. Quickbooks, Xero, MYOB)
Ability to interpret financial documents and reports
Experience working with spreadsheets (e.g. Microsoft Excel)
Familiarity with current accounting regulations
Skills:
Attention to detail
Data entry
Effective communication
Problem-solving
Time management
Education
Degree in accounting or related field (if relevant)
Bookkeeping or accounting certificate
Relevant coursework in mathematics, finance, or economics
Software Knowledge
Proficiency in accounting software (e.g. Quickbooks, Xero, MYOB)
Proficiency in spreadsheet software (e.g. Microsoft Excel)
Personal Qualities & Other Interests
Ability to work to tight deadlines
Ability to prioritize tasks and meet objectives
Professional attitude and ability to work collaboratively
Interest in staying up-to-date with changes in the accounting industry
Interest in developing new technical skills
It's important to note that your bookkeeper resume should be tailored to the job you're applying for. Be sure to highlight your qualifications and experience that are relevant to the position. With the right information and a bit of effort, your bookkeeper resume can help you stand out from the crowd and impress potential employers.
What is a good summary for a Bookkeeper resume?
A successful Bookkeeper resume should demonstrate a candidate's financial expertise and ability to handle complex accounting tasks. The summary section of the resume should highlight a candidate's key skills and qualifications, including bookkeeping experience, accounting software knowledge, and familiarity with financial standards and regulations. It should also emphasize an applicant's attention to detail and organizational skills, as well as any certifications or relevant qualifications. An effective summary should make it clear that the applicant is an experienced and qualified professional who can handle a wide range of bookkeeping and accounting tasks.
What is a good objective for a Bookkeeper resume?
A bookkeeper plays a vital role in ensuring the financial health of a business. Before applying for an open bookkeeping position, it is important to create an effective resume that highlights your qualifications and abilities as a successful bookkeeper. An effective resume objective should be included in your resume, which will provide employers with a quick summary of your qualifications and goals.
Here are some examples of objectives for a bookkeeper resume:
To obtain a bookkeeping position utilizing my expertise in accounting and finance software to manage the financial operations of a company.
Seeking a bookkeeping position in a fast-paced environment to showcase my skills in financial software, reconciliation and billing.
To utilize my 10+ years' experience in accounting and bookkeeping to ensure accurate and timely financial operations for a business.
To gain a bookkeeping position that allows me to utilize my knowledge of finance, accounting, and payroll to ensure a smooth and efficient financial operation.
To use my interpersonal and organizational skills to effectively manage the bookkeeping and accounting duties of a company.
By including an effective objective in your resume, you are demonstrating to employers that you are a qualified and motivated individual who can be an asset to their organization. When writing your resume objective, be sure to focus on what you can bring to the role and how you can contribute to the success of the organization.
How do you list Bookkeeper skills on a resume?
When applying for a bookkeeper position, you must make sure your resume stands out from the crowd. An effective resume should include a comprehensive list of relevant bookkeeper skills that demonstrates that you are the ideal candidate for the job.
To ensure your resume is as effective as possible, here is a guide on how to list bookkeeper skills on your resume:
Start with a brief summary of your bookkeeper experience and qualifications. This should include any relevant certifications, coursework or training you have completed.
Under the qualifications section, include a list of your top bookkeeper skills. This list should include any software you are experienced in using, any accounting principles you are familiar with and any organizational skills that are relevant to bookkeeping.
Include a section dedicated to showcasing the bookkeeping projects you have completed. This should include any projects you have managed or worked on in a bookkeeper role.
Add a 'Additional Skills' section that details any supplementary skills that are relevant to the bookkeeper role. This could include any other IT skills, organizational skills or customer service skills you possess.
Make sure you tailor the skills you list on your resume to the job you are applying for. This will ensure that you are demonstrating the skills the employer is looking for and will make you stand out as the most suitable candidate for the role.
Following these tips will help create an effective resume that will showcase your bookkeeper skills in the best possible light.
What skills should I put on my resume for Bookkeeper?
When it comes to your resume, it is important to include any skills or qualifications related to the job you are applying for. As a bookkeeper, you should emphasize the skills and qualifications that demonstrate your mastery of bookkeeping processes and procedures. Here are some skills and qualifications you should include on your resume for a bookkeeper position:
Understanding of Generally Accepted Accounting Principles (GAAP): Being familiar with GAAP will demonstrate to employers that you have a deep understanding of the accounting profession and are able to provide accurate and reliable financial information.
Proficiency with Accounting Software: Being able to efficiently work with accounting software such as QuickBooks and Microsoft Dynamics is essential for a bookkeeper. Make sure to include any accounting software you are comfortable with.
Attention to Detail: As a bookkeeper, you need to pay careful attention to detail in order to ensure accuracy of financial data. Highlighting your ability to remain detail-oriented throughout the bookkeeping process will be an advantage to your resume.
Organizational Skills: Being able to stay organized and prioritize tasks is a must for bookkeepers. Show employers you can keep track of multiple tasks and deadlines without becoming overwhelmed.
Analytical Skills: Showing that you can analyze financial data and draw insightful conclusions is an important skill for bookkeepers. Including this on your resume will help demonstrate your value to employers.
These are just a few of the skills and qualifications you should consider including on your resume for a bookkeeper position. Make sure to highlight specific abilities that make you an ideal candidate for the job. By doing so, you will increase your chances of getting an interview and potentially landing the job.
Key takeaways for an Bookkeeper resume
When it comes to writing a powerful bookkeeper resume, there are a few key points to keep in mind. Here are some of the most important takeaways to keep in mind:
Focus on Your Relevant Experience: When it comes to bookkeeping, the most important thing to highlight on your resume is your relevant experience. Make sure to include any job duties or accomplishments related to bookkeeping in your professional experience section.
Include Numbers: Quantifiable data is key in any job search, but especially when it comes to bookkeeping. Showcase any successful projects or accounts that you managed in the past and make sure to include any financial data or budget numbers that you had a hand in managing.
Showcase Your Soft Skills: As a bookkeeper, you will likely be working with customers and clients. Make sure to highlight any communication, customer service, or problem solving skills you have acquired in the past.
Focus on Your Education: Many bookkeepers have a degree or certification in accounting or bookkeeping. Be sure to include any relevant educational background on your resume.
Highlight Your Technical Ability: Bookkeepers must be proficient in various software and financial programs. Make sure to list any relevant software experience, such as QuickBooks or Microsoft Excel, on your resume.
By keeping these key takeaways in mind, you can create a powerful and effective bookkeeper resume that will help you stand out from the competition and land the job you want.
Let us help you build
your Resume!
Make your resume more organized and attractive with our Resume Builder