Writing a resume for a billing supervisor position can be intimidating. After all, billing supervisors are responsible for overseeing the accuracy and timeliness of payments. To land the job, you need to showcase your experience in accounting and financial management, as well as your ability to lead, motivate and mentor a team. Crafting the perfect resume for a billing supervisor job takes time, research and careful consideration. This guide will provide best practices for resume writing and examples to help you create a resume that catches the eye of a hiring manager and lands you the billing supervisor job of your dreams.
If you didn't find what you were looking for, be sure to check out our complete library of resume examples.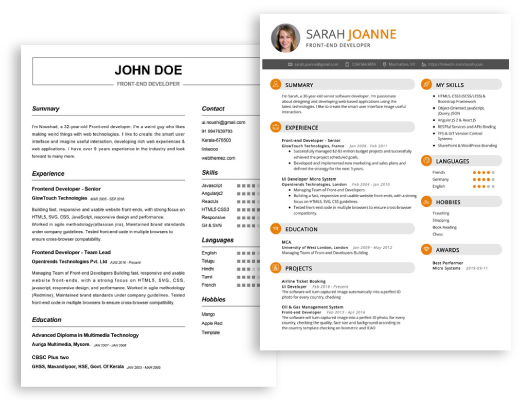 Start building your dream career today!
Create your professional resume in just 5 minutes with our easy-to-use resume builder!
Billing Supervisor Resume Examples
John Doe
Billing Supervisor
123 Main Street | Anytown, USA 99999 | Phone: (123) 456-7890 | Email: john.doe@email.com
Highly organized and motivated Billing Supervisor with over 7 years of experience in the healthcare industry. Proven track record of successfully managing and leading billing teams to meet corporate deadlines and goals. Possess strong problem- solving, communication and customer service skills. Experienced with working in both in- house and contracted environments.
Core Skills:
Accounts Receivable Management
Billing System Optimization
Team Supervision & Leadership
Auditing & Compliance
Data Entry & Analysis
Troubleshooting & Problem- Solving
Customer Service
Professional Experience:
Billing Supervisor, ABC Hospital, San Francisco, CA (2013- Present)
Manage a team of 8+ billing specialists and ensure accurate and timely billing to insurance providers
Monitor accounts receivable, generate reports and maintain updated records
Assist with the implementation of new billing systems and monitor staff compliance
Develop workflow processes and provide staff training on new procedures
Create monthly and quarterly financial reports
Solve billing discrepancies and handle customer inquiries
Billing Specialist, XYZ Medical Center, San Francisco, CA (2009- 2013)
Processed and submitted medical claims electronically
Investigated and resolved any unpaid or denied claims
Verified patient insurance information
Reviewed billing documents for accuracy
Responded to customer inquiries in a timely manner
Education:
Bachelor of Science in Business Administration, San Francisco State University, San Francisco, CA (2005- 2009)
Billing Supervisor Resume with No Experience
Highly organized and motivated Billing Supervisor with excellent interpersonal and communication skills. Possess a strong knowledge of billing systems and procedures and the ability to effectively manage staff. Seeking to leverage background and contribute to the success of a growing organization.
Skills:
Proficient in Microsoft Office Suite
Excellent communication, problem- solving and decision- making skills
Excellent organizational and time management skills
Strong customer service orientation
Knowledge of relevant billing systems and procedures
Responsibilities
Manage and track billing staff
Identify, review and resolve billing issues
Ensure accuracy and timeliness of billing documents
Develop and implement billing guidelines and procedures
Maintain and update billing records
Communicate with customers and vendors regarding billing inquiries
Train new staff on billing processes and procedures
Billing Supervisor Resume with 2 Years of Experience
Highly motivated and efficient billing supervisor with over 2 years of experience in the billing field. Possess exceptional interpersonal and communication skills, with the ability to efficiently manage tasks, multitask, and prioritize. Strong project management and administrative support knowledge, with an extensive background in driving customer satisfaction.
Core Skills:
Customer Service
Billing & Invoicing
Project Management
Budgeting & Forecasting
Problem- Solving
Data Analysis
Communication
Responsibilities:
Managed billing and invoicing operations for multiple large accounts.
Analyzed customer data to ensure accuracy in billing process.
Developed and implemented new protocols and procedures to streamline billing process.
Enforced deadlines and maintained billing accuracy in accordance with the company's standards.
Monitored financial records and prepared monthly reports to ensure accuracy of billing operations.
Tracked customer payments and maintained client relationships.
Resolved customer billing and payment inquiries in a timely manner.
Liaised with internal departments to ensure timely payments and to resolve customer billing problems.
Designed and implemented strategies to improve customer satisfaction with billing process.
Billing Supervisor Resume with 5 Years of Experience
A highly organized and detail- oriented professional with over 5 years of experience in the field of billing supervisory. Skilled in leading, motivating and training billing staff, as well as developing and improving existing procedures to ensure quality control and accuracy. Possesses a keen understanding of complex billing regulations and compliance requirements, as well as a solid background in customer service and problem resolution.
Core Skills:
Supervising billing staff
Automated billing system proficiency
Analyzing billing trends and patterns
Developing billing procedures
Auditing billings
Excellent customer service
Microsoft office programs
Responsibilities:
Organize, manage and monitor the day- to- day operations of the billing team
Coordinate with other departments to ensure billing accuracy and timely processing
Prepare and review reports of billing activities
Train, guide and mentor staff on billing regulations and systems
Develop and implement operational billing policies and procedures
Monitor and audit bills for accuracy and compliance
Provide customer service assistance and resolve billing inquiries
Troubleshoot billing system and process issues
Billing Supervisor Resume with 7 Years of Experience
Billing Supervisor with 7 years of experience in managing and supervising billing operations within a variety of industries. Proven skills in delivering exceptional customer service experience, leading billing teams, managing billing systems and invoicing, and optimizing processes for optimal results. Track record of success in improving organizational efficiency and delivering cost- savings.
Core Skills:
Supervisory/Leadership
Customer Service/Relations
Applied Accounting/Book- Keeping
Billing Processes
Advanced PC/Software Skills
Process Improvement/Optimization
Data Analysis/Reporting
Responsibilities:
Supervise and manage day- to- day billing operations including billing systems, customer service, invoices, and payment processing
Lead and motivate billing teams to ensure timely, accurate, and efficient completion of all billing tasks
Analyze billing operations to identify and implement process improvements and cost- saving measures
Monitor and assess customer service levels and identify solutions to reduce customer complaints
Develop and implement billing policies, procedures, and standards
Liaise with vendors, suppliers, and other departments to resolve billing issues
Provide detailed billing reports and analysis for management team
Ensure compliance with all regulatory and legal requirements related to billing and invoicing
Billing Supervisor Resume with 10 Years of Experience
Dedicated and reliable Billing Supervisor with 10 years of experience in financial management and customer service. Skilled in developing efficient billing processes, maintaining accurate records and overseeing customer accounts. Adept at managing client relations, resolving disputes and providing customer support. Experienced in collaborating with stakeholders to meet organizational objectives.
Core Skills:
Financial Management
Customer Service
Billing Processes
Account Management
Client Relations
Dispute Resolution
Stakeholder Management
Organizational Objectives
Responsibilities:
Developed efficient billing processes to streamline financial management
Managed customer accounts and assisted with any billing inquiries
Maintained accurate records for customer billing
Resolved customer disputes in a timely and efficient manner
Provided customer support and developed effective strategies for customer engagement
Collaborated with stakeholders to ensure organizational objectives were met
Managed client relations and maintained positive relationships with customers
Billing Supervisor Resume with 15 Years of Experience
A highly experienced and efficient billing supervisor with a proven 15 year track record of success in the administrative, financial, and customer service fields. Expert in managing billing and accounts receivable processes, ensuring efficient operations, and providing excellent customer service. Adept in developing and deploying strategies for efficient billing and accounts receivable operations, identifying and resolving billing problems, and monitoring and overseeing staff performance.
Core Skills:
Strong organizational and problem- solving skills
Excellent analytical and communication skills
Advanced knowledge of accounting principles, billing processes, and customer relations
Proficiency in computerized billing and accounts receivable systems
Solid understanding of taxation and compliance regulations
Proven ability to multitask and work under pressure
Responsibilities:
Supervise and coordinate billing and accounts receivable activities
Develop and implement billing and accounts receivable policies and procedures
Review and verify accuracy of billing data, customer accounts, and invoices
Monitor and analyze billing and accounts receivable performance, and recommend improvement and process improvements
Manage accounts receivable delinquencies and resolve customer disputes
Monitor changes in relevant legislation and regulations, and ensure compliance
Prepare and submit financial and operational reports
Train and mentor billing and accounts receivable staff
Ensure customer satisfaction and improve customer service
Maintain accurate customer account records and billing information
Liaise with customers regarding billing inquiries and complaints.
In addition to this, be sure to check out our resume templates, resume formats, cover letter examples, job description, and career advice pages for more helpful tips and advice.
What should be included in a Billing Supervisor resume?
In order to stand out among applicants for a Billing Supervisor position, a comprehensive and well-written resume is essential. This resume should include information about your education, experience, and qualifications that will demonstrate to potential employers why you are the ideal candidate for the job. Below is a list of important elements that should be included in a Billing Supervisor resume:
Education: Here you should list your degree, field of study, and any certifications or licenses that are related to the role. If you have relevant coursework or extracurricular activities, you can also include those.
Experience: Detail your professional experience in the billing and finance field, including the specific positions you have held as well as your accomplishments in those roles.
Skills: List any skills or knowledge that you have that are relevant to the job, such as software proficiency or familiarity with billing procedures.
Qualifications: Provide information about any special qualifications that you possess that are pertinent to the position, such as knowledge of IRS regulations or experience using accounting software.
Personal Attributes: Here you can highlight any soft skills or personal attributes that you have that may assist you in the job, such as organization, problem-solving, and communication.
Following the above tips will help you create an effective resume that will get you noticed by hiring managers and increase your chances of being hired as a Billing Supervisor.
What is a good summary for a Billing Supervisor resume?
A Billing Supervisor is responsible for ensuring the accuracy and efficiency of the billing department. As a Billing Supervisor, the individual must ensure the accuracy of invoices and payments, as well as oversee billing staff. The ideal candidate should have experience in billing and accounting, as well as excellent communication and organizational skills.
A good summary for a Billing Supervisor resume should include the candidate's experience and knowledge in billing and accounting, as well as their ability to manage a team of billing staff. The summary should also highlight their attention to detail and organizational skills. Finally, the summary should demonstrate their ability to work effectively under pressure and meet deadlines.
What is a good objective for a Billing Supervisor resume?
A good objective for a Billing Supervisor resume should emphasize the candidate's experience managing billing procedures and personnel, as well as their dedication to accuracy and customer satisfaction. The objective should demonstrate the candidate's ability to work in an organized and efficient manner.
Demonstrate extensive experience in managing billing personnel, processes, and procedures.
Ensure accuracy of data and customer satisfaction.
Employ excellent organizational skills to manage multiple billing tasks and deadlines.
Utilize problem-solving skills to address billing issues in a timely manner.
Possess a thorough knowledge of billing software and systems.
Maintain strong relationships with team members and other departments.
Provide detailed documentation and reports.
Remain up-to-date with industry regulations and trends.
How do you list Billing Supervisor skills on a resume?
A Billing Supervisor is responsible for overseeing and managing accounting and billing activities within an organization. A successful Billing Supervisor should have excellent problem-solving and communication skills, as well as experience in a supervisory or managerial capacity. When listing Billing Supervisor skills on a resume, be sure to include:
Expertise in accounting, billing, and financial management
Proficiency in bookkeeping software and financial tools
Strong knowledge of applicable laws, regulations and industry standards
Excellent written and verbal communication skills
Ability to analyze and interpret financial data
Proven ability to lead, motivate and manage teams
Highly organized and detail-oriented
Problem-solving and decision-making aptitude
Excellent time management and multitasking skills.
What skills should I put on my resume for Billing Supervisor?
When applying for a Billing Supervisor role, it is important to make sure your resume stands out from the competition. Many resumes can be similar, so it is important to make sure yours is comprehensive and showcases your skills. When writing a resume for a Billing Supervisor role, here are some key skills to consider including:
Strong numerical and analytical skills: As a Billing Supervisor, you will be managing a team of billers and ensuring that invoices are accurate and timely. It is therefore important to demonstrate strong numerical and analytical skills and show that you can handle complex financial calculations.
Knowledge of accounting software: As a Billing Supervisor, you may need to use various accounting software packages. Make sure to list any relevant experience you have with popular software, such as SAP, Sage or QuickBooks.
Excellent communication: You will need to be able to effectively communicate with other members of the billing team and other departments. Make sure to highlight your excellent communication skills, both verbal and written, in your resume.
Leadership: While many technical skills may be important for a Billing Supervisor role, your leadership skills can be just as important. Show that you have experience leading a team and possess strong interpersonal skills.
Problem solving: As a Billing Supervisor, you will be faced with numerous problems. Make sure to showcase your problem-solving skills and show that you have the ability to think on your feet and find solutions to complex problems.
By including these skills on your resume, you will show potential employers that you are a qualified candidate for the Billing Supervisor role. Make sure to focus on the skills most relevant to the role and demonstrate how you have used them to create positive outcomes in the past.
Key takeaways for an Billing Supervisor resume
As a Billing Supervisor, you have the important task of overseeing the billing department and monitoring accounts receivable. With the right combination of qualifications, experience, and accomplishments, you can make your resume stand out from other applicants and attract the attention of potential employers. Here are some key takeaways to consider when crafting your resume:
Focus on your qualifications and experience. In your resume, highlight any relevant education and certifications you have, as well as any specialized training you have received. Additionally, include any past positions you have held that are related to billing and accounts receivable.
Demonstrate your leadership qualities. Employers are looking for candidates who can lead a team and work with other departments to ensure the successful completion of projects. Showcase examples of your leadership skills, such as leading a team to achieve a specific goal or goal-setting for a project.
Demonstrate your technical skills. Employers are looking for candidates with technical abilities, such as being able to use specialized software for billing and accounts receivable. Include any software programs, such as QuickBooks or Microsoft Excel, that you are familiar with.
Show your problem-solving abilities. As a Billing Supervisor, it is important to be able to think on your feet and find solutions to problems quickly. Provide examples of times when you have successfully identified and solved a problem.
Showcase your achievements. Include any awards or recognitions you have received, as well as any projects or initiatives that you have spearheaded.
By emphasizing your qualifications, experience, and accomplishments, you can make your resume stand out from the competition. These key takeaways will help you create an effective and compelling resume that will impress potential employers.
Let us help you build
your Resume!
Make your resume more organized and attractive with our Resume Builder