Are you in the process of applying for a job as a billing representative? Crafting the perfect resume can be a challenge, especially if you're not sure what information to include or how to format your document. To help you get started, this blog post provides a comprehensive guide to writing a billing representative resume. With practical advice and examples, it outlines the essential elements of a successful resume and provides tips on how to make your application stand out.
If you didn't find what you were looking for, be sure to check out our complete library of resume examples.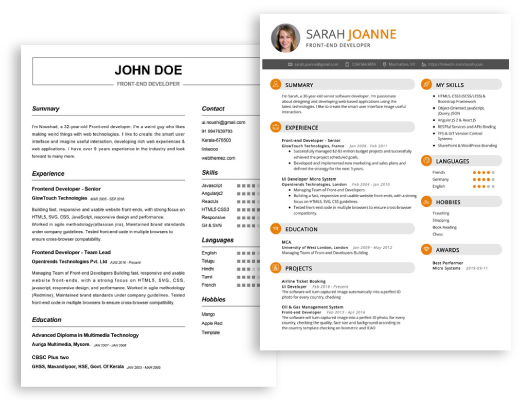 Start building your dream career today!
Create your professional resume in just 5 minutes with our easy-to-use resume builder!
Billing Representative Resume Examples
John Doe
Billing Representative
123 Main Street | Anytown, USA 99999 | Phone: (123) 456-7890 | Email: john.doe@email.com
Highly organized and reliable billing representative with over 5 years of experience in healthcare and finance. Proven ability to accurately process payments, efficiently manage accounts receivable, and provide excellent customer service. Possesses excellent communication and interpersonal skills, as well as the ability to understand complex billing processes and regulations.
Core Skills:
Proficient in Microsoft Office Suite, accounting software, and other data management systems
Strong organizational and time management skills
Effective written and verbal communication
In- depth knowledge of medical insurance and billing processes
Ability to maintain confidentiality and security of patient information
Professional Experience:
Billing Representative, ABC Health Systems, 2019- present
Process payments and reconcile accounts receivable
Utilize electronic medical billing systems to enter patient data and insurance information
Resolve discrepancies between patient bills, insurance statements and patient accounts
Verify insurance coverage and eligibility
Communicate with patients and respond to questions/concerns
Billing Clerk, XYZ Health Care, 2015- 2019
Reviewed and processed patient accounts and insurance claims
Resolved billing disputes and addressed customer inquiries
Performed data entry and other administrative duties as needed
Assisted with various accounting tasks, such as deposits and reconciliations
Education:
B.S. Business Administration, ABC University, 2015
Billing Representative Resume with No Experience
Recent graduate with a Bachelor of Science in Business Administration, looking for an entry- level billing representative position to gain experience in the field and excel in the role.
Core Skills:
Organized
Strong customer service
Proficient in Microsoft Office
Adaptable
Strong attention to detail
Ability to multitask
Responsibilities:
Verifying billing records and invoices
Researching and resolving billing inquiries
Maintaining records of customer accounts and invoices
Working closely with other departments to ensure accuracy of billing information
Processing payments and refunds
Maintaining accurate records of customer accounts and invoices
Complying with all applicable laws and regulations
Reviewing and analyzing billing data to ensure accuracy
Billing Representative Resume with 2 Years of Experience
Trustworthy and detail- oriented billing representative with two years of experience in customer service roles. Proven ability to stay organized, accurately prepare invoices, and make sure all billing cycles are accurate. Knowledgeable of the financial industry and proficient in complying with HIPPA and other regulations. Committed to providing customers with an exceptional billing experience.
Core Skills:
Billing Cycle Compliance
Customer Service
Financial Acumen
Invoice Preparation
HIPPA Regulations
Communication
Responsibilities:
Greet customers in person or on the phone and answer any questions or concerns they have
Compile, organize, and process the customer's data and generate invoices
Review the invoices and make sure all information is accurate and up- to- date
Ensure customer billing cycles are compliant and up- to- date
Contact customers to discuss any discrepancies or changes to the billing cycle
Process payments, refunds, adjustments and other transactions as needed
Address customer complaints in an efficient and effective manner
Maintain accurate records of customer transactions and ensure compliance with HIPPA and other regulations
Billing Representative Resume with 5 Years of Experience
Detail- oriented and experienced Billing Representative with 5 years of experience in managing complex billing processes, developing and maintaining customer relationships, and solving challenging client issues. Proven ability to drive revenue growth, cost savings, and customer satisfaction. Excellent problem- solving, organizational, and communication skills.
Core Skills:
Customer Relationship Management
Billing Systems Administration
Data Analysis
Accounts Receivable
Collections
Problem Solving
Organizational Skills
Responsibilities:
Managed customer accounts, including invoicing, payments, and billing issues.
Performed reconciliation of customer accounts, resolved discrepancies, and communicated with customers to update account information.
Developed billing strategies and processes to optimize customer satisfaction and revenue growth.
Analyzed customer data, identified trends and discrepancies, and provided actionable insights to stakeholders.
Verified customer accounts, prepared invoices, and ensured accurate billing processes.
Followed up with customers regarding overdue payments and resolved payment disputes.
Maintained accurate and up- to- date records of customer accounts and payment history.
Billing Representative Resume with 7 Years of Experience
A highly motivated and resourceful billing representative with 7 years of experience in providing financial services and managing invoices, accounts and customer inquiries. Experienced in problem solving, customer service and working under pressure. Experienced in using customer relationship software and providing outstanding customer service.
Core Skills:
Client Support
Account Management
Invoice Processing
Problem Solving
Customer Relationship Software
Time Management
Data Entry
Responsibilities:
Processing invoices, collections and payments
Assisting customers with billing inquiries
Resolving any customer disputes in a timely and professional manner
Maintaining customer records in customer relationship software
Establishing and maintaining customer relationships
Generate and distribute customer invoices and statements
Assist in the preparation of monthly financial reports
Identify and address customer needs in a timely manner
Billing Representative Resume with 10 Years of Experience
Dedicated and detail- oriented Billing Representative with 10 years of experience in the medical field. Proven ability to manage complex accounts, process timely payments and maintain accurate billing records. Experienced in customer service and developing customer relations. Highly organized and efficient with strong problem- solving abilities.
Core Skills:
Detail- oriented
Account management
Time management
Customer service
Customer relations
Problem solving
Billing software
Data entry
Responsibilities:
Processed timely payments and maintained accurate billing records
Researched customer accounts and resolved billing inquiries
Worked with customers to resolve disputes and billing errors
Prepared and submitted daily work reports
Reconciled customer accounts
Managed customer accounts in billing software
Updated customer information and account data
Entered data into customer accounts accurately
Contacted customers regarding overdue payments
Developed and maintained customer relationships
Assisted customers over the phone and resolved problems
Provided customer service in a timely and professional manner
Ensured accuracy of customer accounts.
Billing Representative Resume with 15 Years of Experience
A highly organized and detail- oriented individual with over 15 years of experience as a Billing Representative. Skilled in customer service, managing insurance payments, medical record filing, and data entry. A hard- working, multi- tasker with the ability to handle a variety of duties with a commitment to accuracy, efficiency, and customer satisfaction.
Core Skills:
Customer Service
Insurance Payments Management
Medical Records Filing
Data Entry
Multi- Tasking
Organizational Skills
Problem Identification & Resolution
Attention to Detail
Responsibilities:
Gathering and entering customer information accurately into the billing system.
Responding to customer inquiries and complaints in a timely and professional manner.
Assisting customers with payment arrangements and account balances.
Processing and reconciliation of insurance payments.
Auditing and maintaining medical records in compliance with HIPAA guidelines.
Reviewing patient accounts for accuracy and making corrections as needed.
Creating reports and providing detailed analysis on billing activities.
Providing support to other departments and team members as needed.
In addition to this, be sure to check out our resume templates, resume formats, cover letter examples, job description, and career advice pages for more helpful tips and advice.
What should be included in a Billing Representative resume?
A Billing Representative resume should include information related to billing, customer service, and administrative tasks. To make sure your resume stands out from the rest, be sure to include the following:
Professional Summary: Provide a brief overview of the skills and experience you have gained in your role as a Billing Representative.
Specialized Skills: List any specialized skills you have, such as working with certain billing software, familiarity with financial terminology, or experience with collections.
Customer Service: Include any customer service experience you have, such as resolving customer inquiries or providing general assistance.
Administrative Tasks: Detail any administrative tasks you have experience with, such as data entry, filing, or data analysis.
Professional Experience: List any relevant experience you have gained in your role as a Billing Representative, such as working with accounts receivable, preparing invoices, or managing payment plans.
Education: Include your educational background, such as any degrees or certifications you may have.
By including the above information in your resume, you can ensure that employers know you have the skills and experience necessary to be a successful Billing Representative.
What is a good summary for a Billing Representative resume?
A Billing Representative is responsible for collecting payments from customers, maintaining customer accounts, and resolving customer billing disputes. As such, a good summary for a Billing Representative resume should highlight the professional's accounting and customer service skills, as well as any other qualifications that demonstrate their ability to effectively manage customer accounts. These may include experience with billing software, such as QuickBooks, or specialized training in accounts receivable and collections. It should also include any customer service awards or recognition they have received, as this shows their ability to stick to deadlines, stay organized, and resolve customer inquiries quickly. Finally, a good summary should showcase the professional's enthusiasm and commitment to the job, as well as their eagerness to take on new challenges.
What is a good objective for a Billing Representative resume?
When crafting a resume for a Billing Representative role, it is important to set the proper objective. An effective objective should inform the hiring manager of your career goals and demonstrate the skills and experience you will bring to the position.
Here are some good objectives to include in a Billing Representative resume:
Seeking a Billing Representative role to utilize my knowledge of billing systems and customer service experience to promote customer satisfaction and accuracy.
To obtain a Billing Representative position that allows me to apply my experience in customer service and accounts receivable to ensure customer satisfaction and accuracy.
Dedicated Billing Representative with 5+ years of accounts receivable and customer service experience seeking an opportunity to contribute to team and company success.
Self-motivated professional seeking a Billing Representative role to use my expertise in customer service, accounts receivable, and billing systems to provide quality customer service and accuracy.
Detail-oriented Billing Representative with 3+ years of experience looking for a position to utilize my accounting and customer service skills to ensure customer satisfaction and accuracy.
By including any of these objectives in your resume, you can demonstrate to the hiring manager that you have the necessary experience and skills to be successful in the position.
How do you list Billing Representative skills on a resume?
When applying for a Billing Representative position, a strong resume can make all the difference. To create an effective resume for a Billing Representative, you'll need to highlight your experience in billing and accounting, as well as your ability to think critically and solve complex problems. Here are some skills that should be included on a resume for a Billing Representative position:
Extensive knowledge of billing and accounting practices
Proficiency with accounting software, such as QuickBooks and FreshBooks
Strong numeracy and analytical skills
Excellent communication, both verbal and written
Ability to work independently and accurately
Ability to multi-task and prioritize tasks
Problem-solving and troubleshooting skills
Attention to detail
Ability to work under pressure and meet tight deadlines
Customer service skills
Ability to maintain confidentiality and handle sensitive information
Knowledge of applicable laws and regulations
Familiarity with computer programs, such as Microsoft Office Suite
By emphasizing your experience and skill set in these areas, you can create an effective resume for a Billing Representative position.
What skills should I put on my resume for Billing Representative?
A billing representative is responsible for processing customer payments and maintaining accurate records. A candidate applying for this role should possess a combination of interpersonal, technical, and organizational skills. When writing your resume for a billing representative position, consider highlighting the following skills:
Accuracy and Attention to Detail: A billing representative should be detail-oriented to process payments correctly and accurately.
Time Management: In this role, you must be able to manage your time efficiently and prioritize tasks.
Customer Service: As you will be interacting with customers, excellent customer service skills are essential.
Computer Skills: You should have experience with relevant software programs such as databases, spreadsheets, and billing systems.
Math Skills: You will need to have good numerical skills to calculate taxes, discounts, and other financial data correctly.
Communication: You must have strong communication skills to effectively communicate with customers, both verbally and in writing.
Problem Solving: Being able to troubleshoot any issues quickly is key in this position.
By including these skills on your resume for a billing representative position, you can demonstrate your qualifications to potential employers. Additionally, you should always back up your skills with real-life examples and experiences.
Key takeaways for an Billing Representative resume
When crafting a resume for a Billing Representative position, there are a few key points to remember. For a successful resume, you should include information about your education, background, and experience in the field. It is also important to highlight the skills and knowledge you possess that would make you an ideal candidate for the job.
When crafting your resume, make sure to include any certifications and licenses that you may have obtained. This will show potential employers that you are qualified for the position and have the necessary skills and knowledge to succeed. Other important elements of a resume for a Billing Representative include a list of any computer programs you are familiar with and your experience working with customer accounts.
It is also beneficial to showcase any customer service skills you may have developed from previous jobs. Employers will be looking for someone who can handle difficult customer situations, communicate effectively, and handle customer inquiries quickly and accurately.
Finally, it is important to include any awards, honors, or special achievements you may have received. This will demonstrate your ability to go above and beyond and will show potential employers that you are a driven and motivated individual.
By emphasizing these key points, you will be able to craft an effective resume that will help you stand out from the competition and land the job you are applying for.
Let us help you build
your Resume!
Make your resume more organized and attractive with our Resume Builder