Writing a resume for a billing clerk position can be a daunting task. It is important to craft a document that accurately informs potential employers of your abilities and experience, and makes a favorable impression. A well-crafted resume should highlight your knowledge of accounting principles, financial regulations and procedures, and excellent operational and administrative skills. This guide will provide helpful advice on how to structure your billing clerk resume and include relevant information. With the right approach, you can showcase your qualifications and expertise to stand out from other job seekers
If you didn't find what you were looking for, be sure to check out our complete library of resume examples.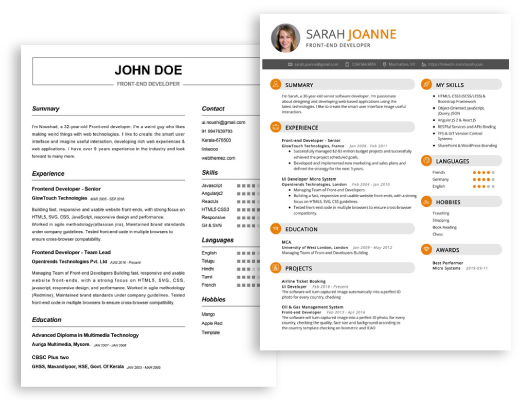 Start building your dream career today!
Create your professional resume in just 5 minutes with our easy-to-use resume builder!
Billing Clerk Resume Examples
John Doe
Billing Clerk
123 Main Street | Anytown, USA 99999 | Phone: (123) 456-7890 | Email: john.doe@email.com
A highly organized, detail- oriented and efficient Billing Clerk with over 5 years of experience in the finance field. Possessing an excellent eye for detail and strong customer service skills, I have provided accurate accounting documents for a variety of accounts. My core competencies include data entry, bookkeeping, financial recordkeeping, and preparing financial reports.
Core Skills:
Financial record- keeping
Data entry
Financial Reporting
Bookkeeping
Customer Service
Accounts Receivable
Accounts Payable
Account Reconciliation
Professional Experience:
Billing Clerk, ABC Accounting
Created and maintained accurate and up- to- date records of accounts payable and accounts receivable.
Processed payments and inputted data into the accounting system.
Answered customer inquiries, processed invoices and payments, and reconciled discrepancies.
Prepared and reconciled bank statements and maintained the general ledger.
Assisted with the preparation of financial reports and other documents.
Education:
B.S. in Accounting, XYZ University
Billing Clerk Resume with No Experience
Recent college graduate with a focus in business and finance looking to leverage my critical thinking and problem- solving skills as a Billing Clerk. My goal is to obtain a role that allows me to engage with customers, apply financial knowledge, and demonstrate my dedication to completing tasks in an efficient and effective manner.
Core Skills:
Strong communication and interpersonal skills
Meticulous attention to detail
Able to multitask and remain organized
Proficient in Microsoft Office and financial software
Demonstrated accuracy and speed in data entry
Knowledge of financial and accounting principles
Responsibilities:
Accurately entering and processing customer invoices
Verifying payments for accuracy and completeness
Preparing and generating financial statements
Maintaining customer accounts and records
Researching and resolving customer inquiries
Processing and reconciling billing discrepancies
Managing accounts receivable and accounts payable
Billing Clerk Resume with 2 Years of Experience
A motivated and detail- oriented Billing Clerk with two years of experience efficiently handling billing and payment processing. Possesses excellent interpersonal skills to collaborate with a team and work with external vendors. Skilled in utilizing various software to streamline billing processes, manage financial records, and compile statements. Experienced in developing and implementing effective billing strategies to ensure accuracy, timeliness, and compliance with all legal requirements.
Core Skills:
Excellent verbal and written communication
Knowledgeable in billing and payment processing
Skilled in financial record and statement management
Proficient in a range of software programs
Highly organized and detail- oriented
Ability to multitask and prioritize tasks
Responsibilities:
Create and manage invoices for customers
Process and reconcile payments
Assist with collections as needed
Maintain accurate financial records for billing and payment processing
Investigate and resolve incorrect billing and payment discrepancies
Develop and implement billing strategies to ensure accuracy and timeliness
Prepare and distribute financial statements to management
Monitor accounts payable and receivable
Communicate with internal and external customers to answer questions and explain billing process
Ensure compliance with legal regulations and company policies
Keep updated on new technologies, products, and services to ensure continuity with billing operations and customer satisfaction
Billing Clerk Resume with 5 Years of Experience
Highly organized and detail- oriented Billing Clerk with 5 years of experience in financial recordkeeping, data processing, and customer service. Possessing a solid understanding of financial regulations and accounting principles. Committed to accuracy, efficiency and customer satisfaction.
Core Skills:
Financial recordkeeping
Data processing
Customer service
Accounting principles
Computer Proficiency
Relevant software proficiency
Time management
Problem- solving
Attention to detail
Organizational skills
Responsibilities:
Process and record invoices and payments
Maintain and update financial records in accordance with established accounting procedures
Generate reports, summaries, and analyses of financial data
Ensure accuracy of financial data by reconciling accounts
Communicate customer service inquiries in a timely and professional manner
Monitor customer accounts for outstanding payments
Follow up on customer remittances and payments
Evaluate and resolve customer discrepancies and complaints
Billing Clerk Resume with 7 Years of Experience
Highly organized and detail- oriented billing clerk with 7 years of experience in managing and reconciling accounts, preparing invoices and processing payments. Experienced in utilizing accounting software and handling financial data with accuracy and confidentiality. Proactive communicator with excellent interpersonal skills, able to collaborate with members of various departments and exchange information.
Core Skills:
Excellent knowledge of accounting software, MS Office and spreadsheets
Proficiency in data entry and financial calculations
Strong organizational, problem- solving and time management skills
Excellent communication, editing and proofreading skills
Knowledge of accepted accounting principles and procedures
Responsibilities:
Preparing invoices and statements for customers
Managing accounts receivable and payable
Analyzing financial data to locate discrepancies and irregularities
Reconciling bank accounts and processing payments
Communicating with clients and vendors regarding billing and payment issues
Maintaining an accurate and up- to- date database of customers and vendors
Developing reports for management and analyzing data to identify discrepancies and trends
Billing Clerk Resume with 10 Years of Experience
Highly organized and detail- oriented Billing Clerk with 10 years of experience in accounts receivable and accounts payable. Skilled in using various software platforms to manage accounts, generate financial reports and prepare invoices. Proven ability to accurately and efficiently process customer payments and maintain accurate financial records. Committed to providing superior customer service in a fast- paced environment.
Core Skills:
Accounts Receivable and Accounts Payable
Financial Reporting
Invoice Preparation
Payment Processing
Customer Service
Data Entry
Software Proficiency
Bookkeeping
Organizational Skills
Time Management
Responsibilities:
Maintain up- to- date accounts receivable and accounts payable records.
Process customer payments and accurately record transactions in software system.
Generate detailed financial reports and invoices for customers.
Audit and reconcile accounts to ensure accuracy of records.
Answer customer inquiries and resolve any payment issues.
Process returns, refunds, and credits as needed.
Post payments to customer accounts and keep track of outstanding balances.
Provide superior customer service and ensure customer satisfaction.
Assist with special projects as required.
Billing Clerk Resume with 15 Years of Experience
Dedicated and detail- oriented Billing Clerk with 15 years of experience in processing and managing financial transactions in a timely and accurate manner. Skilled in reconciling customer accounts and resolving discrepancies. Experienced in data entry, customer service, and record keeping. Adept at working in a high- volume, fast- paced environment.
Core Skills:
Financial transaction processing
Customer account reconciliation
Data entry
Record keeping
Problem resolution
Excellent communication skills
Attention to detail
Time management
Customer service
Responsibilities:
Process customer payments and invoices
Reconcile customer accounts and resolve discrepancies
Manage accounts receivable and accounts payable
Accurately enter data into the computer system
Generate financial reports and documents
Track unpaid invoices and initiate collection efforts
Provide customer service and answer billing questions
Maintain accurate records and filing systems
Process refunds and credits in a timely manner
Monitor customer accounts for any changes or updates
In addition to this, be sure to check out our resume templates, resume formats, cover letter examples, job description, and career advice pages for more helpful tips and advice.
What should be included in a Billing Clerk resume?
A Billing Clerk's resume should include a comprehensive record of their job history and qualifications. This includes their experience with customer services, billing and other related skills. It should also include a summary of their experience, education, and any certifications they may have received.
Experience with billing systems, such as invoicing and accounts receivable
Comfortable with customer service and handling customer inquiries
Experience with customer databases, such as Microsoft Excel
Knowledge of financial regulations and laws
Proficiency with accounting software, such as QuickBooks
Ability to work accurately and efficiently
Excellent organizational, time-management, and communication skills
Good problem solving skills
Ability to handle sensitive and confidential information
Ability to work independently and in a team setting
Ability to meet project deadlines
Flexible and adaptable to changing environments
What is a good summary for a Billing Clerk resume?
A billing clerk is responsible for the accurate and timely processing and tracking of all customer invoices. A good summary on a billing clerk resume should provide a brief overview of the candidate's experience and qualifications, as well as a summary of key skills.
The summary should highlight the individual's experience with invoice processing, data entry, customer service, and accounting processes. It should also mention any software or tools that the individual has experience using. Additionally, the summary should mention any experience working with accounts receivable, accounts payable, and budgeting.
Another important aspect to include in a billing clerk resume summary is the individual's ability to multi-task, accurately compile and enter data, and efficiently handle customer requests. The summary should also emphasize any achievement or recognition the individual has received for their work.
Finally, the summary should mention any special certifications or qualifications that the individual may have. For example, if they have a certification in accounts receivable, that should be mentioned. The summary should also include any professional development courses the individual has completed, such as classes in Excel or Quickbooks. All of this information should help the hiring manager quickly assess the candidate and determine if they are a good fit for the position.
What is a good objective for a Billing Clerk resume?
A billing clerk is someone who is responsible for overseeing the billing operations of an office or organization. They are responsible for reviewing invoices, issuing payments, and managing accounts. When crafting a resume for a billing clerk, it is important to create an objective statement that outlines your qualifications, experience, and goals. Here are some objectives that can be used for a billing clerk resume:
Possess strong organizational and communication skills to accurately process invoices and payments
Experienced in using accounting software to manage billing and accounts receivable processes
Proven ability to maintain records and adhere to billing procedures
Looking to use my skills and experience to help an organization increase efficiency and accuracy in its billing operations
Use my knowledge of billing and accounting principles to manage accounts and ensure timely payments
Dedicated to providing excellent customer service and meeting deadlines
Proven record of developing and leveraging strategies to improve billing processes
Aiming to leverage my attention to detail and accuracy to help an organization achieve its financial goals.
How do you list Billing Clerk skills on a resume?
When crafting a resume, highlighting your skills is an essential task to demonstrate your qualifications and expertise. As a billing clerk, you will be handling payments, invoices, and sales records and must have the right skills to do the job. Here are some skills to include in your resume for a billing clerk position.
Payment processing: A billing clerk needs to have experience with payment processing, including issuing invoices and receipts, preparing reports on payments received, reconciling payments with invoices, and following up on unpaid or overdue accounts.
Accounting knowledge: A billing clerk needs to have basic accounting and bookkeeping knowledge to manage the company's payments and records accurately. This includes understanding of debits, credits, and other accounting concepts.
Data entry: As a billing clerk, you will be responsible for manually entering customer data, such as payments, billing information, and invoice information into the company's software. You should be able to demonstrate your data entry speed and accuracy.
Time management: As a billing clerk, you need to be able to manage your time efficiently and meet deadlines. This includes staying organized and managing your workload to ensure all payments are processed in a timely manner.
Communication: As a billing clerk, you need to effectively communicate with customers and other departments within the company. You should be able to explain billing policies and procedures in a clear and concise manner.
Adding this list of billing clerk skills to your resume will show potential employers you have what it takes to be a successful billing clerk.
What skills should I put on my resume for Billing Clerk?
A billing clerk is a position that requires a great deal of attention to detail and accuracy. To be successful in this role, you will need to have certain skills. Here are some key skills that should be included on your resume in order to make a successful impression:
Data Entry: As a billing clerk, you will need to be able to accurately enter customer data into your company's system. This requires proficiency in the use of computers and related technology.
Problem-Solving: You should be able to troubleshoot any issues that may arise when entering data. This requires a high level of creativity and critical thinking skills.
Communication: You should be able to effectively communicate with customers and other personnel when needed.
Organizational Ability: In order to ensure accurate billing, you will need to be organized and pay attention to detail.
Time Management: You should be able to manage your time effectively and prioritize tasks in order to meet deadlines.
Financial Acumen: You should have an understanding of basic financial concepts in order to do your job effectively.
Key takeaways for an Billing Clerk resume
If you are applying for a billing clerk position, your resume should include key takeaways that demonstrate to employers your strong analytical, organization, and communication skills. Taking the time to include these important skills in your resume can help you stand out from the competition.
Analytical Skills: As a billing clerk, you are expected to review and process invoices, reconcile accounts, and resolve discrepancies. To be successful in this role, you need to have strong analytical skills and be able to recognize patterns and trends in financial documents.
Organization: In addition to reviewing and processing invoices, you may be responsible for maintaining financial records and filing paperwork. An effective billing clerk should have the organizational skills necessary to manage multiple tasks and prioritize important duties.
Communication: A billing clerk must be able to effectively communicate with vendors, customers, and staff members. By including examples of times you have successfully communicated with a customer or vendor or presented financial information to staff members, you can demonstrate that you have the communication skills necessary for the job.
By including these key takeaways in your resume, you can show employers that you have the skills and experience needed to be successful as a billing clerk.
Let us help you build
your Resume!
Make your resume more organized and attractive with our Resume Builder