Writing a resume as a billing associate can be a challenge. After all, you need to ensure that your skills, qualifications, and experience are accurately conveyed in order to make a positive impression on the hiring manager. This guide will provide you with the information you need to create a successful resume for a billing associate position. You will find helpful tips, examples, and detailed advice on how to best present your skills and qualifications to prospective employers. By the end of this guide, you should have a clear understanding of how to craft a strong and effective billing associate resume.
If you didn't find what you were looking for, be sure to check out our complete library of resume examples.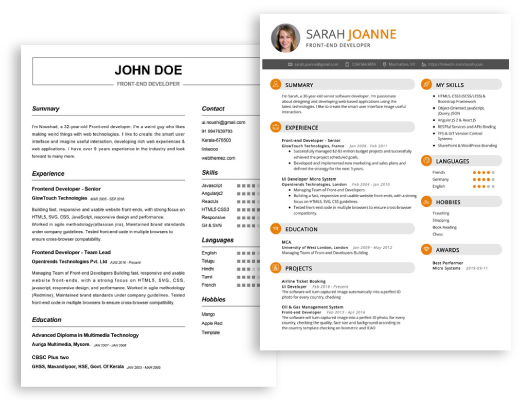 Start building your dream career today!
Create your professional resume in just 5 minutes with our easy-to-use resume builder!
Billing Associate Resume Examples
John Doe
Billing Associate
123 Main Street | Anytown, USA 99999 | Phone: (123) 456-7890 | Email: john.doe@email.com
I am a highly motivated and organized Billing Associate with over 6 years of experience in invoicing, data entry, customer service, and office support. I have a proven track record of ensuring accuracy in processing payments and resolving customer disputes. I am adept at maintaining accurate financial records and ensuring customer satisfaction. In addition, I possess excellent communication and organizational skills which makes me an ideal candidate for any billing- related position.
Core Skills:
Experience in data entry and administrative tasks
Proficient in managing billing records
Strong background in customer service
Skilled in financial analysis and accounting
Excellent organizational and communication skills
Ability to meet deadlines and work with minimal supervision
Professional Experience:
Billing Associate, ABC Company – 2015- present
Processed customer invoices, payments and inquiries
Verified accuracy of billing information and customer accounts
Assisted with customer service support and resolving customer disputes
Provided customer service to clients
Created and maintained financial records
Supported in preparing bills and other documents
Office Assistant, XYZ Company – 2012- 2015
Performed administrative tasks such as data entry and filing
Assisted with customer service inquiries
Maintained financial records and databases
Provided customer service support
Resolved customer disputes
Education:
Bachelor of Science in Business Administration, ABC University – 2011- 2015
Billing Associate Resume with No Experience
Recent college graduate with strong organizational skills and a passion for customer service
Seeking to use my educational background in the billing associate role to provide exceptional service to customers
Core Skills:
Excellent customer service skills
Well- versed in Microsoft Office applications
Strong organizational, communication, and problem- solving skills
Ability to work independently and as part of a team
Detail- oriented and able to multitask
Responsibilities:
Processing customer invoices and payments
Maintaining customer records in database
Replying to customer inquiries
Updating billing information
Assisting with other administrative tasks as required
Billing Associate Resume with 2 Years of Experience
Hardworking and detail- oriented Billing Associate with 2+ years of experience in the field. Experienced in providing accurate and timely billing services to wide range of customers. Proficient in various computer programs, including SAP, and MS Office Suite, as well as customer service and problem solving. Possesses up to date knowledge of industry standards and regulations, and committed to providing excellent billing services.
Core Skills:
Excellent customer service skills
Experience in billing and payment processing
Knowledge of SAP and MS Office Suite
Ability to compile customer data
Excellent problem solving and communication skills
Proficient in industry standards and regulations
Responsibilities:
Process customer payments and invoices accurately in a timely manner
Provide customer service and assistance with billing questions and inquiries
Ensure accuracy of customer billing data
Receive and investigate customer complaints
Maintain accurate and up to date customer records
Provide assistance and guidance to other billing associates
Develop and maintain positive customer relationships.
Billing Associate Resume with 5 Years of Experience
Billing Associate with 5+ years of experience in providing customer service to clients and ensuring accuracy of billing statements. Possesses strong problem- solving and organizational skills, and able to use various software applications to manage data efficiently. Experienced in creating a high quality standard of customer service and building strong customer relationships.
Core Skills:
Customer Service
Billing Statement Accuracy
Data Management
Software Applications
Problem- solving
Organizational Skills
Strong Communication
Responsibilities:
Provide excellent customer service to clients by responding to inquiries and achieving customer satisfaction
Ensure accuracy and completeness of billing statements
Manage data entry and process payments accurately
Develop and maintain relationships with customers
Handle customer complaints in a timely and professional manner
Analyze customer billing data and provide relevant reports
Provide accurate and timely information to customers regarding billing inquiries
Resolve customer disputes and negotiate payment plans.
Billing Associate Resume with 7 Years of Experience
Highly organized and result- oriented billing associate with 7 years of experience in providing comprehensive billing and administrative support. Proven track record of providing support in cash application and collections, ensuring accurate and timely billing, and resolving customer inquiries. Skilled in utilizing various software packages, such as Microsoft Excel and Word, to generate reports and analyze billing information. Possesses excellent customer service skills, strong analytical and problem- solving skills, and excellent communication skills.
Core Skills:
Billing and Accounts Receivable
Cash Application
Customer Service
Collections
Data Entry
Reporting and Analysis
Problem- Solving
Responsibilities:
Provided comprehensive support in billing, accounts receivable, and cash application functions.
Inputted data into the system and created reports to ensure accuracy and timeliness of billing.
Assisted in collections by responding to customer inquiries and providing follow- up.
Assisted in the resolution of billing discrepancies and disputes.
Performed daily reconciliations and monthly account reviews to ensure accuracy and completeness of billing.
Provided support in maintaining and updating customer accounts and related information.
Assisted in the preparation of monthly financial and accounting reports.
Analyzed billing information to identify and address discrepancies and errors.
Provided excellent customer service to ensure customer satisfaction.
Billing Associate Resume with 10 Years of Experience
Seasoned Billing Associate with 10+ years of experience in the financial industry. Analytical and detail- oriented with a demonstrated ability to effectively manage accounts receivable, billing, and collections. Skilled in problem solving and customer service in high- volume environments. Proven record of accuracy and productivity, with a commitment to customer satisfaction.
Core Skills:
Accounts Receivable Management
Billing & Collections
Financial Analysis
Customer Service
Data Entry
Payment Processing
Problem Solving
Account Reconciliation
Computer Proficiency
Responsibilities:
Managed accounts receivable with accuracy and efficiency
Maintained customer accounts with up- to- date billing information
Processed payments and resolved discrepancies in a timely manner
Reviewed transactions and financial records to ensure compliance with established policies and procedures
Acted as a liaison between clients and the organization to address billing inquiries
Provided assistance to customers in resolving billing issues
Analyzed financial data, generated reports and presented findings
Prepared and maintained accurate and detailed records of financial transactions
Billing Associate Resume with 15 Years of Experience
I am a highly experienced and motivated Billing Associate with 15 years of experience in this field. I have the necessary skills and knowledge to accurately analyze and process billing records, ensure data accuracy, and handle customer inquiries and complaints. I am also an effective communicator who is able to work with a team of professionals and build strong relationships with customers.
Core Skills:
Advanced knowledge of billing processes
Proficient in data analysis and accuracy
Excellent customer service and communication skills
Ability to work independently and in a team
Proficient in accounting and finance
Responsibilities:
Analyzing, verifying, and processing large volumes of billing records
Monitoring customer accounts for discrepancies and errors
Providing customer service, responding to inquiries and complaints
Ensuring data accuracy in customer and billing records
Providing monthly billing statements to customers
Developing reports to identify billing trends and patterns
Assisting in resolving customer billing issues in a timely manner
Reconciling customer accounts and payments
In addition to this, be sure to check out our resume templates, resume formats, cover letter examples, job description, and career advice pages for more helpful tips and advice.
What should be included in a Billing Associate resume?
A Billing Associate is responsible for creating invoices and managing accounts receivable. A strong Billing Associate resume should highlight a candidate's organizational and communication skills, as well as their ability to accurately process financial information. Below is a list of what should be included in a Billing Associate resume:
Experience with accounts receivable and invoicing
Knowledge of accounting principles and financial regulations
Proficiency in Microsoft Office applications and accounting software
Excellent written and verbal communication skills
Ability to prioritize tasks, meet deadlines, and manage multiple projects
Strong attention to detail and accuracy
Excellent problem-solving and analytical skills
Ability to work in a dynamic and fast-paced environment
What is a good summary for a Billing Associate resume?
A good summary for a Billing Associate resume should emphasize the applicant's experience with billing, accounts receivable, and collections. It should also include any relevant knowledge and skills in customer service, data entry, and financial reporting. The summary should demonstrate that the applicant is a motivated, organized, and experienced professional who is capable of managing all aspects of the billing cycle. Additionally, the summary should mention any accomplishments throughout the applicant's career and highlight any relevant certifications or training. The summary should show that the applicant is a reliable and detail-oriented professional who is committed to delivering accurate, timely billing solutions.
What is a good objective for a Billing Associate resume?
Writing a resume for a Billing Associate position can be a daunting task. It requires a comprehensive understanding of your skills and experience, as well as an understanding of what employers are looking for in candidates. A strong resume objective is key to capturing a potential employer's attention and should be tailored to the specific job for which you are applying.
To obtain a position as a Billing Associate where I can utilize my knowledge of billing, accounting, and customer service to contribute to the organization's growth and bottom line.
To leverage my expertise in accounting principles, accounts receivable, and financial reporting to make a positive impact at a competitive company.
To gain employment as a Billing Associate and apply my strong organizational and problem-solving skills to ensure accuracy and timely payments.
To secure a challenging and rewarding Billing Associate position in a growth-oriented organization where I can utilize my organizational and communication skills.
To become a valued member of a team as a Billing Associate and to ensure the accuracy and timely payment of invoices while providing customer service excellence.
By crafting an objective that is clear and concise, you can make sure that your resume stands out to potential employers. Be sure to include your qualifications, experiences, and skill set that are relevant to the job for which you are applying. A well-written objective will make it easier for employers to quickly identify you as a qualified candidate.
How do you list Billing Associate skills on a resume?
When creating a resume to apply for a Billing Associate role, it's important to showcase the skills you possess to make yourself stand out to employers. Here are some of the key skills to include on your resume if you're applying for a Billing Associate role:
Strong attention to detail: Billing Associates must have an excellent attention to detail to ensure accuracy and stay organized.
Proficiency in Microsoft Office: Billing Associates should be proficient in Microsoft Office and other software programs such as QuickBooks and Excel.
Knowledgeable in billing cycles and processes: Billing Associates should be knowledgeable in billing cycles and the billing processes involved.
Excellent communication skills: Billing Associates should have strong communication skills to effectively interact with customers, vendors, and colleagues.
Problem-solving skills: Billing Associates should have excellent problem-solving skills and be able to troubleshoot billing issues.
Ability to multi-task: Billing Associates should be able to manage multiple tasks and prioritize tasks effectively.
Knowledge of accounting principles: Billing Associates should have knowledge of basic accounting principles and be able to interpret financial documents.
Time management skills: Billing Associates should have excellent time management skills and be able to work within tight deadlines.
What skills should I put on my resume for Billing Associate?
Your billing associate resume should showcase your technical proficiency and managerial abilities. Being a billing associate involves managing customer accounts, collecting payments, maintaining financial records, and resolving billing disputes. To stand out among other job applicants, use your resume to spotlight your most relevant skills and experiences.
Proficient in accounts receivable, accounts payable, and invoicing
Experience using financial and accounting software applications
Solid understanding of bookkeeping principles
Ability to maintain financial records and databases
Skilled in generating financial reports, such as income statements and balance sheets
Ability to analyze customer data and detect discrepancies
Excellent customer service and problem-solving skills
Ability to work independently and manage multiple tasks
Knowledge of basic accounting principles, such as GAAP
Key takeaways for an Billing Associate resume
Writing a resume can be a challenge, especially if you're applying for the role of a Billing Associate. Such a role requires a high level of technical knowledge and skills, as well as a thorough understanding of the billing process. As such, it's important to make sure that your resume reflects your qualifications and experience in this area. Here are some key takeaways for a Billing Associate resume:
Focus on your technical skills – Show your technical knowledge and skills related to billing, such as accounting software, invoicing and collections, budgeting, and financial reporting.
Highlight relevant experience – Showcase your experience in billing, such as working with accounts receivables and payables, auditing invoices, and preparing reports.
Demonstrate your ability to work independently – Show that you are able to work autonomously and manage your own workload.
Describe your customer service skills – Express your ability to handle customer inquiries and disputes, as well as your ability to deliver prompt and accurate service.
Showcase your problem-solving skills – Show that you are able to troubleshoot and resolve billing issues quickly and efficiently.
These are some of the key takeaways for a Billing Associate resume. Remember to tailor your resume according to the job requirements and to showcase your qualifications and experience in the best possible way. With a well-crafted resume, you can make sure that you stand out from other applicants and secure your desired role.
Let us help you build
your Resume!
Make your resume more organized and attractive with our Resume Builder