Are you looking to secure a role as a billing analyst? An effective and well-crafted resume is essential to making a positive impression on hiring managers and standing out from other applicants. Knowing exactly how to write a resume for a billing analyst position can be difficult and time-consuming, which is why we are here to help! In this blog post, we will provide an in-depth guide on how to write an effective billing analyst resume, including examples of how to highlight your skills, experience, and accomplishments. With this comprehensive guide, you will be able to confidently write a resume that will land you the job of your dreams.
If you didn't find what you were looking for, be sure to check out our complete library of resume examples.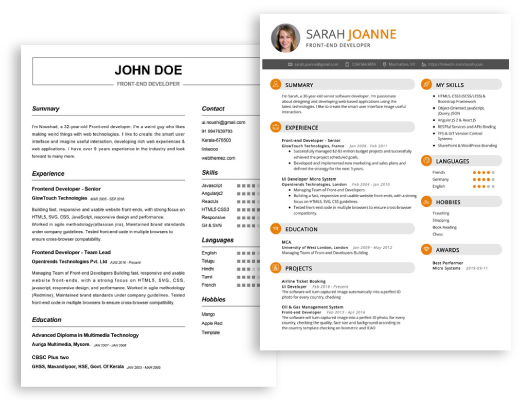 Start building your dream career today!
Create your professional resume in just 5 minutes with our easy-to-use resume builder!
Billing Analyst Resume Examples
John Doe
Billing Analyst
123 Main Street | Anytown, USA 99999 | Phone: (123) 456-7890 | Email: john.doe@email.com
Efficient and highly organized billing analyst with over 3 years of experience in managing customer billing records and ensuring accuracy of invoices. Possess excellent communication and customer service skills, and highly proficient in working with proprietary software and databases. Experienced in monitoring accounts, researching discrepancies, and resolving customer complaints.
Core Skills:
Thorough knowledge of billing processes and procedures
Advanced proficiency in Microsoft Office Suite and proprietary software
Excellent problem- solving and customer service skills
Strong organizational, analytical and mathematical aptitude
Ability to work in a fast- paced and deadline- driven environment
High degree of accuracy and attention to detail
Professional Experience:
Billing Analyst, Cityname Solutions – Cityname, State
March 2017 – Present
Process customer billing records and ensure accuracy of invoices
Monitor accounts and research discrepancies
Resolve customer complaints and billing inquiries
Analyze customer data and maintain records
Generate reports and prepare presentations
Perform data entry and data analysis
Verify accuracy of billing information and ensure compliance with company policies and procedures
Education:
Bachelor of Science in Business Administration, Cityname University – Cityname, State
2016
Billing Analyst Resume with No Experience
Recent college graduate with a passion for accounting and a strong desire to learn and advance in the field.
Proficient in Microsoft Office Suite, especially Excel.
Excellent organizational, communication and problem- solving skills.
Skills:
Organizational Skills
Communication Skills
Problem- Solving Skills
Attention to Detail
Collaboration
Data Entry
Accounting Fundamentals
Responsibilities:
Gather, analyze and review billing data to ensure accuracy
Ensure all billing documents are accurate and completed in a timely manner
Verify customer accounts and payment information are up to date
Maintain records of billing activities
Identify and resolve any discrepancies in billing
Provide customer service and handle customer inquiries related to billing
Prepare reports and presentations regarding billing processes and activities
Billing Analyst Resume with 2 Years of Experience
.
Motivated billing analyst with two years of experience in analyzing customer bills and providing customer support. Skilled in data entry, analyzing large amounts of data, and creating reports. Highly proficient in Microsoft Excel and adept at solving complicated billing issues. Committed to delivering the highest quality of customer service and maintaining customer satisfaction.
Core Skills:
Data entry
Billing analysis
Reporting
Microsoft Excel
Customer service
Problem- solving
Responsibilities:
Analyze customer bills to ensure accuracy and compliance with regulations
Compile and review customer billing information
Create reports to document billing issues
Maintain accuracy of customer billing information in database
Respond to customer inquiries and complaints in a timely manner
Resolve billing issues and discrepancies
Monitor billing trends and provide insights to management for improvement
Billing Analyst Resume with 5 Years of Experience
Highly organized and detail- oriented Billing Analyst with 5 years of experience in analyzing and auditing accounts, billing and invoicing, managing customer accounts, and resolving customer inquiries. Skilled in accurately inputting data in multiple billing systems. Proficient in using Microsoft Office Suite, accounting software, and report writing. Proactive problem solver with excellent customer service and communication skills.
Core Skills:
Analyzing and Auditing Accounts
Billing and Invoicing
Managing Customer Accounts
Data Inputting
MS Office Suite, Accounting Software, and Report Writing
Customer Service and Communication
Problem Solving
Responsibilities:
Analyzed and audited accounts, billing, and invoicing.
Developed and maintained customer accounts.
Inputted data into multiple billing systems.
Resolved customer inquiries and complaints in a timely manner.
Generated and distributed monthly invoices and statements.
Created and submitted reports documenting changes in billing procedures and customer accounts.
Prepared weekly and monthly reports to management.
Followed up on overdue payments and provided assistance with payment processing.
Assisted with account reconciliations and updated customer information.
Billing Analyst Resume with 7 Years of Experience
Billing Analyst with 7 years of experience in healthcare operations, payer reimbursement and data analytics. Proven ability to troubleshoot complex billing issues, improve accounts receivable cycle and effectively secure payment. Knowledgeable in the use of coding systems and software related to the billing and collection process.
Core Skills:
Strong problem solving and analytical skills
Highly organized and detail- oriented
Proficient in healthcare billing and collections
Thorough understanding of HIPAA and other government regulations
Knowledge of medical coding and insurance adjudication
Excellent written and verbal communication
Responsibilities:
Analyzing billing data and resolving discrepancies, such as unpaid, denied or rejected claims
Preparing and submitting claims to insurance companies, governmental agencies and other payers
Reconciling accounts receivable and resolving payment issues
Reviewing and verifying claims for accuracy prior to submission
Monitoring and tracking claims using various software programs
Developing and implementing strategies to improve revenue cycle management
Ensuring compliance with third- party rules and regulations by analyzing changes in the industry and advising management
Billing Analyst Resume with 10 Years of Experience
Billing Analyst with 10+ years of experience providing billing services to a diverse set of industries including healthcare, retail, and finance. Adept at effectively managing large datasets and reconciling discrepancies. Possesses a sharp eye for detail and a knack for developing successful strategies for smoother billing operations.
Core Skills:
Proficient in data management and analysis
Skilled in financial/accounting software and billing systems
Experienced in creating and implementing billing policies
Excels in client relations and customer service
Possesses strong communication and problem- solving skills
Responsibilities:
Generating invoices and collecting payments
Analyzing customer data and reconciling past due accounts
Developing financial reports and identifying discrepancies
Ensuring accuracy in billing operations and accurate data entry
Monitoring customer accounts and resolving billing inquiries
Keeping up- to- date with billing policies and procedures
Implementing new procedures for better invoice processing
Performing account reviews and audits as necessary
Billing Analyst Resume with 15 Years of Experience
Highly experienced Billing Analyst with 15 years of expertise in the field of financial analysis. Proven ability to compile accurate data and use advanced accounting software to create reports and track expenses. Skilled in managing large volumes of data, balancing accounts, and resolving discrepancies. Expert in troubleshooting, problem solving, and creative thinking.
Core Skills:
Detail oriented
Data entry
Accounting software
Problem- solving
Report writing
Financial analysis
Advanced MS Excel
Responsibilities:
Managed and monitored billing and receivables related to accounts
Generated and distributed accurate billing statements
Performed data entry of invoices, payments, and customer files
Analyzed and resolved customer inquiries and billing discrepancies
Created and maintained financial records and reports
Reconciled and balanced accounts receivable
Developed and maintained customer relationships
In addition to this, be sure to check out our resume templates, resume formats, cover letter examples, job description, and career advice pages for more helpful tips and advice.
What should be included in a Billing Analyst resume?
A list of relevant work experience: Your work experience should include any billing analyst positions you've held in the past. Be sure to include the years you've worked in the role, your job title, and a brief description of the duties you held.
Technical skills: Include a list of the software and technology you're proficient in. This may include programs such as Excel, Access, and Oracle.
Education: Include the degrees and certifications you have related to billing.
Specialty areas: If you have experience in any niche areas of billing, make sure to include them on your resume.
Professional memberships: Include any professional memberships you have in billing or related fields.
Soft skills: Demonstrate any soft skills you have, such as communication and problem-solving, that may be beneficial in a billing analyst role.
By including these key points on your resume, you can ensure that your resume stands out and that you're the most qualified for the position.
What is a good summary for a Billing Analyst resume?
A billing analyst resume summary should demonstrate an understanding of financial systems, customer service, and problem solving. To create an effective summary, it should include detail on an individual's expertise in billing practices, analyzing financial trends, and creating reports. It should also highlight customer service skills, such as being able to respond to inquiries quickly and accurately. Additionally, the summary should outline any experience in utilizing various billing systems, such as SAP or Oracle, in order to effectively manage accounts receivable and accounts payable. Finally, the summary should communicate an individual's ability to identify anomalies or trends in financial data and provide actionable solutions.
What is a good objective for a Billing Analyst resume?
Writing a resume can be a challenging task, especially when it comes to crafting an objective. A billing analyst resume should have an objective that effectively showcases the applicant's qualifications and experience. Here are some tips to consider when crafting the perfect objective for a billing analyst resume:
Focus on the specific skills and experience you have that match the job description.
Highlight your experience in the type of billing system and software used by the employer.
Showcase your ability to develop and implement billing policies and procedures.
Describe your ability to analyze and interpret financial reports.
Demonstrate your knowledge of accounting principles and industry best practices.
Showcase your expertise in billing resolution, customer service, and problem-solving.
By crafting an objective for your billing analyst resume that touches on these key elements, you can set yourself apart from other candidates and show the employer that you have the right qualifications for the job.
How do you list Billing Analyst skills on a resume?
The responsibilities of a Billing Analyst vary by industry, however, a few core skills are required to successfully perform the job. When writing your resume, you should highlight these skills to demonstrate your ability and expertise in the field.
To help you, here is a list of essential Billing Analyst skills to include on your resume:
Proficient in billing/invoicing software: A Billing Analyst must be knowledgeable and experienced in the use of billing and invoicing software. Make sure to list any software you are familiar with, such as Quick books, Microsoft Excel, and Salesforce, on your resume.
Attention to detail: The smallest mistakes in invoices or billing documents can have major consequences for both the company and the customer. Therefore, a Billing Analyst must be very detail-oriented and have a high level of accuracy.
Strong communication skills: As a Billing Analyst, you must be able to communicate effectively with customers, clients, and colleagues in order to resolve any billing issues. Therefore, having strong verbal and written communication skills are essential.
Problem-solving skills: A Billing Analyst must be able to quickly assess billing issues and find solutions. Highlighting any prior problem-solving skills on your resume will demonstrate your ability to do the job.
Analytical thinking: To be successful, a Billing Analyst must be able to analyze billing data, identify patterns, and make accurate predictions. Make sure to list any analytical thinking skills you have on your resume to showcase your abilities.
By including these essential Billing Analyst skills on your resume, you'll be able to demonstrate your expertise and knowledge to potential employers.
What skills should I put on my resume for Billing Analyst?
When applying for a billing analyst role, it's important to make sure your resume includes all the skills you have that pertain to the position. The following are some of the key skills that should be included on your resume if you are applying for a billing analyst role:
Analytical Skills: The ability to analyze customer billing data and identify trends and discrepancies is an important skill to have as a billing analyst.
Accounting Knowledge: A billing analyst must have a good understanding of basic financial and accounting principles.
Attention to Detail: A billing analyst must be able to review and process customer billing data accurately and quickly.
Problem-Solving: A billing analyst must be able to analyze and troubleshoot customer billing issues and come up with solutions.
Communication: The ability to communicate customer billing issues clearly with internal stakeholders and customers is important for a billing analyst.
Organization: A billing analyst must be able to maintain accurate records and organize customer billing data in an orderly manner.
Computer Skills: A billing analyst should be proficient with computer programs such as spreadsheets and word processing programs.
By including these skills in your resume, employers will be able to easily see that you possess the necessary qualifications for a billing analyst position.
Key takeaways for an Billing Analyst resume
Billing analysts are important members of the finance team and require a well-crafted resume to ensure they stand out from other applicants. When constructing your resume for a billing analyst role, there are several key takeaways for you to keep in mind.
First and foremost, emphasize your qualifications as a billing analyst. Include any certifications or qualifications that demonstrate your knowledge and expertise in the field. Also, include any relevant experience you have in accounting, auditing, or finance, as these are all skills required of a billing analyst.
Next, highlight any skills you may have that make you a great fit for the position. These skills may range from problem-solving to data analysis to communication. Showcasing your ability to multitask, work autonomously, and take initiative will also demonstrate to employers that you are a highly capable individual.
When listing your past roles, make sure to include any accomplishments or successes you achieved. This gives employers a sense of your problem-solving abilities and the results you can produce. Additionally, be sure to include any software or technology related to billing that you are familiar with as this could give you an edge over other applicants.
Finally, provide a clear and concise summary of your professional experience and qualifications. This will allow employers to quickly and easily identify your value as a billing analyst.
By keeping these key takeaways in mind when constructing your resume for a billing analyst role, you can give yourself an edge in the job search process. Showcase your qualifications, relevant experience, and accomplishments to demonstrate why you're the ideal candidate for the role.
Let us help you build
your Resume!
Make your resume more organized and attractive with our Resume Builder