Writing a bill collector resume can be a daunting task, but with the right guidance, you can be sure to submit an impressive resume. In this blog post, we will provide you with an in-depth guide to writing a bill collector resume, including tips on how to highlight your skills and relevant experience. We'll also provide you with several resume examples to help you get started. Whether you're just starting out in the field or already have some experience, this guide will give you the tools you need to successfully create a bill collector resume.
If you didn't find what you were looking for, be sure to check out our complete library of resume examples.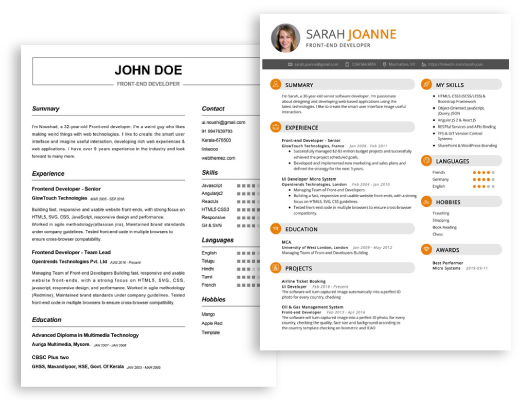 Start building your dream career today!
Create your professional resume in just 5 minutes with our easy-to-use resume builder!
Bill Collector Resume Examples
John Doe
Bill Collector
123 Main Street | Anytown, USA 99999 | Phone: (123) 456-7890 | Email: john.doe@email.com
I am an experienced and dedicated bill collector with over 10 years of experience in the financial and customer service industries. I have a comprehensive understanding of the laws and regulations associated with the collection of delinquent accounts and take pride in my ability to resolve them in a professional and timely manner. I am highly organized and efficient, with strong communication and negotiation skills, and the ability to work both independently and as part of a team.
Core Skills:
Debt collection
Customer service
Negotiation
Accounts receivable
Compliance
Multi- tasking
Organizational skills
Problem- solving
Professional Experience:
ABC Collections – Bill Collector
Collected past due accounts in accordance with applicable laws and regulations
Provided customers with payment options to resolve delinquent accounts
Negotiated payment arrangements with customers for past due accounts
Managed a portfolio of delinquent accounts and updated customer files
Analyzed credit reports and financial statements
Responded to customer inquiries and maintained a high level of professionalism
Education:
ABC College – Bachelor's Degree in Accounting
Bill Collector Resume with No Experience
Recent college graduate with a high level of organizational and communication skills, looking to gain experience in the field of bill collection.
Skills:
Strong organizational skills
Ability to communicate effectively
Proficient in Microsoft Office
Customer service aptitude
Responsibilities:
Develop and maintain relationships with customers to ensure timely payment
Ensure customers remain informed of payment status
Handle incoming customer inquiries, provide accurate information and follow up
Track customer accounts and payments
Keep records of customer conversations and payment history
Bill Collector Resume with 2 Years of Experience
I am an experienced Bill Collector with 2 years of experience working in a customer service environment. During my time in this role, I have been responsible for ensuring that all accounts are kept up to date and that customers pay the amounts due in a timely manner. I have excellent communication and organizational skills and understand the importance of maintaining customer satisfaction. I am a highly motivated and efficient worker, who is able to work well in a team or independently.
Core Skills:
Customer Service
Communication
Negotiation
Time Management
Problem Solving
Data Entry
Responsibilities:
Received customer payments and tracked customer accounts for overdue payments
Negotiated payment arrangements and repayment plans with customers
Maintained accurate records of customer accounts
Responded to customer inquiries and complaints in a timely and professional manner
Monitored customer accounts for overdue payments and sent out notices when necessary
Assisted customers in understanding the terms of their payment plans and the consequences of defaulting
Followed up on delinquent accounts and provided updates to management on the status of accounts
Bill Collector Resume with 5 Years of Experience
A highly organized and motivated professional with more than 5 years of experience in bill collection. Adept at developing relationships with customers and handling difficult financial negotiation. Proven ability to manage multiple projects and meet tight deadlines. Demonstrated ability to effectively manage a large customer base, identify delinquent accounts and maximize payments.
Core Skills:
Knowledge of collection regulations
Customer relationship management
Microsoft Office
Account reconciliation and dispute resolution
Strong communication and negotiation skills
Adept at multitasking and time management
Excellent problem solving and analytical skills
Responsibilities:
Proactively seeking out overdue accounts, contacting customers to determine payments
Negotiating payment arrangements with customers and collecting payments
Tracking customer payments and updating accounts accordingly
Identifying and researching account discrepancies, and resolving customer disputes
Communicating with customers via telephone, email and mail
Maintaining and updating customer accounts, and preparing reports
Maintaining accurate records in accordance with company policy and legal regulations
Bill Collector Resume with 7 Years of Experience
An experienced Bill Collector with 7 years of experience in the field. Demonstrates a proven track record of consistent and successful debt collection, negotiation, and customer service. Possess advanced knowledge of the Fair Debt Collection Practices Act (FDCPA) and varying state and local laws. Strives to create win- win solutions for both the creditor and debtor through persistent and effective communication.
Core Skills:
Accounts receivable
Negotiation
Collections
Customer service
Conflict resolution
Data entry
FDCPA compliance
Computer literacy
Responsibilities:
Efficiently and effectively collect delinquent accounts.
Negotiate payment plans and settlements.
Maintain knowledge of FDCPA and local and state laws.
Utilize persuasion and influence to manage customer expectations.
Document all customer interactions in accordance with legal and company guidelines.
Ensure customer satisfaction through prompt resolution.
Provide timely and accurate updates on accounts.
Utilize skip- tracing methods to locate missing customers and assets.
Ensure accuracy of accounts receivable records and accounts receivable ledgers.
Bill Collector Resume with 10 Years of Experience
Highly motivated and experienced Bill Collector with 10 years of experience in the financial services industry. Successfully managed accounts receivable and collections, with a proven track record of maintaining strong working relationships with clients. Possess excellent written and verbal communication skills, along with an ability to resolve customer issues quickly and efficiently. Skilled in various accounting and financial software programs, including Microsoft Office, QuickBooks, and Excel.
Core Skills:
Account Collections
Cold Calling
Negotiation
Account Reconciliation
Customer Service
Budgeting and Forecasting
Data Entry and Analysis
Microsoft Office Suite
QuickBooks
Responsibilities:
Contacted clients regarding overdue payments and negotiated payment arrangements
Reviewed and updated account histories, utilizing multiple systems
Managed and maintained accounts receivable and ensured that all accounts were up to date
Resolved customer disputes and handled customer complaints
Assigned and distributed payments to appropriate accounts
Prepared and processed payment reminders, invoices, and other documents
Monitored customer accounts, identifying and addressing any discrepancies or issues
Analyzed financial data and developed reports, utilizing various software program
Bill Collector Resume with 15 Years of Experience
A Bill Collector with 15 years of experience in the collections industry. Consistently exceeded collection goals while maintaining excellent customer service. Skilled in working with individuals to develop payment plans and establish affordability. Proficient in utilizing various software platforms to manage accounts, document notes and track payments.
Core Skills:
Accounts Receivable
Debt Collection
Customer Service
Payment Plans
Conflict Resolution
Time Management
Computer Proficiency
Data Entry
Microsoft Office Suite
Compliance
Responsibilities:
Contact customers to negotiate payment arrangements on overdue accounts
Develop payment plans based on customers' financial circumstances
Analyze and resolve customer inquiries in an efficient and organized manner
Prepare account activity reports to document collection efforts
Utilize software platforms to track payments, document notes and update account status
Maintain a database of customer contact information
Ensure collections are completed in compliance with all applicable laws and regulations
Follow- up on any payment discrepancies or past due accounts
Contact customers to remind them of upcoming payment due dates
In addition to this, be sure to check out our resume templates, resume formats, cover letter examples, job description, and career advice pages for more helpful tips and advice.
What should be included in a Bill Collector resume?

When it comes to creating a resume for a bill collector position, it is important to ensure that you highlight the skills and qualifications that will make you stand out as a qualified candidate. Here are some of the key elements that should be included in a bill collector resume:
Summary of Qualifications: Start your resume off with a brief summary of your qualifications and experience that relate to the position. Make sure to use keywords from the job description to highlight your skills.
Bill Collection Experience: Include a section that outlines your experience in bill collection. Include the types of accounts you have worked with, such as business accounts, individual accounts, or delinquent accounts. Also, list the duties you have performed in each position and any results you achieved.
Communication Skills: As a bill collector, you need to have excellent communication skills. Be sure to include a section that outlines your ability to communicate effectively with customers over the phone, through written communication, and in person.
Customer Service Experience: Highlight any customer service experience you have that is relevant to the position. List any customer service training you have taken or certifications you have earned.
Problem-Solving Skills: Demonstrate your problem-solving skills with examples of how you have handled difficult customer situations.
Computer Skills: Showcase your computer skills and any experience you have with any billing or accounting software.
Additional Experience: Include other relevant experience, such as any administrative experience or data entry experience.
By including these elements in your bill collector resume, you will be able to show potential employers that you are a qualified and experienced candidate for the position.
What is a good summary for a Bill Collector resume?
A bill collector resume should highlight the individual's skills in customer service and communication, as well as their ability to manage difficult conversations and resolve customer issues. In addition, the summary should also emphasize the individual's knowledge of legal regulations related to debt collection, as well as their dedication to enforcing customer payment contracts. The resume should also demonstrate the individual's ability to use and maintain up-to-date customer accounts and records, as well as their proficiency in using customer contact software and other related applications. Finally, the summary should also emphasize the individual's time management and organizational skills, as well as their understanding of the importance of compliance with company and industry regulations.
What is a good objective for a Bill Collector resume?
A good objective for a bill collector resume should have the following key points:
To acquire a position as a Bill Collector where I can use my knowledge and experience in the financial industry to properly assess and collect payments from debtors on outstanding accounts
To incorporate my excellent customer service and communication skills to maintain a positive relationship with debtors
To provide excellent customer service to debtors while ensuring that all accounts are properly updated and all payments collected
To efficiently manage a high call volume and ensure all accounts are properly updated and all payments collected
To work closely with team members to ensure that all accounts are kept up to date and that payments are collected in a timely manner
A bill collector must be knowledgeable in the financial industry and have excellent customer service and communication skills. It is important for a bill collector to be able to manage a high call volume and collaborate with team members to ensure that payments are collected in a timely manner. A bill collector should also have the ability to maintain a positive relationship with debtors to ensure all payments are collected. With the right objective, a bill collector can ensure that they are applying for the job that is the best fit for their skills and experience.
How do you list Bill Collector skills on a resume?
.Blog Section:
When searching for a job as a bill collector, it is important to highlight the right skills on your resume. To help you do this effectively, here is a list of common bill collector skills to consider including on your resume.
Good communication skills: A bill collector must be able to effectively and clearly communicate with customers, both in person and over the phone.
Knowledge of collection laws: Bill collectors must have a thorough understanding of the laws and regulations surrounding debt collection, in order to ensure compliance and avoid legal issues.
Negotiation skills: The ability to negotiate payment arrangements with customers is key to the success of a bill collector.
Computer proficiency: The ability to use software and computer systems to track and manage accounts, as well as resolving customer complaints promptly, is a valuable skill for any bill collector.
Self-discipline: Bill collectors must be able to stay focused on the task and remain organized in order to ensure deadlines are met.
Persuasion: The ability to persuade customers to cooperate and pay their debts is an important skill for any bill collector.
Including these skills on your resume will demonstrate to employers that you have the necessary abilities to be an effective bill collector.
What skills should I put on my resume for Bill Collector?
bullet The key to success as a Bill Collector is having the right skills and experience. When crafting your resume, make sure it showcases all the qualifications you can bring to the job. Here are some skills you should include on your resume when applying for a Bill Collector position:
Knowledge of Collection Laws: A Bill Collector needs to be familiar with the relevant collection regulations and laws. It's important that you include any relevant classes, seminars, or certifications that demonstrate your understanding of the legal system.
Excellent Negotiation Skills: As a Bill Collector, you'll be responsible for negotiating payment plans with debtors. Demonstrate your ability to effectively settle disputes and arrive at mutually beneficial agreements through listing any relevant courses or certifications on your resume.
Time Management: Bill Collectors need to be able to manage their time efficiently in order to accomplish their goals. Show your aptitude for time management by listing any past roles or responsibilities that required working to tight deadlines or completing tasks quickly.
Familiarity with Collection Software: It's important to demonstrate your experience with any relevant collection software. List any relevant training or certifications to prove your familiarity with the software.
Interpersonal Skills: Bill Collectors need strong interpersonal skills in order to build successful relationships with debtors. Include any past customer service or sales experience that demonstrates your ability to effectively communicate with others.
By including these key skills on your resume, you'll give yourself the best chance of standing out from the competition. With the right combination of qualifications and experience, you'll be well-positioned to land your dream job.
Key takeaways for an Bill Collector resume
If you're an aspiring bill collector looking for a job, your resume is one of the most important parts of your application. To help you create the best possible resume to showcase your skills, here are some key takeaways to keep in mind.
Highlight your experience. As a bill collector, you need to be able to demonstrate your knowledge and experience in the field. Listing any previous work experience as a bill collector is a great way to give potential employers a clear picture of your abilities.
Include soft skills. While hard skills like data entry and communicating with customers are essential for a bill collector, employers are also looking for someone with strong soft skills. These include problem-solving, time management, and the ability to multitask.
Showcase your education. If you have received any relevant formal education in the area of bill collecting or customer service, be sure to add it to your resume. Include any certificates or courses that you have completed as well.
Demonstrate success. If you have any success stories or achievements to share, such as having collected a large sum of money from a difficult customer, this is a great way to showcase your skills.
Use keywords. It's important to use keywords that employers search for when they are scanning resumes. Include these keywords in your summary, skills section, and throughout your resume.
By following these key takeaways, you can create a strong resume that will help you stand out as an experienced and professional bill collector.
Let us help you build
your Resume!
Make your resume more organized and attractive with our Resume Builder