Writing a resume for an assistant bookkeeper position can feel daunting. After all, bookkeeping skills are highly technical and involve a variety of specialized financial tasks. It can be difficult to determine which accomplishments to highlight in your resume and how best to showcase your experience. To help you out, this guide provides detailed advice on what an assistant bookkeeper resume should include, along with helpful examples to guide your own document creation. By putting together a standout resume, you can make sure employers take notice and recognize your bookkeeping abilities.
If you didn't find what you were looking for, be sure to check out our complete library of resume examples.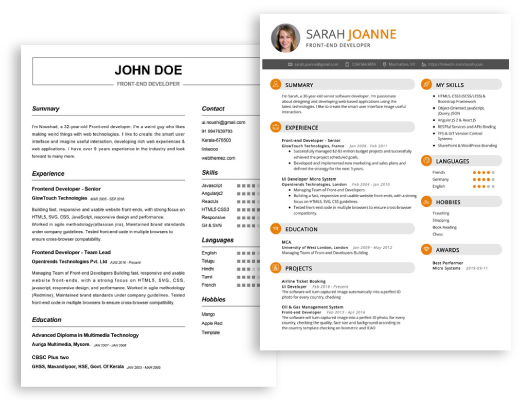 Start building your dream career today!
Create your professional resume in just 5 minutes with our easy-to-use resume builder!
Assistant Bookkeeper Resume Examples
John Doe
Assistant Bookkeeper
123 Main Street | Anytown, USA 99999 | Phone: (123) 456-7890 | Email: john.doe@email.com
I am an experienced Assistant Bookkeeper with 4 years of experience in financial operations. I have a Bachelor's degree in Accounting and have worked with various accounting software. I have a great eye for detail and am highly organized. I am a self- starter, able to work independently or within a team environment. I am confident that I can make a positive contribution to any organization's bottom line.
Core Skills:
Account reconciliation
Data entry
Account payable and Receivable
Bank Reconciliation
Ledger Maintenance
Financial Statement Preparation
Year- end Adjustments
General Ledger Accounting
Budgeting and Forecasting
Professional Experience:
Assistant Bookkeeper, ABC Company, 2018- Present
Reconciled accounts and processed payments in a timely manner
Prepared monthly financial reports and analyzed discrepancies
Collaborated with accounting team and provided support on various projects
Managed accounts payable and receivable, bank reconciliations, and general ledger maintenance
Developed a system for tracking accounts receivable and accounts payable
Bookkeeper, XYZ Company, 2016- 2018
Recorded and balanced accounts payable and receivable
Researched and resolved discrepancies in accounting records
Developed and implemented process improvements
Assisted in the preparation of financial statements
Assisted with budget preparation and forecasting
Education:
Bachelor's Degree in Accounting, Institute of Business and Technology, 2015- 2016
Assistant Bookkeeper Resume with No Experience
Recent accounting graduate eager to join a team of bookkeepers as an assistant bookkeeper. Possessing an extensive understanding of accounting principles and a desire to develop my skills in a professional setting.
Skills
Understanding of basic accounting principles
Strong math skills
Attention to detail
Excellent organizational skills
Ability to prioritize tasks
Excellent written and verbal communication
Proficient in MS Office
Responsibilities
Assist with daily bookkeeping tasks such as entering data into accounting software
Reconcile accounts and prepare financial reports as requested
Assist with preparing and filing taxes
Perform data entry tasks such as accounts payable and receivable
Aid in the development and implementation of internal controls
Maintain accurate records and filing systems
Assistant Bookkeeper Resume with 2 Years of Experience
Motivated and organized Assistant Bookkeeper with 2+ years of experience in bookkeeping and accounting. Adept in using various accounting software and tools to maintain accurate records. Possesses strong analytical and problem- solving skills, excellent communication and customer service abilities. Committed to providing clients with the best possible service in an accurate and timely manner.
Core Skills:
Accounting software proficiency
Excellent problem- solving skills
Data entry accuracy
Financial analysis
Time management
Customer service
Organization
Responsibilities:
Assisted in preparing financial statements and budgeting
Entered data into accounting software on a daily and weekly basis
Assisted in reconciling bank statements
Managed accounts receivable and payable
Processed invoices, expense reports, and other financial transactions
Maintained records of transactions, payments, and other financial activities
Handled customer inquiries and provided prompt resolution
Reviewed and analyzed financial data to ensure accuracy and compliance with regulations
Assistant Bookkeeper Resume with 5 Years of Experience
Dedicated and organized Assistant Bookkeeper with more than 5 years of experience in financial record keeping and bookkeeping. A highly organized individual with excellent problem solving and analytical skills to ensure accurate financial records. Able to multitask and work in a fast- paced environment while providing quality work and customer service. Proven ability to manage and reconcile accounts, generate financial reports, monitor and follow- up on accounts receivable and payables.
Core Skills:
Record Keeping
Financial Reporting
Document Processing
Accounts Payable / Receivable
Bank Reconciliation
Data Entry
Problem Solving
Analytical Skills
Detail Orientation
Client Relations
Responsibilities:
Monitor and reconcile accounts receivable and accounts payable
Generate timely and accurate financial reports
Handle daily bookkeeping tasks including data entry, invoice processing, and journal entries
Verify accuracy of financial information and complete balancing of accounts
Process payments, refunds, and returns
Assist with accounts receivable and accounts payable reconciliations
Maintain inventory of office supplies and organize financial documents
Respond to inquiries from clients regarding their financial accounts
Assist in research and preparation of monthly, quarterly, and annual financial statements
Implement and maintain internal financial controls
Assistant Bookkeeper Resume with 7 Years of Experience
Dedicated and dependable assistant bookkeeper with 7 years of experience in accounts and bookkeeping. Experienced in preparing and maintaining accurate financial records, executing daily bookkeeping tasks, and assisting with budgeting and forecasting. Skilled in collecting and organizing complex data, utilizing various accounting software, and working independently in a fast- paced environment.
Core Skills:
Managing financial documents and records
Creating and balancing ledgers
Assisting with budgeting and forecasting
Executing daily bookkeeping tasks
Utilizing various accounting software
Collecting and organizing complex data
Analyzing and resolving discrepancies
Responsibilities:
Entering and updating financial records
Maintaining accurate ledgers and reconciling accounts
Preparing and filing quarterly and yearly tax statements
Assisting with budgeting and forecasting
Conducting internal audits
Ensuring compliance with accounting regulations
Generating reports to track financial performance
Performing data entry and bank statement reconciliation
Analyzing and resolving discrepancies in financial records
Assistant Bookkeeper Resume with 10 Years of Experience
Experienced Assistant Bookkeeper with 10 years of experience in the accounting industry. Skilled in preparing financial documents, reconciling accounts, analyzing financial data, and assisting in payroll administration. Proven ability to maintain accurate records and ensure financial compliance. Strong interpersonal and communication skills; able to effectively interact with colleagues and clients.
Core Skills:
Financial records management
Accounts reconciliations
Financial analysis
Payroll administration
Auditing
Budgeting
Customer service
Problem solving
Responsibilities:
Reconciling accounts to ensure accuracy of financial data
Processing and recording financial transactions
Maintaining accurate inventory records
Assisting in payroll administration and processing payments
Auditing financial documents for accuracy and completeness
Analyzing financial data and preparing reports
Providing customer service and answering inquiries
Assisting in budgeting and forecasting
Identifying discrepancies and resolving issues quickly.
Assistant Bookkeeper Resume with 15 Years of Experience
Diligent and organized Assistant Bookkeeper with 15 years of experience in bookkeeping, financial analysis and accounting. Proven ability to produce accurate and detailed financial reports and to analyze data to identify discrepancies and inconsistencies. Excellent problem- solving and communication skills in order to work with a variety of clients and customers.
Core Skills:
Financial Reporting
Account Reconciliations
General Ledger Maintenance
Accounts Payable/Receivable
Budget Analysis
Cash Flow Management
Bank Reconciliations
Tax Preparation
Auditing Procedures
Data Entry
Responsibilities:
Maintained documentation of business financial transactions.
Prepared monthly and quarterly financial statements in accordance with GAAP and company policy.
Reconciled monthly bank statements and recorded entries in company records.
Developed and implemented procedures for internal controls for financial operations.
Assisted with the preparation of the annual budget and business forecasts.
Analyzed and monitored budget variances and cash flow.
Developed and maintained client relationships.
Processed invoices, expense reports and payments.
Audited accounting records and internal control systems.
Performed data entry tasks and generated financial reports.
In addition to this, be sure to check out our resume templates, resume formats, cover letter examples, job description, and career advice pages for more helpful tips and advice.
What should be included in a Assistant Bookkeeper resume?
A resume for an Assistant Bookkeeper should include key skills and experience that demonstrate their ability to manage financial records. Here are some areas to include on an Assistant Bookkeeper resume:
Education: Include the names of any colleges or universities where you earned your degree, as well as any certifications or specialized training related to bookkeeping.
Experience: Detail your professional experience with bookkeeping, including accounts payable and receivable, payroll, budgeting, and financial reporting.
Technical Skills: List any computer programs you are experienced in using, such as Microsoft Excel, QuickBooks, or Peachtree.
Interpersonal Skills: Showcase your ability to work effectively with various people, such as clients, colleagues, and managers.
Organizational Skills: Highlight your skill in managing financial records and data, as well as in keeping track of deadlines and other administrative duties.
Problem-Solving Skills: Demonstrate your ability to think quickly and solve any problems that may arise during the course of your work.
Attention to Detail: Stress your precision and accuracy when completing bookkeeping tasks.
By emphasizing your qualifications and any specialized skills you may have, a well-crafted Assistant Bookkeeper resume can show potential employers why you are the best candidate for the job.
What is a good summary for a Assistant Bookkeeper resume?
A good summary for an Assistant Bookkeeper resume should include one to three sentences that capture the candidate's most relevant skills, qualifications, and work experience. A successful summary will highlight the candidate's experience with financial software, accounting processes, and general bookkeeping duties, as well as their ability to maintain accurate financial records and develop effective solutions to bookkeeping tasks. An ideal candidate will also demonstrate an understanding of financial analysis, tax laws, and auditing principles, as well as a commitment to integrity and accuracy.
What is a good objective for a Assistant Bookkeeper resume?
A well-crafted objective on an Assistant Bookkeeper resume can help set the tone for your entire application and make you stand out among other applicants. An effective objective should be specific, concise, and emphasize why you are the right candidate for the job. Here are some helpful tips to keep in mind when writing an Assistant Bookkeeper resume objective:
Highlight your experience and expertise in accounting and bookkeeping.
Showcase your ability to work unsupervised and handle multiple tasks simultaneously.
State why you are the perfect fit for this particular company and position.
Show your commitment to accuracy and detail-oriented work.
Demonstrate your knowledge of bookkeeping software and programs.
Display your excellent organizational and problem-solving skills.
Emphasize your strong communication and interpersonal skills.
By keeping these tips in mind, you can create a targeted, compelling objective that will get the attention of potential employers and help you land the perfect job.
How do you list Assistant Bookkeeper skills on a resume?
When applying for an Assistant Bookkeeper role, you need to ensure your resume reflects the required skills necessary for the job. To effectively communicate your skills and qualifications to potential employers, include a comprehensive list of your bookkeeper skills in your resume. Here are some suggestions for how to list your Assistant Bookkeeper skills on a resume:
Demonstrated ability to prepare and maintain accurate financial records
Knowledge of financial accounting systems and software
Proficient in creating and interpreting financial reports
Proficient in basic accounting principles and techniques
Ability to calculate, post, and manage financial data
Ability to identify and accurately record data
Experience in using general ledger systems
Excellent knowledge of financial regulations and procedures
Attention to detail and accuracy
Excellent organizational and time-management skills
Proven ability to work independently with minimal supervision
Ability to take direction and work collaboratively with teams
What skills should I put on my resume for Assistant Bookkeeper?
Assistant Bookkeeper resumes should demonstrate a variety of skills that show potential employers your knowledge and abilities in the field. Here are some key skills to consider adding to your resume:
Bookkeeping: You should highlight your experience with bookkeeping activities such as balancing accounts, creating and managing financial records, and preparing financial reports.
Accounting: Showcase your knowledge of general accounting principles and practices, including debits and credits, accounts payable and receivable, taxation, and payroll.
Spreadsheet Applications: Demonstrate your proficiency with MS Excel, Google Sheets, and other spreadsheet software used to create invoices, track expenses, and generate detailed financial reports.
Financial Reporting: Emphasize your proficiency with creating and presenting financial reports, such as trial balances, income statements, balance sheets, and cash flow statements.
Attention to Detail: This important skill involves reviewing and inspecting financial records for accuracy and consistency.
Organizational Skills: Show employers your ability to keep organized records, sort and file documents, and remain on top of records management process.
Analytical Thinking: Highlight your aptitude for using data to develop financial plans and identify trends that can help the business.
By highlighting your skills and experience on your assistant bookkeeper resume, you can make a strong impression on potential employers and increase your chances of getting the job you desire.
Key takeaways for an Assistant Bookkeeper resume
An assistant bookkeeper resume should demonstrate hardworking, organized, and reliable attributes that potential employers look for. Here are some key takeaways for creating an effective assistant bookkeeper resume:
Use a clear and concise resume format. When creating a resume, take the time to ensure that the structure is well-organized and easy to read.
Highlight your skills and experience. Include a summary of your qualifications and relevant work experience. Incorporate industry keywords that demonstrate your understanding of the role.
Mention any certifications you have earned. If you hold any certifications, such as those from the American Institute of Professional Bookkeepers or the Institute of Certified Bookkeepers, be sure to include them on your resume.
Demonstrate your proficiency in accounting software. Include any experience you have with accounting software, such as QuickBooks or Microsoft Dynamics GP.
Showcase your customer service skills. Assistants bookkeepers often work as the face of the company, so it's important to demonstrate your ability to provide excellent customer service.
With these takeaways in mind, you should be able to create an effective assistant bookkeeper resume that highlights your skills and experience. Good luck!
Let us help you build
your Resume!
Make your resume more organized and attractive with our Resume Builder