If you're looking for a job as an accounts payable analyst, you need to make sure your resume stands out from the competition. A strong accounts payable analyst resume should include a summary of your relevant qualifications and experience. Additionally, it should highlight any specialized skills you have in areas like accounting, financial analysis, and data entry. Crafting a winning resume can be a challenge, but with the right guidance, you can put together an impressive resume that will get you noticed by employers. In this guide, we'll provide expert tips, tricks, and examples to help you write an effective accounts payable analyst resume that will maximize your chances of securing an interview.
If you didn't find what you were looking for, be sure to check out our complete library of resume examples.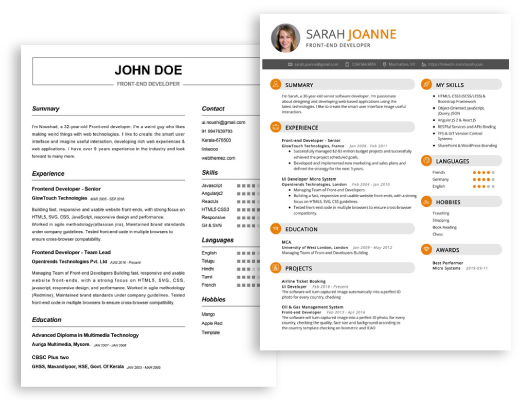 Start building your dream career today!
Create your professional resume in just 5 minutes with our easy-to-use resume builder!
Accounts Payable Analyst Resume Examples
John Doe
Accounts Payable Analyst
123 Main Street | Anytown, USA 99999 | Phone: (123) 456-7890 | Email: john.doe@email.com
A results- driven Accounts Payable Analyst with 5+ years of experience in financial analysis, process improvement and reconciliation. Possesses strong analytical skills, attention to detail and proficiency in financial software. Adept at developing and maintaining relationships with stakeholders through effective communication. Proven ability to work collaboratively and effectively in a fast- paced environment.
Core Skills:
Accounts Payable Processing
Risk Assessment
Financial Analysis and Reporting
Process Automation
Cost Containment
Account Reconciliation
Problem Solving
Professional Experience:
Accounts Payable Analyst
ABC Corporation | May 2015 – Present
Oversee the full cycle of accounts payable processes, including vendor invoices, employee expense claims and supplier payments.
Develop and implement process improvement initiatives to identify and reduce errors and costs.
Reconcile accounts payable transactions on a daily basis.
Analyze financial data to identify discrepancies and determine cause.
Handle queries from suppliers and employees.
Create and maintain financial reports and records.
Education:
Bachelor of Science in Accounting | ABC University | July 2010 – June 2014
Accounts Payable Analyst Resume with No Experience
Recent accounting graduate with a strong interest in accounts payable and financial analysis. Possesses excellent communication and problem- solving skills and a passion for learning. Looking to kick- start a career in accounts payable.
Skills:
Extensive knowledge of accounts payable and receivable
Strong organizational, analytical and problem- solving skills
Excellent communication, interpersonal and customer service skills
Proficient in Microsoft Office Suite (Word, Excel, PowerPoint, Access)
Proficiency in QuickBooks and other accounting software
Attention to detail and accuracy
Responsibilities:
Assisting with the processing of accounts payable invoices
Performing data entry, filing, and other administrative tasks
Analyzing and reconciling accounts payable documents
Assisting with the preparation of financial reports
Researching and resolving discrepancies in accounts payable
Maintaining accurate and up- to- date accounts payable records
Accounts Payable Analyst Resume with 2 Years of Experience
An experienced Accounts Payable Analyst with 2 years of experience in all aspects of accounts payable processes and procedures, including invoice processing and payment processing. Possesses a strong understanding of financial systems, financial controls, and internal controls. Equipped with excellent research, problem- solving, and customer service capabilities. Team- oriented, with a track record of consistently meeting tight deadlines and exceeding expectations.
Core Skills:
Financial Analysis
Data Processing
Accounts Payable
Invoicing
Payment Processing
Research & Problem Solving
Customer Service
Financial Systems & Controls
Responsibilities:
Process invoices and ensure accurate coding for payment
Match invoices to purchase orders and resolve discrepancies
Verify and reconcile vendor statements and payment batches
Identify and resolve payment issues in a timely manner
Provide support to accounts payable and procure- to- pay processes
Assist with the development and implementation of accounts payable policies and procedures
Perform data entry, filing and other administrative tasks as required
Respond to customer inquiries and assist with resolving customer disputes in a timely manner
Assist in the monthly close process and other finance related projects as assigned
Accounts Payable Analyst Resume with 5 Years of Experience
An experienced and highly organized Accounts Payable Analyst with 5 years of experience in managing accounts payables, conducting financial audits and preparing financial statements. Possesses an outstanding ability to evaluate and improve financial procedures, as well as a keen eye for detail and a deep knowledge of accounting and financial software. Experienced in troubleshooting financial issues, as well as analyzing financial records and creating accurate financial reports.
Core Skills:
Accounts Payable Management
Financial Auditing
Financial Reporting
Financial Statement Preparation
Accounting Software
Analytical Skills
Problem- Solving Skills
Time Management
Communication
Responsibilities:
Managed accounts payable transactions and tracked vendor invoices
Performed financial audits to ensure accuracy and compliance with established procedures
Prepared financial statements for management review
Analyzed financial records and identified discrepancies
Troubleshot financial issues to ensure accuracy of data
Ensured efficient working capital management
Developed accurate financial reports for management and stakeholders
Participated in budgeting processes and oversaw budget revisions
Created and maintained working relationships with vendors and stakeholders
Accounts Payable Analyst Resume with 7 Years of Experience
Highly organized, detail- oriented Accounts Payable Analyst with 7 years of experience in the accounting industry. Broad knowledge of internal control systems, tax compliance regulations and financial management processes. Possess exceptional organizational, problem- solving, and critical thinking skills. Proven track record of improving accounts payable processes and implementing cost- cutting tactics.
Core Skills:
Accounts Payable Management
Reconciliation and Accounts Analysis
Internal Control Systems
Tax Compliance Knowledge
Financial Reporting
Process Improvement
Cost Cutting Tactics
Excellent Communication
Problem- Solving
Time Management
Responsibilities:
Administered accounts payable processes and accounts payable analysis
Verified and processed invoices and payments
Reconciled vendor accounts and control accounts
Researched and resolved discrepancies within accounts payable
Generated monthly financial reports and performed account analysis
Identified cost- saving opportunities and implemented new procedures
Monitored compliance with payment terms and internal control systems
Developed and maintained strong relationships with vendors and other departments
Ensured all payments were made accurately and in compliance with company policies and procedures.
Accounts Payable Analyst Resume with 10 Years of Experience
I am an Accounts Payable Analyst with 10 years of working experience in the financial industry. I have strong analytical and communication skills and I am proficient in the use of Microsoft Excel and other financial accounting software. I am comfortable working with large volumes of data and I have a keen eye for detail and accuracy. I am self- motivated and can work independently. I am able to build effective and collaborative relationships with co- workers and clients, as well as demonstrate excellent customer service.
Core Skills:
Strong analytical skills
Proficient in Microsoft Excel and other financial accounting software
Ability to work with large volumes of data
Excellent customer service
Attention to detail and accuracy
Self- motivated and able to work independently
Excellent communication and interpersonal skills
Responsibilities:
Processing invoices and ensuring accuracy
Verifying that invoices are properly authorized in accordance with company policies
Maintaining and monitoring accounts payable records and vendor files
Maintaining accurate accounts payable ledger
Assisting with month- end close process
Performing bank reconciliations and other month end closing tasks
Researching discrepancies and resolving any issues
Communicating with vendors regarding billing and payment inquiries
Assisting with financial audits
Ensuring compliance with all relevant laws and regulations
Maintaining relationships with external vendors and other departments in the organization
Accounts Payable Analyst Resume with 15 Years of Experience
An Accounts Payable Analyst with 15 years of experience in the field of accounting. Skilled in all aspects of accounts payable, including vendor relations, invoice processing, and payment reconciliation. Proven track record of achieving cost savings and increasing operational efficiency by managing accounts payable processes. Possesses strong analytical skills, excellent communication skills, and the ability to multitask and prioritize tasks efficiently. Highly organized and detail- oriented, with a commitment to accuracy and integrity.
Core Skills:
Accounts Payable
Vendor Relations
Invoice Processing
Payment Reconciliation
Cost Savings
Operational Efficiency
Analytical Skills
Excellent Communication
Multi- Tasking and Prioritization
Organization and Detail- Orientation
Responsibilities:
Manage accounts payable process, ensuring timely and accurate payment of vendor invoices
Monitor vendor accounts to ensure that payment terms are met
Reconcile payments, researching discrepancies and resolving issues in a timely manner
Develop and maintain strong relationships with vendors to ensure smooth functioning of accounts payable
Review vendor invoices, contracts, and supporting documents to ensure accuracy
Prepare and process manual payments when necessary
Analyze accounts payable procedures and recommend strategies for cost savings and increased efficiency
Assist with month- end and year- end closing activities, including generating financial reports and preparing journal entries
Maintain accurate and up- to- date records of accounts payable transactions
In addition to this, be sure to check out our resume templates, resume formats, cover letter examples, job description, and career advice pages for more helpful tips and advice.
What should be included in a Accounts Payable Analyst resume?
A career as an Accounts Payable Analyst can be a highly rewarding one, and a great resume is essential to demonstrating your qualifications for the job. To ensure your resume stands out from the crowd, here are some of the key components you should include:
Education: Provide an overview of your educational background, such as any relevant degrees or certifications you have earned.
Job Experience: Demonstrate your experience in the field by listing any relevant job experience you have had. Make sure to include the specific responsibilities you had in each position and any accomplishments you achieved.
Technical Skills: List any technical skills you have acquired in the course of your experience as an Accounts Payable Analyst, such as proficiency in accounting software or financial analysis programs.
Communication Skills: Demonstrate your ability to communicate effectively with clients and colleagues by listing your strong verbal and written communication skills.
Problem-Solving Skills: Showcase your expertise in problem-solving and decision-making by listing any relevant experiences you have had in those areas.
Time Management Skills: Show employers that you possess the ability to manage your time effectively by including experiences that demonstrate this skill.
By including these components in your resume, you can give yourself a competitive edge in the job search and make yourself stand out as an ideal Accounts Payable Analyst.
What is a good summary for a Accounts Payable Analyst resume?
A good summary for an Accounts Payable Analyst resume should highlight an individual's experience in processing and verifying accounts payable, managing vendor relations, and reconciling A/P accounts. It should also emphasize the professional's ability to spot errors, meet deadlines, and maintain accurate and organized records. An ideal summary should also showcase the individual's knowledge of relevant policies, procedures, and accounting principles. The summary should also briefly describe the Accounts Payable Analyst's background and qualifications, such as a degree or certification in accounting or finance. Lastly, the summary should emphasize the individual's strong work ethic, attention to detail, and communication skills.
What is a good objective for a Accounts Payable Analyst resume?
A Accounts Payable Analyst is a professional responsible for managing a company's accounts payable process. A good objective statement for a resume of an Accounts Payable Analyst should include the following:
Demonstrate expertise in accounts payable processes and procedures
Utilize strong organizational and problem-solving skills to accurately process accounts payable transactions
Maintain accurate records of all transactions in the accounts payable system
Possess excellent interpersonal and communication skills to effectively collaborate with team members
Ensure compliance with all regulatory and organizational accounting standards
Develop and implement effective strategies to improve accounts payable efficiency
Adept knowledge of accounting software, financial analysis, and reporting
Work efficiently and accurately to meet deadlines and maximize accounts payable performance.
How do you list Accounts Payable Analyst skills on a resume?
When creating a resume for an Accounts Payable Analyst position, it is important to include the necessary skills that demonstrate you have the experience and qualifications to succeed in the role. Having a listing of these skills in an easy to read format can help to provide a potential employer with a sense of your qualifications and capabilities.
Below is a list of skills to consider when writing a resume for an Accounts Payable Analyst position:
Knowledge of Accounts Payable procedures, including invoice approval and payment processing
Proficient in accounting software, such as QuickBooks, JD Edwards, and Oracle
Expertise in accounting and financial principles
Ability to review and reconcile vendor statements and complete timely payment runs
Analytical and problem-solving skills to identify discrepancies and process corrections
Excellent organizational and time management skills
Detail-oriented with a high degree of accuracy
Ability to multi-task and manage multiple projects
Strong communication and interpersonal skills
Ability to establish and maintain effective relationships with vendors
Data entry and spreadsheet experience.
What skills should I put on my resume for Accounts Payable Analyst?
When it comes to crafting your resume for an Accounts Payable Analyst role, you should highlight your accounting, finance, and data management skills. Showcase your knowledge and experience in these areas to demonstrate that you are an ideal candidate for the job. Here are some skills to include on your resume:
Accounting: Demonstrate your knowledge of accounting principles, generally accepted accounting principles (GAAP) and the ability to produce accurate financial reports.
Financial Analysis: Show your ability to analyze financial statements and provide business insights.
Data Management: Highlight your experience and skill with data entry, data mining, and data analysis.
Problem Solving: Demonstrate your ability to identify and resolve complex problems in accounts payable.
Attention to Detail: Stress your ability to spot errors and review documents thoroughly.
Time Management: Showcase your ability to manage and prioritize tasks to meet tight deadlines.
Communication: Emphasize your strong written and verbal communication skills which are essential for interacting with vendors, colleagues, and management.
Key takeaways for an Accounts Payable Analyst resume
If you are an Accounts Payable Analyst, then having a well-crafted resume is essential for your job search. Your resume should highlight the skills and experiences that make you stand out from the competition. To help you craft the perfect resume, here are some key takeaways for Accounts Payable Analysts:
Demonstrate Your Knowledge of Accounts Payable Processes – Your resume should demonstrate a strong understanding of accounts payable processes, including tracking invoices, resolving discrepancies, and reconciling accounts. It is important to highlight any experience with automated accounts payable systems or other software used to process payments.
Showcase Your Attention to Detail — As an Accounts Payable Analyst, it is critical that you have an eye for detail. Make sure to highlight any relevant experience that demonstrates your attention to detail, such as experience with data entry or bookkeeping.
Demonstrate Your Ability to Work Under Pressure — Accounts Payable Analysts often have to juggle multiple tasks at once and work under tight deadlines. Showcase any relevant experience where you had to work under pressure to meet deadlines or manage multiple tasks.
Highlight Your Interpersonal Skills — Accounts Payable Analysts must often collaborate with a diverse set of stakeholders, including vendors, colleagues, and clients. Make sure to highlight any interpersonal skills, such as communication, problem-solving, or customer service skills.
By following these key takeaways, you can create a resume that showcases your skills and experience as an Accounts Payable Analyst and make you stand out from the competition.
Let us help you build
your Resume!
Make your resume more organized and attractive with our Resume Builder