If you're looking for a job as a Mortgage Originator, it is important to have a strong resume that effectively highlights your skills, experience, and qualifications. Writing a resume can be challenging, but it doesn't have to be. This guide provides mortgage originator resume examples, as well as tips and tricks to help you create an impressive resume that will get you noticed by potential employers. By following these guidelines, you will be able to craft a resume that gets you noticed and helps you stand out from the competition.
If you didn't find what you were looking for, be sure to check out our complete library of resume examples.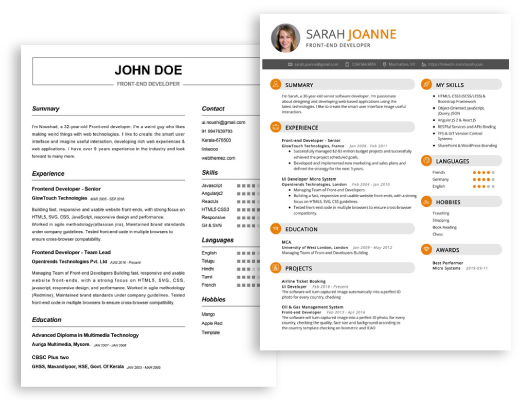 Start building your dream career today!
Create your professional resume in just 5 minutes with our easy-to-use resume builder!
Mortgage Originator Resume Examples
John Doe
Mortgage Originator
123 Main Street | Anytown, USA 99999 | Phone: (123) 456-7890 | Email: john.doe@email.com
I am an accomplished Mortgage Originator with over five years of experience in the real estate and finance industry. My background includes working as a loan officer for a major bank, specializing in residential and commercial mortgage lending. I am adept at collaborating with clients to determine their loan needs, preparing loan applications, and assessing potential risks associated with loan approval. My strong communication, negotiation and problem- solving skills enable me to quickly identify and resolve any challenges that may arise during the loan application process.
Core Skills:
Loan Origination
Client Negotiation
Risk Assessment
Financial Analysis
Credit Review
Loan Documentation
Loan Underwriting
Regulatory Compliance
Mortgage Law
Loan Structuring
Professional Experience:
Loan Officer, ABC Bank – Anytown, USA (April 2015 – Present)
Negotiate terms of residential and commercial mortgage loans with clients.
Analyze credit history of potential borrowers and assess the risk associated with loan approval.
Prepare loan documentation and present loan applications to senior lenders for approval.
Ensure all loan documents meet regulatory compliance requirements.
Work with clients to determine their loan needs and develop tailored loan solutions.
Assist clients with loan payments, reviewing and amending loan agreements as needed.
Education:
B.S. in Business Administration – Anytown University, Anytown, USA (2012 – 2015)
Mortgage Originator Resume Examples Resume with No Experience
Recent college graduate with a passion for helping people obtain the home of their dreams through sound and ethical home financing. Possesses excellent communication, problem- solving, and organizational skills.
Skills:
Excellent communication
Strong problem- solving skills
Organized and efficient
Friendly and professional
Knowledge of financial products
Proficient in Microsoft Office
Responsibilities
Advise clients on the best mortgage products available
Gather and process required documents and information
Provide support to loan officers and processors
Explain the legal and financial implications of the mortgage process
Maintain detailed and accurate records of all activities
Assist customers with any questions or concerns they may have throughout the process
Mortgage Originator Resume Examples Resume with 2 Years of Experience
Dedicated and detail- oriented Mortgage Originator with two years of experience in originating mortgage products and services. Proven track record of successfully helping clients achieve their financial goals. Skilled in finding the best mortgage product to fit the needs of each client. Experience in loan processing, underwriting, and closing. Highly knowledgeable in the compliance and regulations in the mortgage industry.
Core Skills:
Mortgage Origination
Loan Processing
Risk Analysis
Loan Underwriting
Mortgage Compliance
Financial Analysis
Regulatory Compliance
Responsibilities:
Originate residential mortgage loans by assessing the borrower's financial data, property data, credit history and other related financial documents.
Assist customers in selecting the best mortgage products that meet their financial needs.
Analyze financial data and credit history of the customers and assess their risk profile.
Actively participate in the loan processing, underwriting and closing processes.
Ensure compliance with all applicable laws and regulations in the mortgage industry.
Develop and maintain relationships with lenders and investors to ensure the best loan products for customers.
Analyze financial statements and documents to assess the ability of borrowers to repay the loan.
Mortgage Originator Resume Examples Resume with 5 Years of Experience

A highly- motivated and experienced mortgage originator with 5+ years of experience in banking and finance. Adept at utilizing a wide range of analytical and research tools to identify and assess risk and optimize the loan- origination process. An effective communicator who excels in building strong relationships with customers, colleagues, and other stakeholders. Motivated to provide superior customer service and ensure the loan- origination process is efficient and hassle- free.
Core Skills:
Analytical and research skills
Relationship and customer service
Banking and finance
Loan origination and processing
Risk identification and assessment
Responsibilities:
Analyzing and researching loan applications, credit history, and financial backgrounds to identify and assess risk
Developing and maintaining relationships with customers, colleagues, and other stakeholders
Negotiating loan terms, closing costs, and other fees and charges
Advising customers on loan options and explaining the features, benefits, and risks of each
Assisting customers in completing loan applications and providing documentation
Verifying accuracy and completeness of loan application documents
Coordinating with other departments to ensure timely and efficient loan processing
Keeping up to date on loan regulations and industry trends to ensure compliance
Mortgage Originator Resume Examples Resume with 7 Years of Experience
Dedicated Mortgage Originator with seven years of experience in the banking and mortgage lending industry. Adept in appraising properties, loan origination, and customer relations. Proven track record of effectively managing multiple tasks in a fast- paced environment while meeting strict deadlines. Possesses a strong ability to communicate with customers and colleagues in a professional and courteous manner.
Core Skills:
Appraisal of Properties
Loan Origination
Customer Relations
Mortgage Lending
Time Management
Ability to Communicate
Attention to Detail
Responsibilities:
Analyzing customer's credit profile, asset, and income information to evaluate loan applications
Collecting and verifying customer credit and banking information throughout the loan process
Coordinating between customers, lenders, and brokers to ensure accuracy of loan documents
Maintaining open communication with customers and providing them with updates regarding their loan process
Monitoring and meeting tight deadlines for loan origination and closing
Assisting with the preparation of documents for appraisals, title, and closing processes
Keeping up- to- date with mortgage industry trends and regulations to ensure compliance with federal, state, and local laws
Mortgage Originator Resume Examples Resume with 10 Years of Experience
Highly experienced Mortgage Originator with 10 years of experience in the financial services industry. Proven track record of helping clients secure timely and cost- effective mortgages to meet their needs. Experienced in analyzing financial data, preparing loan applications, and educating clients on the loan process. Skilled negotiator and problem solver, adept in structuring complex residential and commercial real estate loans.
Core Skills:
Mortgage Origination
Loan Analysis
Financial Data Analysis
Loan Application Preparation
Negotiation
Problem Solving
Client Education
Responsibilities:
Analyze financial data of clients and prospective clients to ensure they are suitable for a loan.
Prepare and review loan applications, including credit reports, income statements, and asset statements.
Negotiate terms of the loan with lenders to ensure the best possible rate and terms for clients.
Educate clients on the loan process, terms and conditions, and other related information.
Remain up to date on market trends, government regulations and laws, and other industry changes.
Monitor progress of loan applications and provide guidance to clients throughout the loan process.
Review and finalize loan documents with lenders and clients, ensuring accuracy and compliance with applicable regulations.
Mortgage Originator Resume Examples Resume with 15 Years of Experience
I have over 15 years of experience in the mortgage industry as a mortgage originator. With my in- depth knowledge of loan products, credit analysis, customer service, problem- solving, and negotiation skills, I am an expert in the field and a highly successful practitioner. I am passionate about helping my clients achieve their goals of purchasing or refinancing their homes. I take a consultative approach to ensure the customer is fully informed, educated and satisfied throughout the loan process.
Core Skills:
Extensive knowledge of loan products
Comprehensive understanding of credit analysis
Excellent customer service and communication skills
Proven problem- solving and negotiation capabilities
Strong ability to build and sustain relationships
Proficient in financial software and other loan origination systems
Responsibilities:
Identify, develop, and grow business opportunities through customer outreach and networking activities
Develop strong relationships with real estate agents, brokers and other referral sources to increase customer base
Conduct needs analysis interviews with clients to assess customer needs and objectives
Advise customers on loan programs best suited to their needs and objectives
Analyze financial and credit applications to determine creditworthiness
Prepare and generate loan files, documents, and disclosures
Negotiate loan terms and pricing with lenders to secure the best terms possible
Monitor the loan process to ensure timely closing and compliance with regulations
Stay current on changing rules, regulations and industry trends
In addition to this, be sure to check out our resume templates, resume formats, cover letter examples, job description, and career advice pages for more helpful tips and advice.
What should be included in a Mortgage Originator Resume Examples resume?
A mortgage originator resume should include all the qualifications, experience and credentials needed to demonstrate a candidate's suitability and worthiness for the position. A resume should accurately represent the candidate's experience, and the information should be presented in a clear and organized fashion. Here are some key elements to include in a mortgage originator resume:
Professional Summary: Provide a brief statement that summarizes your qualifications and experience, as well as how you can benefit the company.
Education: Include any educational qualifications, such as a degree in finance, economics, or accounting.
Work Experience: Include any relevant experience working in the mortgage industry, such as loan originator or analyst positions.
Skills: List any specialized skills you have related to the job, such as knowledge of mortgage products and the ability to work with lenders.
Professional Affiliations: List any memberships in professional organizations related to mortgages or financial planning.
References: Include the names and contact information of references who can attest to your skills and experience.
By including this information in your resume, you will be able to demonstrate your qualifications and worthiness for a mortgage originator position.
What is a good summary for a Mortgage Originator Resume Examples resume?
A mortgage originator is responsible for originating, processing and closing residential mortgage loans. A good summary for a resume in this field should include an overview of your qualifications, experience and educational background. Specifically, you should mention your knowledge of a variety of loan products, ability to work well with clients, and understanding of federal, state and local regulations. Additionally, you could mention your ability to handle high-volume workloads, ability to take initiative and knowledge of lending software such as Encompass. By highlighting your qualifications, you will be able to demonstrate that you are the ideal candidate for the job.
What is a good objective for a Mortgage Originator Resume Examples resume?
A mortgage originator's resume should have an objective that clearly expresses the applicant's qualifications and experience in the field of mortgage banking. An ideal objective should provide a concise summary of the applicant's primary qualifications and experience, while emphasizing their unique skills and abilities that make them the best candidate for the position.
Demonstrate strong interpersonal and communication skills with the ability to build relationships with current and potential customers.
Provide excellent customer service while managing the mortgage loan process from origination to closing.
Possess knowledge of the lending process, local and federal regulations, and underwriting guidelines.
Possess strong organizational, problem solving, and customer service skills.
Proven ability to work independently and as part of a team.
Ability to multi-task and prioritize multiple projects.
Utilize effective sales strategies and techniques to maximize customer satisfaction and revenue.
How do you list Mortgage Originator Resume Examples skills on a resume?
When creating a resume, listing skills is an important section that can give you an edge over the competition. For mortgage originators, there are certain skills that employers value and look for when considering applicants. Here are some of the most important skills to list on your mortgage originator resume:
Understanding of Mortgage Processes: Mortgage originators should be knowledgeable with the different types of mortgage products, loan origination processes and the different stages of a loan.
Analytical Skills: Mortgage originators need to be able to analyze complex financial data and provide sound advice to borrowers.
Communication Skills: Mortgage originators should be able to communicate effectively with lenders and borrowers to ensure that loan applications are accurately completed and submitted in a timely manner.
Negotiation Skills: Mortgage originators should have strong negotiation skills in order to get the best deals for their clients.
Interpersonal Skills: Mortgage originators should be able to establish and maintain good relationships with lenders, borrowers, and other parties involved in the loan process.
Time Management Skills: Mortgage originators should have strong time management skills in order to effectively handle multiple loan applications and meet deadlines.
Sales and Marketing Skills: Mortgage originators need to have excellent sales and marketing skills in order to generate leads and market their services.
By including these skills on your resume, you can demonstrate to employers that you have the necessary skills to be a successful mortgage originator.
What skills should I put on my resume for Mortgage Originator Resume Examples?
A Mortgage Originator is someone who arranges loan financing for residential or commercial properties. While the job may seem straightforward, it requires a unique blend of financial and communication skills. The following skills should be included on a Mortgage Originator resume examples to demonstrate your ability to succeed in the role.
Knowledge of mortgage loan products and guidelines: A Mortgage Originator should have an intimate understanding of different mortgage loan products, such as conventional, FHA, VA and USDA loans, as well as know the guidelines for each type of loan.
Ability to analyze financial data: Mortgage Originators need to be able to assess a borrower's financial situation and determine the best loan option for them. This requires a strong understanding of reading credit reports, analyzing income, assets, and debt.
Good communication skills: Mortgage Originators are responsible for helping customers understand the mortgage application process. As such, they must be able to explain complex financial concepts in a clear and concise manner.
Detail-oriented: Mortgage Originators must be meticulous when completing loan applications and other paperwork to ensure accuracy.
Time management skills: Mortgage Originators must stay organized and manage their time effectively in order to meet deadlines and complete all required paperwork.
Interpersonal skills: Mortgage Originators must be able to build relationships with customers and maintain customer satisfaction.
Including these skills on your resume for a Mortgage Originator job will show employers that you have the qualifications necessary to excel in the role.
Key takeaways for an Mortgage Originator Resume Examples resume
For aspiring mortgage originators, a well-crafted resume is essential for getting noticed by mortgage lenders. A resume should demonstrate mortgage industry knowledge and highlight hard and soft skills that are beneficial to the job. In addition, a resume should include an effective summary of qualifications and an impressive list of job experience.
When writing a resume for a mortgage originator, key takeaways should include:
• Highlight your knowledge of the mortgage industry. Show that you understand the regulations, lenders and processes involved in the field.
• Showcase your customer service skills. Mortgage originators must be able to effectively communicate with clients.
• Demonstrate your ability to work with numbers. Good math skills are essential for success in this role.
• Showcase your problem-solving skills. Mortgage originators must be able to think on their feet and come up with creative solutions to complex problems.
• Include any certifications or qualifications. Any special certifications or qualifications should be highlighted in a resume.
• Keep it concise. A resume should be limited to one page in length.
By using these key takeaways, a mortgage originator can ensure that their resume stands out among the competition. By showcasing their knowledge and skills, they will be well on their way to an interview and landing their dream job.
Let us help you build
your Resume!
Make your resume more organized and attractive with our Resume Builder