Are you an aspiring analyst looking for a job? Whether you are a recent graduate, or an experienced professional, writing a great resume can be a challenge. Having the right format and content is essential to getting noticed, and increasing your chances of being hired. This blog post will provide you with a comprehensive guide to writing a successful analyst resume, with career-specific examples and tips. By following the advice and templates in this guide, you'll be sure to have your resume noticed by prospective employers.
If you didn't find what you were looking for, be sure to check out our complete library of resume examples.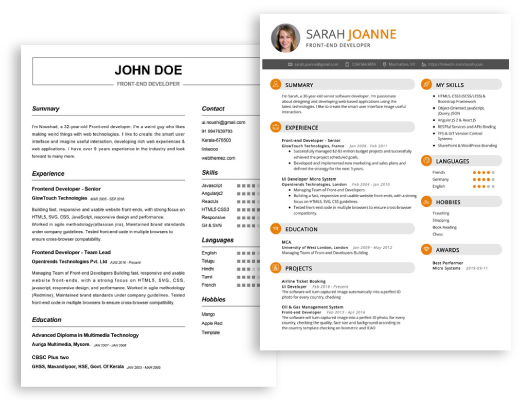 Start building your dream career today!
Create your professional resume in just 5 minutes with our easy-to-use resume builder!
Analyst Resume Examples
John Doe
Analyst Resume
123 Main Street | Anytown, USA 99999 | Phone: (123) 456-7890 | Email: john.doe@email.com
A highly- motivated and experienced analyst with a strong background in data analysis, business intelligence, and project management. Possesses excellent problem solving and analytical skills, with a keen ability to interpret business requirements and translate them into technical solutions. Experienced in presenting complex data in a clear and understandable way for stakeholders and colleagues, and in successfully managing complex projects to completion. Proven ability to think outside the box and find innovative solutions to difficult problems.
Core Skills:
Data Analysis
Business Intelligence
Project Management
Problem Solving
Analytical Thinking
Presentation Skills
Innovation
Professional Experience:
Data Analysis Analyst, ABC Corporation, January 2018 – Present
Analyze data and create reports to track performance and identify opportunities for improvement
Develop dashboards to monitor progress and make recommendations to stakeholders
Assist with developing and implementing data structures and protocols
Collaborate with stakeholders to ensure data accuracy and integrity
Interpret data and report findings to stakeholders and decision- makers
Business Intelligence Analyst, DEF Corporation, April 2015 – December 2017
Gathered and analyzed data to identify trends and insights
Developed and maintained data sources and data models
Created and implemented data tracking and reporting systems
Developed data visualizations to communicate complex data to stakeholders
Conducted research and analysis on new products and technologies
Education:
Bachelor of Science in Business Administration, University of XYZ, 2011 – 2015
Major in Business Analytics
Minor in Computer Science
Analyst Resume Examples Resume with No Experience
Recent college graduate with a degree in business analytics, eager to apply theoretical knowledge to practical applications. Possess strong critical thinking, problem- solving, and communication skills. Looking to join a growing organization and prove myself as an innovative and creative analyst.
Skills:
Strong interpersonal and communication skills
Ability to collect and interpret data
Strong analytical and problem- solving skills
Ability to work independently and as part of a team
Proficiency in Microsoft Office Suite and other software programs
Responsibilities
Analyzing customer and market data to identify trends and make predictions
Designing and implementing experiments to test hypotheses
Developing and writing reports on findings and recommendations
Coordinating with other departments to ensure accuracy and integrity of data
Maintaining databases and source systems to ensure data integrity
Analyst Resume Examples Resume with 2 Years of Experience
Dedicated and highly motivated analyst with two years of experience working towards strategic initiatives and complex projects. Proven ability to interpret data, identify trends, and develop insights. Possesses excellent problem- solving skills and an eye for detail. Comfortable working with large datasets and utilizing a variety of software tools and programs. Committed to achieving the highest level of customer satisfaction and driving continuous improvement.
Core Skills:
Data Analysis
Data Modeling
Business Process Improvement
Project Management
Database Management
Document Creation & Editing
Troubleshooting
Problem- Solving
Responsibilities:
Develop and implement data analysis and modeling solutions to address business needs and optimize process efficiency
Design, construct, and maintain complex databases, draw insights from data and interpret results
Utilize software program tools to analyze data, identify trends and develop visual representations
Prepare detailed reports, presentations and other documents utilizing software tools
Collaborate with team members to ensure customer satisfaction and successful project completion
Troubleshoot and resolve technical problems, develop solutions and manage customer feedback
Monitor the performance of existing systems and suggest improvements
Analyze customer requirements and develop solutions to meet their needs
Analyst Resume Examples Resume with 5 Years of Experience
Highly experienced Analyst with 5 years of experience in the field. Adept in conducting research to evaluate operational and financial performance and providing comprehensive insights and recommendations. Skilled in analyzing and interpreting data, creating ad- hoc reporting and developing forecasting models. Proficient in using MS Office Suite with a working knowledge of various statistical software applications.
Core Skills:
Advanced research skills
Data analysis and interpretation
Financial and operational performance analysis
Ad- hoc reporting
Financial modeling
Software applications
MS Office Suite
Responsibilities:
Conducting research to evaluate financial and operational performance
Analyzing and interpreting data and extracting insights
Developing forecasting models to predict future financial performance
Designing and creating ad- hoc reports to present to stakeholders
Utilizing various software applications to input, analyze, and store data
Assisting with budgeting and strategic planning activities
Providing recommendations for process improvement and cost savings initiatives
Collaborating with stakeholders to ensure data accuracy and integrity
Analyst Resume Examples Resume with 7 Years of Experience
With 7 years of experience in the financial services industry, I possess the requisite knowledge and expertise to provide insightful and valuable analysis on a wide variety of topics. I have a proven track record of working with financial data and helping to develop effective strategies that drive profitability and operational efficiency. I have strong problem- solving skills and a successful history of working with stakeholders to develop data- driven solutions. I am also highly proficient in a range of statistical and programming software such as R and Python.
Core Skills:
Financial Modeling
Data Analysis
Problem- Solving
Strategic Planning
R & Python Programming
Business Intelligence
Responsibilities:
Developing financial models to evaluate the performance of investments
Analyzing data from various sources to interpret trends and patterns
Developing strategies and plans to drive business objectives
Providing insightful analysis on trends and forecasts for the organization
Identifying areas for improvement and optimization
Working with stakeholders to develop data- driven solutions
Performing financial and statistical analysis to identify areas of opportunity
Performing research to support decision- making processes
Developing accurate reports and presentations for senior management
Using statistical software such as R and Python to analyze data
Analyst Resume Examples Resume with 10 Years of Experience
A highly experienced and organized analyst with 10 years of expertise in research, data analysis, problem- solving and project management. Proven ability to develop and implement effective strategies and procedures to ensure the highest quality of work. Skilled in day- to- day operation management, data analysis and problem- solving. Possesses strong communication and collaboration skills.
Core Skills:
Research
Data Analysis
Problem- Solving
Project Management
Strategic Planning
Communication
Collaboration
Operation Management
Responsibilities:
Conducting research and gathering data for analysis.
Evaluating and interpreting information in order to generate data- driven solutions.
Constructing data models and analyzing trends.
Developing and implementing strategies, processes and procedures to improve operations.
Leading and managing projects from initial planning stages to completion.
Analyzing business requirements and creating detailed project plans.
Establishing timelines and budgets for projects.
Collaborating with stakeholders to ensure successful completion of projects.
Communicating effectively with team members and clients.
Analyst Resume Examples Resume with 15 Years of Experience
A dedicated and highly talented business analyst with 15 years of experience in the field. Proven expertise in reporting, database management and analyzing data. Adept in understanding business processes, identifying areas of improvement and developing solutions. Experienced in developing and executing project plans, working on multiple projects simultaneously, and delivering projects on- time and within budget.
Core Skills:
Business Process Modeling
Data Analysis and Reporting
Project Management
Requirements Analysis
Database Design and Management
Solution Development
Problem- Solving
Responsibilities:
Analyze and evaluate existing business processes to identify areas of improvement
Develop detailed project plans and timelines for completion of projects
Manage multiple projects simultaneously within established budget and timelines
Collect, analyze and interpret large volumes of data
Develop and implement solutions to streamline business process
Develop detailed reports to summarize results of data analysis
Develop database systems to store and manage data
Provide support and troubleshooting services for existing systems
Identify and resolve system and process problems
Communicate effectively with stakeholders to identify and address their needs.
In addition to this, be sure to check out our resume templates, resume formats, cover letter examples, job description, and career advice pages for more helpful tips and advice.
What should be included in a Analyst Resume Examples resume?
A resume for a job as an Analyst should include the following:
Professional summary: This should include your qualifications, previous experience, and skillset.
Education: Be sure to include any relevant degrees, certifications, or courses you may have completed.
Experience: Include any relevant professional experience, internships, or volunteer opportunities.
Skills: List your technical and analytical skills, such as knowledge of coding languages, statistical analysis, and data mining.
Projects: Include any projects or initiatives that you have worked on that demonstrate your abilities.
Public speaking/presentations: Provide examples of any public speaking engagements or presentations you may have done.
Personal achievements: Share any awards or accolades that you have received for work or studies.
References: Provide contact information for three professional references.
What is a good summary for a Analyst Resume Examples resume?
A good summary for an Analyst Resume Examples resume should include a concise overview of the candidate's qualifications and experience. It should highlight what makes them the best applicant for the position, focusing on their strengths and the value they can bring to the company. The summary should include a brief description of the job duties they have performed, such as data analysis, financial modeling, or research. It should also mention any relevant certifications or awards they have earned. Finally, it should provide an indication of the candidate's professional goals and aspirations.
What is a good objective for a Analyst Resume Examples resume?
A resume objective is a brief statement that presents your career goals, qualifications, and skills to a potential employer. It should be written to show the employer why you are an ideal candidate for the job. When applying for an analyst position, it is important to have a clear, concise, and realistic resume objective that outlines your qualifications and demonstrates your value to the organization.
Here are some examples of what makes a good objective for an analyst resume:
Demonstrate strong analytical and problem solving skills to assess and implement business solutions that improve operational efficiency.
Utilize exceptional communication and interpersonal skills to effectively collaborate with cross-functional teams and stakeholders.
Apply knowledge of software development and data analysis to develop complex data models and reports for senior management.
Leverage expertise in industry trends and innovative technologies to drive business decisions and strategic initiatives.
Capitalize on knowledge of project management principles and best practices to effectively manage projects from conception to completion.
Develop and implement effective data-driven models and algorithms to analyze, forecast, and optimize business performance.
How do you list Analyst Resume Examples skills on a resume?
As an analyst, you need to have a wide range of skills to be successful in the job. A great way to showcase your skills on a resume is to list analyst resume examples. This will help potential employers get a better understanding of what you can do and how you can contribute to their company. Here are some skills to consider when creating your analyst resume:
-Data Analysis: Being able to review large amounts of data and draw conclusions from it is a must for an analyst. This includes being able to use various software and programs to manipulate the data and create reports.
-Problem Solving: Analysts need to be able to identify problems and find solutions. This requires the ability to break down complex problems and come up with creative solutions.
-Creativity: It is important to be able to think outside of the box in order to come up with original ideas. This means being able to look at problems and situations from different angles.
-Organization: Analysts need to be able to manage multiple projects and tasks at once. This requires excellent organizational and time management skills.
-Communication: Analysts must be able to communicate effectively with co-workers, clients and superiors. This includes being able to present data and reports in a clear and concise manner.
By including these skills in your analyst resume, you will be able to provide potential employers with examples of your capabilities and strengths. This will help to demonstrate your value as an analyst and make you a top candidate for the job.
What skills should I put on my resume for Analyst Resume Examples?
When crafting an Analyst resume, it is important to include the technical and soft skills that are most relevant to the job you are applying for. The skills you include in your resume should reflect the job description and highlight your ability to fulfill the job requirements. Here are some of the top skills to include on an Analyst resume examples:
Analytical Skills: Analysts need to be able to analyze data, identify trends and draw conclusions. Include any experience you have working with data, or any certifications or education related to analytics and data science.
Problem-Solving Skills: Analysts need to be able to identify and solve complex problems. Showcase any past experience you have solving difficult problems, or any relevant coursework or certifications you may have.
Technical Skills: Analysts often need to analyze data in a specific program or software. Include any technical skills you have that are relevant to the position, such as experience with SQL and Excel.
Presentation Skills: Analysts often present their findings in reports or presentations. Showcase any past experience you have creating presentations or reports, or any relevant coursework or certifications that relate to these skills.
Communication Skills: Analysts need to be able to communicate their findings effectively. Showcase any past experience with public speaking or writing, or any relevant coursework or certifications in these areas.
By including these key skills on your Analyst resume examples, you can ensure that you stand out from other applicants and give yourself the best chance for success.
Key takeaways for an Analyst Resume Examples resume
When it comes to writing an effective and successful analyst resume, there are a few key takeaways that should be kept in mind. First and foremost, it is important to highlight technical and analytical skills. As an analyst, it is your role to help interpret data, solve problems and provide recommendations. Therefore, it is important to showcase your expertise in applying data analysis techniques, statistical methods and software tools to uncover insights that can help to drive business decisions.
Moreover, it is important to showcase your interpersonal skills. As an analyst, you will be working with all levels of the organization and will need to possess strong communication and interpersonal skills. Showcase your ability to build relationships and collaborate with colleagues, stakeholders, and vendors.
In addition, it is important to demonstrate your ability to manage projects and work under tight deadlines. Analysts are often tasked with juggling multiple projects at once and it is important to be able to showcase your ability to manage time efficiently and deliver quality work.
Finally, it is important to showcase any certifications or awards that you have received as an analyst. This can demonstrate your knowledge of the field and your commitment to professional growth.
By keeping these key takeaways in mind, you can create an effective and successful analyst resume.
Let us help you build
your Resume!
Make your resume more organized and attractive with our Resume Builder