Writing a resume as a warranty administrator can be a challenging task, but with the right tips and resources, you can create an effective resume that will stand out to potential employers. In this blog post, we'll provide an easy-to-follow guide on how to write a great warranty administrator resume, and include a few useful examples that you can draw inspiration from. With this advice and the right resume format, you can put together a document that will make you stand out to employers and help you get the job you want.
If you didn't find what you were looking for, be sure to check out our complete library of resume examples.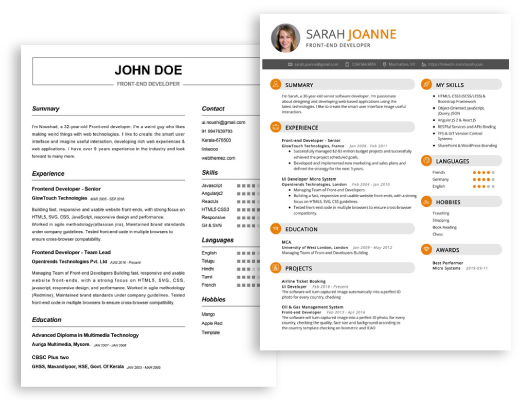 Start building your dream career today!
Create your professional resume in just 5 minutes with our easy-to-use resume builder!
Warranty Administrator Resume Examples
John Doe
Warranty Administrator
123 Main Street | Anytown, USA 99999 | Phone: (123) 456-7890 | Email: john.doe@email.com
A highly skilled and experienced Warranty Administrator with 5 years of expertise in warranty management, dispute resolution and customer service. Proven ability to effectively handle customer inquiries, develop internal processes and provide accurate warranty report. Adept at providing excellent customer service and building strong working relationships with a variety of stakeholders.
Core Skills:
Analysis and problem solving
Customer service
Warranty management
Report writing
Attention to detail
Documentation
Dispute resolution
Organizational skills
Time management
Professional Experience:
Warranty Administrator, ABC Company – 2014 – Present
Analysed data and prepared warranty reports for management
Investigated customer complaints and disputes related to warranty
Developed and implemented effective internal processes
Monitored warranty claims and implementation of warranties
Responded to customer inquiries and provided exceptional customer service
Ensured accuracy of warranty documents
Liaised with managers and stakeholders to resolve customer issues
Mentored and trained new staff members
Education:
Bachelor of Science in Business Administration, XYZ University – 2012
Warranty Administrator Resume with No Experience
Recent college graduate with a bachelor's degree in business administration and no experience as a warranty administrator
Able to quickly learn new concepts, processes and procedures
Highly organized, detail- oriented and able to handle multiple tasks simultaneously
Strong research and problem- solving skills
Excellent interpersonal and communication skills
Skills
Computer proficiency in Microsoft Office Suite, including Word and Excel
Proficient in data entry and document management
Ability to work in a fast- paced environment
Ability to prioritize tasks and meet deadlines
Strong customer service skills
Responsibilities
Gather and organize all required documents for warranty claims
Upload documents to the warranty system
Communicate with customers and vendors to ensure all information is accurate
Maintain accurate records of all warranty claims
Manage multiple warranty claims simultaneously
Troubleshoot and resolve issue related to warranty claims
Provide timely updates to customers and vendors regarding warranty claims
Answer customer inquiries related to warranty claims
Warranty Administrator Resume with 2 Years of Experience
Organized and detail- oriented Warranty Administrator with 2 years of experience in the automotive industry. Possesses excellent customer service and interpersonal skills with a penchant for problem- solving. Committed to providing efficient and effective warranty services.
Core Skills:
Technical knowledge of automobiles
Excellent customer service and communication
Knowledge of repair warranty processes
Strong problem- solving and troubleshooting abilities
Proficient with managing multiple tasks and deadlines
Ability to interact with customers and staff
Responsibilities:
Liaising with customers to resolve any warranty issues
Processing warranty claims and ensuring accuracy of paperwork
Conducting investigation and evaluating failed parts
Verifying warranty eligibility and confirming policy terms and conditions
Maintaining accurate databases of customer information and warranty records
Analyzing warranty claims to identify trends in product defects
Providing customer service for customers with inquiries about their warranty status
Coordinating with vendors and suppliers to resolve warranty issues
Assisting in the development and implementation of policies and procedures related to warranty services
Warranty Administrator Resume with 5 Years of Experience
Motivated and experienced Warranty Administrator with 5 years of experience in managing vehicle- related warranties. Excellent customer service skills and an eye for detail. Proven ability to work effectively with a variety of stakeholders to ensure customer satisfaction while meeting corporate goals. Experience with a wide range of warranty software, procedures, and regulations.
Core Skills:
Strong customer service skills
Proficient in warranty software
Excellent problem solving and analytical skills
Strong organizational and time management abilities
Excellent written and verbal communication skills
Responsibilities:
Responsible for processing warranty claims and verifying eligibility
Evaluate and approve warranty requests according to company guidelines
Analyze customer feedback to identify and address areas of improvement
Manage day- to- day operations within the warranty department
Monitor warranty metrics and develop strategies to improve performance
Work with vendors, suppliers, and other stakeholders to ensure customer satisfaction
Provide product- specific technical assistance to customers
Maintain detailed records of warranties and repairs
Address customer complaints in a timely and effective manner
Ensure compliance with applicable laws and regulations.
Warranty Administrator Resume with 7 Years of Experience
A highly experienced Warranty Administrator with 7 years of experience in customer service and relationship management. Highly skilled in managing escalated issues, researching and resolving customer complaints, and providing technical advice. Professional, customer- focused, and organized, with a passion for providing exceptional service and ensuring customer satisfaction.
Core Skills:
Excellent customer service skills
Strong attention to detail
Excellent problem- solving skills
Strong communication and interpersonal skills
Proficient with Microsoft Office Suite (Word, Excel, PowerPoint, Outlook)
Ability to work independently and as part of a team
Familiar with database management systems
Responsibilities:
Provide warranty and customer service on a variety of consumer and industrial products.
Manage escalated customer complaints and inquiries and provide timely resolutions.
Investigate customer issues and create reports to document findings and resolutions.
Provide technical advice and troubleshooting for customer inquiries.
Research, update, and monitor customer warranties.
Input customer warranty data into databases.
Work with customer service team to ensure customer satisfaction.
Communicate with customers via phone, email, and other forms of communication.
Warranty Administrator Resume with 10 Years of Experience
Dedicated Warranty Administrator with 10 years of experience managing and processing warranty claims for a variety of products and services. Skilled in analyzing customer complaints, identifying potential causes and working with engineering and technical staff to quickly resolve customer issues. Proven expertise in team building, training, and retention initiatives. Driven to maintain customer satisfaction and loyalty.
Core Skills:
Customer service
Warranty claims processing
Problem analysis and resolution
Team building
Training
Retention initiatives
Responsibilities:
Received and analyzed customer complaints and warranty claims
Worked closely with engineering, technical, and production teams to identify and resolve customer issues
Processed warranty claims and developed solutions to customer problems
Managed and updated customer records in a timely and accurate manner
Developed and implemented customer service training program
Performed customer satisfaction surveys to monitor customer loyalty
Generated reports to track warranty claim trends and customer satisfaction levels
Warranty Administrator Resume with 15 Years of Experience
Highly experienced Warranty Administrator with 15 years of experience in providing customer service and administering warranty programs. Adept at resolving customer concerns and handling warranty claims. Possesses excellent communication and organizational skills to complete warranty- related tasks efficiently. Familiar with resolving customer disputes, documenting customer feedback and maintaining compliance with warranty regulations.
Core Skills:
Customer service oriented
Strong problem- solving abilities
Excellent communication skills
Knowledge of warranty regulations
Data entry
Administrative abilities
Organizational skills
Responsibilities:
Assisted customers with warranty claims and resolved disputes.
Answered customer questions regarding warranty policies and procedures.
Maintained accurate records of customer feedback and warranty claims.
Provided customer service to warranty holders.
Collaborated with other departments to ensure customer satisfaction.
Processed warranty claims promptly and accurately.
Reviewed and updated warranty terms.
Ensured compliance with warranty regulations and laws.
Prepared and delivered reports on warranty claims and customer feedback.
In addition to this, be sure to check out our resume templates, resume formats, cover letter examples, job description, and career advice pages for more helpful tips and advice.
What should be included in a Warranty Administrator resume?
When it comes to finding a job as a Warranty Administrator, having a strong resume is essential. Your resume should accurately portray your experience and qualifications, and highlight the skills that make you the perfect candidate for the job.
When creating a resume for a Warranty Administrator position, consider including the following:
Professional Summary: Start your resume with a short, but impactful professional summary that clearly outlines your qualifications and career highlights.
Experience: Highlight your relevant, applicable experience in this section, including your duties and accomplishments in previous roles.
Technical Skills: This is a technical role, so be sure to include all relevant technical skills, including software programs and systems you're familiar with.
Problem-solving: As a Warranty Administrator, you'll be expected to solve complex problems. Include examples of your problem-solving capabilities and how you used them to resolve conflicts.
Communication Skills: A Warranty Administrator must have excellent communication skills, both verbal and written. Include examples of how you've effectively communicated with stakeholders or customers.
Leadership: If you have any leadership experience, don't forget to include it. Highlight your ability to manage and motivate teams, as this is important for this role.
By following these tips, you can create a strong resume that will help you land a job as a Warranty Administrator. Good luck!
What is a good summary for a Warranty Administrator resume?
A good summary for a warranty administrator resume should highlight the individual's skills and experience in managing warranties and providing customer service. The summary should emphasize the technical and administrative skills required to successfully manage warranty programs. The individual should have excellent written and verbal communication skills, be highly organized, and have the ability to multitask and stay on top of deadlines. The summary should also touch on the individual's ability to analyze data, prepare reports, and maintain accurate records. Finally, the summary should mention any experience dealing with vendors and collaborating with other departments.
What is a good objective for a Warranty Administrator resume?
A Warranty Administrator (WA) manages the warranty process for a company's products. In order to be successful, a WA must be organized, have experience with product warranties, and be able to manage complex situations.
When writing a resume for a WA position, it is important to include a good objective that communicates your qualifications, experience, and skills. Here are some suggestions for a strong objective statement for a WA resume:
Provide 5+ years of experience managing product warranty claims, from initial filing to final resolution.
Possess excellent organizational and problem-solving skills, with a focus on accurate and efficient resolution of warranty claims.
Demonstrate a commitment to customer service excellence, ensuring the highest quality of service for all customers.
Utilize excellent verbal and written communication skills to facilitate successful interactions with customers, vendors, and coworkers.
Skilled at researching and interpreting warranty policies and regulations to provide accurate and reliable information.
Expertise in developing creative solutions to reduce costs, while maintaining the highest quality of service.
How do you list Warranty Administrator skills on a resume?
When creating a resume for a Warranty Administrator role, it is important to highlight the technical and interpersonal skills required to complete the job. The following are important skills to list on a Warranty Administrator resume:
Technical Knowledge: Warranty Administrators must have a complete understanding of the product or service being offered and how it works. They must be able to understand the technical language associated with a product or service, as well as have the ability to explain it to customers.
Problem Solving: A Warranty Administrator must be able to troubleshoot customer problems and provide solutions in a timely manner. They must be able to think critically and work with customers to identify the root cause of the problem and determine a way to resolve it quickly and efficiently.
Knowledge of Regulations: Warranty Administrators must have an in-depth knowledge of the laws and regulations surrounding the product or service they are overseeing. They must be able to interpret the regulations and apply them when troubleshooting customer problems.
Interpersonal Skills: Warranty Administrators must have excellent customer service and communication skills. They must be able to communicate clearly and effectively with customers, as well as with members of their team.
Organization: Warranty Administrators must be able to organize data and paperwork in an efficient manner. They must be able to retain and retrieve information quickly and accurately.
By highlighting these skills on a resume, you can demonstrate to potential employers that you have the qualifications to excel in a Warranty Administrator position.
What skills should I put on my resume for Warranty Administrator?
As a warranty administrator, it is important to demonstrate to potential employers that you possess the right skills and experience to fulfill the job. When updating your resume, make sure to include the following key skills:
Documentation Skills: A warranty administrator must have excellent organizational and documentation skills in order to track and manage all warranties.
Computer Skills: Recordkeeping, data entry, and filing will all be part of the job, so make sure to include your knowledge of computers and software programs, such as Microsoft Office Suite.
Interpersonal Skills: As a warranty administrator, you will be responsible for interacting with customers and vendors. Emphasize your ability to communicate effectively and professionally with all parties.
Problem-Solving Skills: A warranty administrator must be able to identify problems, analyze and evaluate available information, and come up with effective solutions.
Negotiation Skills: Warranty administrators often have to negotiate with vendors and customers to resolve disputes, so make sure to include your ability to negotiate and come to a fair agreement.
Attention to Detail: A warranty administrator must be able to pay close attention to detail in order to avoid mistakes and ensure accuracy.
By highlighting these skills on your resume, potential employers will be able to quickly see that you have the right qualifications for the job.
Key takeaways for an Warranty Administrator resume
Having a solid warranty administrator resume can be the difference between landing a job and not. This blog will provide key takeaways for a warranty administrator resume that will help you stand out from other applicants and make a great first impression with your potential employer.
Highlight Your Technical Skills: As a warranty administrator, you need to have a good understanding of technical procedures and processes as well as the ability to troubleshoot and solve common problems. Be sure to include your technical skills in your resume, highlighting any specific software you are comfortable working with or any certifications you have acquired.
Detail Your Experience With Customer Service: In addition to the technical skills, you should also include your experience with customer service. As a warranty administrator, you are often the first point of contact for customers and should be able to provide a pleasant and helpful experience. Be sure to detail any customer service experience you have, such as dealing with customer inquiries, resolving disputes, or providing helpful advice.
Showcase Your Ability to Manage Multiple Tasks: As a warranty administrator, you need to be able to manage multiple tasks and prioritize them accordingly. On your resume, include a few examples of your ability to manage multiple tasks, such as working with multiple deadlines or balancing multiple client requests.
Show Your Problem-Solving Skills: Warranty administrators often have to deal with complex issues that require creative and analytical thinking to solve. Showcase your problem-solving skills on your resume by listing a few examples of how you have solved problems in the past.
By following these key takeaways, you can make sure your warranty administrator resume stands out and leaves a great first impression. Having a well-crafted resume is the first step to landing the job you want, so take the time to make sure it's the best it can be. Good luck!
Let us help you build
your Resume!
Make your resume more organized and attractive with our Resume Builder