Write here introduction….A great resume can open the door to a successful career, and virtual assistants are no exception to this. However, writing a resume for a virtual assistant role can be a daunting task. This guide will provide an overview of the key components for a great virtual assistant resume, with examples that can be used as a reference. Whether you are a recent graduate or an experienced professional, this guide will provide the tips and templates you need to create a standout virtual assistant resume.
If you didn't find what you were looking for, be sure to check out our complete library of resume examples.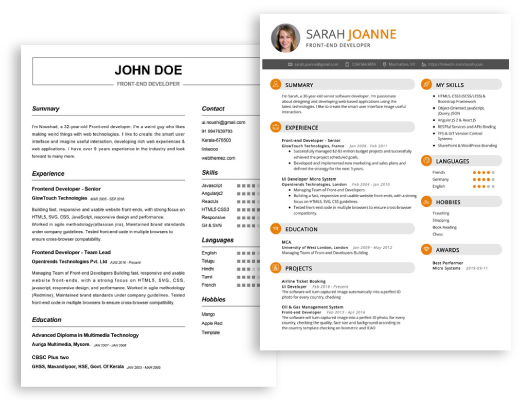 Start building your dream career today!
Create your professional resume in just 5 minutes with our easy-to-use resume builder!
Virtual Assistant Resume Examples
John Doe
Virtual Assistant
123 Main Street | Anytown, USA 99999 | Phone: (123) 456-7890 | Email: john.doe@email.com
Passionate and dedicated Virtual Assistant with over 5 years of experience providing remote support services to international clients. Experienced in providing exceptional customer service, managing calendars, managing online accounts, and performing research. Adept at using various software programs and IT tools to complete projects. Possesses excellent communication and multitasking skills.
Core Skills:
Customer service
Calendar management
Online account management
Administrative support
Project management
Remote support
Proficient in various software programs
Research
IT tools
Professional Experience:
Virtual Assistant, ABC Solutions Ltd.
Provide customer service to international clients
Manage calendars, meetings and travel arrangements
Manage online accounts such as email, cloud storage
Assist in project management tasks such as research and data collection
Provide remote support to clients in troubleshooting technical issues
Communicate regularly with clients and maintain a positive customer relationship
Virtual Assistant, XYZ Solutions Ltd.
Assisted in customer support services and handled customer inquiries
Managed calendars and travel arrangements
Managed various online accounts, including email and cloud storage accounts
Assisted in project management tasks such as research and data collection
Provided remote support to clients in troubleshooting technical issues
Communicated regularly with clients and maintained a positive customer relationship
Education:
Bachelor's Degree in Computer Science, ABC University
Completed coursework in project management, customer service, and IT tools
Virtual Assistant Resume with No Experience
Dynamic and organized Virtual Assistant with excellent administrative and customer service skills. Demonstrated ability to follow instructions and efficiently complete tasks with a keen eye for detail. Extensive knowledge of Microsoft Office Suite and experience working in fast- paced environments.
Skills:
Experienced with Microsoft Office Suite
Excellent organizational and multitasking abilities
Highly detail- oriented
Strong written and verbal communication skills
Ability to work independently or as part of a team
Able to effectively handle customer inquiries
Responsibilities:
Providing administrative support to clients
Organizing and maintaining files and records
Completing data entry and other office tasks
Managing customer inquiries via phone and email
Researching and gathering information for projects
Assisting with special projects as needed
Virtual Assistant Resume with 2 Years of Experience
Highly experienced and organized Virtual Assistant with two years of experience providing support to a variety of clients. Proven track record in delivering quality service to meet client needs, with a strong background in customer service, data entry, and administrative support. Possesses excellent time management skills, able to juggle multiple tasks, and highly organized in meeting client deadlines.
Core Skills:
Customer service
Data entry
Administrative support
Time management
Organizational skills
Multi- tasking
Communication
Responsibilities:
Responded to customer emails in a timely manner
Performed data entry tasks, such as entering customer orders into the database
Assisted in the creation of documents, such as invoices, contracts and reports
Managed customer accounts and handled customer inquiries
Organized and maintained customer records
Provided administrative support to the team, such as scheduling meetings, filing documents and preparing reports
Performed research tasks, such as gathering data and compiling reports
Assisted in the creation of marketing materials for promotional campaigns
Provided customer service support, such as troubleshooting customer issues
Assisted in the preparation of presentations, such as PowerPoints and video conferencing events.
Virtual Assistant Resume with 5 Years of Experience
An experienced Virtual Assistant with 5 years of experience in providing administrative, customer service and virtual assistance across a range of fields. Possesses exceptional interpersonal and communication skills, highly organized and knowledgeable of the latest technology and software to create a smooth work process. Demonstrated ability to prioritize tasks and manage time efficiently in a fast- paced environment.
Core Skills:
Customer Service
Organizational Skills
Document Creation and Management
Data Entry
Technical Skills
Responsibilities:
Provided administrative assistance to clients, including creating documents, scheduling meetings and managing emails.
Assisted with customer service inquiries, providing efficient and friendly customer service.
Managed data entry and database management, ensuring accuracy and efficiency.
Organized and maintained client data, creating reports and tracking progress.
Assisted with technical tasks such as website and software maintenance, troubleshooting and installation.
Virtual Assistant Resume with 7 Years of Experience
Highly organized and motivated Virtual Assistant with 7 years of experience providing administrative support services to a variety of clients in different industries. A self- starter with excellent communication, problem solving, and organizational skills. Proven ability to manage multiple projects simultaneously while maintaining focus on client satisfaction.
Core Skills:
Strong written and verbal communication
Proficient in Microsoft Office Suite
Ability to work independently and as part of a team
Professional and friendly customer service
Excellent time management and organizational skills
Data entry and document formatting
Attention to detail
Responsibilities:
Researched and compiled information for client reports
Scheduled and coordinated meetings, conferences and client visits
Created documents, spreadsheets, presentations and reports
Managed client databases and maintained accurate records
Answered client inquiries and responded to emails
Managed project deadlines and tracked progress
Processed payments and invoices
Handled customer service issues and other administrative tasks
Virtual Assistant Resume with 10 Years of Experience
With a decade of experience in virtual assistant roles, I have a proven track record of successfully assisting clients with their administrative needs. I am adept at using MS Office Suite and CRM/ERP systems, and I am incredibly organized and efficient with complex tasks. My interpersonal skills and attention to detail make me a valuable asset to any organization. I am passionate about the work I do and thrive in fast- paced environments.
Core Skills:
MS Office Suite
CRM/ERP Systems
Interpersonal Skills
Project Management
Scheduling & Calendar Management
Research & Analysis
Communication & Presentation
Problem Solving
Data Entry & Database Management
Responsibilities:
Managing customer relationships and handling customer inquiries via email and phone
Drafting reports and proposals
Assisting with project management
Scheduling meetings, appointments and travel arrangements
Managing databases and data entry tasks
Conducting research and analysis
Providing administrative support to staff
Providing customer service and support
Drafting and proofreading emails, documents and correspondence
Creating presentations and documents using MS Office Suite
Developing and maintaining filing systems
Virtual Assistant Resume with 15 Years of Experience
This highly experienced Virtual Assistant has over 15 years of experience providing efficient and reliable administrative and organizational support to a variety of clients. Possessing excellent communication and multitasking skills, this Virtual Assistant is capable of working with a range of technologies, programs, and systems, to ensure the highest level of service. With the strong ability to prioritize tasks and ensure deadlines are met, this Virtual Assistant is an invaluable asset to any team or organization.
Core Skills:
Excellent written and verbal communication
Proficiency in Microsoft Office Suite, Google Suite, and project management software
Strong organizational and multitasking skills
Ability to prioritize tasks and meet deadlines
Knowledge of online research techniques
Excellent customer service skills
Ability to work independently and as part of a team
Responsibilities:
Manage emails, calendar appointments, and travel arrangements for clients
Organize and maintain files and records
Create and update presentations, reports, and other documents
Provide customer service by responding to emails, phone calls, and other inquiries
Research and compile data for reports
Schedule and coordinate meetings, conference calls, and video conferences
Assist with project management tasks and data entry
Support other team members and departments as needed
In addition to this, be sure to check out our resume templates, resume formats, cover letter examples, job description, and career advice pages for more helpful tips and advice.
What should be included in a Virtual Assistant resume?
A Virtual Assistant resume should be comprehensive and highlight the skills necessary to succeed in the job. When crafting a resume, it's important to include all relevant information. Here's what to include in a Virtual Assistant resume:
Personal Information: Make sure to provide your full name, address, phone number, and email address
Summary: Write a short summary of your experience and skills that relate to the job position.
Key Skills: List the skills that make you stand out from other Virtual Assistants, such as technical abilities, communication experience, etc.
Experience: Detail any experience you have that is relevant to the job, including prior virtual assistant positions, customer service roles, or administrative assistance jobs.
Education: Include any relevant educational history, such as college degrees or certifications.
Certifications: List any certifications you have obtained related to the job, such as A+ certification or a coding class.
Professional References: Include a list of professional references who can vouch for your work ethic and skills.
Other Relevant Information: Include any other relevant information that could boost your chances of getting the job. This could include links to your personal website, portfolio, or social media profiles.
What is a good summary for a Virtual Assistant resume?
A good summary for a Virtual Assistant resume should emphasize the candidate's ability to provide top-notch customer service, serve as a liaison between clients and vendors, and handle administrative tasks in a timely and accurate manner. It should also highlight the candidate's technical skills, such as proficiency in software programs and web-based applications, as well as their knowledge of business processes and industry-specific terminology. The summary should also showcase the candidate's expertise in problem solving and their ability to work independently and collaboratively. Finally, the summary should demonstrate the candidate's commitment to the job and their ability to remain organized and organized in a virtual environment.
What is a good objective for a Virtual Assistant resume?
A virtual assistant (VA) is someone who provides professional administrative, technical, or creative assistance to clients remotely. VAs typically use their own computers, software, and other tools to complete tasks for their clients, such as writing emails, scheduling meetings, data entry, and more. To be successful as a virtual assistant, it is important to have an effective resume with a strong objective that outlines your unique skills and abilities.
The following are examples of good objectives for a virtual assistant resume:
To utilize my excellent administrative and organizational skills to help clients achieve their goals and objectives efficiently and effectively.
To leverage my technical and creative skills to provide top-notch services to clients.
To develop and maintain positive relationships with clients by providing outstanding customer service.
To use my experience in data entry, customer service, and social media management to develop innovative solutions and strategies to help my clients.
To utilize my comprehensive knowledge of Microsoft Office and other software programs to help clients reach their goals.
To provide virtual assistant services to clients in order to help them save time and money.
How do you list Virtual Assistant skills on a resume?
When applying for a job as a Virtual Assistant, it is important to list your relevant skills on your resume. Employers want to see that you have the skills needed to provide high-quality service. Here are some tips on how to list your Virtual Assistant skills on your resume:
Include a summary section at the top of your resume that highlights your Virtual Assistant skills. For example, you may want to emphasize your ability to organize complex tasks, provide customer service, or manage client relations.
Focus on the skills that are most relevant to the role. This can include knowledge of computer systems, administrative skills, communication and writing abilities, project management, and problem-solving skills.
List your technical skills, such as proficiency with specific software or certifications that you have earned.
Detail any experience you have using a Virtual Assistant or similar platform, such as customer service or project management.
If you have experience in other industries, list the skills that are transferable to a Virtual Assistant role.
By highlighting your Virtual Assistant skills, you can increase your chances of being hired for the position. Prospective employers will be able to see that you have the necessary qualifications for the job.
What skills should I put on my resume for Virtual Assistant?
When looking for a job as a virtual assistant, it is important to showcase your skills and abilities on your resume. A virtual assistant handles many tasks, from administrative duties to customer service, so give employers an overview of the skills you have to offer. Here are some of the skills you should include on your resume for virtual assistant positions:
Technical Skills: Virtual assistants must be tech savvy and understand the use of basic computer applications such as Microsoft Office and Adobe. Highlight any experience you have with customer relationship management (CRM) software, email marketing platforms, social media management, and other relevant applications.
Communication: Excellent communication skills are essential for virtual assistants. Showcase your ability to write professionally, speak and present clearly, and effectively listen to instructions.
Organization: Time management and organizational skills are key for virtual assistants. Employers want to know that you can manage multiple tasks and prioritize effectively.
Problem-Solving: Virtual assistants must be able to think on their feet in order to solve problems. Showcase your ability to troubleshoot and provide solutions when needed.
Research: Many virtual assistant jobs require research skills. Demonstrate your ability to find and analyze information quickly and accurately.
By including these key skills on your resume, employers will get a better understanding of the type of virtual assistant you are and what you can bring to the position. Make sure to tailor your resume to the job you are applying for and highlight the skills that are most relevant to it.
Key takeaways for an Virtual Assistant resume
A Virtual Assistant resume is an important document for anyone wishing to become a Virtual Assistant. It outlines your skills, experience, and qualifications that make you an ideal candidate for the position. Here are some key takeaways to help you craft a successful Virtual Assistant resume:
Highlight your technical skills: Virtual Assistants use a variety of tools and technologies to virtualize their work. It is essential that you highlight your technical skills and expertise on your resume. Include your understanding of various software programs, such as customer relationship management (CRM) systems, project management tools, video conferencing tools, and time-tracking tools.
Showcase your experience: Employers will want to know that you have experience working in a virtual environment. Demonstrate your experience with relevant work samples, such as reports, presentations, and other documents that you have prepared. Detail the roles you have performed, such as virtual assistant roles, client liaison roles, or lead research roles.
Describe your communication skills: As a Virtual Assistant, you will be communicating with clients, project leads, and other team members on a daily basis. Make sure to detail your excellent written and verbal communication skills, as well as your ability to communicate effectively over the phone and via email or instant messaging.
Focus on your organizational skills: Virtual Assistants are expected to manage their tasks efficiently and stay organized. Demonstrate your superior organizational skills by detailing your expertise in scheduling, calendar management, and task prioritization.
Highlight your customer service skills: Virtual Assistants often serve as the first point of contact for clients. Showcase your customer service skills by detailing your experience in responding to inquiries and requests, solving customer issues, and troubleshooting problems.
By showcasing your technical skills, experience, communication skills, organizational skills, and customer service skills, you can set yourself apart in the job market. Crafting a successful Virtual Assistant
Let us help you build
your Resume!
Make your resume more organized and attractive with our Resume Builder