Writing a resume for a Team Manager requires an individual to be able to sell their skills and experience to potential employers. This resume writing guide will provide you with tips on creating a resume that will stand out from the rest, as well as examples of resumes for Team Managers. By following these steps, you will create a resume that highlights your skills and experience, making you a standout candidate for potential employers. With the help of this guide, you will be able to create a resume that will get you noticed and land you the job.
If you didn't find what you were looking for, be sure to check out our complete library of resume examples.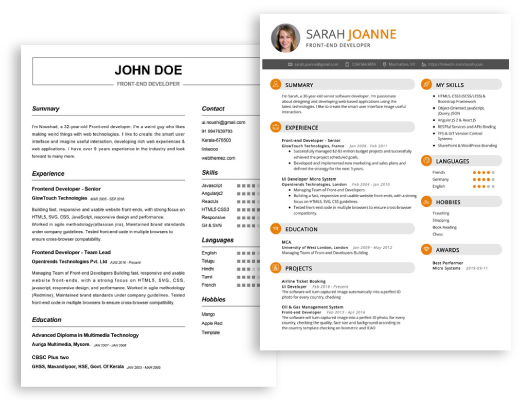 Start building your dream career today!
Create your professional resume in just 5 minutes with our easy-to-use resume builder!
Team Manager Resume Examples
John Doe
Team Manager
123 Main Street | Anytown, USA 99999 | Phone: (123) 456-7890 | Email: john.doe@email.com
I am an experienced and motivated Team Manager with over five years of experience in management positions. I have developed strong leadership and problem- solving skills, enabling me to effectively manage teams of all sizes. I have extensive experience in project management, recruiting, training, and personnel management. My past achievements have been recognized with several awards and recognition from my employer. I am committed to creating a productive and successful work environment by providing strong leadership, recognizing and rewarding achievements, and developing a culture of accountability and respect.
Core Skills:
Leadership
Problem Solving
Project Management
Recruiting
Training
Personnel Management
Communication
Team Building
Organization
Time Management
Professional Experience:
Lead Manager, ABC Company, 2019- present
Managed and coordinated activities of a team of 15 employees in the production department
Oversaw and delegated tasks to ensure projects were completed on- time and within budget
Planned and organized team meetings and activities to maximize productivity and ensure tasks were completed
Provided direction and feedback to employees to ensure high performance and quality standards
Implemented new processes and procedures to improve efficiency and accuracy
Project Manager, XYZ Company, 2016- 2019
Managed large- scale projects, overseeing all phases from planning to completion
Provided technical guidance and support to project teams
Utilized problem solving and analytical skills to identify and resolve issues
Monitored performance and reported to senior management on project progress
Developed and implemented staff training programs to ensure successful completion of projects
Education:
Bachelor of Science in Business Administration, ABC University, 2016
Team Manager Resume with No Experience
Dedicated and results- driven team manager with excellent communication and problem- solving skills, eager to contribute to the success of an organization.
Flexible and hardworking, with the ability to quickly adapt to changing work environments.
Proficient in utilizing customer service systems, and experienced in building relationships with staff and stakeholders.
Skills
Customer service
Organizational skills
Multi- tasking
Teamwork
Coaching
Performance management
Decision- making
Interpersonal communication
Conflict resolution
Responsibilities
Develop team goals and objectives and ensure team members are on track to meet them.
Facilitate team meetings and conferences in order to promote communication and collaboration.
Provide guidance, coaching, and support to team members to ensure performance excellence.
Monitor team performance and provide feedback on progress.
Identify areas for improvement and motivate team members to strive for excellence.
Develop strategies and plans to ensure team performance meets established standards.
Create and implement training plans for team members.
Maintain team records, prepare reports, and provide data to upper management.
Develop strategies to ensure team members are working effectively towards common goals.
Team Manager Resume with 2 Years of Experience
A dynamic and motivated Team Manager with two years of experience in leading and motivating teams to drive business goals and key performance metrics. Skilled in developing effective strategies and plans and leading change management initiatives. Proven track record of helping teams reach high productivity levels, while successfully managing budgets and resources.
Core Skills:
Team Leadership
Change Management
Strategic Planning
Business Process Improvement
KPI Measurement
Resource Utilization
Risk Management
Conflict Resolution
Budget Management
Responsibilities:
Manage team performance and development through regular reviews and effective coaching and feedback
Create and implement business strategies and plans to improve overall performance
Develop and manage budgets, resources and project timelines
Monitor team performance and KPIs to drive continuous improvement and achieve goals
Analyze complex data to identify areas for improvement and suggest solutions
Lead change management initiatives to ensure smooth implementation of new processes and systems
Provide leadership and support to team members, resolve conflicts and improve team cohesion
Train, mentor and motivate team members to develop their professional skills and knowledge
Team Manager Resume with 5 Years of Experience
Highly organized and motivated individual with 5+ years of experience in team management, seeking a position as a Team Manager. Experienced in developing and managing a team, offering training and guidance to staff, and providing excellent customer service. Adept in problem- solving and heavy multitasking, with an emphasis on accuracy and efficiency.
Core Skills:
Team Building and Leadership
Project Management
Strategic Planning
Communication
Time Management
Conflict Resolution
Responsibilities:
Develop and maintain team dynamics, morale, and performance
Supervise staff, set objectives, and provide feedback and guidance
Monitor and ensure compliance with established standards and regulations
Create effective strategies and plans to meet target goals
Coordinate team resources by delegating tasks, assigning responsibilities, and monitoring progress
Identify and resolve conflicts between team members and other personnel
Oversee and improve customer service processes and policies
Team Manager Resume with 7 Years of Experience
Highly motivated, organized and result- oriented Team Manager with 7 years of experience leading teams to reach their highest potential. Proven skills in motivating teams to work collaboratively and conscientiously on complex projects. Track record of success in both large and small organizations. Excellent communication and interpersonal skills.
Core Skills:
Excellent Communication Skills
Team Building and Leadership
Project Management
Performance Evaluation
Organizational and Time Management
Creative Problem Solving
Strategic Planning
Responsibilities:
Developed and implemented team management systems, policies and procedures
Recruited, trained and managed new team members
Conducted performance evaluations and provided feedback to team members
Coordinated team activities and monitored team performance
Developed and maintained positive working relationships with team members
Resolved conflicts between team members and handled disciplinary issues
Developed and managed project timelines and budgets
Provided direction and guidance to team members on project tasks
Analyzed and reported on team performance and progress to leadership
Identified opportunities for team improvement and developed solutions to increase efficiency and productivity
Team Manager Resume with 10 Years of Experience
A highly experienced, talented and successful Team Manager with 10 years of experience in directing and leading teams of individuals to achieve common objectives. Proven ability in managing operations and projects while creating a productive and cohesive environment and providing guidance and motivation to individuals. Expertise in creating and executing strategies, driving positive results, and measuring effectiveness. Core skills include organizational development, problem solving, process improvement, and team building.
Core Skills:
Strategic Planning
Project Management
Team Building
Process Improvement
Organizational Development
Problem Solving
Communication
Conflict Resolution
Leadership
Decision Making
Responsibilities:
Developed and implemented strategies to improve team performance and meet organizational objectives
Led team meetings and evaluated team performance
Assisted in recruiting, hiring, and training team members
Collaborated with other teams to coordinate resources and objectives
Developed processes and procedures to streamline operations and achieve efficiency
Monitored and evaluated team member performance and provided coaching and feedback
Implemented performance improvement plans to ensure adherence to company policies and regulations
Handled personnel issues and conflicts in a timely and professional manner
Maintained detailed records of team activities and progress
Assessed project progress and made recommendations for improvement.
Team Manager Resume with 15 Years of Experience
Highly motivated and organized Team Manager with 15 years of experience leading high- performance professional teams. Proven success in managing day- to- day operations, developing talent and driving growth. Experienced in establishing clear goals and communicating expectations. Skilled in conflict resolution, problem- solving and negotiation. Committed to empowering team members and creating a positive team environment with a focus on collaboration.
Core Skills:
Project Management
Team Leadership
Problem- solving
Performance Evaluation
Recruitment & Retention
Organizational Development
Budget & Resource Management
Goal Setting & Achievement
Communication & Negotiation
Conflict Resolution
Responsibilities:
Managed the day- to- day operations of a professional team of up to 25 people.
Led team members in the successful completion of projects.
Developed, evaluated and implemented strategic plans to meet organizational objectives.
Set clear goals and communicated expectations to team members.
Evaluated team performance and provided guidance and feedback on a consistent basis.
Developed and implemented recruitment and retention strategies to ensure team growth.
Created and maintained a positive team environment with a focus on collaboration.
Identified and resolved conflicts and problems with diplomacy.
Created and managed budgets and resources to ensure optimal use of funds.
In addition to this, be sure to check out our resume templates, resume formats, cover letter examples, job description, and career advice pages for more helpful tips and advice.
What should be included in a Team Manager resume?
When applying for a position as a Team Manager, an effective resume is key. There are several elements that should be included in a Team Manager resume to make sure the best skills and qualifications are highlighted.
Education: Be sure to include any educational background related to team management. This could include a degree in business administration or human resources, or any courses in project or team management.
Professional Experience: Highlight any relevant work experience. This could include previous positions in team or project management, or any relevant managerial or supervisor experience. Emphasize any successful projects or accomplishments.
Technical Skills: Include any technical skills related to team management. This could include experience with team communication and collaboration tools like Slack or Basecamp, or knowledge of project management tools like Asana.
Leadership Skills: Team Managers need to have strong leadership and problem-solving skills. Make sure to emphasize any effective leadership experiences, such as leading a team to success or troubleshooting any problems that arise.
Communication Skills: Team Managers need to be able to clearly communicate their ideas and instructions to their teams. Make sure to mention any experience in group communication or public speaking.
By including the above elements in your Team Manager resume, you can show potential employers that you have the skills and qualifications to be an effective Team Manager.
What is a good summary for a Team Manager resume?
A Team Manager resume should include a concise summary that encapsulates the candidate's unique experience, skills, and abilities to effectively lead a team. This summary should clearly communicate the candidate's leadership strengths and accomplishments, including successful project management and team-building. The summary should also emphasize the candidate's ability to foster a positive work environment, motivate employees, and ensure maximum efficiency and productivity. Furthermore, the summary should showcase the candidate's proficiency in resolving conflicts, working with various stakeholders, and adherence to industry standards and best practices. Ultimately, an effective Team Manager resume summary should have the reader knowing that this candidate is the perfect candidate for the position.
What is a good objective for a Team Manager resume?
A Team Manager is responsible for overseeing and managing a team of individuals, making sure they are all working together productively and efficiently. As such, it is important for a Team Manager to have a resume that outlines their objectives and qualifications. When crafting the objective of your resume, consider the following:
Establish and maintain a positive working environment: A Team Manager must be able to create a positive and productive working environment for their team. This includes setting clear expectations, providing clear leadership, and ensuring everyone is working together to achieve the team's goals.
Prioritize team performance: A Team Manager should be able to prioritize the performance of the team over individual performance. This means developing strategies to ensure the team is performing at its best and making sure each team member is given the resources and support they need to succeed.
Monitor team progress and provide feedback: A Team Manager should be able to monitor the progress of the team and provide feedback to them on their performance. This could include providing timely and constructive feedback on their work, or offering advice on how to improve.
Foster team morale: A Team Manager should also be able to foster team morale, helping the team to stay motivated and feeling valued. This could include recognizing accomplishments, offering rewards, or providing encouragement when needed.
By outlining these objectives in your Team Manager resume, you can demonstrate to employers your ability to lead and manage a team in a productive and effective manner.
How do you list Team Manager skills on a resume?
When it comes to writing a resume, it is important to showcase your skills and qualifications that demonstrate your ability to perform the job. As a Team Manager, you will need to possess a variety of skills to be successful. To ensure your resume stands out, it is important to list the right Team Manager skills.
Here are some skills to include on your resume as a Team Manager:
Leadership: Demonstrate that you have the ability to lead a team and engage with each member in order to ensure the team is working to their highest potential.
Communication: Show that you possess strong verbal and written communication skills in order to convey ideas effectively and efficiently.
Problem Solving: Show that you are able to identify and resolve issues quickly and effectively.
Organization: Demonstrate that you can manage multiple projects and tasks, as well as maintain order and organization.
Decision Making: Prove your ability to make sound and informed decisions in order to ensure the team is working in the most efficient manner.
Motivational: Show that you have the capacity to motivate the team to stay on task and to work towards a common goal.
By highlighting your Team Manager skills on your resume, you are showing potential employers that you have the skills and qualifications necessary to be successful. Not only will this help you stand out amongst other candidates, but it will also help you land the job.
What skills should I put on my resume for Team Manager?
A successful team manager should have a wide range of skills, from communication and leadership to technical skills and problem solving. When putting your resume together, it's important to highlight the skills most relevant to the team manager position. Here are some of the key skills to consider including:
Leadership: A team manager should possess strong leadership skills, including the ability to motivate and develop team members, delegate tasks, and create effective team dynamic.
Communication: Clear communication is essential for team managers to ensure instructions, goals, and expectations are understood.
Conflict Resolution: As a team manager, it is your responsibility to resolve conflicts between team members and maintain a cohesive workplace.
Organization: A team manager must stay organized and on top of communication and workflow, as well as manage deadlines and tasks.
Technical Skills: Depending on the position, knowledge of specific software or systems may be necessary.
Problem-Solving: A team manager must also be able to identify and address problems that arise in order to ensure the team remains productive and efficient.
When crafting your resume, make sure to highlight any relevant experience or achievements that showcase your skills as a team manager. This will help you stand out to employers and demonstrate that you have the skills and knowledge to succeed in the role.
Key takeaways for an Team Manager resume
A Team Manager Resume should include key information about your experience, responsibilities, and qualifications that demonstrate your unique capabilities. This resume should show your ability to lead and manage a team, as well as your ability to work with multiple stakeholders. Here are some key takeaways when crafting a successful Team Manager resume:
Highlight Your Experience and Responsibilities: Make sure to include specific examples of the duties and responsibilities you held as a Team Manager. These can include managing projects, leading team meetings, preparing reports, and more. Include any relevant experience you have in similar roles, such as time spent leading teams in other industries, to demonstrate your ability to lead and manage.
Show Your Leadership Abilities: As a Team Manager, you need to be able to take charge and direct your team towards success. Include any examples of how you led and motivated teams, as well as how you used innovative strategies to improve team performance.
Include Your Technical Skills: Detail your technical skills and any software you are proficient in. If you have experience working with Agile, Scrum, or other methodologies, include this information.
Demonstrate Your Communication Skills: As a Team Manager, you need to be able to communicate effectively with both your team and other stakeholders. Include any examples of how you maintained effective communication, such as through emails or presentations, to show your ability to communicate effectively.
List Your Education and Certifications: If you have any relevant certifications or training, include them on your resume. This will help demonstrate your commitment to your role as a Team Manager and your ability to stay up-to-date with industry trends.
Following these key points will help you create a successful Team Manager resume that stands out from the competition. By highlighting your experience, leadership abilities, technical skills, and communication capabilities, you can show potential employers that you are the ideal candidate for this role.
Let us help you build
your Resume!
Make your resume more organized and attractive with our Resume Builder