Write here introduction….Writing a resume for a team lead position can be a daunting task. You want to make sure you have a resume that stands out and gives you the best chance of getting the job. This guide will give you an overview of the skills and experience you should include in your team lead resume, as well as some examples that showcase your skills and experience. With the right information and a well-crafted resume, you can make sure you're the ideal candidate for the team lead position.
If you didn't find what you were looking for, be sure to check out our complete library of resume examples.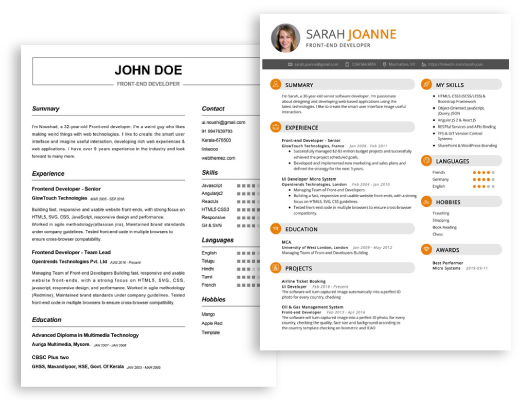 Start building your dream career today!
Create your professional resume in just 5 minutes with our easy-to-use resume builder!
Team Lead Resume Examples
John Doe
Team Lead
123 Main Street | Anytown, USA 99999 | Phone: (123) 456-7890 | Email: john.doe@email.com
I am a highly experienced and motivated team lead, with a proven track record of success in leading and motivating teams to achieve their targets. My strong organizational and communication skills enable me to develop and implement effective strategies in order to optimize workflows and processes, while taking into consideration the needs and opinions of the entire team. With a Bachelor's degree in Business Administration and multiple certifications, I have the expertise and knowledge to ensure the successful completion of projects. My positive attitude and friendly demeanor create a pleasant work environment for all employees.
Core Skills:
Leadership
Team Building
Conflict Resolution
Problem Solving
Business Analysis
Project Management
Communication
Time Management
Negotiation
Professional Experience:
Team Lead, ABC Company, 2017- Present
Lead a 10- member team, responsible for developing and executing on strategies to increase customer satisfaction and sales
Developed and implemented effective customer service processes and procedures
Trained and mentored new team members in customer service, sales and customer engagement
Managed and reviewed team workloads and ensured that tasks were completed in a timely manner
Business Analyst, XYZ Company, 2015- 2017
Analyzed business processes and identified areas of improvement
Developed and implemented strategies to streamline operations
Created and maintained comprehensive documentation of findings
Monitored project progress and performance against goals
Education:
Bachelor of Business Administration, ABC University, 2013- 2015
Certified Professional in Customer Service, XYZ Institute, 2017
Certified Professional in Business Analysis, ABC Institute, 2018
Team Lead Resume with No Experience
Motivated and organized team leader with excellent communication and interpersonal skills.
Proven ability to manage and motivate small teams in a fast- paced environment.
Experienced in problem solving, making decisions, and organizing workflow.
Skills
Leadership
Communication
Interpersonal Skills
Teamwork
Time Management
Problem Solving
Decision Making
Responsibilities
Lead and motivate a team of employees to ensure efficient and effective workflow
Monitor and evaluate performance of team members
Develop and implement plans to improve team performance
Facilitate team meetings to discuss issues, projects, and objectives
Create and enforce team rules and regulations
Assist in the training of new team members
Provide feedback and guidance to team members to help them reach their goals
Monitor the progress of team members and provide guidance when needed
Team Lead Resume with 2 Years of Experience
A highly organized and detail- oriented professional with 2 years of experience in team leadership, project management, and customer service. Proven ability to adapt to fast- paced and dynamic working environments while ensuring goals and tasks are completed on time and to the highest standards. A team player with excellent interpersonal and communication skills to effectively motivate, coach and mentor teams to success.
Core Skills:
Team Leadership
Project Management
Customer Service
Organizational Skills
Interpersonal Communication
Problem- Solving
Time Management
Responsibilities:
Lead and motivate teams to meet goals and objectives set by management
Create and maintain effective team structures and processes
Assess customer needs to ensure customer satisfaction
Monitor and evaluate team performance and provide feedback
Manage multiple projects and tasks simultaneously
Research and develop strategies to increase productivity and efficiency
Identify and analyze customer needs and suggest possible solutions
Direct customer inquiries and requests to the appropriate department
Ensure quality control for team projects and deliverables
Provide customer service and troubleshoot any customer related issues
Team Lead Resume with 5 Years of Experience
I am an experienced team leader with over 5 years of professional experience in a variety of industries. I have a proven track record of success in leading teams to achieve their objectives in a timely and cost- effective manner. My strengths include problem solving, organizational skills, and excellent communication and interpersonal abilities. I have the confidence and flexibility to work in any environment and I am passionate about motivating others to reach their goals.
Core Skills:
Demonstrated leadership experience
Ability to build and maintain relationships
Excellent communication and organizational skills
Ability to delegate tasks effectively
Conflict resolution
Strong problem solving capabilities
Responsibilities:
Managing and supervising assigned projects
Developing and implementing effective strategies to achieve team objectives
Monitoring team performance and providing feedback
Motivating team members to reach their goals
Providing guidance and support to team members
Ensuring that tasks are completed efficiently and on time
Identifying potential problems and providing solutions
Team Lead Resume with 7 Years of Experience
An experienced and enthusiastic Team Lead with 7 years of experience in leading teams and managing projects. Adept at building positive relationships with clients, managing team members, and developing efficient processes. An effective communicator with strong problem solving, negotiation, and time management skills. A motivated and reliable leader, ready to help any organization reach its goals.
Core Skills:
Project Management
Team Leadership
Communication
Problem Solving
Organizational Skills
Negotiation
Time Management
Responsibilities:
Lead teams on projects and provide guidance and support
Ensure project deadlines and goals are met
Develop efficient processes to maximize team productivity
Motivate and coach team members
Establish and maintain relationships with clients
Resolve team conflicts and provide feedback
Monitor team performance and provide regular updates to management
Identify potential risks and create effective strategies for risk management
Team Lead Resume with 10 Years of Experience
Highly experienced Team Lead with 10 years of experience in developing and leading powerful teams to take on complex projects. Proven ability to motivate employees, build collaborative relationships, and deliver successful results. Deep understanding of best practices in workforce management, team dynamics, and project management. Skilled in the use of various software and technology tools to ensure efficiency and accuracy.
Core Skills:
Team Leadership
Project Management
Employee Motivation
Conflict Resolution
Process Improvement
Problem Solving
Performance Coaching
Performance Reviews
Collaboration
Communication
Responsibilities:
Developing and implementing processes to ensure efficient and successful team operations.
Establishing team objectives and goals and ensuring they are met in a timely manner.
Directing and managing team projects, delegating tasks and responsibilities, and monitoring progress.
Coordinating with other teams and departments to ensure successful collaboration and communication.
Motivating and guiding team members to achieve performance goals.
Providing team members with feedback and coaching to improve their performance.
Developing and maintaining relationships with team members and other stakeholders.
Assisting with recruitment, training, and development of new team members.
Identifying and resolving conflicts within the team.
Ensuring compliance with safety guidelines and regulations.
Team Lead Resume with 15 Years of Experience
A highly motivated and diligent Team Lead with 15 years of professional experience in leading teams in IT and software development. Proven track record of successful delivery of software projects and meeting customer expectations through effective team coordination, cross- functional collaboration, and process adherence. Possesses a deep understanding of software engineering, Agile development, and client- focused product delivery.
Core Skills:
Team leadership
Agile software development
Software engineering
Project and product delivery
Process adherence
Cross- functional collaboration
Client- focused delivery
Strategic problem- solving
Analytical and creative thinking
Responsibilities:
Developed and implemented processes for successful product delivery
Coordinated team efforts and provided guidance and feedback to team members
Provided technical advice and guidance on software engineering issues
Assisted in the design and development of software applications
Managed the design, development and delivery of software projects
Ensured project deadlines and deliverables were met
Monitored project progress and performance
Ensured the quality of the software and its responsiveness
Provided technical support to the software development team
Resolved technical issues and customer complaints in a timely manner
Established and maintained relationships with clients and third- party vendors
Ensured compliance with Agile software development processes
Evaluated project requirements and provided cost and time estimates
Created reports and documentation in accordance with accepted standards
In addition to this, be sure to check out our resume templates, resume formats, cover letter examples, job description, and career advice pages for more helpful tips and advice.
What should be included in a Team Lead resume?
character A Team Lead resume should emphasize a candidate's leadership abilities and experience in managing teams and delivering successful projects. It should also highlight the candidate's technical skills and expertise.
Highlight your experience in leading teams and achieving successful project outcomes
Showcase your technical skills and expertise
Present your knowledge of relevant software and methodology
Demonstrate your proficiency in problem-solving and communication
Detail your ability to manage personnel, budgets, and timelines
Show your expertise in organizational and conflict resolution skills
Include links to positive references and reviews from past employers and/or colleagues
Demonstrate your proficiency in developing and implementing processes
Describe your knowledge of industry best practices and standards
What is a good summary for a Team Lead resume?
When crafting a resume for a team lead role, it is important to emphasize your strong leadership skills as well as your technical knowledge. A good summary for a team lead resume should detail your abilities to motivate and manage both people and projects. It should also include your experience successfully collaborating with stakeholders and other departments to ensure the success of projects. Additionally, it should showcase your aptitude for problem-solving and decision-making. Finally, it should highlight your ability to think creatively and solve difficult problems. By emphasizing these skills, you will showcase yourself as an excellent candidate for a team lead role.
What is a good objective for a Team Lead resume?
A Team Lead is a critical member of a team, responsible for managing the team's daily operations and ensuring that all team objectives are met. When writing a resume for a Team Lead role, it is important to include an objective that accurately reflects the job profile and your capabilities. A good Team Lead resume objective should be:
Results-oriented, with the ability to assess and manage a team's performance
Strong communication and leadership skills, with the ability to motivate and direct team members
High level of problem-solving and analytical skills
Proven track record of successfully meeting team objectives
Proven ability to collaborate with other departments to achieve goals
Experienced in developing and implementing successful strategies for team growth and improvement
How do you list Team Lead skills on a resume?
When applying for a Team Lead position, it is important to showcase your skills that make you a great leader. Your resume should include specific skills that demonstrate your ability to lead a team, help with decision-making, and foster collaboration. Here is what you should include on your resume:
Conflict Resolution: TeamLeads need to understand how to resolve conflicts within their team, by utilizing their excellent communication and problem-solving skills.
Interpersonal Skills: TeamLeads should have good interpersonal skills, such as being able to listen to the concerns of their teammates while also staying focused on the goal at hand.
Time Management: A TeamLead must be able to manage their team effectively, and ensure that deadlines are met on time.
Coaching and Mentoring: TeamLeads should be able to provide guidance to their team members, by helping them to build their skills and grow in their roles.
Decision Making: TeamLeads should be able to make decisions quickly and efficiently, while keeping their team and organization's needs in mind.
Motivation: TeamLeads need to be able to motivate their team in order to achieve the highest levels of performance.
Communication: TeamLeads should be able to effectively communicate with their team, both in person and through writing, in order to ensure a successful and productive team.
Leadership: TeamLeads need to demonstrate their leadership skills in order to lead their team to success.
Collaboration: TeamLeads should be able to foster collaboration between team members, and ensure that everyone's ideas are heard.
What skills should I put on my resume for Team Lead?
When applying for a Team Lead role, the skills you highlight on your resume should demonstrate your natural leadership abilities and the potential to successfully lead a team.
Your resume should showcase the leadership experience and accomplishments you have achieved in prior roles. When listing skills for a Team Lead role, consider listing the following:
Problem-Solving: Team Leads must have demonstrated problem-solving abilities to be able to quickly identify and address any issues that arise.
Decision-Making: The ability to make informed decisions quickly and effectively is essential for a Team Lead.
Communication: Team Leads must have strong communication skills in order to effectively communicate with and manage a team.
Interpersonal: Team Leads must be able to develop and maintain relationships with team members and other stakeholders.
Motivation: As a Team Lead, you must be able to motivate and inspire team members to help them reach their full potential.
Time Management: The ability to manage multiple tasks and prioritize effectively is a must-have skill for Team Leads.
Conflict Resolution: Team Leads must be able to identify conflict between team members and resolve it quickly and efficiently.
By showcasing these skills on your resume, you will be able to demonstrate to hiring managers that you have the necessary experience and abilities to excel in a Team Lead role.
Key takeaways for an Team Lead resume
When it comes to creating a resume for a Team Lead position, there are a few key takeaways to keep in mind. This resume should showcase your leadership abilities, knowledge of team dynamics and the ability to handle multiple tasks. Here are some key points to consider when crafting your Team Lead resume:
Highlight your leadership experience. Team Lead is a leadership role and it's important to showcase your experience in leading a team in the past. Include any formal or informal leadership roles you've held, and emphasize any successes your team achieved under your guidance.
Demonstrate your organizational skills. Team Leads are expected to be organized, so make sure to showcase your ability to prioritize tasks and keep track of timelines. You should also demonstrate your knowledge of basic project management tools and techniques, such as Gantt charts and Kanban boards.
Showcase your ability to handle conflict. Team Leads are often put in the position of mediating conflicts between team members. Make sure to demonstrate your ability to manage these challenges in a professional and effective manner.
Demonstrate your knowledge of team dynamics. Team Leads should have an understanding of how to build and maintain cohesive teams. Include any experience you have in building collaboration and trust among team members.
By highlighting your leadership abilities, organizational skills, conflict management skills and knowledge of team dynamics, you can create a compelling Team Lead resume that will help you stand out from the competition. Good luck!
Let us help you build
your Resume!
Make your resume more organized and attractive with our Resume Builder