Writing a resume for a supervisor position requires a unique blend of qualifications, experience, and attention to detail. Supervisors are in charge of leading teams and must demonstrate leadership skills, communication skills, and the ability to problem solve. Writing a resume for this position can be a challenging task, as you must convey all of your qualifications without it becoming too long. To make it easier, this guide will explain how to write a supervisor resume, provide examples of supervisor resumes, and offer tips and best practices. With the right resume, you should have no problem landing your next supervisor position.
If you didn't find what you were looking for, be sure to check out our complete library of resume examples.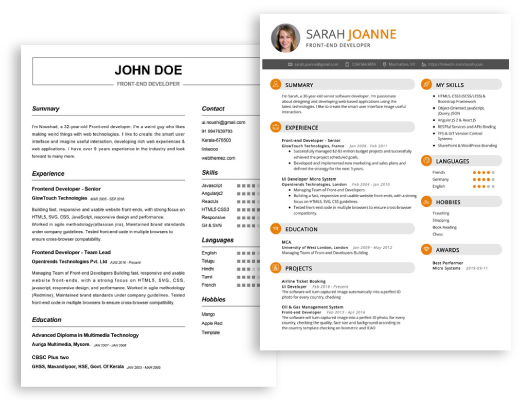 Start building your dream career today!
Create your professional resume in just 5 minutes with our easy-to-use resume builder!
Supervisor Resume Examples
John Doe
Supervisor
123 Main Street | Anytown, USA 99999 | Phone: (123) 456-7890 | Email: john.doe@email.com
A highly motivated Supervisor with over 6 years of experience in leading and managing teams in a fast- paced and competitive environment. Proven track record of driving operational efficiency and customer satisfaction. Possesses excellent leadership, organization and communication skills, as well as a deep understanding of customer service excellence. Highly adept at ensuring that services are delivered with a high level of quality and accuracy.
Core Skills:
Leadership
Organizational Management
Customer Service
Performance Evaluation
Problem Solving
Team Building
Time Management
Professional Experience:
Supervisor – ABC Corporation, New York, NY
March 2018 – Present
Lead a team of 10 customer service representatives in providing exceptional customer service
Monitor team performance and provide performance feedback to team members
Implement customer service initiatives and strategies to improve customer satisfaction
Develop customer service processes to ensure accurate and timely delivery of services
Ensure compliance with company policies and procedures
Supervisor – XYZ Corporation, New York, NY
January 2016 – February 2018
Managed a team of 5 customer service representatives in providing superior customer service
Monitored team performance and evaluated employee performance
Developed customer service strategies to enhance customer experience
Conducted training sessions for customer service representatives on customer service best practices
Ensured compliance with company policies and procedures
Education:
Bachelor of Science in Business Administration
ABC University, New York, NY
August 2014 – May 2018
Supervisor Resume with No Experience
Hardworking, organized, and highly motivated individual with strong leadership skills seeking a Supervisor role. A recent graduate with a Bachelor's degree in Business Administration, I have a high level of commitment to both my professional and personal pursuits. With a positive attitude and a desire to learn and help others, I am confident I can excel in a Supervisor role.
Skills
Excellent interpersonal, communication and organizational skills
Ability to think critically and problem solve
Detail- oriented with a strong work ethic
Ability to multi- task and adjust to changing priorities
Excellent computer and MS Office proficiency
Ability to work independently and as part of a team
Responsibilities
Oversee day- to- day operations of a department or team
Supervise and evaluate team members and provide feedback
Monitor team performance and develop plans for improvement
Ensure team compliance with company policies and procedures
Manage employee time and attendance
Prepare reports and analyze data to identify areas for improvement
Develop and implement strategies to increase productivity and efficiency
Supervisor Resume with 2 Years of Experience
A highly articulate and professionally- driven individual with 2 years of experience in the field of supervision. Possess excellent problem- solving and communication skills, as well as the ability to work efficiently both individually and as part of a team. Committed to providing quality and consistent service to clients and customers.
Core Skills:
Strong leadership and organizational skills
Problem solving and decision- making abilities
Outstanding communication and interpersonal skills
Ability to develop and maintain productive relationships
Excellent customer service orientation
Proficient in MS Office Suite
Responsibilities:
Training and developing new staff
Monitoring staff performance and providing feedback
Assigning tasks and ensuring their completion within deadlines
Monitoring and replenishing stock
Analyzing data and creating reports
Resolving customer issues and complaints
Ensuring a high level of customer satisfaction
Implementing new policies and procedures
Supervisor Resume with 5 Years of Experience
I am an experienced Supervisor with over 5 years of experience in a variety of industries. I have a proven track record of successful management of staff, projects and budgets. My expertise in project management, organizational skills, and communication abilities have enabled me to lead teams to successful completion of tasks. I am committed to helping my teams reach their goals and I am confident that I can bring this same energy and enthusiasm to your organization.
Core Skills:
Team Management
Project Management
Organizational Skills
Time Management
Leadership
Decision Making
Problem Solving
Communication
Budgeting
Responsibilities:
Manage staff to ensure effective and efficient completion of tasks
Develop and implement plans to meet organizational goals
Set performance standards and review staff performance
Ensure compliance with company and regulatory policies
Train and mentor staff to ensure they possess the necessary skills
Manage projects, resources and budgets
Monitor progress and provide regular feedback
Develop strategies to increase productivity and efficiency
Address customer service issues in a timely and professional manner
Identify areas of improvement and provide solutions to problems
Provide leadership and direction to team members
Supervisor Resume with 7 Years of Experience
A highly experienced and motivated supervisor with seven years of experience in leading teams and projects. Possesses excellent communication, collaborative, and organizational abilities, with a keen eye for identifying areas for improvement and implementing solutions. Skilled in managing a variety of tasks simultaneously and delivering results within tight deadlines. Committed to delivering excellent customer service and ensuring optimal employee satisfaction.
Core Skills:
Leadership
Organizational Skills
Conflict Resolution
Time Management
Communication
Team Building
Problem Solving
Responsibilities:
Providing guidance and supervision to team members to ensure quality of service.
Developing and implementing strategies to increase efficiency and productivity.
Monitoring team performance, identifying areas for improvement, and providing feedback.
Organizing and delegating tasks to team members to ensure tasks are completed on time.
Coordinating with other departments to ensure smooth processes.
Investigating and resolving customer complaints in a timely and professional manner.
Developing policies and procedures to increase customer satisfaction and team effectiveness.
Ensuring compliance with all relevant laws, regulations, and industry standards.
Supervisor Resume with 10 Years of Experience
An experienced leader with 10 years of experience supervising teams in the retail industry, I have a proven track record of success in supervising personnel, training and developing staff, and increasing sales. My greatest strengths lie in motivating personnel, fostering unity and collaboration, and problem solving. I am highly organized and strive to ensure efficient operations.
Core Skills:
Personnel Supervision
Team Motivation
Training and Development
Conflict Resolution
Sales Growth
Problem Solving
Communication
Time Management
Responsibilities:
Oversee subordinates and conduct performance reviews
Train new staff and provide ongoing coaching and development
Monitor daily sales and adjust operations as required
Create schedules, assign tasks, and ensure proper coverage
Resolve customer complaints and employee conflicts
Monitor inventory, stock shelves, and order supplies
Establish and implement operational policies and procedures
Audit store operations and ensure compliance with company standards
Supervisor Resume with 15 Years of Experience
With fifteen years of managerial experience under my belt, I am a highly organized and motivated individual who is committed to fostering a positive and productive work environment. My leadership style is rooted in the belief that all members of a team should be treated with respect and appreciation. I have a proven track record of consistently meeting and exceeding the expectations set before me and have a deep- seated passion for continuous learning and development. I have the skills and knowledge required to accomplish any task or project while upholding high standards and maintaining successful team morale.
Core Skills:
Leadership & Management
Organizational & Planning
Problem Solving & Decision Making
Team Building & Collaboration
Adaptability & Flexibility
Communication & Interpersonal Skills
Strong Analytical & Problem- Solving Skills
Strategic Thinking & Execution
Project Management
Stakeholder Management
Responsibilities:
Hiring, training, and developing staff and evaluating their performance.
Developing and executing strategic plans, setting goals, and creating budgets.
Managing daily operations, setting project deadlines and assigning tasks.
Creating and implementing policies and procedures for the smooth functioning of the organization.
Monitoring and evaluating team performance and providing feedback and coaching.
Analyzing data and developing reports for upper management.
Investigating and resolving customer complaints.
Conducting regular meetings with staff and maintaining open dialogue.
Leading a team of professionals to reach organizational objectives.
Negotiating with suppliers and vendors to secure the best deals.
In addition to this, be sure to check out our resume templates, resume formats, cover letter examples, job description, and career advice pages for more helpful tips and advice.
What should be included in a Supervisor resume?
A supervisor's role is demanding, and requires an individual with both experience and knowledge in their field. A supervisor resume should provide employers with a clear picture of an applicant's qualifications and experience, as well as demonstrate the applicant's ability to lead a team.
When crafting a supervisor resume, it is important to include the following:
Professional Summary: This section should include a brief overview of the applicant's experience, qualifications, and skills.
Education: Listing any educational qualifications can help a supervisor stand out from the competition.
Professional Experience: Detail any previous positions that demonstrate the applicant's experience in supervision, as well as any other related experience.
Skills: This section should include any technical or interpersonal skillset that would be relevant to the supervisor role.
Achievements: Here, applicants can list any awards or successes they have achieved in the past.
Certifications: Include any certifications or professional qualifications the applicant may have.
References: Include a list of professional contacts who can speak to the applicant's qualifications and experience.
By following these steps, a supervisor can create a resume that will make them stand out from the competition and ensure that their qualifications and experience are properly highlighted.
What is a good summary for a Supervisor resume?
A good summary for a Supervisor resume should succinctly describe the skills, experience, and accomplishments of the applicant. It should focus on qualities that would make the applicant an excellent supervisor, such as strong leadership, problem-solving, decision-making, and communication skills. It should also highlight specific successes such as successful project completion, positive team dynamics, or cost savings. The summary should be clear, concise, and tailored to the position being applied for. Ultimately, the summary should be a quick snapshot of the applicant's experience and qualifications that will persuade employers that the applicant is the best choice for the job.
What is a good objective for a Supervisor resume?
A resume objective for a supervisor position is a short but important statement that outlines what you can bring to the job for the organization. It is the first thing that employers read when considering a potential candidate and as a result, it must be well-thought-out and clear.
Here is an example of a good objective for a supervisor position on a resume:
Proactive and organized professional with 6+ years of supervisory experience in the retail industry
Looking to leverage leadership and analytical skills to successfully manage operations and teams in a high-paced work environment
Aiming to utilize expertise in customer service and operational management to achieve success with the organization
Motivated to use organizational, communication and problem-solving skills to drive efficiency and productivity
This objective statement provides employers with an insight of your skill set and professional experience while emphasizing what you can bring to the position. It also highlights the fact that you're looking to develop and grow with the organization.
How do you list Supervisor skills on a resume?
When applying for a supervisor position, it is important to showcase your relevant skills on your resume. By highlighting your skills and accomplishments, you can demonstrate the value you bring to a workplace and the organization. Here are some skills to list on your resume when applying for a supervisor role:
Leadership: Supervisors must be able to lead their team, prioritize tasks, and make decisions. Demonstrate your leadership skills by highlighting any team leadership roles you have taken on in the past, or any collaborative projects you have successfully completed.
Communication: Good communication is essential for supervisors. Showcase your interpersonal skills by listing any communication trainings you have attended or any public speaking engagements you have done.
Organization: Supervisors must be organized to ensure that tasks are completed in a timely manner. Demonstrate your organizational skills by mentioning any project management software you have used, or any time management techniques that you have implemented at work.
Problem-solving: Supervisors must be able to troubleshoot problems quickly and effectively. List any problem-solving initiatives you have taken on in the past, or mention any creative solutions you have developed.
Conflict resolution: Supervisors must be able to manage team dynamics and resolve conflicts. Describe any situations in which you have successfully resolved conflicts in a team setting.
By listing your skills and accomplishments, you can demonstrate the value you bring to an organization and show that you are well-suited for a supervisor role.
What skills should I put on my resume for Supervisor?
When looking for a job as a supervisor, it is important to showcase the skills that make you perfect for the role. Your resume should be tailored to each position, highlighting the skills that make you stand out. Here are some of the most important skills you should consider putting on your resume if you are applying for a supervisor role.
Leadership: Supervisors need to be able to lead a team, inspire them, and make sure they are motivated to reach team goals. It is important to demonstrate your ability to lead others by giving examples of how you have successfully managed teams in the past.
Communication: It is essential for any supervisor to have great communication skills. You should be able to clearly communicate instructions to your team, resolve conflicts, and give feedback.
Delegation: Supervisors must be able to delegate tasks and projects to their team members. Showcase your ability to assign tasks and manage multiple projects in your resume.
Problem-Solving: Supervisors need to be able to quickly identify and address problems as they arise. Include examples of how you have successfully identified and solved problems in the past.
Organizational Skills: Supervisors must be able to effectively manage their time and prioritize tasks. Demonstrate your ability to plan and organize by listing examples of successful projects you have completed.
Decision-Making: Supervisors are often responsible for making important decisions. Showcase your ability to make sound decisions by giving examples of difficult decisions you have made in the past and how you arrived at them.
By highlighting these skills on your resume, you can showcase your potential as a supervisor and make sure you are the top choice for the position.
Key takeaways for an Supervisor resume
When it comes to crafting a standout supervisor resume, there are some key takeaways to keep in mind. A supervisor resume should be professional and comprehensive, while also highlighting your qualifications in a clear and concise manner. Here are some key takeaways for writing a great supervisor resume:
Highlight Your Strengths: Make sure to showcase your top skills and qualifications as a supervisor, such as problem-solving and team-building capabilities. Include any awards or certifications you possess, as these stand as a testament to your expertise and capabilities. This will help your potential employer take notice of your potential and make you stand out from other candidates.
Demonstrate Leadership: Supervisors are expected to have strong leadership abilities, so make sure to emphasize your ability to lead in the workplace. Provide examples of how you have led teams or initiatives to success and how you have managed challenging situations.
Keep It Concise: Your supervisor resume should be concise, yet comprehensive. Keep it to one or two pages and avoid using unnecessary filler or fluff. Instead, focus on providing details related to your qualifications and experience that are relevant to the supervisor position you are applying for.
Use Keywords: Employers often use applicant tracking systems to scan resumes for keywords and phrases related to the job position. Make sure to include relevant keywords and phrases to increase your chances of getting noticed.
Proofread: Make sure to proofread your resume thoroughly before submitting it. A single typo or grammatical error can easily turn off a potential employer.
By following these key takeaways, you can create an outstanding supervisor resume that will help you stand out from the competition and increase your chances of landing the job.
Let us help you build
your Resume!
Make your resume more organized and attractive with our Resume Builder