If you are considering applying for a job as a storeroom clerk, your resume is one of the most important aspects of the hiring process. Crafting a resume that stands out and looks professional can be a daunting task. However, with the right information and guidance, you can create an eye-catching resume that employers will take notice of. This guide will provide valuable advice on how to write a storeroom clerk resume, along with resume examples that you can use as a reference.
If you didn't find what you were looking for, be sure to check out our complete library of resume examples.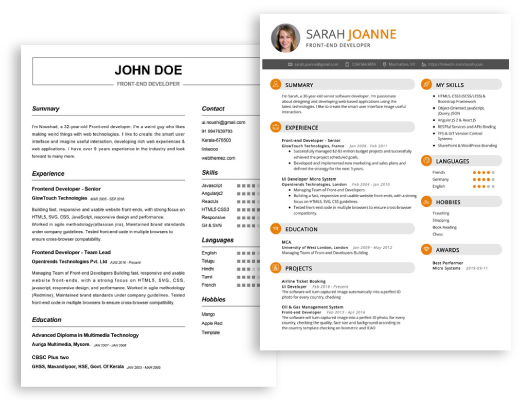 Start building your dream career today!
Create your professional resume in just 5 minutes with our easy-to-use resume builder!
Storeroom Clerk Resume Examples
John Doe
Storeroom Clerk
123 Main Street | Anytown, USA 99999 | Phone: (123) 456-7890 | Email: john.doe@email.com
Dynamic, hardworking and results- driven Storeroom Clerk with 6+ years of experience in warehouse and distribution operations. Self- motivated and committed to providing an efficient and quality service to both customers and co- workers. Adept in operating a variety of storeroom equipment, inputting data accurately and efficiently and organizing merchandise according to stock procedures. Demonstrated success in maintaining a safe, organized and clean working environment.
Core Skills:
Inventory Management
Stock Control
Shipping & Receiving
Data Entry
Merchandising & Discounting
Compliance and Safety
Customer Service
Forklift Operation
Pallet Jack Operation
Professional Experience:
Storeroom Clerk, ABC Logistics, 2019 – Present
Receive, store and issue materials, merchandise and supplies
Perform daily cycle counts and maintain accurate inventory records
Maintain condition of storeroom and organize merchandise
Operate forklifts and pallet jacks to move materials
Update and maintain computerized inventory system
Ensure compliance with safety regulations and standards
Storeroom Clerk, XYZ Warehouse, 2015 – 2019
Processed orders for customers and shipped items accordingly
Received, inspected and recorded incoming stock
Tagged, labeled and stored merchandise correctly
Monitored inventory levels, removed outdated items and rotated stock
Maintained clean and orderly storeroom
Provided customer service and addressed customer inquiries
Education:
High School Diploma, ABC High School, 2013
Storeroom Clerk Resume with No Experience
Recent graduate looking to start a career as a storeroom clerk. Have a friendly and eager- to- learn attitude, with good organizational and multitasking skills.
Skills
Good organizational skills
Strong multitasking capabilities
Excellent customer service skills
Proficient in using computers and databases
Knowledge of basic mathematics
Responsibilities
Maintain organized and accurate inventory of storeroom items.
Keep track of stock, stock levels and stock movements.
Restock storeroom shelves with new inventory.
Pack and unpack items in an efficient manner.
Generate and maintain reports on stock levels.
Follow safety procedures and regulations while handling storeroom items.
Assist customers and staff members with their inquiries.
Respond to customer and staff members' requests quickly and efficiently.
Ensure storeroom items are stored safely and securely.
Storeroom Clerk Resume with 2 Years of Experience
A highly motivated and organized Storeroom Clerk with more than 2 years of experience maintaining supplies and inventory in warehouses. Possesses an excellent eye for detail and utilizes efficient organizational methods to help ensure that all products and materials are accessed quickly and accurately. Possess a comprehensive knowledge of inventory management procedures and techniques and a strong aptitude for problem solving.
Core Skills:
Inventory Management
Organization
Data Entry
Order Fulfillment
Product Storage
Stocking & Shelving
Safety Protocols
MS Office
Time Management
Shipping & Receiving
Responsibilities:
Maintaining accurate inventory records of all materials and products in the storeroom
Receiving, labeling, and stocking items on shelves
Issuing orders for supplies and materials
Placing orders for incoming shipments
Ensuring that products are properly stored and labeled
Maintaining a clean and organized storeroom
Following safety protocols and regulations
Handling customer inquiries and complaints
Preparing reports on inventory levels and stock usage
Storeroom Clerk Resume with 5 Years of Experience
Highly organized and detail- oriented storeroom clerk with 5 years of experience in storeroom operations, inventory management, and customer service. Demonstrated excellent interpersonal, problem- solving, and communication skills. Proven ability to stay organized and to prioritize tasks while multi- tasking in a fast- paced environment. Committed to delivering quality service and a customer- centric approach.
Core Skills:
Inventory Management
Storeroom Operations
Order Fulfillment
Customer Service
Supply Chain Management
Receiving and Stocking
Data Entry and Analysis
Database Management
Quality Control
Problem Solving
Responsibilities:
Receiving and stocking product shipments, verifying quantities, and logging data into the company database
Meeting customer requirements by supplying products and ensuring timely order fulfillment
Analyzing stock inventory levels, identifying discrepancies, and taking appropriate action
Ensuring inventory accuracy and quality control by performing regular audits
Maintaining storeroom organization and cleanliness
Supervising storeroom staff, including delegating tasks and training new employees
Coordinating with internal departments to resolve customer inquiries
Developing and implementing efficient procedures and processes to improve storeroom operations
Assisting with the development of storeroom budget and cost control initiatives
Storeroom Clerk Resume with 7 Years of Experience
I am an experienced Storeroom Clerk with 7 years of experience in managing, organizing and monitoring storeroom operations. I have a strong track record of success in helping to minimize costs and streamline operations, while ensuring accuracy and quality in all areas of the storeroom. I am well- versed in inventory control and stock management, and have the ability to manage multiple tasks and projects within the storeroom. I am highly organized, and have excellent problem solving and communication skills.
Core Skills:
Inventory Control
Stock Management
Organizational Skills
Problem Solving
Communication Skills
Cost Minimization
Multi- Tasking
Responsibilities:
Managing, organizing and monitoring storeroom operations
Receiving, issuing and distributing storeroom items
Maintaining accurate inventory records and tracking stock levels
Ensuring quality of stock and accuracy of orders
Conducting regular stock checks and monitoring stock levels
Recommending improvements to storeroom operations and procedures
Updating and maintaining storeroom databases and software
Ensuring safety and security of storeroom items
Storeroom Clerk Resume with 10 Years of Experience
Highly organized and detail- oriented Storeroom Clerk with 10 years of experience in organizing and stocking storeroom shelves and shipping/receiving materials and products. An analytical problem solver with excellent multitasking and organizational skills, able to work independently and collaboratively in a fast- paced environment. Knowledgeable of warehouse operations, inventory control, and safety regulations.
Core Skills:
Knowledge of warehouse operations and inventory control
Strong organizational and multitasking skills
Excellent attention to detail
Able to lift heavy loads
Proficient in Microsoft Office and related software
Able to work independently and collaboratively in a fast- paced environment
Responsibilities:
Receive and account for incoming materials and products
Check quality of incoming items against purchase orders and invoices
Store merchandise in designated areas within the storeroom
Inspect condition of storeroom shelves and restock as needed
Maintain records of orders, inventories, and shipments
Sort and organize material as needed
Assist in general housekeeping duties, such as sweeping and dusting
Operate manual and electric pallet jacks, forklifts, and other equipment as needed
Adhere to safety regulations and procedures
Storeroom Clerk Resume with 15 Years of Experience
A highly organized and detail- oriented storeroom clerk with 15 years of experience in inventory management, customer service, and clerical operations. Skilled in maintaining accurate records of all storeroom transactions, efficiently locating and tracking inventory, stocking shelves, and customer inquiries. Dedicated to providing excellent customer service and ensuring customer satisfaction.
Core Skills:
Inventory management
Customer service
Records management
Stock shelving
Data entry
Organizational skills
Auditing
Problem- solving skills
Responsibilities:
Managed and updated all storeroom records, ensuring accuracy and compliance with regulations
Maintained organization of storeroom inventory, stocking shelves and ensuring all items were accounted for
Performed weekly audits to ensure storeroom inventory was at appropriate levels
Provided excellent customer service to customers, answering inquiries and resolving complaints in a professional and timely manner
Entered all storeroom transactions into the company database, verifying accuracy and following up on discrepancies
Responded to customer requests and orders in a timely manner
Ensured all safety protocols were followed and storeroom was kept neat and orderly
Identified and resolved any issues or discrepancies with storeroom operations
In addition to this, be sure to check out our resume templates, resume formats, cover letter examples, job description, and career advice pages for more helpful tips and advice.
What should be included in a Storeroom Clerk resume?
A storeroom clerk resume should include important information about your experience and skills that can help you succeed in the position. Below are some key points to include:
Experience working in a supply chain or storeroom setting
Knowledge of inventory techniques, such as cycle counting and stock rotation
Proficiency in operating various warehouse equipment, such as forklifts and pallet jacks
Ability to work effectively and efficiently in a fast-paced environment
Excellent organizational skills, with an ability to keep accurate and detailed records
Strong communication skills, both verbal and written
Ability to lift and move heavy items
Good problem-solving skills
Computer proficiency with Microsoft Office
A passion for customer service and providing excellent service to clients
A valid driver's license and a clean driving record
High school diploma or equivalent
What is a good summary for a Storeroom Clerk resume?
A storeroom clerk is responsible for organizing, cataloging, and stocking items in a storeroom or warehouse. A strong storeroom clerk resume should include a clear summary statement of the applicant's experience, qualifications and skills. A good summary should focus on the key responsibilities of the position and any relevant experience and achievements. The summary should also include the applicant's ability to work with storeroom software, accurately track and store inventory, and ensure proper maintenance of the storeroom. Finally, the summary should highlight the candidate's ability to work independently, as well as their excellent organizational skills. By providing a concise summary of the applicant's qualifications and experience, the summary should help the storeroom clerk stand out from other applicants.
What is a good objective for a Storeroom Clerk resume?
A Storeroom Clerk is responsible for carrying out a range of administrative and operational tasks related to managing storeroom inventory. A good resume objective for this position should include your relevant skills and experience that makes you a good fit for the role, as well as the value you can bring to the organization. Here are some examples of an effective Storeroom Clerk resume objective:
An organized and detail-oriented individual with 6 years of experience in storeroom management, seeking a Storeroom Clerk position at ABC Company to leverage my expertise in inventory analysis and control.
Experienced Storeroom Clerk with 4 years of expertise in coordinating and managing supply chain operations, looking to join ABC Company to use my knowledge of stockroom management and inventory control.
Highly competent Storeroom Clerk with exceptional leadership and organizational skills, seeking a position at ABC Company to utilize my experience in tracking and ordering materials.
Innovative Storeroom Clerk with solid experience in supply chain optimization and inventory management, eager to join ABC Company and use my analytical and problem-solving skills to ensure efficient operations.
Resourceful Storeroom Clerk with a background in quality assurance and customer service, seeking a position at ABC Company to utilize my knowledge of inventory control and warehouse management.
How do you list Storeroom Clerk skills on a resume?
When crafting a resume for a Storeroom Clerk position, it is essential to highlight the skills and qualifications most relevant to the role. The following skills should be included in the resume for Storeroom Clerk:
Knowledge of inventory control and procurement processes: A Storeroom Clerk must have a good understanding of inventory control processes, from ordering and stocking to product distribution.
Attention to detail: A Storeroom Clerk must be able to manage the details of ordering, stocking, and delivering supplies with accuracy and efficiency.
Organizational skills: Storeroom Clerks must be well organized and be able to keep track of inventory levels and ensure the correct quantities of supplies are always available.
Computer skills: In order to keep inventory records up-to-date and accurate, Storeroom Clerks must have basic to intermediate computer skills, including spreadsheet and word processing programs.
Customer service: Storeroom Clerks must also be able to provide excellent customer service in order to help customers find the products they need.
By highlighting these skills in your resume, you are sure to be considered for the position of Storeroom Clerk.
What skills should I put on my resume for Storeroom Clerk?
When applying for a storeroom clerk position, it is important to showcase the skills that make you an exceptional candidate. Here is a list of the skills that you should consider putting on your resume for this position:
Knowledge of Warehouse Management Systems: Having knowledge of warehouse management systems is critical for storeroom clerks. This includes knowledge of how to use the system, as well as how to troubleshoot any issues that may arise.
Attention to Detail: Storeroom clerks must be able to work with a high level of detail and accuracy. This means they should be able to accurately track and document inventory in an organized manner.
Inventory Management: To be successful in this role, storeroom clerks must have experience in inventory management. This includes the ability to monitor stock levels, as well as the ability to order and receive new stock.
Strong Communication Skills: Storeroom clerks must be able to communicate effectively with their team, as well as vendors and customers. This means having strong verbal and written communication skills.
Time Management Skills: Storeroom clerks must be able to manage their time effectively and efficiently. This means being able to prioritize tasks and meet deadlines.
By highlighting these skills on your resume, you will be able to demonstrate that you are the right candidate for the storeroom clerk position.
Key takeaways for an Storeroom Clerk resume
When creating a resume for a storeroom clerk position, there are a few key takeaways to keep in mind. First, you want to emphasize your experience and knowledge of inventory management and product tracking systems. Be sure to include any relevant certifications or education related to managing inventory and tracking products. Additionally, you should include any experience you have with record keeping, ordering, and stocking inventory.
Second, emphasize your attention to detail and organizational skills. As a storeroom clerk, you will be responsible for ensuring accuracy in the product inventory and stocking. Include any prior experience you have in managing and organizing product inventory, as well as any customer service experience.
Third, highlight any experience you have with computer systems and software. Many storeroom clerks are responsible for tracking and managing inventory via computer software. Include any experience you have with popular inventory tracking software. Additionally, include any experience you have using Microsoft Excel or other spreadsheet software.
Finally, emphasize your ability to work quickly and autonomously. Storeroom clerks must be able to work independently and with a sense of urgency. Include examples of times when you have met tight deadlines or completed tasks quickly and accurately.
By following these key takeaways, you can create an effective storeroom clerk resume. Be sure to accurately describe your experience, education, and skills, and include any relevant certifications or training. Additionally, highlight any experience you have with inventory tracking software, customer service, and organization. Finally, emphasize your ability to work quickly and autonomously. With the right resume, you can stand out to employers and find the storeroom clerk position you've been looking for.
Let us help you build
your Resume!
Make your resume more organized and attractive with our Resume Builder