Writing a resume for a shift coordinator position is an important step in your job search journey. As a shift coordinator, you are responsible for managing the operational and personnel activities of a workplace during assigned shifts. Your resume should be tailored to highlight the skills, experience and accomplishments that match the qualifications required for this role. A compelling and well-written resume can be the key to securing an interview and landing your dream job. This shift coordinator resume writing guide provides detailed tips and examples to help you create a strong resume that will make a lasting impression.
If you didn't find what you were looking for, be sure to check out our complete library of resume examples.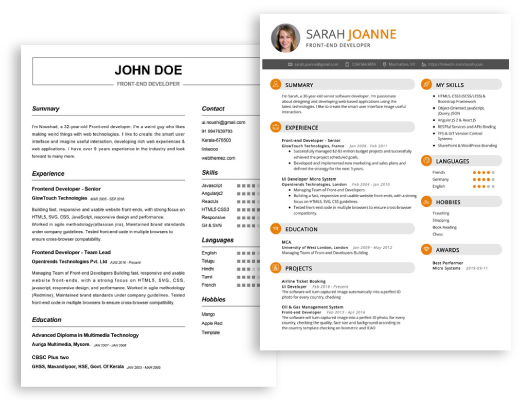 Start building your dream career today!
Create your professional resume in just 5 minutes with our easy-to-use resume builder!
Shift Coordinator Resume Examples
John Doe
Shift Coordinator
123 Main Street | Anytown, USA 99999 | Phone: (123) 456-7890 | Email: john.doe@email.com
I am a highly experienced Shift Coordinator with a proven ability to ensure efficient and effective operations in a fast- paced environment. My experience includes managing employees and supervising shift operations, developing and implementing policies and procedures, creating and maintaining safe working conditions, and managing customer service, scheduling and inventory management. I possess excellent communication and organizational skills, a strong work ethic, and the ability to work independently or as part of a team.
Core Skills:
Employee Supervision
Scheduling
Inventory Management
Risk Management
Policies & Procedures
Communication
Interpersonal Skills
Conflict Resolution
Time Management
Professional Experience:
Shift Coordinator, ABC Company, 2021 to present
Manage employees and supervise shift operations
Develop and implement policies and procedures
Create and maintain safe working conditions
Monitor customer service, scheduling, and inventory
Achieve operational goals and objectives
Ensure compliance with all applicable laws and regulations
Shift Supervisor, XYZ Company, 2018 to 2021
Supervised day- to- day operations of the shift
Ensured adherence to policies, procedures, and safety standards
Monitored customer service and resolved customer issues
Developed and maintained positive working relationships with employees
Analyzed data and reported on performance metrics
Education:
Bachelor of Science in Business Administration, ABC University, 2017
.
Shift Coordinator Resume with No Experience
Goal- oriented and highly organized individual with strong time management and multitasking abilities. Possess strong interpersonal skills and experience working in customer service. Seeking to leverage knowledge and skills as a Shift Coordinator to help a business grow and succeed.
Skills
Excellent interpersonal and communication skills
Strong organizational and time management skills
Ability to work long hours in a fast- paced environment
Proficient in Microsoft Office Suite
Knowledge of inventory management systems
Familiarity with safety protocols
Responsibilities
Ensuring shift operations are conducted in accordance with company policies and procedures
Maintaining communication between staff members and supervisors
Assisting with inventory management and ordering supplies
Scheduling and coordinating staff shifts
Monitoring and evaluating performance of employees
Providing customer service and resolving customer complaints
Shift Coordinator Resume with 2 Years of Experience
A highly motivated shift coordinator with two years of experience in scheduling, team building and conflict management. Possesses a deep understanding of operations in the retail, hospitality and industrial sectors. Experienced in developing and training employees, as well as managing staff performance expectations. Demonstrated ability to stay organized and keep up with tight deadlines.
Core Skills
Scheduling
Team Building
Conflict Management
Employee Development
Staff Performance Management
Organizational Skills
Deadline Management
Responsibilities
Scheduling shifts for employees, taking into consideration staff availability and the needs of the organization.
Training and developing employees in order to promote a positive and productive work environment.
Monitoring and evaluating staff performance in order to identify improvement opportunities.
Resolving conflicts between employees in a timely and professional manner.
Assisting in the hiring process by identifying and screening potential candidates.
Maintaining accurate records of employee attendance and performance.
Managing inventory levels and ordering supplies as needed.
Ensuring all safety and health regulations are met and enforced.
Shift Coordinator Resume with 5 Years of Experience
Highly organized and detail- oriented Shift Coordinator with 5 years of experience providing superior customer service, scheduling personnel and managing daily operations. Proven record of success in managing multiple tasks and meeting tight deadlines. Skilled at identifying areas for improvement and creating and implementing solutions. Core strengths include problem- solving, conflict resolution, communication, and maintaining professional working relationships.
Core Skills:
Superior Customer Service
Personnel Scheduling
Operations Management
Problem- solving
Conflict Resolution
Communication
Relationship Building
Time Management
Responsibilities:
Manage daily operations of shift, including scheduling personnel and assigning tasks.
Ensure smooth and efficient flow of operations and customer service satisfaction.
Identify areas of improvement and develop and implement solutions.
Maintain professional working relationships with staff and customers.
Monitor and evaluate staff performance, providing feedback and coaching.
Assist with troubleshooting and resolving customer issues.
Ensure compliance with industry regulations, company policies and procedures.
Maintain records and generate reports as needed.
Shift Coordinator Resume with 7 Years of Experience
Highly motivated and organized Shift Coordinator with 7 years of experience in managing and leading personnel. Experienced in communicating with staff and customers, training and developing personnel, resolving customer complaints and ensuring compliance with company regulations. Proven track record for increasing sales, developing and streamlining processes, improving customer service and managing multi- shift operations.
Core Skills:
Project Management
Training & Development
Customer Service
Process Improvement
Compliance
Regulatory Oversight
Leadership & Supervision
Responsibilities:
Leading, training and inspiring personnel in order to achieve company goals
Adhering to company policies and procedures to ensure compliance
Developing processes to improve customer service and increase sales
Supervising multiple shifts to ensure quality and safety standards
Monitoring and managing inventory levels
Managing employee relations and resolving customer complaints
Ensuring the efficient and effective operation of the shift
Creating schedules and assigning duties to ensure coverage
Shift Coordinator Resume with 10 Years of Experience
A highly experienced shift coordinator with over 10 years of experience in managing operations, employee scheduling and problem solving. Possesses an excellent eye for detail and the ability to think critically in order to solve problems quickly and efficiently. Skilled at managing conflicting priorities, delegating tasks and meeting deadlines. Committed to providing exceptional customer service, safety and quality assurance.
Core Skills:
Leadership
Organizational Skills
Team Management
Problem Solving
Scheduling
Customer Service
Quality Assurance
Safety
Responsibilities:
Managing operations, staff scheduling and problem solving
Performing daily administrative tasks and paperwork
Developing strategies to optimize operational efficiency
Tracking progress and performance of employees
Establishing and enforcing safety and quality standards
Monitoring inventory and ordering supplies
Providing customer service and resolving customer issues
Ensuring compliance with company policies and procedures
Leading meetings and providing reports on employee performance
Shift Coordinator Resume with 15 Years of Experience
An experienced Shift Coordinator with 15 years of expertise in dealing with customer inquiries, complaints, and requests. Strong skills in problem- solving, customer service, and team management, as well as a proven record of success in leading teams and improving processes. Possess a keen eye for detail, and always strive to provide the best customer service and ensure the highest quality of service.
Core Skills:
Team Management
Customer Service
Problem Solving
Communication
Multi- tasking
Time Management
Process Improvement
Responsibilities:
Manage customer service requests and inquiries
Provide timely and accurate customer service
Resolve customer complaints in a prompt and professional manner
Monitor customer service and quality standards
Supervise, schedule, and mentor team members
Coordinate team schedules and assignments
Identify and implement process improvements
Deliver customer service training to team members
Develop and maintain positive customer relationships
Track customer feedback and metrics
Report customer service issues and metrics
In addition to this, be sure to check out our resume templates, resume formats, cover letter examples, job description, and career advice pages for more helpful tips and advice.
What should be included in a Shift Coordinator resume?
A shift coordinator position requires an individual with a wide range of qualities and experience. As such, an ideal resume should detail experience and skills that are applicable to the job.
When writing a shift coordinator resume, there are certain elements that should be included to ensure that the document is comprehensive and impressive. Here are some key points to include when crafting a shift coordinator resume:
Summary of Qualifications: Include a summary of your qualifications, paying special attention to any relevant experience or certifications that you have acquired.
Professional Experience: List any relevant professional experience that you have, with special emphasis on any previous shift coordinator positions. Include the name of the company, job title, dates of employment, and specific duties and accomplishments.
Leadership and Collaboration Skills: Demonstrate your ability to lead and collaborate with others by detailing any positions of authority that you have held. Discuss any relevant instances of successful team collaboration and explain how your leadership style has helped to create a positive work environment.
Scheduling and Organization: Highlight your scheduling and organization skills by listing your experience in creating, managing, and adhering to shift schedules.
Communication Skills: Demonstrate how you have successfully communicated with customers, colleagues, and other departments. Include any instances of conflict resolution or team building.
Computer Skills: Detail any computer skills that you have, such as proficiency in Microsoft Office or any other software programs.
With the right combination of experience and skills, a shift coordinator resume can make a lasting impression. Make sure to highlight your most relevant abilities to create a resume that is sure to get you noticed.
What is a good summary for a Shift Coordinator resume?
A shift coordinator resume should demonstrate an individual's experience in team management, customer service, and problem solving. It should also illustrate the ability to work effectively with a diverse population. A well-crafted summary should demonstrate the individual's understanding of the job and ability to lead a team in dynamic and challenging situations. The summary should give employers a brief overview of the individual's experience, skills, and qualifications that make them a valuable asset to the company. Examples of relevant qualifications might include strong problem-solving skills, the ability to work independently, and the ability to delegate tasks and provide timely feedback. A successful shift coordinator should also be able to motivate their team and provide a positive work environment. Finally, the summary should highlight the individual's leadership qualities, such as the ability to manage multiple tasks, prioritize effectively, and adapt to changing situations.
What is a good objective for a Shift Coordinator resume?
A Shift Coordinator is an important role in the workforce, as they are responsible for managing their fellow employees and making sure that their shift runs smoothly. A good objective in a Shift Coordinator resume should be tailored to the specific job you are applying for and demonstrate your ability to take on the role successfully. Here are some good objectives that a Shift Coordinator might include on their resume:
Demonstrate leadership and consensus-building skills to ensure team productivity and success.
Implement strategies to ensure a safe and secure work environment for employees.
Utilize problem-solving and communication skills to manage employee tasks and handle customer requests.
Develop an effective system for tracking employee performance and providing feedback.
Maintain accurate records of shift-related activities, including attendance and payroll.
Create a supportive and engaging work culture to maximize employee satisfaction and performance.
How do you list Shift Coordinator skills on a resume?
When applying for a Shift Coordinator position, it is important to showcase your skillset in your resume. Your employer will want to know that you have the necessary skills to excel in this role. Here are some tips on how to list your Shift Coordinator skills on a resume:
Highlight relevant experience: Showcase any related shift coordinator experience you have had in the past. Include details such as the types of shifts you coordinated and the responsibilities you had.
Communication skills: All Shift Coordinators need to be able to communicate effectively with the team. Highlight your interpersonal skills, such as the ability to work with a diverse group of people, give and receive feedback, and solve problems.
Leadership skills: Demonstrate that you are capable of leading a shift with confidence. Mention any organizational tasks such as scheduling, budgeting, and problem solving that you have undertaken in the past.
Time management skills: Show that you can keep a shift running on time. Emphasize any experience you have had with managing multiple tasks and prioritizing duties.
Knowledge of relevant software: List any software that you are experienced in using. For example, if you are familiar with scheduling software, be sure to mention this.
By listing your relevant skills, you can demonstrate to potential employers that you have the necessary qualifications to be an effective Shift Coordinator.
What skills should I put on my resume for Shift Coordinator?
When you're putting together your resume for a position as a Shift Coordinator, it's important to include the right types of skills and qualifications. This will help you stand out from other applicants, and increase your chances of getting an interview. Here are some of the key skills and qualifications you should include on your resume:
Communication: As a Shift Coordinator, you'll be responsible for communicating with customers, managers, and other shift workers. This includes both verbal and written communication; be sure to emphasize your ability to communicate effectively in any situation.
Leadership: You'll be responsible for managing other employees, so it's important to demonstrate your leadership ability. Include any instances where you took the initiative or spearheaded a project or task.
Organization: You'll need to be able to juggle multiple tasks and employees, so it's important you have strong organizational skills. Be sure to list any prior experience you have with managing staff or organizing events.
Technical Skills: You will need to be able to use computers and other digital tools to coordinate shifts, so be sure to list any technical knowledge or experience you have.
Problem Solving: As a Shift Coordinator, you'll need to be able to quickly solve any issues that arise. List any instances where you have successfully solved a problem, or had to make a tough decision.
Flexibility: Working in a fast-paced environment, you'll need to be able to adjust to changing priorities and unexpected events. Be sure to emphasize your ability to remain flexible and adapt to any situation.
By including these key skills and qualifications on your resume, you'll be setting yourself up for success when applying for a Shift Coordinator position. Good luck!
Key takeaways for an Shift Coordinator resume
Creating an effective resume as a Shift Coordinator can be a challenge. It is important to highlight your skills and experience in a way that is succinct and easy to read. Here are some key takeaways to keep in mind when writing your Shift Coordinator resume:
Highlight Your Leadership Experience: As a Shift Coordinator, you have likely managed teams and handled a variety of tasks. Make sure to emphasize your experience in this area by highlighting your leadership skills, the initiatives you've implemented, and any successful projects you've completed.
Showcase Your Communication Skills: As a Shift Coordinator, you must be able to manage multiple tasks and communicate effectively with other team members. Make sure to demonstrate your communication skills and ability to collaborate by highlighting your experience in conflict resolution, delegation, and problem-solving.
Demonstrate Your Ability to Prioritize Tasks: As a Shift Coordinator, you must be able to prioritize tasks and delegate responsibilities to achieve desired outcomes. Showcase your ability to do this by highlighting your experience in task scheduling, organizing, and leading teams.
Showcase Your Flexibility: Shift Coordinators often manage multiple teams and must be able to adapt to changing situations quickly. Make sure to showcase your flexibility by highlighting any experience in creative problem-solving and working under pressure.
Display Your Understanding of Company Procedures: As a Shift Coordinator, you must have a deep understanding of the company's policies and procedures. Make sure to emphasize this knowledge by demonstrating any experience in planning and implementing processes.
Let us help you build
your Resume!
Make your resume more organized and attractive with our Resume Builder