Writing a resume as a senior clerk can seem like a daunting task. There are so many pieces of information to include, and it's hard to know which ones are the most important. This guide will provide you with tips and examples of how to compose an effective senior clerk resume that will help you stand out from the competition. We'll take a look at what to include, how to format it, and the best ways to showcase your abilities. You'll be ready to send your resume out with confidence in no time!
If you didn't find what you were looking for, be sure to check out our complete library of resume examples.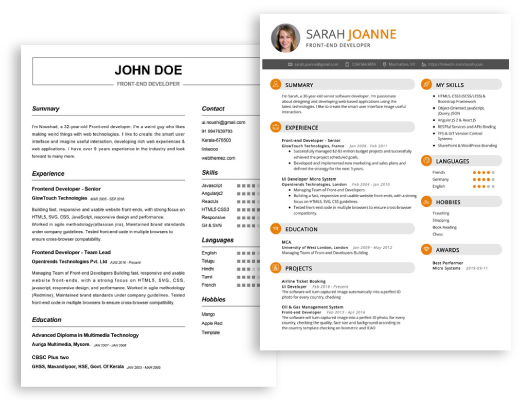 Start building your dream career today!
Create your professional resume in just 5 minutes with our easy-to-use resume builder!
Senior Clerk Resume Examples
John Doe
Senior Clerk
123 Main Street | Anytown, USA 99999 | Phone: (123) 456-7890 | Email: john.doe@email.com
I am an experienced Senior Clerk with expertise in customer service, administrative support and data entry. I am highly organized, detail- oriented and possess excellent customer service skills. I have a proven track record of success in both customer service and administrative roles and am adept at juggling multiple tasks at once. I am also highly skilled in Microsoft Office and other computer programs. My strong work ethic and can- do attitude have enabled me to be an asset to the companies I have worked for.
Core Skills:
Customer service
Administrative support
Data entry
Microsoft Office
Problem solving
Written and verbal communication
Multi- tasking
Strong problem- solving skills
Professional Experience:
Senior Clerk, ABC Company, 2016- Present
Manage customer service tasks including responding to inquiries, resolving customer problems, and providing excellent customer service
Responsible for data entry, filing, and other clerical duties
Assist in administrative tasks such as scheduling meetings and preparing documents
Communicate effectively with customers and colleagues
Administrative Assistant, XYZ Company, 2015- 2016
Responsible for providing customer service to clients and resolving customer issues
Provided administrative support such as data entry and filing
In charge of scheduling appointments and meetings
Organized and managed office supplies
Education:
Bachelor of Science in Business Administration, ABC University, 2012- 2016
Associate of Arts in Business Administration, XYZ College, 2009- 2012
Senior Clerk Resume with No Experience
Highly organized and detail- oriented Senior Clerk with excellent organizational and team management skills. Possess a strong knowledge of accounting principles and procedures, combined with excellent customer service and administrative experience. Adept at developing and implementing efficient processes designed to optimize workflow and productivity. Proficient in Microsoft Office and able to quickly learn and utilize new technologies.
Skills:
Excellent organizational, time management and interpersonal skills
Proficient in Microsoft Office Suite and other software
Strong accounting and mathematical skills
Excellent customer service skills
Ability to multi- task and prioritize workload
Familiarity with accounting principles and procedures
Strong communication and problem- solving skills
Responsibilities
Organizing and implementing office procedures
Handling customer inquiries and complaints
Data entry and record keeping
Processing paperwork, invoices and payments
Generating reports and analyzing data
Resolving issues and conflicts in a timely manner
Managing calendars and scheduling appointments
Maintaining and updating filing systems
Performing general administrative tasks
Senior Clerk Resume with 2 Years of Experience
Highly competent and organized Senior Clerk with 2 years of professional experience in a managerial role. Skilled in maintaining records, organizing data, scheduling meetings and managing personnel. Demonstrated ability to handle multiple tasks, prioritize, and meet deadlines. Proven track record of problem- solving, troubleshooting, and coordinating multiple departments to ensure a smooth workflow.
Core Skills:
Data Management
Record Keeping
Office Administration
Organizational Skills
Employee Management
Attention to Detail
Multi- tasking
Problem Solving
Deadline Management
Responsibilities:
Created and maintained various records of all relevant documents
Updated and organized customer data in line with company standards
Prepared and distributed reports, memos, presentations and other communication
Managed and supervised daily tasks of the office staff
Oversaw the operational activities of the office
Responsible for the hiring and training of new office personnel
Performed administrative tasks such as filing, data entry and document management
Managed and reconciled multiple accounts and monthly budgets
Scheduled meetings and appointments for staff members
Managed communications and customer relations with internal and external customers
Answered phone calls and emails promptly and professionally.
Senior Clerk Resume with 5 Years of Experience
A highly organized and detail- oriented professional with five years of experience as a senior clerk. Adept at maintaining accurate records, handling a variety of administrative tasks and providing excellent customer service. Extensive knowledge of a wide range of office equipment and computer programs. Strong communication and interpersonal skills.
Core Skills:
Data entry
Filing and organization
Microsoft Office Suite
Customer service
Receptionist duties
Appointment scheduling
Copywriting
Problem solving
Responsibilities:
Greeting and assisting customers in person and over the phone
Updating and maintaining records in an organized manner
Completing data entry in a timely and accurate manner
Scheduling appointments and maintaining a calendar of events
Compiling documents, such as reports and presentations
Answering emails and responding to inquiries
Generating invoices and other financial documents
Photocopying and scanning documents
Assisting with the preparation of various documents and reports
Assisting with the ordering and stocking of office supplies
Senior Clerk Resume with 7 Years of Experience
A highly organized and detail- oriented Senior Clerk with 7 years of experience in providing support to various departments. Possesses excellent time management, research, data entry, communication, and customer service skills. Committed to delivering results in a timely and professional manner.
Core Skills:
Data Entry
Database Management
Research
Document Organization
Customer Service
Time Management
Proficient in Microsoft Office Suite
Responsibilities:
Greeted customers, answered phone calls, and responded to emails promptly
Organized office documents and retrieved files when needed
Created, maintained, and updated databases with accurate processing of data
Assisted with customer service inquiries and provided helpful information
Performed data entry tasks in a timely and accurate manner
Assisted with research tasks for various projects
Managed incoming and outgoing mail and packages
Followed up with customers on account status and answered any related questions
Maintained a professional and friendly attitude with customers and colleagues
Senior Clerk Resume with 10 Years of Experience
Highly organized and efficient Senior Clerk with 10 years of experience and a wealth of knowledge in customer service, database management, and administrative tasks. Dedicated to consistently delivering outstanding customer service, executing accurate data entry, and performing other essential duties with great attention to detail and accuracy. Exceptional ability to manage records in an effective and organized manner, and to handle sensitive information with discretion.
Core Skills:
Proficient in Microsoft Office Suite and database management software
Strong organizational and multitasking abilities
Excellent customer service, communication, and listening skills
Knack for problem- solving and time management
Ability to work independently and as part of a team
Responsibilities:
Maintaining accurate records and databases
Assisting with customer inquiries over the phone and in person
Providing general administrative support, including filing and faxing
Generating reports and preparing presentations
Reviewing and verifying data entered into the system
Making bank deposits and handling petty cash
Senior Clerk Resume with 15 Years of Experience
15+ years of success in office administration, customer service, and data entry. Proven ability to streamline office operations, delegate tasks, and effectively manage employees. Highly organized, efficient, and detail- oriented, with extensive experience setting up filing systems and managing multiple databases. Committed to delivering superior customer service and ensuring customer satisfaction.
Core Skills:
Office Administration
Filing Systems
Data Entry
Customer Service
Multi- tasking
Time Management
Scheduling
Problem Solving
Employee Management
Responsibilities:
Managed scheduling, workflow, and employees for an office of 20 personnel.
Developed filing systems and managed multiple databases.
Oversaw data entry, customer service, and office administration.
Implemented purchasing strategies to reduce costs and improve efficiency.
Assisted with the development of office policies and procedures.
Ensured customer satisfaction by resolving customer complaints.
Provided feedback and counseled employees on performance issues.
Tracked and monitored employee attendance and leave requests.
Developed reports and kept accurate records of office expenses.
Assisted with HR duties such as interviewing, hiring, and onboarding.
In addition to this, be sure to check out our resume templates, resume formats, cover letter examples, job description, and career advice pages for more helpful tips and advice.
What should be included in a Senior Clerk resume?
When applying for a Senior Clerk position, it is important for a job candidate to create a resume that clearly showcases their qualifications. A Senior Clerk is responsible for providing a variety of administrative support services to the organization they work for, so the resume should demonstrate a candidate's strong clerical and organizational skills.
Here are some of the key elements to include in a Senior Clerk resume:
Education: List out any relevant education and certifications that you have acquired.
Work Experience: Include any previous clerical or administrative positions that you have held, as well as any related duties for each.
Skills: List out any skills that you possess that are pertinent to being a successful Senior Clerk, such as proficiency in Microsoft Office, filing, data entry, and customer service.
Professional References: Include a few professional references that can attest to your work ethic and skills.
Awards/Achievements: List any awards or achievements that you have received that are relevant to your job search.
Personal Interests: List out any personal interests or hobbies that you have that may give you an edge over other applicants.
By including these elements in your resume, you will be able to demonstrate to a potential employer that you possess the qualifications and experience that they are looking for in a Senior Clerk.
What is a good summary for a Senior Clerk resume?
A Senior Clerk resume should be a concise summary of a jobseeker's professional qualifications, including work experience, education, skills, and accomplishments. The resume should focus on job-related tasks that show the applicant's ability to fulfill the duties of the position and demonstrate how the jobseeker can contribute to the company's success.
In the work experience section, applicants should include all relevant past jobs, using bullet points to highlight the most important duties and accomplishments. Education should be listed in reverse chronological order, with the highest degree first, and any specialized training or certifications should be noted.
The skills section should include both hard skills, such as knowledge of computer programs and data entry, as well as soft skills, such as customer service and problem-solving. Finally, any awards or recognition should be included, such as a training completion award or a customer service award.
A Senior Clerk resume should be tailored to the specific job opening, highlighting the most important qualifications and skills that make the applicant a good fit for the position.
What is a good objective for a Senior Clerk resume?
Writing a good objective for a Senior Clerk resume is essential for career success. It should be straightforward and should provide a clear overview of your career goals.
Below are some tips for crafting a great objective for a Senior Clerk resume:
Focus on Your Skills: Your objective should emphasize the skills and qualifications you have that make you the ideal candidate for the Senior Clerk position.
Highlight Your Professional Achievements: Mention any awards, certifications, or accomplishments that you have achieved in the past.
Specify Your Career Goals: Include the type of role and the type of company you are looking for.
Utilize Action Words: Use action words to emphasize your eagerness and enthusiasm for the Senior Clerk role.
Keep It Short and Simple: Your objective should be no longer than a few sentences.
By following these tips, you can create an effective Senior Clerk resume objective that will grab the attention of recruiters and help you stand out from the competition.
How do you list Senior Clerk skills on a resume?
When writing a resume for a Senior Clerk position, it is important to highlight skills that will help you stand out from other applicants. Specific skills to include will depend on the job description, but here are some common Senior Clerk skills that many employers look for:
Expert knowledge of office procedures, including filing, data entry, document archiving, and record keeping
Solid understanding of business operations, policies and procedures
Strong customer service orientation
Ability to understand and follow instructions accurately
Highly organized, with excellent time management and multitasking skills
Proficient with office technology such as Microsoft Office, Google Docs and other data entry programs
Exceptional verbal and written communication skills
Ability to work autonomously and collaboratively
Attention to detail and accuracy
Ability to stay calm in a fast-paced environment
Experience working under minimal supervision
Knowledge of office safety protocols and policies.
Including these skills on your resume will show employers that you possess the knowledge, skills and experience necessary to excel in the Senior Clerk position. Be sure to tailor your resume to each job you apply to, and highlight any relevant skills in the job description.
What skills should I put on my resume for Senior Clerk?
A Senior Clerk position requires a wide range of skills to be successful. When constructing your resume, it is important to highlight the skills that make you a great candidate. Here are some of the skills you should include on your Senior Clerk resume:
Knowledge of administrative and clerical procedures: As a Senior Clerk, you will be responsible for overseeing the day-to-day operations of the office. You should be knowledgeable about administrative and clerical procedures such as filing and organizing paperwork, maintaining records, creating documents, etc.
Attention to detail: Senior Clerks must be able to pay attention to small details to ensure accuracy and consistency. You should be able to spot errors quickly and have an eye for detail.
Excellent communication skills: As a Senior Clerk, you will need to have strong communication skills to interact with colleagues, customers, and other stakeholders. You should be able to clearly explain information and relay instructions.
Organizational skills: Senior Clerks must be able to manage their time and multitask efficiently. You should be able to prioritize tasks and follow through on commitments.
Computer proficiency: Senior Clerks must be proficient in using a computer and related software such as Microsoft Office. You should be able to operate and troubleshoot basic computer systems.
Problem-solving abilities: Senior Clerks should be able to think on their feet and come up with creative solutions to problems. You should be able to identify issues and find effective solutions.
By prominently displaying these relevant skills on your resume, you will be able to demonstrate your qualifications for the Senior Clerk position.
Key takeaways for an Senior Clerk resume
Writing a resume for a senior clerk position is no easy task. You need to demonstrate your qualifications and experience for the position, and you'll need to make sure to include the key skills and qualifications that employers value.
Here are some key takeaways for writing a senior clerk resume:
Focus on qualifications. When writing your resume, make sure to include your qualifications and experiences that make you qualified for the position. Include any special certifications or trainings you have completed, as well as any experience you have in the same or a related field.
Highlight your organizational skills. Senior clerks need to be organized and have excellent time management skills. Make sure to emphasize these qualities in your resume.
Show evidence of your computer skills. Most employers expect senior clerks to have strong computer skills. Show that you are proficient in programs such as Microsoft Office, QuickBooks, and other accounting software.
Mention any management experience. If you have any experience leading a team, make sure to include it in your resume. This will demonstrate to employers that you have the leadership skills needed to be an effective senior clerk.
List your customer service skills. As a senior clerk, you'll be interacting with customers on a daily basis. Make sure to include experiences that demonstrate your customer service skills, such as working in retail or hospitality.
By following these five key takeaways, you can ensure that your resume will stand out from the crowd and give you a better chance of landing the job.
Let us help you build
your Resume!
Make your resume more organized and attractive with our Resume Builder