Writing a resume is a crucial part of any job search process, as it is the document that captures your professional identity and highlights your skills and abilities. A project specialist resume should be crafted carefully, as it needs to showcase the individual's expertise in project planning, coordination, and management. This guide will provide clear examples of how to compose a powerful resume that will surely stand out to hiring managers. From outlining the most important information to include to providing tips on formatting, readers will have the knowledge needed to create a professional-looking project specialist resume.
If you didn't find what you were looking for, be sure to check out our complete library of resume examples.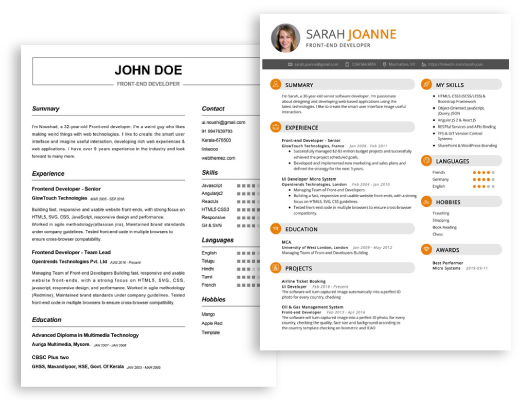 Start building your dream career today!
Create your professional resume in just 5 minutes with our easy-to-use resume builder!
Project Specialist Resume Examples
John Doe
Project Specialist
123 Main Street | Anytown, USA 99999 | Phone: (123) 456-7890 | Email: john.doe@email.com
I am an experienced Project Specialist with 6 years of expertise in project management, team building, and client relations. I thrive in challenging environments and have a proven track record of successfully managing projects from conception to completion. My collaborative approach, keen eye for details, and passion for delivering top- notch results makes me an invaluable asset to any project.
Core Skills:
Project Management: Experienced in managing projects from conception to completion, while staying within budget and timeline.
Team Building: Skilled in recruiting, developing, and leading high- performing teams.
Client Relations: Proficient in developing and sustaining positive relationships with clients.
Problem Solving: Adept at identifying and finding solutions to complex problems.
Communication: Excellent verbal and written communication skills.
Professional Experience:
Project Specialist, ABC Company – 2016 to Present
Developed comprehensive project plans and managed day- to- day project activities.
Negotiated contracts with external vendors and suppliers.
Developed and maintained strong relationships with internal and external stakeholders.
Coordinated resources, tracked progress, and reported project status on a regular basis.
Managed project budgets and monitored financial performance.
Project Coordinator, XYZ Corporation – 2014 to 2016
Analyzed project requirements and provided suitable recommendations.
Developed process improvement strategies and tracked their implementation.
Assisted in design and development of project plans, schedules, and timelines.
Monitored progress, identified areas of improvement, and reported progress to management.
Facilitated team meetings and maintained open communication between team members.
Education:
BA in Project Management – ABC University – 2012 to 2014
Project Specialist Resume with No Experience
Motivated and dedicated professional with an eagerness to learn and grow, seeking an entry- level position in project management and help an organization reach its goals.
Skills:
Effective and clear communication
Manage multiple projects simultaneously
Ability to pay attention to detail
Organizational and time management skills
Thrive in fast- paced environments
Ability to work collaboratively and as an individual
Excellent problem- solving skills
Responsibilities
Develop and implement project plans
Lead team meetings and summarize progress
Monitor progress of projects and report to management
Provide guidance and direction to project teams
Identify potential solutions and recommend them to management
Create and maintain project documentation
Resolve conflicts and provide solutions to issues
Project Specialist Resume with 2 Years of Experience
A driven and motivated Project Specialist with two years of experience leading projects to successful completion. Highly organized and detail- orientated, with a strong focus on delivering exceptional end results on time and on budget. Proven success in leading complex projects, developing efficient processes, and managing stakeholder relationships. Skilled in leveraging technology and resources to optimize project management performance.
Core Skills:
Project Management
Process Improvement
Stakeholder Management
Budget Management
Technology Optimization
Responsibilities:
Developed and implemented effective project plans to deliver projects on time and on budget
Established and monitored project budgets to ensure effective resource utilization
Monitored and managed project progress to ensure timeline compliance
Researched and identified effective process improvement solutions to streamline project efficiency
Managed stakeholder relationships and communicated project updates to ensure alignment with project goals
Leveraged emerging technologies to optimize project management performance and improve overall project outcomes
Project Specialist Resume with 5 Years of Experience
As a Project Specialist with 5 years of experience, I have extensive experience in developing and managing projects from concept to successful completion. I am adept at creating innovative project plans and executing them on time and within budget. I am a highly organized and detail- oriented individual, with excellent communication and problem- solving skills. I am comfortable working independently with minimal supervision and have the ability to manage multiple projects simultaneously.
Core Skills:
Project Management
Budgeting
Team Leadership
Problem Solving
Planning
Organizational Skills
Stakeholder Management
Agile Methodology
Responsibilities:
Develop project plans, timelines and budgets
Manage project resources to ensure optimal utilization
Conduct regular stakeholder meetings to communicate project updates
Lead project teams and manage their performance
Track project performance against milestones and budget
Identify and mitigate risks associated with project execution
Develop and implement project management best practices
Evaluate and make recommendations on opportunities for improvement
Project Specialist Resume with 7 Years of Experience
Highly analytical and motivated Project Specialist with seven years of experience in project management, customer service, and operational support. Familiar with project planning techniques, including budgeting, scheduling and resource allocation. Proven collaborative and communicative skills with the ability to lead cross- functional teams and build relationships within the organization and with external stakeholders. Skilled in problem- solving, strategic thinking, and decision- making.
Core Skills:
Project Management
Customer Service
Operational Support
Budgeting
Scheduling
Resource Allocation
Problem Solving
Strategic Thinking
Decision- Making
Collaboration
Communication
Responsibilities:
Developed project plans and timelines, estimated resource and budget requirements, and coordinated teams to ensure successful completion of projects
Monitored financial performance and implemented strategies to ensure projects stayed within the budget
Acted as a liaison between project teams and external stakeholders
Addressed customer queries, complaints, and feedback in a timely and professional manner
Assisted in development and implementation of operational procedures to improve efficiencies
Developed and maintained comprehensive project documentation
Liaised with vendors, suppliers, and other external stakeholders to ensure timely delivery of services and products
Researched and identified industry trends to develop and implement strategies for improvement of services, products, and processes
Project Specialist Resume with 10 Years of Experience
A highly motivated and experienced Project Specialist with over 10 years of experience in project management, budgeting and development. Possesses a proven track record of success in leading complex projects from initiation to completion and meeting critical milestones. Experienced in handling multiple projects simultaneously and providing in- depth analysis and critical thinking skills to project plans and strategies. Possesses a strong ability to identify risk and problem areas, develop solutions, and take corrective action.
Core Skills:
Project management
Cost estimation
Risk identification and mitigation
Conflict resolution
Budgeting and forecasting
Stakeholder management
Agile/Scrum methodology
Resource Management
MS Office Suite
Data analysis
Responsibilities:
Developed and managed project plans, budgets, and project goals.
Monitored and reported on project progress and performance.
Developed and implemented quality assurance and change management procedures.
Ensured that project deliverables were on time, within budget, and met customer requirements.
Identified potential risks and issues and developed solutions to mitigate them.
Conducted stakeholder meetings to discuss project status, requirements, and changes.
Coordinated internal and external resources to ensure project success.
Negotiated contracts and costs with vendors, suppliers, and other stakeholders.
Managed project teams and provided mentorship and guidance.
Project Specialist Resume with 15 Years of Experience
A highly experienced Project Specialist with 15 years of experience in project and program management, stakeholder management, and process improvement. Demonstrated expertise in successfully planning and executing projects, leading cross- functional teams, monitoring project progress, and maintaining cost control. Able to analyze processes, identify and implement best practices, and ensure compliance with organizational protocols. Adept in working with international teams and managing complex projects.
Core Skills:
Project and Program Management
Stakeholder Management
Process Improvement
Cost Control
Cross- Functional Team Leadership
Strategic Planning
Risk Management
Quality Assurance
Business Analysis
Data Analysis
People Management
Responsibilities:
Develop and implement project plans, including budget, timeline, and milestones
Monitor project progress and provide regular status reports
Manage stakeholder relations and expectations
Identify and manage risks, issues, and conflicts
Ensure compliance with organizational protocols
Facilitate team meetings, workshops, and project reviews
Establish and maintain project budgets and timelines
Analyze processes and recommend solutions for improvement
Lead cross- functional teams of internal and external resources
Develop and implement strategies for successful project delivery
Prepare and present project documents for review and approval
Manage the project life cycle from planning to execution and closure
Monitor quality assurance and ensure consistent quality standards
In addition to this, be sure to check out our resume templates, resume formats, cover letter examples, job description, and career advice pages for more helpful tips and advice.
What should be included in a Project Specialist resume?
A resume for a Project Specialist should include all of the qualifications necessary to ensure the individual is a qualified candidate for the job. A Project Specialist is responsible for overseeing projects from start to finish, managing timelines, and ensuring that all tasks are completed on time and within budget.
It is important for potential employers to know that the candidate is a qualified candidate for the job and that they possess the necessary skills to complete the job successfully. Here is a checklist of what should be included in a Project Specialist resume:
Relevant experience: List all relevant experience, including past roles and responsibilities.
Educational qualifications: Include any relevant degrees or certifications related to the field.
Technical skills: Note any technical skills related to the job, such as software experience or project management tools.
Professional references: Include three professional references that can attest to your abilities as a Project Specialist.
Leadership skills: Demonstrate any leadership or management skills acquired from past experience.
Communication skills: Highlight your ability to communicate effectively with colleagues and clients.
Problem-solving abilities: Showcase any problem-solving abilities that could be useful for the job.
Attention to detail: Demonstrate your ability to pay close attention to detail and stay organized.
With these qualifications included in your resume, employers will be able to see that you are a qualified candidate for the Project Specialist position. Make sure to highlight any experience, education, and skills that make you the ideal candidate for the job.
What is a good summary for a Project Specialist resume?
A Project Specialist resume should concisely and accurately summarize relevant experience and qualifications, highlighting key expertise and accomplishments. This summary should show the hiring manager that the job candidate is capable of taking on new tasks and completing them efficiently.
The resume summary should focus on the individual's knowledge and understanding of relevant processes, their ability to work on projects independently, and their leadership skills. It should also emphasize any relevant technical or problem-solving expertise, as well as the ability to multitask and manage multiple projects at once.
Finally, the summary should demonstrate strong organizational, communication, and analytical abilities. This will help to convince the hiring manager that the job candidate is the best fit for the Project Specialist role.
What is a good objective for a Project Specialist resume?
A successful Project Specialist resume should include an objective that concisely highlights the relevant skills and experience that make you a prime candidate for the job. It should provide a summary of your qualifications and demonstrate why you are best suited for the role. Here are some objectives to consider for a Project Specialist resume:
Experienced Project Specialist with over 5 years of experience in the field and a successful track record of managing complex projects, ensuring on-time delivery, and meeting customer requirements.
Detail-oriented professional with excellent problem-solving, communication, and organizational skills, seeking to leverage expertise in project management to successfully lead projects at XYZ company.
Results-driven Project Specialist with a passion for developing innovative solutions and leading project teams to success. Looking to apply expertise in budgeting and analytics to drive projects and initiatives of XYZ company.
Dedicated Project Specialist with knowledge of project management best practices and a commitment to achieving excellent project outcomes. Seeking to join XYZ company and utilize strong leadership and communication skills to ensure project success.
How do you list Project Specialist skills on a resume?
When creating a resume for a Project Specialist position, it is important to highlight the skills that are specific to the job. Project Specialists serve as the point of contact between the project team and their clients, so they must possess a combination of technical, organizational, and customer service skills.
When listing these skills on a resume, it is important to tailor them to match the specific job you are applying for. Here are some skills to consider including:
Project Management: Ability to coordinate resources and tasks, set timelines, and oversee the successful completion of projects.
Technical Skills: Knowledge of project management software, including MS Project, Basecamp, and Asana, as well as technical troubleshooting abilities.
Communication Skills: Ability to communicate effectively with a variety of stakeholders, both internally and externally.
Organizational Skills: Ability to organize and prioritize tasks, manage risk, and ensure projects are completed on time and within budget.
Customer Service: Dedication to resolving customer feedback and inquiries in a timely, efficient manner.
Problem-Solving: Ability to analyze situations and propose creative solutions.
By including these skills on your resume, you can demonstrate that you have the necessary qualifications to be a successful Project Specialist.
What skills should I put on my resume for Project Specialist?
When applying for a position as a Project Specialist, it is important to have the right skills and qualifications listed on your resume to make sure you stand out from the competition. Here are some skills to consider including on your resume:
Technical proficiency: As a Project Specialist, you need to demonstrate technical expertise with a range of software and tools such as Microsoft Office Suite, online project management tools, and other relevant applications.
Communication and interpersonal skills: The ability to communicate effectively and build relationships with project stakeholders is essential for Project Specialists. You need to be able to explain technical concepts in a clear and concise manner, as well as listen to the needs of others and provide constructive feedback.
Organization and planning: It is important for Project Specialists to be organized and able to plan projects in an efficient and effective manner. You need to be able to create and track timelines, coordinate resources, and manage budgets.
Critical thinking and problem-solving: In order to be successful in a Project Specialist role, you need to be able to think critically and solve complex problems. This includes being able to identify issues, develop innovative solutions, and handle competing demands.
Adaptability and flexibility: Project Specialists need to be able to adapt quickly to changing requirements, environments, and deadlines. You should be able to remain calm under pressure and be willing to adjust your approach and strategy to achieve the desired results.
These are just some of the skills you should consider including on your resume to make sure you stand out when applying for a Project Specialist position. Highlighting the right skills and qualifications can help you land the job and take your career to the next level.
Key takeaways for an Project Specialist resume
A Project Specialist plays an important role in any organization, helping to ensure that projects run smoothly and efficiently. Therefore, resumes for this position must be tailored to showcase the skills and experience that a potential employer is looking for. Below are some key takeaways to keep in mind when crafting a Project Specialist resume.
Highlight project management experience. Project Specialists must be proficient in project management, so make sure to highlight any project management experience you have. Include any specific project related tasks you may have been involved in, such as leading team meetings, scheduling tasks, and tracking progress.
Demonstrate problem-solving skills. Project Specialists must also be able to identify and solve any potential problems that may arise. Mention any challenging projects you've been a part of, and how you were able to help find solutions to the issues.
Showcase your organizational skills. During the course of a project, Project Specialists must be able to coordinate the efforts of different teams and manage resources in an efficient manner. Make sure to list any organizational skills you have, such as being able to prioritize tasks, make sure deadlines are met, and manage expectations.
List communication skills. Communication is a key part of any project, and a Project Specialist must be able to effectively communicate with all of the stakeholders involved. Mention any communication skills you have, such as being able to present effectively and maintain relationships with clients and vendors.
These are just a few of the key takeaways to keep in mind when crafting a Project Specialist resume. Make sure to include as much relevant information as possible to give potential employers an idea of your experience and capabilities.
Let us help you build
your Resume!
Make your resume more organized and attractive with our Resume Builder