A project secretary is a vital part of a project team, providing support and assistance throughout the project process. Securing a project secretary role requires a strong resume that outlines your skills in the area and demonstrates your ability to efficiently manage the project. Writing a resume can be challenging, and this guide will provide you with tips and advice on how to craft a successful project secretary resume. Examples of resumes for project secretary positions are also included, so that you have a better understanding of the elements and content that should be included. With this guide, you will have all the tools you need to create a high-quality project secretary resume that will help you land the job of your dreams.
If you didn't find what you were looking for, be sure to check out our complete library of resume examples.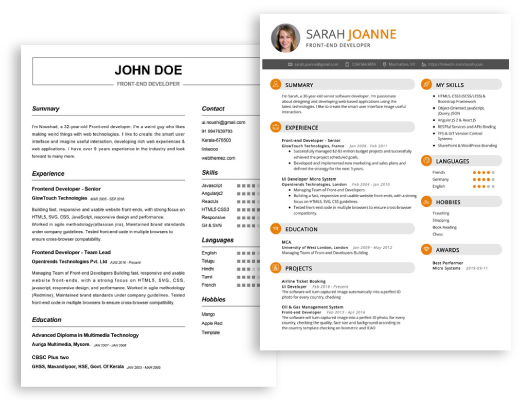 Start building your dream career today!
Create your professional resume in just 5 minutes with our easy-to-use resume builder!
Project Secretary Resume Examples
John Doe
Project Secretary
123 Main Street | Anytown, USA 99999 | Phone: (123) 456-7890 | Email: john.doe@email.com
I am an organized and detail- oriented professional with over 9 years of experience as a project secretary. My technical skills cover the full range of office software, as well as advanced knowledge of databases and project management tools. I have a proven ability to manage complex projects and provide effective support to project teams. I am an excellent communicator with strong problem- solving skills and an ability to work well with all levels of personnel within the organization.
Core Skills:
Project Management
Database Development & Management
Microsoft Office & Software Applications
Communication & Interpersonal Skills
Time Management & Prioritization
Problem Solving & Decision Making
Client Relations & Strategic Planning
Professional Experience:
Project Secretary, ABC Corp., 2012- present
Managed complex projects with efficiency and accuracy
Developed and maintained organized databases for project tracking and reporting
Provided administrative support and assistance to project teams, including document processing and communication
Communicated effectively and efficiently with stakeholders to ensure successful project completion
Project Clerk, XYZ Corp., 2009- 2012
Assisted in the development and implementation of project plans, schedules and budgets
Prepared and reviewed project- related documents
Monitored project progress and reported to project teams
Handled customer inquiries and provided support to project stakeholders
Education:
Bachelor of Science in Business Administration, University of City, 2006- 2009
Project Secretary Resume with No Experience
Recent graduate with excellent leadership and organizational skills, seeking to use those skills as a Project Secretary in a professional setting.
Skills:
Excellent written and verbal communication skills
Strong organizational and prioritization skills
Highly motivated and reliable
Ability to manage multiple tasks at once
Proficient in Microsoft Office programs
Able to follow instructions and work independently
Responsibilities
Maintaining calendars, scheduling and coordinating meetings, and preparing meeting agendas
Providing administrative support to project teams
Organizing and filing documents and other paperwork
Handling incoming calls and emails
Assisting with office operations and administrative tasks
Ensuring project deadlines and goals are met
Providing assistance as needed to project team members
Collaborating with project teams to ensure successful completion of tasks
Project Secretary Resume with 2 Years of Experience
Highly dedicated Project Secretary with two years of experience providing administrative support for various projects and teams. Proven ability to prioritize tasks and meet tight deadlines while still maintaining a high level of quality. Possess excellent organizational, communication and problem- solving skills. Adept at maintaining a professional attitude and creating an environment conducive to productivity.
Core Skills:
Project Management Procedures
Time Management
Calendar Scheduling
Meeting Coordination
Database Management
Data Entry
Filing
Confidentialism
Office Procedures
MS Office Suite
Organizational Skills
Responsibilities:
Assisted project managers and coordinators in various projects and tasks
Assured timely and accurate completion of project documents and records
Scheduled and coordinated meeting plans, events and activities
Maintained databases of project information, ensuring accuracy of data
Typed and processed confidential reports, correspondence, and other documents
Filed and retrieved project- related documents and reports
Compiled and distributed meeting minutes, agendas and other materials
Created and edited PowerPoint presentations and Excel spreadsheets
Provided general administrative support to the project team
Performed data entry of project information into the systems
Responded to inquiries and provided customer service
Project Secretary Resume with 5 Years of Experience
A highly efficient Project Secretary with 5 years of experience in providing administrative and clerical support to project teams. My experience ranges from managing calendars and arranging meetings, to writing and editing reports, preparing and analyzing data, and tracking project progress. Possessing excellent problem solving and communication skills, I am able to coordinate activities to ensure projects remain on track and on budget.
Core Skills:
Organizational and administrative skills
Strong written and verbal communication
Project coordination and tracking
Data entry and analysis
Proficiency in MS Office
Ability to work independently and meet deadlines
Responsibilities:
Manage and coordinate project activities and timelines
Provide administrative and secretarial support to project teams
Assist with project reporting including spreadsheets, charts, and presentations
Ensure accuracy and consistency of project documents
Maintain up- to- date records of project progress and issues
Coordinate meetings and provide follow- up notes and action items
Work with project stakeholders to ensure objectives are met
Track project expenses and provide budget updates
Research and analyze data as needed for projects and reports
Ensure compliance with company policies and procedures
Project Secretary Resume with 7 Years of Experience
Highly organized and proactive Project Secretary with seven years of experience in administrative roles, offering expertise in providing executive- level support and driving successful project outcomes. Possessing strong attention to detail and a demonstrated ability to prioritize tasks to meet tight deadlines. Skilled in developing and maintaining strong working relationships with colleagues and clients.
Core Skills:
Versed in MS Office suite, including Word, Excel, PowerPoint, and Outlook
Proficient in project management and scheduling software
Strong organizational skills
Excellent written and verbal communication
Ability to quickly learn new technologies and systems
Highly developed research and problem- solving abilities
Responsibilities:
Organizing, scheduling and coordinating project meetings
Coordinating staff assignments and delegation of tasks
Creating, formatting and editing documents for project- related purposes
Monitoring and ensuring project deadlines are met
Managing project budgets, invoices and expenses
Maintaining project databases, files and tracking systems
Providing support to project teams in the collection and analysis of data
Liaising with external clients and stakeholders to ensure successful project outcomes
Project Secretary Resume with 10 Years of Experience
A highly organized, detail- oriented and dedicated individual with 10 years of experience in project secretary roles. Experienced in providing administrative support to project managers and performing a range of administrative tasks including generating reports, coordinating meetings, tracking project progress, and ensuring compliance with policies and procedures. Committed to providing high quality support to ensure projects stay on track and successful completion.
Core Skills:
Excellent organizational and administrative skills
Proficient in a range of software programs
Strong mathematical and analytical skills
Ability to communicate effectively at all levels
Excellent interpersonal and customer service skills
Ability to work independently and as part of a team
Knowledge of office administration procedures
Responsibilities:
Compiling time- sensitive project reports and summaries
Coordinating meetings, teleconferences and other activities related to the project
Tracking project progress and updating databases
Arranging travel and accommodation for project team
Managing project invoices and expenses
Ensuring compliance with company policies and procedures
Providing administrative support to project managers
Assigning tasks and deadlines to team members
Preparing agendas for project meetings and recording minutes
Project Secretary Resume with 15 Years of Experience
Experienced Project Secretary with 15 years of experience providing project- related administrative support to engineering and manufacturing organizations. Proficient in project management software, office automation systems and online collaboration tools. Skilled in researching, organizing and presenting data, tracking deadlines and providing excellent customer service. Ability to work independently and manage multiple tasks simultaneously.
Core Skills
Project management software
Office automation systems
Online collaboration tools
Research
Data organization
Deadline tracking
Customer service
Multi- task management
Responsibilities
Provided administrative support to engineering and manufacturing organizations
Assisted in project planning and scheduling
Developed and maintained records of project progress and project status
Collaborated with colleagues and stakeholders to ensure projects ran smoothly
Prepared and distributed project documents, proposals, and communications
Coordinated project meetings, events, and conferences
Tracked and reported progress on multiple projects
Maintained project databases and filing systems
Provided customer service to customers and stakeholders
Assisted in resolving technical, operational and project related issues
In addition to this, be sure to check out our resume templates, resume formats, cover letter examples, job description, and career advice pages for more helpful tips and advice.
What should be included in a Project Secretary resume?
A job as a Project Secretary requires excellent multitasking, organization, and communication skills. A well-crafted resume should reflect these qualities and emphasize your experience working on complex projects in a professional setting.
When creating a Project Secretary resume, there are certain elements that should be included.
Education: List any post-secondary degrees or diplomas that you have.
Work Experience: Include any experience related to project management. Describe your past job duties, such as preparing reports and documents for meetings, organizing and coordinating meetings, and handling administrative tasks.
Skills: List any software or tools that you have experience using, such as Microsoft Office or Adobe Creative Suite. Also list any other relevant skills, such as scheduling, problem-solving, and data management.
Certifications: If you have any certifications related to project management, include them on your resume.
References: Include a list of references that can speak to your qualifications and past professional experiences.
By including these elements in your resume, you will demonstrate to potential employers that you are well-suited for the position of Project Secretary.
What is a good summary for a Project Secretary resume?
A good summary for a Project Secretary resume should include a brief overview of the candidate's experience in project coordination and management, as well as their ability to work collaboratively with other team members. The summary should also highlight any relevant qualifications such as knowledge of project management software and the candidate's ability to multitask and handle multiple tasks effectively. Additionally, the summary should focus on the candidate's exceptional communication, organizational, and problem-solving skills. By doing so, the summary will give the employer a better understanding of the candidate's abilities and suitability for the role.
What is a good objective for a Project Secretary resume?
Writing an effective resume can be a challenge, especially when it comes to crafting an objective statement. While the objective should be tailored to the job you are applying for, there are certain qualities that apply to most project secretary positions. When writing your objective for a project secretary resume, consider the following goals:
To use a keen eye for detail and strong organizational skills to coordinate the workflow of a project and ensure the successful completion of time-sensitive tasks.
To bring experience in handling confidential information, taking accurate minutes, and providing administrative support to the project team.
To utilize excellent communication skills to collaborate effectively with all stakeholders, including clients, vendors, and other project personnel.
To utilize strong problem-solving skills to anticipate and address potential issues, and assist with project troubleshooting.
To leverage extensive knowledge of office software and other tools to complete tasks quickly and efficiently.
How do you list Project Secretary skills on a resume?
Project secretary skills are essential for succeeding in the role of a project secretary. Project secretaries are responsible for a variety of tasks, from organizing meetings and maintaining records to project management and document control. When listing project secretary skills on a resume, it is important to highlight both the technical and soft skills necessary to be successful in this role.
Organizational Skills: Ability to create and maintain project documents, organize meetings, coordinate schedules, and balance competing deadlines.
Interpersonal Skills: Ability to work effectively with stakeholders, colleagues, and clients.
Communication Skills: Proficiency in written and verbal communication, including ability to create documents, reports, and presentations.
Project Management: Ability to monitor and manage project progress, budgets, and deadlines.
IT Skills: Knowledge of Microsoft Office Suite and other software programs relevant to the project.
Time Management Skills: Ability to set priorities, manage workloads, and meet deadlines.
Leadership Skills: Ability to motivate and inspire colleagues, as well as lead teams to deliver successful project outcomes.
Problem-Solving Skills: Ability to anticipate and identify potential risks and issues, and develop creative solutions.
Attention to Detail: Ability to review and ensure accuracy of project documents and other communications.
What skills should I put on my resume for Project Secretary?
A project secretary provides administrative and organizational support to a project team. Many employers seek project secretaries with strong organizational, communication, and problem-solving skills. When writing your resume for a position as a project secretary, make sure to include your relevant skills and qualifications. Here are some key skills that employers look for when hiring a project secretary:
Organizational Skills: Project secretaries need to be able to manage multiple tasks and coordinate deadlines. This may include keeping a project plan and tracking progress, scheduling meetings, and creating reports.
Communication Skills: An effective project secretary needs to be able to communicate effectively in both written and spoken forms. This may include preparing emails, taking notes, and providing updates to team members.
Problem-Solving Skills: Project secretaries need to be able to handle conflicts and problems that arise between project team members. They must be able to think critically, analyze the situation, and recommend solutions.
Computer Skills: Project secretaries must have a high level of proficiency in Microsoft Office Suite, including Word, Excel, Outlook, and PowerPoint. They must also have an understanding of database software, project management software, and other relevant tools.
Time Management: Project secretaries need to be able to manage their own time and that of the entire project team. This includes setting deadlines, tracking progress, and overseeing team members to make sure deadlines are met.
Attention to Detail: Project secretaries need to have excellent attention to detail. This includes double-checking data, catching errors, and ensuring that all documents are accurate and up-to-date.
Key takeaways for an Project Secretary resume
As a project secretary, you need an effective and comprehensive resume to showcase your talents to potential employers. Your resume should demonstrate your technical expertise, organizational skills, and communication abilities. Here are some key takeaways for an effective project secretary resume:
Highlight Your Technical Expertise: Make sure to showcase your technical skills on your resume. This includes proficiency in project management software, Microsoft Office, and other relevant applications. Include any certifications or training that you have received to demonstrate your expertise.
Showcase Your Organizational Abilities: Organizations rely on project secretaries to keep projects organized and running smoothly. Make sure to highlight any experience you have in managing tasks, organizing meetings, and handling correspondence.
Demonstrate Your Communication Skills: A project secretary must be able to effectively communicate with a variety of different stakeholders. Make sure to highlight any communication skills that you possess, such as writing or public speaking.
Detail Your Experience: Include any relevant experience you have in a project secretary role. Include the duties that you were responsible for and how you performed them.
Include Other Relevant Skills: Depending on the nature of the role, you may need to have other skills. Detail any information you have in fields such as accounting, data entry, and word processing.
By emphasizing your technical expertise, organizational abilities, communication skills, and other relevant skills, you can create an effective resume for a project secretary role. Showcasing these qualities will demonstrate to employers why you are a qualified candidate for the position.
Let us help you build
your Resume!
Make your resume more organized and attractive with our Resume Builder