Writing an effective executive resume is no easy feat. Whether you're starting from scratch or just tweaking your current resume, putting together a winning executive resume requires both time and effort. It's important to make sure your resume stands out from the competition and highlights your skills, experience, and accomplishments. This project executive resume writing guide will provide you with helpful tips and tricks to ensure your resume stands out and helps you land the job you want. With our detailed guidance and examples, you'll be one step closer to landing your dream job.
If you didn't find what you were looking for, be sure to check out our complete library of resume examples.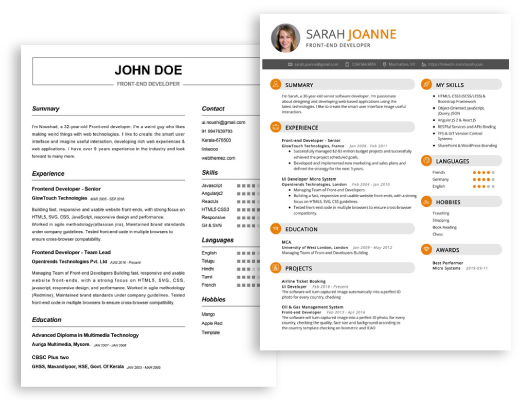 Start building your dream career today!
Create your professional resume in just 5 minutes with our easy-to-use resume builder!
Project Executive Resume Examples
John Doe
Project Executive
123 Main Street | Anytown, USA 99999 | Phone: (123) 456-7890 | Email: john.doe@email.com
A highly experienced and motivated project executive with over 15 years of proven experience in project management. Possesses a proven track record of success in leading complex, multi- million dollar projects to successful completion. Possesses the ability to effectively lead and motivate teams to reach the highest standards of performance. Adept in identifying project risks, developing proactive solutions, and managing resources to optimize project performance.
Core Skills:
Project Planning: Experienced in developing comprehensive project plans that include deliverables, timelines, milestones, and budgets.
Complex Project Management: Proven ability to successfully manage large, complex projects that span multiple disciplines and geographically distributed teams.
Risk Management: Capable of identifying, assessing, and managing project risk to ensure successful project delivery.
Stakeholder Management: Skilled in engaging stakeholders at all levels and ensuring their expectations are met.
Team Leadership: Possesses a strong leadership style that motivates and encourages team members to reach their highest performance potential.
Professional Experience:
Verizon Wireless, Project Executive (2016- present)
Developed project plan, timeline, and budget for a $25 million nationwide project.
Successfully led a team of engineers and technicians in the completion of the project on schedule and within budget.
Adeptly managed project risks, identified solutions, and made adjustments as needed.
Effectively managed stakeholders and ensured expectations were met.
AT&T, Project Executive (2012- 2016)
Developed a project plan, timeline, and budget for a $10 million international project.
Managed a team of engineers, technicians, and project managers to completion of the project on time and within budget.
Proactively identified and evaluated project risks and developed solutions to mitigate them.
Skillfully managed stakeholders at all levels to ensure expectations were met.
Project Executive Resume with No Experience
Highly motivated and enthusiastic professional with excellent administrative, communication and interpersonal skills
Detail- oriented with a strong work ethic and a desire to learn more about the project executive role
Strong background in customer service and project coordination
SKILLS
Strong organizational and multitasking skills
Ability to prioritize tasks and manage time effectively
Excellent verbal and written communication skills
Proficient in Microsoft Word, Excel, PowerPoint, and Outlook
Strong analytical and problem- solving skills
Excellent customer service and interpersonal skills
Responsibilities
Provide administrative support to project managers and executive team
Assist in planning and organizing meetings, conferences and other events
Prepare and maintain project documents, reports and presentations
Monitor and update project status and progress
Manage and track project timelines
Communicate project progress and updates to stakeholders
Assist in researching and gathering project requirements
Create and maintain project plans, budgets, and timelines
Provide technical support to project teams
Project Executive Resume with 2 Years of Experience
Dynamic and motivated professional with over 2 years of experience as a Project Executive, managing and overseeing multiple projects from start to finish. Skilled in project design and development, strategic planning and implementation, risk management and quality assurance. Proven ability to manage large- scale projects ensuring successful completion on time and within budget. Possess strong communication, organizational and problem- solving skills.
Core Skills:
Project Design & Development
Strategic Planning & Implementation
Risk Management
Quality Assurance
Problem- Solving
Leadership
Communication
Organizational
Time Management
Responsibilities:
Develop and implement project plans and timelines.
Manage and monitor project progress.
Identify and resolve project issues.
Supervise and mentor project team members.
Analyze and document business processes.
Develop and implement project budgets.
Develop and document project standards and procedures.
Evaluate project performance and report progress to stakeholders.
Prepare project deliverables and presentations.
Ensure compliance with applicable regulations and standards.
Conduct risk assessments and develop risk management strategies.
Develop and implement quality assurance processes.
Negotiate and manage project contracts.
Project Executive Resume with 5 Years of Experience
Experienced and detail- oriented Project Executive with 5 years of experience in project management and delivering successful outcomes. Dedicated to driving project objectives to completion while upholding the highest standards of excellence. Demonstrated ability to successfully manage projects and ensure they are delivered on time, on budget and within scope. Excellent organizational, communication and problem solving skills.
Core Skills:
Excellent interpersonal, communication and organizational skills
Proven track record in driving successful project outcomes
Ability to understand complex projects and design innovative solutions
Proficient in project management tools and technologies
Proficiency in analyzing data and identifying trends
Responsibilities:
Leveraging project management methodology to design, plan and manage projects
Identifying and mitigating risks to project success
Creating and managing project budget
Developing and maintaining relationships with stakeholders
Leading, managing and motivating project teams to achieve objectives
Tracking progress, analyzing data and providing status updates
Establishing project governance and ensuring compliance with policies
Assisting with procurement activities and vendor management
Negotiating and resolving conflicts with stakeholders
Ensuring delivery of projects within scope, time and budget constraints
Project Executive Resume with 7 Years of Experience
Dynamic and experienced Project Executive with 7 years of success in managing and executing multiple projects. A proven track record of delivering projects in an efficient, cost effective manner. Proven ability to develop and maintain meaningful relationships with clients and stakeholders. Experienced in delivering projects from concept to completion, utilizing strong organizational and problem- solving skills.
Core Skills:
Superior planning and organizational skills
Excellent written and verbal communication
Proven ability to manage a diverse group of stakeholders
Strong knowledge of project management tools and methodologies
Proficient in MS Office Suite
Ability to work in a fast- paced environment
Responsibilities:
Developed and maintained project plans, budgets and timelines
Created and implemented project management procedures
Managed project team, including assigning tasks and monitoring progress
Ensured projects were completed on time and within budget
Liaised with stakeholders, clients and vendors to ensure successful project execution
Monitored project progress, identified and resolved project issues
Prepared regular reports on project progress for senior management
Negotiated contracts with vendors and suppliers
Project Executive Resume with 10 Years of Experience
Dynamic Project Executive with 10 years of experience in project management, successful in leading different teams and clients in order to reach project goals. Skilled in implementing effective strategies, managing budgets and schedules, and creating comprehensive reports. Experienced in strategic planning, problem solving, and risk management.
Core Skills
Project Management
Budget Management
Strategic Planning
Risk Management
Team Leadership
Problem Solving
Client Relations
Scheduling
Documentation
Responsibilities
Managed extensive project management activities including budget, timeline, resource planning, and day- to- day tasks.
Developed effective strategies to increase customer satisfaction and reduce customer complaints.
Developed a comprehensive project plan that encompassed timeline, budget, and resource management.
Established and maintained effective client relationships to ensure successful completion of projects.
Monitored project progress and identified potential risks to ensure successful delivery.
Collaborated with team members to create comprehensive project reports.
Supervised team members and provided guidance and training to ensure efficient workflow.
Assisted in solving problems and resolving conflicts within the team.
Prepared and updated project documents, such as project schedules and change orders.
Project Executive Resume with 15 Years of Experience
Experienced project executive with 15 years of extensive experience in leading and managing projects for large corporations, ranging from operational to technical projects. A detail- oriented and methodical individual with the ability to work efficiently both independently and within a team. Comprehensive understanding of project management principles, tools, and methodologies. Adept at creating and implementing project plans, executing projects on time, and within budget.
Core Skills:
Highly organized and detail- oriented
Proven leadership and interpersonal skills
Analytical and problem- solving skills
Excellent communication and presentation skills
Experienced in budgeting and resource allocation
Proficient in project timeline estimation
Proficient in MS Project and other project management tools
Knowledge of relevant regulatory compliance
Knowledge of business operations
Responsibilities:
Develop and manage project plans and timelines
Monitor project progress and identify potential risks
Liaise with stakeholders to ensure project objectives are met
Manage resources and allocate tasks to team members
Prepare and present project status reports to internal and external stakeholders
Ensure that project standards and deliverables are met
Negotiate contracts with vendors and suppliers
Oversee budgeting and financial planning for projects
Adjust project plans to accommodate changes in project scope or timeline
Train and mentor team members on project management principles
Coordinate with other departments to ensure projects are completed on time and within budget
In addition to this, be sure to check out our resume templates, resume formats, cover letter examples, job description, and career advice pages for more helpful tips and advice.
What should be included in a Project Executive resume?
A successful project executive resume should include a detailed overview of your professional experience in the project management field, along with any relevant certifications or qualifications. It should also provide evidence of your success in leading projects throughout their lifecycle, from initiation to closure.
When preparing your project executive resume, make sure to include the following components:
Contact Information: Include your name, address, phone number, and email address.
Professional Summary: A brief synopsis of your professional background, qualifications, and accomplishments.
Education: List your degrees, certifications, and any relevant coursework.
Experience: Include a list of the project management roles you've held, along with a summary of your responsibilities in each role.
Skills: Provide a list of the project management skills you have, including any software programs or technical skills you have mastered.
Achievements: Highlight successes from each position you've held, such as cost savings or successful project launches.
Professional Development: Mention any relevant workshops, seminars, or conferences you've attended.
References: Include a list of professional references who can speak to your work ethic and experience.
By including these components in your project executive resume, you'll be able to showcase your qualifications and demonstrate why you're the best candidate for the position.
What is a good summary for a Project Executive resume?
A Project Executive resume should summarize the executive's experience and accomplishments managing complex, high-profile projects. It should highlight the executive's ability to lead and manage multiple projects, motivate and collaborate with teams, and successfully deliver results. It should include concrete examples of the executive's success in leading and managing project teams, budgets, and deadlines. Additionally, the summary should include the executive's qualifications and areas of expertise, such as technical experience, strategic planning, and problem-solving. Finally, the summary should articulate the executive's value to prospective employers and articulate the executive's commitment to excellence.
What is a good objective for a Project Executive resume?
Are you a Project Executive looking to create a resume that stands out among your peers? An important part of creating a strong resume is to include a clear, concise, and achievable objective. Your objective should be tailored to the position you are applying for, and should provide a glimpse of what you can bring to the position.
If you're not sure what a good objective looks like for a Project Executive resume, we've put together some tips to help you create the perfect one.
Start with a statement about your experience: You could start your objective with a statement about your experience or qualifications as a Project Executive. This could be something like, "Experienced Project Executive with 8+ years of experience in project management and team leadership."
Mention desired position: In the objective, make sure to mention the desired position you're applying for. This allows employers to quickly identify what you're looking for in a job.
Highlight your accomplishments: Make sure to highlight your past accomplishments in the objective. This could include things like successful project launches, cost savings, or increased efficiency.
Show your enthusiasm: Lastly, make sure to show your enthusiasm for the position. This could be something like, "Passionate about creating successful projects and leading teams to success."
Creating an effective objective for a Project Executive resume is an important part of creating a strong resume. Be sure to include a statement about your experience, mention the desired position, highlight your accomplishments, and show your enthusiasm for the position. By doing this, you'll be sure to create an objective that stands out among your peers.
How do you list Project Executive skills on a resume?
Project executives are responsible for managing the day-to-day operations of projects and ensuring their successful completion. To stand out in the job market, you will need a resume that accurately reflects your skills and capabilities. Here are some tips on how to list project executive skills on a resume:
Demonstrate your understanding of project management processes, such as budgeting, scheduling, resource allocation, and risk management.
Showcase your ability to create project plans and set objectives and timelines.
Highlight your experience in leading and motivating project teams to reach targets.
Demonstrate your effective communication, collaboration, and negotiation skills.
Showcase your ability to develop effective strategies and resolve complex issues.
Mention your proficiency in using project management software, such as MS Project and Microsoft Office.
Describe your experience in creating and delivering project status reports and presentations.
Demonstrate your problem-solving and analytical skills.
Showcase your ability to develop and maintain strong relationships with stakeholders.
Demonstrate your understanding of project governance and quality assurance processes.
What skills should I put on my resume for Project Executive?
As a project executive, employers will expect you to have an extensive set of skills to successfully manage projects. When crafting your resume, make sure to emphasize the skills that you possess that will make you an asset on any project.
Below is a list of skills that should be included on your resume if you are applying for a role as a project executive:
Project management: As a project executive, you will be responsible for overseeing and managing projects from start to finish. This requires strong project management skills such as the ability to effectively plan and execute projects, manage timelines and budgets, and identify risks.
Leadership: Project executives must be able to lead teams of people and drive projects towards success. Leadership skills such as communication, problem solving, team building and conflict resolution are essential.
Technical expertise: Depending on the scope of the project, you may need to possess a certain level of technical expertise. This could include proficiency in certain software, engineering, or coding. Make sure to highlight any technical qualifications you have.
Financial management: As a project executive, you must be able to manage a project's financial resources. This includes budgeting, tracking spending, and managing cash flow.
Analytical skills: Strong analytical skills are essential in project management. You must be able to analyze data, assess risks, and identify trends in order to make sound decisions.
Interpersonal skills: You will be working with a variety of people from different departments and backgrounds. It is important that you have strong interpersonal and communication skills in order to work effectively with others.
By emphasizing the skills listed above on your resume, you will be able to demonstrate your qualifications as a project executive and increase your chances of landing the job.
Key takeaways for an Project Executive resume
When crafting a resume as a Project Executive, it is important to make sure you are presenting the core aspects of your experience in an effective way. Here are some key takeaways and tips to keep in mind when constructing your resume:
Highlight Your Project Management Skills: Showcase your project management skills by listing the processes you have implemented that have been successful in driving project results and improving efficiency.
Emphasize Your Leadership: Demonstrate that you have the capability to lead complex projects by listing the projects you have successfully completed and the successes you achieved.
Demonstrate Strategic Thinking: Demonstrate your ability to think strategically and problem solve by highlighting example of when you have had to make critical decisions in difficult situations.
Showcase Your Successes: Focus on the successes of your projects to demonstrate your ability to deliver results.
Use Professional Language: Make sure to use professional language throughout your resume to give the impression of a professional and experienced individual.
Showcase Your Knowledge: Demonstrate your knowledge of the industry by including relevant technical or industry-specific terminology and buzzwords that demonstrate your understanding of the sector.
Track Your Results: Include quantitative data to demonstrate the results you have achieved on projects.
Keep It Clear and Concise: Make sure that you keep your resume clear, concise and to the point. Avoid long paragraphs and long lists of skills and accomplishments.
By following these key takeaways, you will be able to craft an effective resume that will grab the attention of potential employers and demonstrate your skills and experience as a Project Executive.
Let us help you build
your Resume!
Make your resume more organized and attractive with our Resume Builder