Whether you are looking to apply for a new job or are in the process of switching roles, having a professional resume is a must. As a project administrator, crafting the perfect resume can be tricky as it is important to highlight your technical and organizational skills while also ensuring that your resume stands out from the competition. To help, this blog post provides a comprehensive guide to writing a project admin resume, including best practices, examples, and tips to help you create a resume that will get you noticed.
If you didn't find what you were looking for, be sure to check out our complete library of resume examples.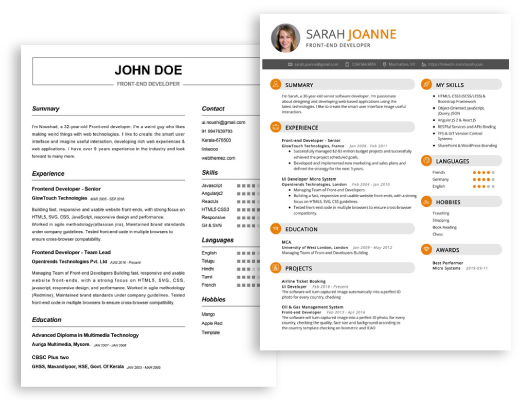 Start building your dream career today!
Create your professional resume in just 5 minutes with our easy-to-use resume builder!
Project Admin Resume Examples
John Doe
Project Admin
123 Main Street | Anytown, USA 99999 | Phone: (123) 456-7890 | Email: john.doe@email.com
An experienced professional with proven project management and leadership skills, I have a track record of successfully managing complex projects and achieving outstanding results. With five years of experience in delivering high- quality projects, I am confident I can offer a valuable contribution to any organization.
Core Skills:
Proven ability to manage complex projects with tight deadlines.
Excellent communication, problem solving and organizational skills.
Experienced in budget management and resource allocations.
Proficient in project management software tools.
Strategic thinker with strong leadership capabilities.
Professional Experience:
Project Manager
ABC Company, 2017 – 2020
Successfully managed multiple concurrent projects with tight deadlines and budgets.
Developed and implemented a project management methodology that improved efficiency and helped to streamline processes.
Identified and managed project risks, ensuring the successful completion of projects.
Developed and maintained project plans and schedules.
Managed the assigned project resources, ensuring effective utilization of resources.
Education:
Bachelor of Science in Project Management
XYZ University, 2014 – 2017
Project Admin Resume with No Experience
Highly organized, self- motivated individual with a can- do attitude and the determination to provide exceptional customer service. Expertise in problem- solving, multitasking, and time management.
Skills:
Excellent communication and interpersonal skills
Strong organizational and multitasking capabilities
Proficient in Microsoft Office Suite (Word, Excel, PowerPoint)
Exceptional customer service skills
Ability to work independently and within a team
Responsibilities
Developing and maintaining project plans, deliverables, and reports
Ensuring projects are completed on time and within budgets
Managing and organizing project- related documents
Providing assistance to other stakeholders in meeting project objectives
Identifying and resolving any project issues that arise
Coordinating project activities and tracking progress
Project Admin Resume with 2 Years of Experience
A highly organized and motivated project administrator with two years of experience in project coordination and management. Possesses strong organizational and problem- solving skills and the ability to develop and maintain positive relationships with clients and colleagues. Able to work independently and as part of a team to ensure that projects are completed on time and within budget.
Core Skills:
Project Coordination & Management
Client & Contractor Relations
Project Scheduling & Time Management
Problem Solving & Decision Making
Organizational & Communication Skills
Budget & Resource Management
Responsibilities:
Plan and coordinate project activities, meetings and timelines
Develop and maintain relationships with clients and contractors
Compile and manage project budgets and resources
Identify and implement performance improvements
Analyze risks and devise strategies to mitigate them
Develop project plans and schedules
Monitor project progress and report changes
Provide administrative support to the project team
Assist in resolving project- related issues
Participate in project meetings and take minutes
Project Admin Resume with 5 Years of Experience
A highly experienced and motivated Project Administrator with 5+ years of experience in the field of project management. Possesses excellent organizational and communication skills and the ability to work on multiple projects simultaneously with tight deadlines. Experienced in developing detailed project plans and timelines and in coordinating resources to ensure projects are completed on schedule and within budget. Committed to providing superior customer service and a proactive approach to problem solving.
Core Skills:
Excellent Project Management Skills
Organizational and Time Management
Strong Interpersonal and Communication Skills
Ability to Work Independently
Problem Solving and Decision- Making
Proficient in Microsoft Office Applications
Responsibilities:
Developing detailed project plans and timelines
Coordinating resources for the successful completion of projects
Leading meetings and presenting project plans to stakeholders
Monitoring and adjusting project plans as needed
Reporting project progress to management
Resolving project issues and keeping stakeholders informed
Conducting evaluations to determine project success
Providing customer service and support when needed
Creating reports and presentations to communicate project metrics
Managing project- related documentation and records
Project Admin Resume with 7 Years of Experience
Highly organized and detail- oriented Project Admin with 7 years of experience in developing and implementing project plans. Proven track record of success in team management, budgeting, and meeting tight deadlines. Skilled in establishing strong working relationships with project stakeholders and adept at problem solving. Possesses excellent communication and organizational skills with the ability to take on multiple tasks and projects simultaneously.
Core Skills:
Project Administration
Budget Management
Team Leadership
Problem Solving
Stakeholder Engagement
Communication
Organization
Responsibilities:
Develop and monitor project plans and budgets
Assign tasks to team members and monitor progress
Create project timelines and establish deadlines
Create reports, presentations, and other project deliverables
Liaise with stakeholders and senior management
Coordinate meetings and provide support on an as- needed basis
Ensure compliance with organizational standards and policies
Track project performance and provide suggestions for improvement
Analyze project data and develop insights to present
Manage project risks, issues, and changes
Monitor project performance and budget utilization
Project Admin Resume with 10 Years of Experience
A highly organized and motivated individual with 10 years of administrative experience, strong problem solving and organizational skills, and a commitment to excellence. My background includes providing comprehensive support to senior level staff and working with a variety of software programs. I have a proven track record of consistently meeting deadlines, managing multiple projects, and ensuring the accuracy of all administrative tasks.
Core Skills:
Excellent written and verbal communication skills
Proficient in Microsoft Office Suite, Adobe Acrobat, and cloud- based software
Highly organized and able to handle multiple tasks simultaneously
Strong problem solving and time management skills
Ability to work independently and as part of a team
Strong attention to detail
Responsibilities:
Developed and maintained office systems and procedures
Managed daily administrative tasks, including calendar management, event planning, travel arrangements, and expense reports
Assisted senior executive management with general office duties such as preparing presentations, reports, and other documents
Coordinated meetings, conference calls, and travel arrangements
Handled confidential information in a professional manner
Answered phone calls, emails, and addressed customer inquiries
Maintained electronic and paper filing systems
Processed invoices, purchase orders, and other documents in accordance with company rules and regulations
Scheduled and coordinated appointments, meetings, and other events.
Project Admin Resume with 15 Years of Experience
Highly organized and detail- oriented Administrative Professional with 15 years of experience providing executive- level support in a wide range of industries. Experienced in managing projects, creating reports, and providing customer service in fast- paced environments. Skilled at problem solving and multitasking, with excellent communication and computer skills.
Core Skills:
Project Management
Report Generation
Customer Service
Communication
Problem Solving
Multitasking
Computer Skills
Responsibilities:
Providing executive- level support and assistance to decision- makers and other staff members
Conducting research, creating reports and managing projects
Handling customer inquiries and providing superior customer service
Maintaining and organizing office documents and records
Developing and implementing administrative policies and procedures
Performing clerical tasks such as filing and data entry
Developing and updating filing systems to store and retrieve information
Developing and maintaining computer databases and software programs
In addition to this, be sure to check out our resume templates, resume formats, cover letter examples, job description, and career advice pages for more helpful tips and advice.
What should be included in a Project Admin resume?
Writing an effective project admin resume is key in order to stand out in a competitive job market. Many project admin positions require a combination of technical skills, organizational experience, and interpersonal competencies to be successful. The following sections should be included in your resume to help you land the job you want:
Summary: Summarize your career including your years of experience, key strengths, and qualifications.
Skills: List any hard skills relevant to the project admin position you're applying for, such as project management software, spreadsheet programs, and other technical abilities.
Experience: Include any project admin roles you've held in the past, detailing your responsibilities and accomplishments for each job.
Education: List any relevant degrees or certifications that you've obtained.
Professional Affiliations: Include any professional organizations that you're a member of and how your involvement has helped you develop as a project admin.
Awards & Recognition: List any awards or recognition that you've received that relate to your work as a project admin.
By including these sections in your project admin resume, you'll be one step closer to getting the job you want. Good luck!
What is a good summary for a Project Admin resume?
A good summary for a Project Admin resume should highlight your experience in project administration and management, as well as your interpersonal and organizational skills. You should also include any relevant certifications, awards, or training that you have completed that is related to project management. Additionally, highlight any specific technical skills you possess related to project management and other project-related software. Your summary should be concise and highlight your best attributes and experience in order to stand out to employers in the crowded job market.
What is a good objective for a Project Admin resume?
A project admin resume should showcase an individual's ability to effectively manage and coordinate projects and resources. An effective objective should highlight a candidate's relevant qualifications, abilities, and experience. Here are some potential objectives for a project admin resume:
Self-motivated and organized individual with experience in project coordination, seeking a position as a project admin to ensure optimal efficiency and cost-effectiveness.
Experienced project admin looking to use organizational and leadership skills to coordinate resources and ensure successful outcomes.
Driven project admin with a proven track record of successfully managing multiple projects and resources, seeking to bring these skills to a new organization.
Organized project admin with a history of executing projects on time and within budget, looking to utilize expertise in project coordination in a new role.
Seeking a position as a project admin to utilize technical skills in project management and resource utilization to ensure project success.
How do you list Project Admin skills on a resume?
When putting together a resume for project administration, it is important to include the skills you possess that make you a great candidate for the job. Here are a few tips to help you list your project admin skills on your resume:
Outline any experience you have in project planning, execution, management, and completion. This includes any training or education that you may have received in the field.
Highlight your ability to understand complex processes, problems and objectives. Show how you are able to interpret a project's needs and develop strategies to ensure success.
Demonstrate your proficiency in using project management tools such as Microsoft Project and Trello.
Detail how you are able to effectively manage teams and stakeholders, ensuring that all relevant parties are informed and their needs are met.
Showcase your ability to create detailed documentation and reports on project progress and performance.
Demonstrate your understanding of the project lifecycle and how you are able to anticipate, troubleshoot and resolve issues that may arise.
Display your knowledge of project budgeting, scheduling and resource allocation.
Highlight your experience in implementing and utilizing quality assurance procedures to ensure that project deliverables meet the required standards.
What skills should I put on my resume for Project Admin?
Project Administration is a field that requires a variety of skills, and it is important to make sure your resume clearly demonstrates these skills. Employers want to hire someone who is organized, efficient, and has the ability to effectively manage projects. Here are some skills you should consider including on your resume when applying for a Project Admin role:
Time Management: The ability to plan and prioritize tasks, set deadlines, and manage multiple projects at the same time.
Organizational Skills: Excellent organizational skills are essential to staying on top of the numerous tasks associated with project administration.
Problem Solving: The ability to assess problems, identify solutions, and take the initiative to solve issues.
Communication: Excellent written and verbal communication skills are required for successful project administration, as you will be working with a variety of people.
Research: Solid research skills to find information and facts about potential projects.
Leadership: The ability to provide direction, guidance, and mentorship to other members of a project team.
Attention to Detail: Paying close attention to detail throughout the project planning process is essential for successful project administration.
Computer Skills: Proficiency in basic computer programs such as Microsoft Office Suite.
Project Management Software: Experience with project management software such as Asana, Trello, or Slack is a plus.
Key takeaways for an Project Admin resume
Your Project Admin resume is an important document that will help you stand out in the job market. It's important to make sure that your resume is well-written, organized, and focused on the job you're applying for. Here are some key takeaways that you should keep in mind when crafting your Project Admin resume:
Highlight Your Skills: As a Project Admin, you'll likely be responsible for overseeing project timelines, managing budgets, and ensuring that deadlines are met. Make sure to highlight your skills in these areas to demonstrate your abilities.
Be Specific: Whenever possible, provide specific examples of your accomplishments. This will help to paint a better picture of what you're capable of and will be more impressive to potential employers.
Showcase Your Experience: It's important to demonstrate your experience, including any certifications or awards you have received. This can help to demonstrate your commitment to your work and will set you apart from other candidates.
Emphasize Your Teamwork: As a Project Admin, you'll need to be able to work with others in order to ensure the successful completion of projects. Make sure to emphasize your ability to collaborate and work in a team environment.
Make Your Resume Easy to Read: Make sure your resume is easy to read and understand. Utilize bullet points, bold text, and headers to organize information and make your information easier to digest.
By following these key takeaways, you can ensure your Project Admin resume is organized, informative, and focused on the job you're applying for. This will help you stand out to potential employers and increase your chances of getting the job.
Let us help you build
your Resume!
Make your resume more organized and attractive with our Resume Builder