Writing an effective resume as a program evaluator is essential to landing a job in this highly competitive field. A resume should highlight your experience and qualifications and be tailored to the specific job you are applying for. This guide will walk you through the process of creating a program evaluator resume, from brainstorming and drafting to proofreading and submitting. It will provide tips and examples to help you craft a powerful and professional resume that will draw attention from employers. With the right resume, you can showcase your talents and increase your chances of success in the job search.
If you didn't find what you were looking for, be sure to check out our complete library of resume examples.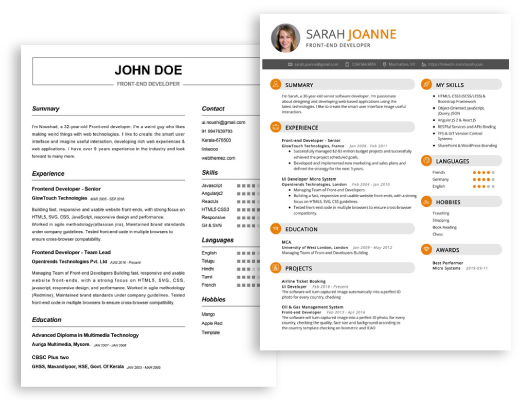 Start building your dream career today!
Create your professional resume in just 5 minutes with our easy-to-use resume builder!
Program Evaluator Resume Examples
John Doe
Program Evaluator
123 Main Street | Anytown, USA 99999 | Phone: (123) 456-7890 | Email: john.doe@email.com
A motivated and results- driven Program Evaluator with five years of experience in the field. Adept at monitoring program implementation, collecting and analyzing data, and designing evaluation plans. Skilled in building relationships with stakeholders, designing surveys, and creating reports. Familiar with using various tools for data collection and analysis, such as Microsoft Excel and SPSS. Looking to apply my skills to contribute to the success of an organization.
Core Skills:
Program Evaluation
Data Collection
Data Analysis
Report Writing
Survey Design
Microsoft Excel
SPSS
Stakeholder Relations
Program Implementation
Professional Experience:
Program Evaluator, XYZ Corporation, San Francisco, CA, 2015- 2020
Developed and implemented evaluation plans for multiple programs
Created reports and presentations to communicate outcomes to stakeholders
Collected data from various sources and analyzed using SPSS and Microsoft Excel
Built relationships with stakeholders by attending meetings and responding to inquiries
Designed surveys to collect data from participants
Education:
Master of Science in Evaluation and Applied Research, San Francisco State University, 2015
Bachelor of Arts in Anthropology, San Francisco State University, 2012
Program Evaluator Resume with No Experience
Recent graduate with a Bachelor of Arts in Sociology looking to gain experience in program evaluation. Seeking an opportunity to use research and analytical skills to evaluate programs and suggest any necessary improvements.
Skills
Strong organizational and interpersonal skills
Excellent communication abilities
Proficient in Microsoft Office Suite
Ability to analyze data and present findings
Knowledge of program evaluation procedures
Ability to develop and maintain positive relationships
Flexible and detail- oriented
Responsibilities
Gather data from existing program records
Analyze data and develop reports to assess program effectiveness
Assist with the development of new program evaluation procedures
Identify any areas of improvement and suggest changes
Conduct surveys and interviews in order to evaluate programs
Develop and maintain relationships with program participants
Assist in the development and implementation of new programs
Program Evaluator Resume with 2 Years of Experience
Motivated and highly skilled Program Evaluator with two years of experience in developing and conducting research strategies, strategies and initiatives in order to measure program effectiveness. Proven ability to analyze, interpret and communicate results to stakeholders in order to make informed recommendations. Adept at working both independently and collaboratively.
Core Skills:
Program Evaluation
Research Methods
Data Analysis
Project Management
Statistical Analysis
Interpretation of Results
Collaboration
Communication
Time Management
Responsibilities:
Conducted comprehensive analysis of programs to assess the efficiency, effectiveness and impact of implementation.
Developed and managed multiple research strategies and initiatives in order to measure program effectiveness.
Collaborated with stakeholders to identify and prioritize opportunities for improvement.
Analyzed and interpreted research results in order to make recommendations on program innovations.
Prepared detailed reports and made presentations to stakeholders and senior management.
Provided critical input in the development of new programs and initiatives.
Collaborated with other departments to ensure the successful implementation of new programs.
Maintained up- to- date records and documentation of program evaluations.
Program Evaluator Resume with 5 Years of Experience
A dedicated and experienced Program Evaluator with five years of experience in the field. Skilled in a variety of program evaluation methodologies, including quantitative and qualitative assessments, program surveys, and focus groups. Thoroughly analyses and interprets data to identify program strengths and weaknesses, then develops and implements strategies to improve program effectiveness. Excellent interpersonal and communication skills to effectively communicate research findings, potential solutions, and improvement initiatives.
Core Skills:
Program Evaluation Methodologies
Quantitative and Qualitative Assessments
Program Surveys
Focus Groups
Interpersonal and Communication Skills
Data Analysis and Interpretation
Research Findings
Solutions and Improvement Initiatives
Responsibilities:
Conduct assessments of program effectiveness to identify areas needing improvement
Develop and implement surveys and focus groups to gather program- related information from stakeholders, participants, and other sources
Analyze and interpret collected data to identify program strengths and weaknesses
Create reports detailing observations and identifying opportunities for improvement
Develop and implement strategies to improve program effectiveness
Facilitate team meetings to discuss program findings and improvement initiatives
Communicate research findings, solutions, and improvement initiatives effectively to senior leadership and other stakeholders
Program Evaluator Resume with 7 Years of Experience
A highly organized and motivated Program Evaluator with 7 years of experience in planning and implementing program evaluations and performance assessments. Skilled in using various qualitative and quantitative methodologies to gather, analyze and present data to ensure the success of a program and its components. Experienced in developing performance measures and indicators to track progress, organizing data and writing reports to support the findings.
Core Skills:
Designing and conducting program evaluations
Analyzing qualitative and quantitative data
Developing and implementing performance assessments
Writing comprehensive reports and presenting findings
Establishing criteria and performance measures
Identifying areas of improvement
Establishing goals and objectives
Responsibilities:
Designed and implemented extensive program evaluations to identify areas of improvement
Researched and analyzed qualitative and quantitative data from a variety of sources
Developed performance assessments and measures to track progress
Conducted interviews with key stakeholders and program participants
Wrote comprehensive reports to document findings and recommendations
Assisted in the development of goals and objectives for program initiatives
Presented findings to management and other stakeholders
Program Evaluator Resume with 10 Years of Experience
Results- driven program evaluator with 10 years of experience helping organizations assess program effectiveness, optimize operations, and improve outcomes. Skilled in data collection, analysis and reporting, creating surveys, and using both qualitative and quantitative methods. Demonstrated success in collaborating with stakeholders to develop meaningful change and drive innovation.
Core Skills:
Program Evaluation
Data Collection & Analysis
Survey Design & Implementation
Stakeholder Management
Qualitative & Quantitative Methods
Reporting & Documentation
Outcome & Impact Evaluation
Recommendation & Improvement
Responsibilities:
Conducted evaluations by identifying and collecting relevant data, interpreting results, and preparing reports
Developed surveys, questionnaires, and other research instruments to collect data
Analyzed data to identify trends, patterns, and relationships
Evaluated data to identify strengths and weaknesses of programs, policies, and processes
Developed recommendations and worked with stakeholders to implement changes
Established effective relationships with program managers, stakeholders, and other key partners
Monitored and reported program progress to stakeholders
Collaborated with teams to identify, measure, and report on outcomes and impact
Developed and wrote policies and procedures for programs, as needed
Program Evaluator Resume with 15 Years of Experience
Program Evaluator with over 15 years of experience in evaluating and analyzing the effectiveness of programs for public and private organizations. Possesses strong organizational, project management, and communication skills. Skilled in utilizing a variety of methods and techniques for assessing program performance, determining need for program modifications, and recommending changes to program operations. Experienced in coordinating with stakeholders, ensuring data accuracy, and presenting results.
Core Skills:
Program Evaluation
Performance Analysis
Data Collection
Research
Report Writing
Project Management
Stakeholder Coordination
Process Improvement
Problem Solving
Decision Making
Responsibilities:
Carried out program evaluation activities including research, data collection, analysis, and report writing
Conducted performance assessments of programs to determine program effectiveness and need for modifications
Collected, analyzed and presented program data, statistics, and feedback from stakeholders
Developed program evaluation criteria and methods for assessing program performance
Assisted in preparing documentation and reports of evaluation results
Reported regularly to stakeholders and provided meaningful insights on program performance
Worked closely with program personnel to develop program objectives and objectives
Developed and maintained relationships with program stakeholders
Monitored and monitored the execution of program processes
Recommended improvements to program operations based on evaluation results
In addition to this, be sure to check out our resume templates, resume formats, cover letter examples, job description, and career advice pages for more helpful tips and advice.
What should be included in a Program Evaluator resume?
When searching for a program evaluator, employers look for candidates who have the qualifications and experience necessary to do the job effectively. A program evaluator resume must include the right combination of technical knowledge, problem-solving skills, and the ability to effectively communicate with stakeholders. Here are some essential components to include in your program evaluator resume:
Demonstrated expertise in program evaluation methods, including surveys, interviews, focus groups, and data analysis
Knowledge of data analysis software such as SPSS, SAS, or STATA
Proficiency with data visualization tools and techniques, such as Tableau and R
Ability to communicate findings to stakeholders in a clear and concise manner
Experience creating program evaluation plans and reports
Excellent research and problem-solving skills
Strong project management skills
Ability to work independently and in teams
Bachelor's degree in a relevant field, such as Program Evaluation, Public Administration, or Statistics
What is a good summary for a Program Evaluator resume?
A program evaluator resume should begin with a summary that emphasizes the professional's skills, experience, and qualifications. This should be followed by a brief description of the evaluator's abilities and accomplishments. The summary should highlight any significant successes in the field, such as studies conducted, projects completed, and reports written. It should also indicate any special certifications, such as evaluation-related certifications, and any specialized training. A good summary should also showcase the evaluator's ability to assess and analyze complex data, identify trends, and draw insightful conclusions. Finally, the summary should illustrate the evaluator's commitment to creating high-quality, reliable results and meeting the goals of the program.
What is a good objective for a Program Evaluator resume?
Writing an effective objective statement for a Program Evaluator resume can be a challenge. It must be concise and focused in order to grab the reader's attention. Here are some suggestions for creating a powerful and effective objective statement:
To leverage my extensive experience in program evaluation to help identify areas for improvement, foster collaboration, and provide valuable insights.
To utilize my superior communication and problem-solving skills to assess program performance and recommend changes to improve outcomes.
To utilize my knowledge of data analysis, qualitative research methods, and project management to drive continuous improvement and cost savings.
To obtain a Program Evaluator position that requires exceptional organizational, analytical, and interpersonal skills.
To secure a Program Evaluator position in a fast-paced, professional environment that encourages creative thinking and innovative problem-solving.
How do you list Program Evaluator skills on a resume?
Program Evaluators are responsible for assessing the effectiveness of programs and making recommendations to improve their performance. To be successful in this role, a Program Evaluator needs to possess a variety of skills and characteristics. To effectively demonstrate your qualifications on your resume, you should list any relevant Program Evaluator skills you possess.
Here are some skills that Program Evaluators may list on their resumes:
Quantitative Analysis: Program Evaluators need to be able to utilize data to measure program performance and effectiveness.
Interpersonal Communication: Good communication skills are essential for Program Evaluators as they need to establish and maintain relationships with stakeholders.
Creative Problem Solving: Program Evaluators must be able to use creative problem solving skills to create solutions to complex issues.
Project Management: Program Evaluators need to be able to manage multiple projects at once, while ensuring deadlines are met.
Research: Program Evaluators must be proficient in conducting research and using findings to develop recommendations and plans.
Report Writing: Program Evaluators must be able to effectively communicate their findings in written reports.
Attention to Detail: Program Evaluators need to be detail-oriented and able to spot potential errors and discrepancies.
By including these skills in your resume, you can demonstrate to potential employers that you possess the qualities and qualifications necessary to succeed in the role of a Program Evaluator.
What skills should I put on my resume for Program Evaluator?
Program Evaluators are responsible for assessing the effectiveness of programs and for making recommendations for improvements. Having the right skills and experience on your resume is essential for being considered for this role. Here are some skills to include on your resume for a Program Evaluator position:
Professionalism – Demonstrated ability to display a professional attitude, tact and diplomacy when dealing with different stakeholders
Program Evaluation – Knowledge and experience with various program evaluation methods and tools, such as cost-benefit analysis, survey design, and data collection
Research – Experience designing, conducting, and analyzing research studies to assess program effectiveness
Critical Thinking – Ability to identify and analyze complex problems, develop innovative solutions, and make sound decisions
Report Writing – Competency in preparing high-quality reports that explain the results of your evaluations and provide recommendations for improvement
Stakeholder Management – Strong interpersonal and communication skills to effectively manage stakeholders, including clients, sponsors, and team members
Project Management – Experience managing multiple projects, developing and meeting timelines, and monitoring progress
Key takeaways for an Program Evaluator resume
Program Evaluator resumes must communicate both the technical and soft skills associated with the job. With the right resume, you can demonstrate your ability to assess the effectiveness of programs, create reports, and recommend solutions for improvement. Here are the key takeaways for an effective Program Evaluator resume:
Highlight your technical proficiency: To accurately evaluate a program, you must have a thorough understanding of quantitative and qualitative techniques. Showcase any certifications, training, or experience you have in data analysis, project management, research, and program evaluation.
Emphasize your written and verbal communication skills: Program Evaluators must be able to clearly convey their findings to a variety of stakeholders. Highlight any experience you have crafting reports, presentations, and other forms of communication.
Show your problem-solving abilities: Program Evaluators must be able to identify issues and recommend solutions. Make sure to include any experience or skills that demonstrate your ability to troubleshoot and provide innovative solutions.
Demonstrate your organizational skills: Program Evaluators are often juggling multiple projects at once. Showcase any experience you have managing multiple tasks, setting deadlines, and tracking progress.
By highlighting your technical proficiency, communication skills, problem-solving abilities, and organizational skills, you can create an effective Program Evaluator resume. These are the key takeaways for writing a successful resume in this field.
Let us help you build
your Resume!
Make your resume more organized and attractive with our Resume Builder