Writing a resume as a procurement officer can be an extremely daunting task, especially when you don't know where to start. You want to make sure your resume is highlighting the skills and experiences that make you the ideal candidate for the job. This guide will provide you with tips and tricks for crafting an impressive procurement officer resume. You will find resume writing advice and examples of procurement officer resumes you can use as a reference when writing your own. With the help of this guide, you'll be able to create a resume that stands out from the competition and catches the attention of hiring managers.
If you didn't find what you were looking for, be sure to check out our complete library of resume examples.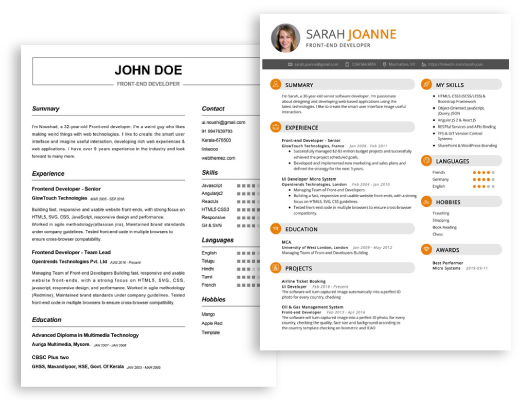 Start building your dream career today!
Create your professional resume in just 5 minutes with our easy-to-use resume builder!
Procurement Officer Resume Examples
John Doe
Procurement Officer
123 Main Street | Anytown, USA 99999 | Phone: (123) 456-7890 | Email: john.doe@email.com
A highly experienced and results- oriented Procurement Officer with over ten years of experience in analyzing and negotiating contracts, developing and executing purchase strategies, and managing all aspects of procurement operations. I specialize in maximizing profit margins and ensuring the efficient and cost- effective procurement of materials, services, and equipment. I also possess a strong understanding of local, state, and federal procurement regulations and possess excellent analytical and communication skills.
Core Skills:
Analyzing and Negotiating Contracts
Developing and Executing Purchase Strategies
Procurement Processes & Regulations
Cost and Budget Analysis
Vendor Negotiations
Supply Chain Management
Risk Management
Analytical & Communication Skills
Professional Experience:
Procurement Officer, ABC Technologies, July 2010 – Present
Develop and execute comprehensive procurement strategies to ensure the efficient purchase of materials, services and equipment
Analyze vendor contracts for compliance with company policies and ensure best overall value
Negotiate with vendors to secure the best terms and pricing on all procurements
Maintain and update procurement policies, procedures, and processes
Manage and track purchase orders, invoices, and payments
Assist in the preparation of purchase proposals and bids
Research and identify new potential vendors and negotiate contracts
Education:
Bachelor of Science, Business Management, University of California, 2006
Procurement Officer Resume with No Experience
An organized and motivated individual with excellent customer service and administrative skills looking to become a Procurement Officer. Proactive approach to problem solving and a deep understanding of the procurement process.
Skills
Excellent customer service skills
Strong attention to detail
Proven experience with administrative duties
Knowledge of the procurement process
Ability to research and evaluate suppliers
Proficient in Microsoft Office Suite
Excellent communication skills
Responsibilities
Receive and compare bids from potential suppliers
Establish and maintain vendor relationships
Carry out procurement activities in an efficient manner
Maintain detailed records of purchases and invoices
Monitor inventory levels and ensure stock is replenished
Address customer queries and ensure their satisfaction
Collaborate with internal teams to ensure the right materials are ordered in a timely manner
Procurement Officer Resume with 2 Years of Experience
Highly motivated Procurement Officer with 2 years of experience adept at managing procurement operations, negotiating contracts, and building strong vendor relationships. Experienced in managing end to end procurement process from supplier sourcing, tendering and evaluation, through to contract execution and post- award supplier management. Proven success in managing and coordinating procurement operations for an array of commodities, including technology, engineering, construction, and services.
Core Skills:
Contract Negotiation and Execution
Supplier Sourcing
Vendor Management
Tender and Evaluation
Cost and Quality Control
Procurement Processes
Budget Management
Compliance and Risk Management
Responsibilities:
Developed and managed bid processes and evaluation systems to ensure quality control, cost- efficiency, and compliance with specifications and regulations.
Monitored purchase orders and ensured timely delivery of products and services.
Evaluated and improved existing supplier relationships by providing guidance on quality assurance and contract negotiations.
Researched and identified new potential suppliers and managed vendor profiles.
Developed and maintained an efficient and accurate purchasing system.
Ensured compliance with regulatory requirements and legal agreements.
Monitored contract performance and analyzed received data.
Maintained and updated accurate supplier and purchase information.
Developed and implemented strategic sourcing initiatives to reduce costs.
Procurement Officer Resume with 5 Years of Experience
Experienced procurement officer with 5 years of experience developing and leading successful procurement strategies. Proven track record of saving costs and improving processes for procurement operations. Core strengths include negotiation and contract management, supplier relations, and inventory/supply chain management. Highly organized, detail- oriented, and adept at leveraging technology to streamline procurement processes.
Core Skills:
Contract Negotiation
Supplier Relations
Inventory Management
Project Management
Risk Management
Data Analysis & Reporting
Supply Chain Management
Cost Savings & Budgeting
Process Improvement
Technology Utilization
Responsibilities:
Developed comprehensive procurement strategies and plans
Managed inventory, including tracking, receiving, and adjusting inventory levels
Built and maintained strong relationships with suppliers
Negotiated contracts to ensure best terms and serve organizational needs
Assisted in the development of cost- saving initiatives
Developed and implemented purchasing policies and procedures
Resolved discrepancies in procurement records and orders
Analyzed market trends, supplier performance, and pricing data
Prepared and managed procurement budget
Performed financial analysis to ensure the best value for goods and services
Procurement Officer Resume with 7 Years of Experience
Procurement Officer with 7 years of experience in the retail industry. Experienced in managing the purchasing of goods and services to ensure that customers are satisfied with their orders. Skilled in developing and maintaining relationships with vendors and suppliers, ensuring timely delivery and adhering to organizational budgets. Possess in- depth knowledge of procurement processes, from initial inquiry to delivery, as well as expertise in forecasting and forecasting needs.
Core Skills:
Procurement and Vendor Management
Negotiation and Cost Analysis
Vendor Relationship Management
Data Analysis and Problem Solving
Process Improvement and Quality Assurance
Budgeting and Forecasting
Supply Chain Analysis and Management
Responsibilities:
Manage all aspects of the procurement process, from researching and identifying product needs to negotiating prices and delivery terms
Develop and maintain relationships with vendors, suppliers and contractors to ensure the timely delivery of goods and services
Analyze pricing data to determine cost savings and identify opportunities for further cost reductions
Monitor trends in the industry and stay abreast of changes in order to identify potential opportunities
Manage and oversee the budgeting process for procurement related activities
Prepare purchase orders and track delivery of goods and services
Monitor inventory levels to ensure adequate supplies for operations
Ensure compliance with organizational policies and procedures related to procurement activities
Procurement Officer Resume with 10 Years of Experience
Highly- experienced Procurement Officer with 10 years of experience in the procurement and logistics industry. An excellent communicator who works well with stakeholders and suppliers to meet organizational objectives. Have a good understanding of industry trends, regulations, and technology to ensure that the organization is following best practices. Skilled at reducing costs, improving service levels, and negotiating contracts to obtain the best possible prices for goods and services.
Core Skills:
Procurement and Logistics Management
Vendor Relationship Management
Negotiating and Contract Drafting
Financial Analysis and Cost Reduction
Strategic Sourcing and Category Management
Risk Management and Compliance
Supply Chain Optimization
Data Analysis and Reporting
Responsibilities:
Conduct research to identify potential suppliers and products necessary for the organization.
Negotiate and draft contracts with suppliers to ensure best prices, delivery times, and payment terms.
Develop and implement strategies to optimize the organization's supply chain.
Analyze market trends and recommend changes in current procurement processes to reduce costs and improve service levels.
Monitor supplier performance and evaluate their pricing to ensure the organization is getting the best possible value.
Manage inventory levels to ensure that the organization has the right amount of product available when needed.
Work closely with stakeholders and other departments to ensure that all procurement processes are being followed.
Prepare detailed reports and analysis on purchase orders and supplier performance.
Ensure compliance with all applicable laws and regulations related to procurement.
Procurement Officer Resume with 15 Years of Experience
Highly experienced Procurement Officer with 15 years of experience in supply chain management and procurement. Adept in all aspects of purchasing, with a track record of delivering cost- effective, high quality supplies and services. Successfully identified areas of cost savings using sourcing strategies and developing partnerships with suppliers. Proven ability to develop and implement procurement policies and procedures that comply with government regulations.
Core Skills:
Supply Chain Management
Procurement Strategies
Cost Savings
Contract Negotiations
Vendor Relationships
Documentation and Reporting
Government Regulations
Risk Management
Inventory Control
Project Management
Responsibilities:
Developed and executed procurement policies, procedures, and processes.
Developed cost savings strategies through competitive sourcing and price negotiation.
Conducted market analysis and research for discovering new suppliers and vendors.
Negotiated pricing, quality and delivery of goods and services.
Managed vendor relationships and ensured proper vendor contracts were in place.
Maintained records and prepared reports on purchases, pricing and other procurement activities.
Ensured compliance with governmental regulations for all procurement activities.
Managed risk and identified potential areas of cost savings.
Monitored inventory levels and controlled supply chain operations.
Oversaw project management activities related to procurement and supply chain.
In addition to this, be sure to check out our resume templates, resume formats, cover letter examples, job description, and career advice pages for more helpful tips and advice.
What should be included in a Procurement Officer resume?
A Procurement Officer resume should include information about your professional background, education, experience, and skills. Here are a few of the key points that should be included:
Professional Experience: Detail the years of experience you have in the procurement field, listing the relevant responsibilities and accomplishments for each job.
Education: Include your degree, as well as any specialized training related to procurement.
Skills: Highlight any specialized skills you have in relation to procurement, such as knowledge of market trends, negotiation techniques, purchasing strategies, and supplier management.
Certifications: List any relevant certifications you have, such as Certified Purchasing Manager (CPM) or Certified Public Procurement Officer (CPPO).
Awards: Include any awards or recognition you have received for your work in the procurement field.
Leadership: If you have held a position of leadership, such as a supervisor, team leader, or manager, list it here.
Computer Skills: List any software or online tools you are proficient in that relate to procurement, such as an ERP or e-procurement system.
By including this information in your resume, you can show that you have the skills and experience necessary to excel in a procurement role.
What is a good summary for a Procurement Officer resume?
A Procurement Officer is responsible for overseeing the purchasing of materials, products, and services for an organization. A successful Procurement Officer should have excellent negotiation, communication, and organizational skills, as well as an understanding of the procurement process. A good Procurement Officer resume should highlight a successful track record of procuring materials, products, and services from suppliers that have met or exceeded quality and cost expectations. It should also demonstrate an applicant's ability to develop efficient procurement plans, coordinate with suppliers, and review and verify invoices for accuracy. A strong resume for a Procurement Officer should also demonstrate the applicant's skill in managing budgets and effectively handling any potential disputes.
What is a good objective for a Procurement Officer resume?
A Procurement Officer is responsible for purchasing goods and services for an organization. When writing a resume for this position, it is important to include a good objective. A good objective should be clear and concise and should explain what you hope to achieve in the role.
Here are some examples of good objectives for a Procurement Officer resume:
To secure a position as a Procurement Officer where I can utilize my skills in sourcing, negotiating and managing supplier relationships to provide cost-effective and timely procurement of goods and services.
To obtain a Procurement Officer position and use my expertise in data analysis, forecasting, and problem-solving to drive efficient procurement operations.
To obtain a role as a Procurement Officer to use my knowledge of supply chain management and strategic sourcing to improve organizational efficiency and reduce costs.
Seeking to secure a position as a Procurement Officer where I can leverage my experience in cost analysis, market research, and supplier management to maximize value for the organization.
To work as a Procurement Officer and use my knowledge of procurement processes, vendor management and inventory control to provide efficient and effective procurement solutions.
How do you list Procurement Officer skills on a resume?
When creating a resume for a Procurement Officer, it's important to highlight your skills that make you an ideal candidate for the role. Here is a list of essential skills to include in your resume when applying for a Procurement Officer role:
Strategic Sourcing: Demonstrate experience in strategic sourcing and developing competitive bidding processes.
Contract Negotiations: Demonstrate knowledge of contract negotiation and ability to evaluate and negotiate best terms.
Supplier Relationship Management: Show ability to manage supplier relationships and ensure compliance with purchasing policies.
Cost Analysis: Demonstrate experience conducting cost analysis and forecasting for procurement operations and projects.
Data Analysis: Demonstrate ability to analyze data and interpret market trends to create cost-effective strategies.
Risk Management: Show experience in assessing and minimizing risks associated with procurement decisions.
Problem Solving: Demonstrate strong problem solving and analytical skills to develop solutions to procurement issues.
Regulatory Compliance: Demonstrate knowledge of applicable regulatory requirements and ability to ensure compliance.
By including these skills on your resume, you will be able to demonstrate your qualifications for a Procurement Officer role and make a great impression on potential employers.
What skills should I put on my resume for Procurement Officer?
A Procurement Officer is responsible for a variety of duties related to the purchasing of goods and services. The Procurement Officer must possess a range of skills in order to be successful in the role. Here is a list of skills to include in your resume when applying for a role as a Procurement Officer:
Excellent communication skills: Procurement Officers need to be able to communicate effectively with vendors and other stakeholders to ensure successful negotiations and purchases.
Computer proficiency: Procurement Officers need to have a strong command of computer technologies, from Microsoft Office to specialized procurement software.
Attention to detail: Procurement Officers need to have a keen eye for detail in order to ensure accuracy in their work.
Analytical skills: Procurement Officers need to be able to analyze data such as costs, delivery schedules, and product specifications in order to make informed decisions.
Organizational skills: Procurement Officers must be able to manage a variety of tasks at once and stay organized in order to ensure deadlines are met.
Collaborative abilities: Procurement Officers must be able to work with a range of stakeholders in order to ensure successful projects.
Negotiation skills: Procurement Officers must have strong negotiation skills to get the best terms from suppliers.
If you possess these skills, make sure to include them in your resume for a Procurement Officer role. Highlighting these skills will demonstrate to employers that you are a qualified candidate for the position.
Key takeaways for an Procurement Officer resume
A Procurement Officer is responsible for the purchasing of materials and services on behalf of a company or organization. As a result, the role requires a great deal of experience and knowledge in the areas of budgeting, supplier analysis and research, and negotiation. It is therefore critical that a Procurement Officer's resume reflects all of these skills and abilities in order to demonstrate their suitability for the role.
Below are some key takeaways to consider when crafting your Procurement Officer resume:
Highlight your qualifications – Be sure to list any relevant qualifications you may have, such as a Bachelor's degree in Purchasing, Supply Chain Management, or Logistics.
Include key skills – Showcase your ability to negotiate with suppliers, manage budgets, and evaluate supplier performance.
Demonstrate knowledge of procurement process – Demonstrate your understanding of the procurement process by including specific details about the types of contracts you have managed in the past.
Showcase your experience – Include a list of employers you have worked for and the number of years of experience you have in the field.
Be concrete and precise – Be sure to provide concrete examples of how you were able to save your employers money through successful negotiations and cost-saving initiatives.
By following these tips, you can ensure your Procurement Officer resume is able to showcase your qualifications and experience, and demonstrate your ability to excel in the role.
Let us help you build
your Resume!
Make your resume more organized and attractive with our Resume Builder