Writing a resume for an operations clerk position requires certain skills to properly highlight your experience. As an operations clerk, you will be responsible for a range of office activities, including customer service, order processing, and record keeping. Your resume should reflect the depth of your previous experience and the qualifications you possess to be successful in a customer service or office operations role. In this guide, we will cover what to include in your operations clerk resume, how to format it, and provide examples of successful resumes for inspiration.
If you didn't find what you were looking for, be sure to check out our complete library of resume examples.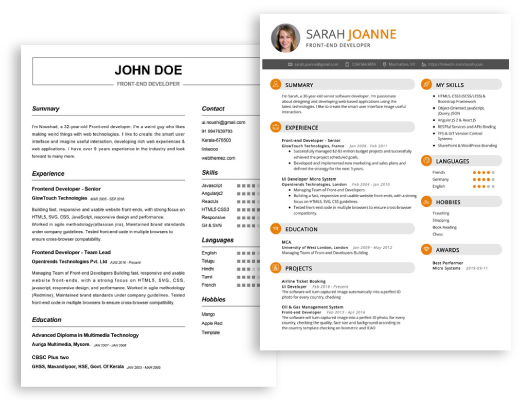 Start building your dream career today!
Create your professional resume in just 5 minutes with our easy-to-use resume builder!
Operations Clerk Resume Examples
John Doe
Operations Clerk
123 Main Street | Anytown, USA 99999 | Phone: (123) 456-7890 | Email: john.doe@email.com
A highly organized and detail- oriented Operations Clerk with 7+ years of experience in the logistics and transportation industry. Proficient in analyzing data, tracking inventory, managing shipments, and processing orders. Possess strong customer service and communication skills, as well as an ability to work well with a team. Seeking to leverage my experience and knowledge in a challenging new role at your company.
Core Skills:
Data Analysis
Logistics & Transportation
Inventory Tracking
Shipment Management
Order Processing
Customer Service
Communication
Teamwork
Professional Experience:
ABC Logistics, Industry, NY
Operations Clerk, Jan 2016 – Present
Utilize logistics software to monitor and control the order cycle, and track inventory levels
Process orders, invoices and shipping documents
Manage the receiving of both product and freight
Track and trace shipments
Maintain records of orders, invoices, and shipping documents
Communicate with customers and vendors regarding orders, shipments, and queries
DEF Cargo, Industry, NY
Operations Clerk, Oct 2013 – Dec 2015
Monitored order cycle and tracked inventory levels using logistics software
Processed orders, invoices, and shipping documents
Managed receiving of product and freight
Tracked and traced shipments
Answered customer inquiries and resolved issues
Education:
B.S. in Supply Chain Management, ABC University, Anytown, NY, 2013
Operations Clerk Resume with No Experience
Recent graduate with a degree in Business Administration and a passion for efficiency and customer service. Eager to utilize my organizational and communication skills as an Operations Clerk to benefit the continued success of a business.
Skills
Excellent organizational and communication skills
Proficient in Microsoft Office Suite
Data entry and filing
Tech savvy
Quick learner
Self- motivated
Responsibilities
Manage customer service inquiries
Process client documents
Assist in resolving customer service issues
Input customer data into databases
Organize and update customer records
Maintain accurate filing systems
Keep office supplies stocked and up to date
Operations Clerk Resume with 2 Years of Experience
I am an experienced Operations Clerk with over two years of experience in office administration, customer service, and data entry. I have a strong background in providing excellent customer service, handling paperwork, and problem solving. I have a successful track record of organizing and optimizing office processes, creating accurate records, and managing vendors and resources. I am extremely organized, highly motivated, and detail- oriented with great communication and interpersonal skills.
Core Skills:
Excellent Customer Service
Data Entry
Problem Solving
Organizational & Time Management
Communication & Interpersonal Skills
Microsoft Office Suite
Responsibilities:
Managed customer records, ensuring accuracy and completeness
Provided superior customer service to internal and external customers
Processed customer orders and invoices, verifying accuracy and completeness
Organized data entry, filing, and other office duties
Solved customer problems, maintaining customer satisfaction
Responsible for understanding company policies and procedures
Prepared and maintained reports and records for office operations
Maintained vendor relationships and monitored supply levels
Operations Clerk Resume with 5 Years of Experience
Experienced Operations Clerk with 5 years of experience in office- related tasks. Adept in inventory management, filing, customer service, and data entry. Skilled in maintaining organizational systems and procedures in a fast- paced environment. Possesses a strong attention to detail and a commitment to accuracy.
Core Skills:
Knowledge of Microsoft Office Suite
Excellent customer service skills
Ability to prioritize tasks
Ability to work in a team environment
Excellent written and verbal communication skills
Ability to multi- task and work efficiently
Responsibilities:
Verified and logged incoming and outgoing shipments
Recorded, stored, and tracked inventory accurately
Maintained updated filing systems, both manual and electronic
Processed customer orders, invoices, and payments
Processed incoming and outgoing mail and packages
Answered customer inquiries and provided general information
Assisted in maintaining a safe and organized work environment
Generated reports and updated databases as needed
Operations Clerk Resume with 7 Years of Experience
I am an experienced Operations Clerk with 7+ years of experience in data entry and management, customer service, and filing. I have a strong background in database management, communication and problem solving. I possess excellent organizational skills and am adept at using a variety of software and computer systems to input and manage data. My expertise also includes creating documents, monitoring and reconciling inventory, completing customer requests, and tracking shipments. I am highly organized, detail- oriented and always eager to learn new processes and procedures.
Core Skills:
Data Entry
Database Management
Customer Service
Filing
Organizational Skills
Problem Solving
Software and Computer Systems
Document Creation
Monitoring and Reconciling Inventory
Tracking Shipments
Responsibilities:
Inputting and managing data for inventory, customer requests, and shipments
Answering customer inquiries and resolving any issues or complaints
Filing and organizing documents as needed
Monitoring and reconciling inventory levels
Tracking shipments and ensuring timely delivery
Maintaining accurate data entry records
Creating documents such as invoices, reports, and spreadsheets
Assisting with other office related tasks as needed
Operations Clerk Resume with 10 Years of Experience
Highly organized and detail- oriented Operations Clerk with 10 years of experience in a fast- paced business environment. Skilled in data entry, customer service, and inventory management and controlling. Excellent communication and organizational skills. Experience in maintaining and creating filing and record- keeping systems. Able to work on own initiative and prioritize as required.
Core Skills:
Data Entry
Customer Service
Inventory Management and Control
Filing and Record Keeping
Communication
Organizational Skills
Time Management
Problem- Solving
Responsibilities:
Processed and entered large amounts of data into an internal database.
Maintained and updated inventory records and documents.
Assisted customers with inquiries and requests.
Resolved customer complaints and inquiries promptly and efficiently.
Assisted in organizing and stocking inventory.
Created and maintained filing and record keeping systems.
Prepared and submitted required reports to management.
Ensured accuracy and completeness of all data entry.
Coordinated with other departments to ensure efficient operations.
Scheduled and followed up on customer orders.
Operations Clerk Resume with 15 Years of Experience
Highly experienced Operations Clerk with 15 years of experience providing administrative support, customer service, and clerical assistance in a fast- paced office environment. Proven ability to prioritize multiple tasks and attend to detail in a timely manner, ensuring accuracy and efficient completion of assigned duties. Skilled in problem solving, data entry, and establishing and maintaining professional relationships.
Core Skills:
Document Preparation
Data Entry
Records Maintenance
Report Writing
Customer Relations
Scheduling
Inventory Management
Office Administration
Computer Proficiency
Responsibilities:
Prepared, assembled and distributed documents and correspondence.
Conducted data entry and maintained records of activities, data and reports.
Managed and maintained office inventory, equipment and supplies.
Answered telephones, provided customer service and responded to inquiries.
Processed paperwork and completed forms in accordance with established procedures.
Assisted with administrative duties such as filing, photocopying, faxing and other clerical tasks.
Coordinated scheduling, events and provided administrative support to office personnel.
Assisted with research and data analysis as required.
Assisted with writing reports and preparing presentations.
Performed general office duties such as maintaining office supplies and ordering materials.
In addition to this, be sure to check out our resume templates, resume formats, cover letter examples, job description, and career advice pages for more helpful tips and advice.
What should be included in a Operations Clerk resume?
Operations Clerks are essential workers in any organization, and an effective resume is key to standing out and getting the job. When crafting an Operations Clerk resume, these elements should be included:
Professional summary: A brief overview of your qualifications, experience, and skills related to the role.
Contact information: Should include your name, address, phone number, and email.
Education: Details about any formal training or certifications that are relevant to the role.
Work experience: A chronological list of previous roles with a focus on the experience related to the Operations Clerk position.
Skills: A list of the skills, such as problem-solving, communication, and organization, that are useful to the role.
Relevant interests and accomplishments: Any extra-curricular activities or other accomplishments that demonstrate your abilities.
Including all of these elements in an Operations Clerk resume will ensure that you have the best chance of standing out and being chosen for the job.
What is a good summary for a Operations Clerk resume?
An operations clerk resume should demonstrate an applicant's ability to efficiently and accurately complete daily clerical tasks. It should highlight an individual's organizational skills, an ability to multitask, and proficiency in computer software applications. The resume should include any relevant experience in customer service, inventory management, data entry, and record-keeping. Finally, the resume should include any educational background or certifications in operations management or business administration. An operations clerk resume should demonstrate that an applicant is capable of carrying out the responsibilities of the job and will be an asset to the company.
What is a good objective for a Operations Clerk resume?
Writing a resume can be a daunting task, especially when it comes to adding a resume objective. An objective is meant to give a brief yet concise overview of an applicant's qualifications and career goals. For an Operations Clerk, this section should focus on the applicant's ability to efficiently assist operational duties such as scheduling and organizing meetings, maintaining executive calendars, and providing administrative support.
An effective objective for an Operations Clerk resume should read something like:
Energetic and organized Operations Clerk with 5+ years of experience in administrative and clerical support, seeking to leverage superior organizational and communication skills to support the operations of a growing organization.
Proven track record of excellence in managing multi-tasking and meeting deadlines in a fast-paced environment.
Knowledgeable in utilizing office equipment such as photocopiers, scanners, and other related computer programs.
Dedicated to providing exceptional customer service and ensuring clients' complete satisfaction.
Highly organized and detail-oriented with a strong ability to prioritize tasks.
Results-driven professional with a passion for problem solving and process improvement.
By including a concise yet relevant objective to your Operations Clerk resume, you can ensure that hiring managers and employers will be able to quickly identify your qualifications and professional goals.
How do you list Operations Clerk skills on a resume?
Operations clerk positions are ideal for individuals who have experience in data entry, customer service, and managing tasks. When writing a resume for this type of position, it is important to highlight the key skills needed to succeed in the role. Here are some skills to include when listing your qualifications as an Operations Clerk on a resume:
Data Entry: Possessing strong computer skills and the ability to quickly and accurately enter data into a computer system.
Customer Service: Possessing strong interpersonal skills to communicate clearly and effectively with customers, vendors and colleagues.
Time Management: Ability to prioritize tasks and manage multiple deadlines.
Attention to Detail: Strong attention to detail to ensure accuracy and completeness of data entry, paperwork, and other tasks.
Organization: Ability to maintain a clean and organized work environment.
Problem Solving: Possessing strong problem solving skills to identify and resolve any potential issues.
Adaptability: Ability to quickly adapt to changing situations and adjust workflow accordingly.
By highlighting these skills on your resume, you will be able to demonstrate your qualifications for an Operations Clerk position.
What skills should I put on my resume for Operations Clerk?
The title of operations clerk encompasses a wide range of duties requiring specific skills to be successful. A resume for an operations clerk should showcase the pertinent skills required for the job. Here are some skills that you should consider adding to your resume for an operations clerk position:
Attention to Detail: An operations clerk must be able to pay close attention to detail in order to process and manage data accurately.
Time Management: This role requires excellent time management skills to ensure all tasks are completed in a timely and efficient manner.
Data Entry: This role involves the entry and processing of significant amounts of data, so strong data entry skills are essential.
Computer Skills: Operations clerks must have strong computer skills, such as knowledge of Microsoft Office, database software, and database management systems.
Technical Skills: An operations clerk also needs to have a good understanding of technical processes, such as shipping and inventory management.
Interpersonal Skills: An operations clerk often interacts with colleagues and customers, so strong interpersonal and communication skills are a must.
Problem-Solving: This role requires a problem-solving mindset to identify, troubleshoot, and resolve issues.
Organization: A successful operations clerk must be highly organized to keep all the data and processes running smoothly.
Key takeaways for an Operations Clerk resume
An operations clerk is an essential position for most businesses, as the clerk is responsible for running the day-to-day operations of the company, from keeping track of inventory to managing payroll, and more. If you are looking to apply to an operations clerk position, it is important to have an effective resume that highlights your skills and experience, as well as showcases your commitment to the industry. In order to create an effective resume, here are a few key takeaways to consider.
First, be sure to highlight your experience in the operations field and showcase your knowledge of the industry. Include job titles, roles, and specific responsibilities that you have held in the past. This will help employers quickly see that you are a qualified candidate for the position.
Second, pay close attention to the language you use. Be sure to use powerful, descriptive words that accurately describe your skills and experience. Additionally, avoid generic language and try to show how your experience is specific to the position you are applying for.
Third, be sure to include any relevant certifications or licenses that you may have. This will help employers see that you are qualified to handle the job.
Finally, don't forget to include any relevant education or training that you have completed. This can be anything from a specialized course to a degree program.
By following the above key takeaways, you can ensure that your resume is a strong representation of who you are and the value you can bring to the position. Good luck!
Let us help you build
your Resume!
Make your resume more organized and attractive with our Resume Builder