Are you applying for a job as an Administrative Officer? Writing a resume for this particular field requires more than just listing your experience and qualifications. You need to highlight your efficiency, customer service skills, and knowledge of various software and databases. That's why it's important to make sure your resume stands out from the competition. This guide provides tips and examples for crafting a compelling and professional Administrative Officer resume that will help you land your dream job.
If you didn't find what you were looking for, be sure to check out our complete library of resume examples.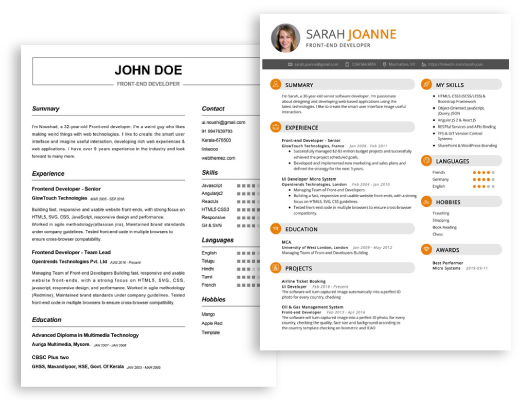 Start building your dream career today!
Create your professional resume in just 5 minutes with our easy-to-use resume builder!
Administrative Officer Resume Examples
John Doe
Administrative Officer
123 Main Street | Anytown, USA 99999 | Phone: (123) 456-7890 | Email: john.doe@email.com
I am an experienced Administrative Officer with over 10 years of experience in providing administrative support to executive teams in a variety of industries. I have excellent organizational and communication skills, enabling me to effectively manage day- to- day duties, monitor projects, and interface with clients and team members. I am highly proficient in a range of office software and have a keen eye for detail and accuracy. My commitment to completing tasks on time and my ability to work collaboratively make me an ideal candidate for any role requiring strong administrative abilities.
Core Skills:
Organizational Skills
Project Management
Communication
Office Software Proficiency
Detail- Oriented
Time Management
Collaborative Team Player
Professional Experience:
Administrative Officer, XYZ Corporation, 2015- Present
Execute administrative duties on behalf of executive staff such as scheduling, filing, record- keeping, and document preparation.
Manage projects and timelines in an organized manner and ensuring deadlines are met.
Communicate with clients and team members in a professional manner.
Provide ongoing support to executives and management teams.
Liaise with vendors and other external parties.
Office Manager, ABC Company, 2011- 2015
Responsible for daily administrative activities including filing, record- keeping, and document preparation.
Managed projects and timelines while ensuring deadlines are met.
Developed and maintained administrative processes, procedures and systems.
Liaised with vendors and other external parties.
Education:
Bachelor of Science, Business Administration, ABC University, 2011
Administrative Officer Resume with No Experience
Recent college graduate with excellent organizational and communication skills, eager to join a dynamic and ambitious team as an Administrative Officer. Possess an understanding of best practices in managing a variety of administrative and clerical tasks while upholding a high standard of customer service.
Skills
Customer service
Organizational and problem- solving abilities
Microsoft Office Suite & G- Suite
Written and verbal communication
Time Management
Data Entry
Responsibilities
Provide excellent customer service by responding to queries in a timely and professional manner.
Organize and manage office systems, including filing, data entry, and administrative support.
Assist with the preparation of reports, presentations, and other tasks as requested.
Create and maintain accurate databases and records.
Update and maintain office equipment and supplies.
Manage office calendars and schedule appointments.
Perform other administrative duties as assigned.
Administrative Officer Resume with 2 Years of Experience
Experienced Administrative Officer with over two years of experience in providing efficient services in daily operations of an organization. Skilled in administrating tasks, providing support to staff, and organizing events. Demonstrated ability to work in fast- paced environments while managing multiple tasks with a great attention to detail.
Core Skills:
Excellent organizational and communication skills
Proficient in Microsoft Office Suite and other software programs
Ability to prioritize tasks and complete them in a timely manner
Problem solving and decision- making skills
Knowledge of office management
Responsibilities:
Coordinated day- to- day administrative tasks of the office
Ensured the office is running smoothly and efficiently
Processed and filed documents accurately and timely
Handled incoming and outgoing phone calls and emails
Arranged and managed meetings, events, and travel accommodations
Developed and maintained excellent internal and external relationships
Maintained a high level of confidentiality for sensitive information
Administrative Officer Resume with 5 Years of Experience
Dedicated Administrative Officer with 5 years of experience in providing superior administrative support to executives, managers and other staff members. Proven ability to prioritize tasks, foster strong working relationships, and manage multiple projects simultaneously. Possess a strong work ethic, dedication to customer service and excellent organizational skills.
Core Skills:
Time Management
Written & Verbal Communication
Organizational Skills
Project Management
MS Office Suite
Attention to Detail
Responsibilities:
Perform administrative duties such as preparing correspondence, reports, and organizing and maintaining paper and electronic files
Assist with the preparation and distribution of reports, presentations, and other materials
Answer phones, respond to inquiries and provide customer service
Organize travel arrangements, including hotel and airline reservations
Manage and process invoices, purchase orders, and other financial documents
Schedule and coordinate meetings, conferences, and other events
Coordinate special projects and provide administrative support as needed
Prepare and distribute agendas, minutes and other documents
Develop and maintain good working relationships with all stakeholders
Administrative Officer Resume with 7 Years of Experience
Dynamic and highly- motivated Administrative Officer with over 7 years of experience providing administrative and operational support to executives and executive teams. Knowledgeable in organizational procedures and policies, personnel management, and document control. Expert in the use of Microsoft Office, various database management systems, and specialized software. Proven history of developing and maintaining successful relationships with vendors, customers, and colleagues and working with all levels of management.
Core Skills:
Administrative support expertise
Organizational and analytical skills
Excellent communication skills
Time management
Problem- solving
Microsoft Office and database management
Vendor management
Responsibilities:
Providing administrative support to executives, managers, and staff
Managing and maintaining filing systems and databases
Organizing meetings, events, and travel arrangements
Developing, implementing, and managing office procedures
Assisting with recruiting and onboarding processes
Assisting with budget and payroll processing
Collecting and analyzing data for reports and presentations
Performing research for special projects and presentations
Processing invoices and other payment requests
Collaborating with other departments to ensure efficient operations
Administrative Officer Resume with 10 Years of Experience
An experienced, motivated and organized Administrative Officer with 10+ years of experience in providing administrative and managerial support. Highly skilled in developing and implementing effective office procedures, managing data systems, and managing personnel. Experienced in liaising with external stakeholders, ensuring compliance with regulations, and analyzing organizational processes to improve efficiencies.
Core Skills:
Administrative Support
Organizational Skills
Data Systems Management
Compliance
Stakeholder Management
Process Improvement
Personnel Management
Responsibilities:
Organizing and maintaining office systems and records, including filing, data entry and document management
Managing the day- to- day operations of the office, including scheduling staff, delegating tasks and ensuring staff adheres to company policies and procedures
Developing and implementing office procedures and ensuring they are followed
Analyzing organizational processes and identifying areas of improvement
Liaising with external stakeholders to resolve issues and negotiate agreements
Ensuring compliance with relevant laws, regulations, and policies
Managing personnel, including recruiting, training, and appraising staff
Preparing and disseminating reports and presentations as required.
Administrative Officer Resume with 15 Years of Experience
A highly experienced Administrative Officer with 15 years of experience providing administrative support, managing daily operations, and supervising staff in a professional office setting. Possesses excellent organizational and problem- solving skills, and is able to work independently to ensure smooth office operations. Experienced in data entry, document preparation, and coordinating meetings, as well as working with both internal and external stakeholders.
Core Skills:
Proven organizational and administrative skills
Excellent communication and interpersonal skills
Proficient in Microsoft Office applications
Ability to multitask and prioritize workload
Experienced in data entry and document preparation
Ability to use office equipment and technology
Knowledge of office procedures and protocols
Highly organized and efficient
Excellent problem- solving and analytical skills
Responsibilities:
Supervise and lead staff in daily operations and functions
Coordinate and manage office operations, including scheduling meetings and managing calendars
Prepare and maintain documents, such as reports, correspondence, and presentations
Manage and maintain office equipment and supplies
Maintain and update office filing systems
Monitor and respond to incoming inquiries, emails, and phone calls
Ensure compliance with office policies and procedures
Facilitate communication between internal and external stakeholders
Research and analyze data to provide informed decision- making support
Develop and implement efficient office procedures and systems
What should be included in a Administrative Officer resume?
A well-crafted resume is essential for any Administrative Officer position. It should include relevant education, experience and skills, as well as other qualifications that make you an ideal candidate for the job.
Including the following points on your Administrative Officer resume will help you stand out from other applicants:
Objective: Include a short statement that reflects your career goals and how the Administrative Officer position will help you achieve those goals.
Education: Outline the college or university you attended, the degree you earned and any relevant coursework.
Work Experience: List all previous work experience, including the company name, job title and responsibilities.
Skills: Highlight both technical and soft skills such as proficiency with Microsoft Office, communication, problem-solving and multitasking.
Special Qualifications: Include any certifications or licenses obtained that are relevant to the position.
References: Include two or three professional references that can vouch for your work ethic and abilities.
By following these guidelines, your resume will be sure to make a great impression on potential employers.
What is a good summary for a Administrative Officer resume?
An effective summary for an administrative officer resume should showcase the candidate's ability to manage a variety of tasks, such as scheduling meetings, conducting research, preparing reports and documents, and assisting with planning and executing events. The summary should also emphasize the candidate's experience with office software, their communication and problem-solving skills, their ability to multitask, and their commitment to providing excellent customer service. Furthermore, the summary should highlight the candidate's organizational abilities and their proficiency in developing and maintaining systems of organization. Highlighting any awards, certifications, and certifications in the summary will help to demonstrate the candidate's commitment to their professional development. The summary should be tailored to the particular position for which the candidate is applying.
What is a good objective for a Administrative Officer resume?
A Administrative Officer offers administrative support to their organization. They typically handle tasks such as record keeping, filing, budgeting, data entry, and research. An effective objective statement on an Administrative Officer resume should clearly demonstrate your experience, knowledge, and ability to take on the responsibilities of the role.
A good objective for a Administrative Officer resume should include the following:
Highlight your ability to provide effective administrative support
Showcase your experience in record keeping, data entry, and filing
Indicate your knowledge of organizational budgeting, accounting, and research
Reveal your dedication to contributing to the organization's mission and vision
Demonstrate your aptitude for problem solving and working with minimal supervision
Express your enthusiasm for utilizing your knowledge and experience to help the organization achieve its goals.
By incorporating these components into your objective statement, you can quickly and effectively communicate your qualifications and demonstrate that you are the right choice for the Administrative Officer role.
How do you list Administrative Officer skills on a resume?
Adminstrative Officers play a crucial role in any office setting, as they provide assistance to the Senior Management Team, manage office operations, and keep records and documents in order. When creating a resume for such a position, it is important to list your skills in a way that will help you stand out from other applicants. Here is how you list Administrative Officer skills on a resume:
Excellent communication skills: Able to effectively communicate verbally and in writing to different levels within the organization.
Organizational skills: Highly organized and able to prioritize tasks to optimize efficiency.
Leadership skills: Possess the ability to take charge and motivate a team to reach goals.
Problem-solving skills: Skilled in analyzing problems and implementing solutions in a timely manner.
Knowledge of office software: Proficiency in MS Office, Quickbooks, and other software used in office settings.
Customer service skills: Possess a positive attitude and able to provide excellent customer service.
Time management skills: Able to juggle multiple tasks while maintaining strict deadlines.
Attention to detail: Pay close attention to detail to ensure accuracy and quality of work.
Interpersonal skills: Demonstrated ability to build relationships and interact professionally with diverse stakeholders.
What skills should I put on my resume for Administrative Officer?
Are you preparing to apply for an administrative officer position? A well-rounded resume is essential in standing out from the competition and getting your foot in the door. To ensure your resume is up to par, consider including the following skills.
Technical: Working knowledge of computer systems, office software, and related technology is important for many administrative officer positions. Be sure to highlight any familiarity you may have with specific programs or platforms.
Communication: Excellent verbal and written communication skills are essential for administrative officers. From meeting face to face with clients to composing emails and reports, being able to communicate effectively is key.
Multi-tasking: This is an important skill in any administrative position. Being able to juggle multiple tasks, prioritize assignments, and stay organized is critical for success.
Problem Solving: As an administrative officer, you may face complex problems on a daily basis. Show employers that you have the ability to critically think and devise solutions by mentioning any experience you have with problem solving.
Leadership: Many administrative officer roles require some level of oversight and direction. Show employers that you have the ability to lead and motivate a team by including any relevant experiences you have with leading projects or initiatives.
By highlighting these particular skills on your resume, you can set yourself apart from other applicants and show employers that you have what it takes to be an effective administrative officer.
Key takeaways for an Administrative Officer resume
A resume for an administrative officer is a critical part of the job application process. It should showcase your experience and qualifications in a clear and concise way. Here are some key takeaways to keep in mind when drafting your administrative officer resume:
Highlight Your Relevant Experience: Make sure to include any experience that might be relevant to the role you're applying for. This could include past administrative roles, project management, or customer service experience.
Emphasize Your Qualifications: Make sure to include any relevant qualifications, such as a degree in business or related field.
Showcase Your Technical Skills: Include any technical skills that you've honed in past positions. These could include proficiency in Microsoft Office, software programs, or experience with databases.
Accentuate Your Soft Skills: Administrative roles often require the ability to work with colleagues, customers, and the public. Make sure to emphasize any related soft skills like communication, problem-solving, and organization.
Demonstrate Your Initiative: Showcase any initiatives that you've taken in your past roles. This could include streamlining processes, developing new policies, or improving customer experience.
By following these key takeaways when crafting your resume, you will be able to effectively showcase your experience, qualifications, and skills to employers. Good luck!
In addition to this, be sure to check out our resume templates, resume formats, cover letter examples, job description, and career advice pages for more helpful tips and advice.
Let us help you build
your Resume!
Make your resume more organized and attractive with our Resume Builder