Writing a strong resume is important in any job search and the office support industry is no exception. An effective office support resume will highlight the skills and experience needed to excel in a wide variety of positions, such as receptionist, administrative assistant, clerical worker, and more. This guide will provide you with tips and tricks on how to create an office support resume that will get you noticed by potential employers. Additionally, this guide will provide examples of successful resumes to help you craft one of your own. By the end of this guide, you will have a comprehensive understanding of how to write an effective office support resume that will help you stand out from the competition.
If you didn't find what you were looking for, be sure to check out our complete library of resume examples.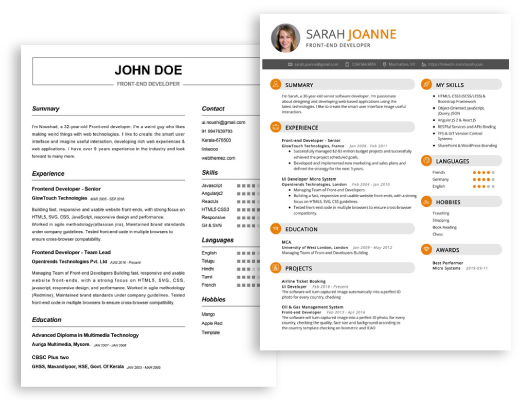 Start building your dream career today!
Create your professional resume in just 5 minutes with our easy-to-use resume builder!
Office Support Resume Examples
John Doe
Office Support
123 Main Street | Anytown, USA 99999 | Phone: (123) 456-7890 | Email: john.doe@email.com
Hardworking, organized and detail- oriented Office Support professional with 4+ years of experience providing administrative services, excellent customer service and well- honed organizational skills. Adept at organizing and keeping track of office documents, managing multiple tasks and prioritizing deadlines. Skilled at utilizing computer programs to develop reports, compile data and organize documents.
Core Skills:
Computer proficiency (Microsoft Office Suite, Adobe Acrobat Pro, QuickBooks, CRMs)
Excellent customer service
Data entry and organization
Multi- tasking
Strong written and verbal communication
Attention to detail
Flexible and reliable
Professional Experience:
Admin Support – ABC Corporation, Nov 2014 – Present
Provide office support services to executives, clients and staff in a fast- paced environment.
Maintain and update customer database using CRM and Microsoft Office.
Respond to customer inquiries and complaints in a professional manner.
Receive and distribute incoming mail, documents and other information.
Assist with special projects as requested.
Data Entry Clerk – XYZ Corporation, June 2012- Oct 2014
Accurately entered customer data into company database and maintained records.
Verified data accuracy and corrected any errors found.
Managed and answered inquiries in a timely manner.
Assisted with customer billing and payments.
Education:
Bachelor of Science in Business Administration
XYZ University, 2010- 2014
Office Support Resume with No Experience
Motivated and hardworking entry- level office support professional eager to apply excellent communication abilities, organizational skills and attention to detail to a role in an administrative role.
Skills:
Ability to multi- task and prioritize tasks
Knowledge of basic office software
Excellent communication skills
Detail- oriented
Organizational skills
Flexible and adaptable
Able to work independently
Customer service experience
Responsibilities
Greeting visitors and answering phones
Organizing and maintaining files
Managing calendar and scheduling appointments
Ordering office supplies
Data entry and updating records
Providing general administrative support
Creating and maintaining filing systems
Office Support Resume with 2 Years of Experience
A highly organized, results- driven professional with 2 years of experience providing top- notch administrative and customer service support in an office environment. Adept at maintaining office processes and procedures, managing customer inquiries and complaints, and utilizing Microsoft Office applications to create documents and spreadsheets. Possesses a strong work ethic and the ability to work in a fast- paced, high- pressure environment while meeting tight deadlines.
Core Skills:
Proficient in Microsoft Office Suite
Excellent customer service skills
Solid problem- solving and troubleshooting abilities
Ability to prioritize tasks, manage workloads, and meet tight deadlines
Effective organizational and time management skills
Excellent verbal and written communication skills
Proven ability to work independently and collaboratively
Responsibilities:
Administered daily office operations and procedures, while ensuring accuracy and efficiency
Answered customer inquiries in a timely and professional manner
Assisted with customer service- related tasks, such as filing complaints and handling customer inquiries
Entered customer data into customer relationship management (CRM) software
Managed office supplies and inventory, coordinated office equipment maintenance and repairs
Assisted with the preparation of documents and reports
Handled customer accounts and maintained accurate records
Developed, implemented, and maintained office policies and procedures
Assisted in the creation and maintenance of spreadsheet and database systems.
Office Support Resume with 5 Years of Experience
Highly organized and detail- oriented individual with 5 years of experience providing office support in a busy corporate setting. Proven track record of providing exceptional customer service, performing administrative duties, and managing multiple tasks efficiently. Adept at both working as part of a team and independently.
Core Skills:
Proficiency in Microsoft Office Suite (Word, Excel, PowerPoint, Outlook)
Project Management
Data entry
Excellent written and verbal communication
Strong organizational and problem- solving skills
Effective time management
Attentive to detail
Responsibilities:
Provided administrative support to the department team
Organized and scheduled meetings and appointments
Recorded and maintained meeting minutes
Greeted visitors and assisted with general inquiries
Answered and directed incoming telephone calls
Managed filing system and organized documents
Processed invoices and data entry tasks
Assisted with the preparation of reports
Developed and maintained effective working relationships with colleagues and customers
Office Support Resume with 7 Years of Experience
Highly motivated and organized office support professional with 7 years of experience in providing excellent administrative and customer service support to a wide range of office staff. Possesses excellent communication, interpersonal and problem solving skills. Able to multitask in a fast- paced environment and remain flexible when needed. Committed to providing the highest level of customer service and support.
Core Skills:
Data entry
Invoicing
Filing and archiving
Maintaining records
Customer service
Answering phones
Scheduling appointments
Microsoft Office Suite
Responsibilities:
Managed daily office operations, including but not limited to filing, data entry and invoicing
Answered incoming calls, scheduled appointments and addressed customer inquiries
Resolved customer complaints and inquiries in a professional manner
Organized and maintained office records and databases
Ensured accurate filing and archiving of documents
Prepared various reports and documents in a timely manner
Provided support to office staff in areas including, but not limited to, scheduling, customer service and bookkeeping
Assisted with the ordering and purchasing of office supplies and equipment
Office Support Resume with 10 Years of Experience
A highly experienced Office Support Administrator with over 10 years of extensive expertise in providing efficient and reliable office support services. Highly organized and reliable professional with excellent time management and communication skills. Proven ability to manage multiple tasks efficiently while ensuring accuracy and quality.
Core Skills:
Administrative Support
Data Management
Document Processing
File Maintenance
Calendar Management
Office Equipment Maintenance
Travel Arrangements
Meeting Coordination
Customer Service
Computer Proficiency
Responsibilities:
Responsible for providing administrative services to staff members and guests.
Handled the setup, maintenance and operation of office equipment.
Ensured the proper maintenance of office files, documents and records.
Processed and distributed incoming and outgoing mail.
Assisted in the coordination of travel and accommodations for staff.
Scheduled and coordinated meetings and events.
Provided customer service and responded to inquiries from customers.
Performed data entry and maintained data records.
Received, logged and handled incoming and outgoing packages.
Assisted in the preparation of reports and presentations.
Office Support Resume with 15 Years of Experience
I am a highly experienced Office Support professional with 15 years' experience in a variety of office positions. I possess strong multitasking and organizational skills, exceptional customer service, a friendly and professional demeanor, and outstanding computer skills. I am comfortable in fast- paced environments, where I am able to prioritize tasks and complete them efficiently and effectively. I have a proven track record of managing paperwork, filing, data entry, customer relations, and various other office duties. I am an excellent communicator who is comfortable working with customers and coworkers alike.
Core Skills:
Filing
Data Entry
Customer Service
Copy- editing
Word Processing
Calendar Management
Mail and Package Handling
Scheduling
Office Equipment Maintenance
Multi- tasking
Organizational Skills
Attention to Detail
Customer Relations
Technology Proficiency
Responsibilities:
Manage incoming and outgoing mail, packages, and other correspondence
Answer phones and provide customer service
Maintain office equipment, ensuring its proper operation
Assist with copy- editing, data entry, and other clerical tasks
Organize and file documents according to established filing systems
Assist in keeping track of office supplies and placing orders when necessary
Create and maintain calendar entries for appointments, meetings, and other events
Provide support for executive staff and other office personnel
Greet and direct visitors, providing customer service and answering inquiries
Process payments and invoices, and reconcile accounts
Assist in the onboarding process for new employees
In addition to this, be sure to check out our resume templates, resume formats, cover letter examples, job description, and career advice pages for more helpful tips and advice.
What should be included in a Office Support resume?
A well-crafted resume for an Office Support position should include key information such as experience, key skills, and relevant education.
Experience
List any experience that you have related to Office Support. Be sure to include jobs, internships, and/or volunteer work.
Highlight duties and accomplishments that demonstrate your knowledge and skills in Office Support.
Include the dates you worked and the company where you worked.
Key Skills
Identify the specific skills that you possess that are relevant to Office Support.
Include any certifications, software, and other technical skills that you have.
Demonstrate any interpersonal skills that you have such as communication, problem solving, and customer service.
Education
Include any educational degrees, diplomas, and/or certificates that are related to Office Support.
Mention any special honors, awards, and/or scholarships that you've received.
List any relevant coursework or special projects that you've completed.
By including this information in your Office Support resume, you will effectively demonstrate to employers that you are the right person for the job.
What is a good summary for a Office Support resume?
A good summary for an Office Support resume should highlight the applicant's administrative and organizational skills, as well as their attention to detail and ability to multitask in a fast-paced environment. It should include examples of successful projects or initiatives they have undertaken in the past, as well as any advanced office or computer skills they possess. The summary should also demonstrate how their knowledge and experience make them a valuable asset to any team or organization.
What is a good objective for a Office Support resume?
A career in office support can be exciting and rewarding. It can also be challenging and demanding, as the position often requires a combination of technical, organizational and people skills. For those looking to pursue a career in office support, it is important to craft a well-written resume that clearly outlines your qualifications and experiences. An effective objective statement can help your resume stand out from the competition and get you closer to your dream job.
A good objective for an office support resume should focus on your skills, experience and career goals. Some key points to include in your objective are as follows:
Demonstrate your knowledge of office support systems, software, and procedures
Highlight your ability to work with people and manage projects
Showcase your interpersonal and communication skills
Emphasize your commitment to accuracy and organization
Express your desire to contribute to the organization's success
By including these points in your objective statement, you can showcase your qualifications and make a strong impression on potential employers. Writing a strong objective statement is an important part of crafting an effective resume, and can help you land the job you've been dreaming of.
How do you list Office Support skills on a resume?
When you're looking for a job, it's important to highlight your Office Support skills on your resume. Office Support skills are those related to general office operations such as filing, reception, data entry and customer service. Employers value these skills and being able to list them on your resume can help you stand out from other applicants.
Here are some tips on how to list Office Support skills on your resume:
Include a dedicated "Office Support Skills" section. This section should be at the top of your resume, near your contact information and objective.
List your Office Support skills in bullet points. Use specific examples and action words to show how you've used these skills in the past.
Focus on the skills that are most relevant to the job you're applying for. For example, if you're applying for a receptionist position, highlight your customer service skills.
Include transferable skills. Office Support skills are often transferable to other jobs, so make sure to list any skills that may be applicable to the job you're applying for.
By listing Office Support skills on your resume, you'll show employers that you have the skills and experience to succeed in a variety of office roles. Make sure to include a dedicated section, use bullet points and focus on the skills that are most relevant to the job you're applying for.
What skills should I put on my resume for Office Support?
When applying for an Office Support position, it's important to showcase the skills that make you the ideal candidate for the job. Your resume is your chance to demonstrate to potential employers how you can be an asset to their team.
Here are some key skills that should be included when writing a resume for an Office Support role:
Proficiency in Microsoft Office Suite: You should be comfortable using the full suite of Microsoft Office programs such as Word, Excel, Outlook, and PowerPoint. Being able to create documents, presentations, and spreadsheets quickly and efficiently is important for this position.
Excellent communication skills: Office Support positions require excellent written and verbal communication skills. You should be able to communicate clearly with customers, coworkers, and supervisors.
Attention to detail: As an Office Support employee, you'll be responsible for completing many tasks with accuracy. Showcasing your attention to detail on your resume will help demonstrate to employers that you're up for the challenge.
Organization: Being organized is a must for Office Support positions, as there will likely be multiple tasks that need to be completed each day. You should be able to prioritize tasks and manage your time effectively in order to stay on top of deadlines.
Flexibility: Being able to quickly adapt to changes in the office environment is essential for Office Support positions. Showcasing your ability to stay calm and handle stressful situations on your resume can help demonstrate to employers that you're the right candidate for the job.
Including these skills on your resume can help you stand out from the competition and make a great impression on potential employers.
Key takeaways for an Office Support resume
It is important to have a solid resume when you are looking for a new job in the office support field. Your resume should highlight your qualifications and experience, as well as your unique skills and abilities that will make you stand out from other applicants. Here are some key takeaways to consider when creating an office support resume that will help you land your dream job.
Make sure to include a professional summary. This should be a brief statement that explains who you are and why you are an ideal candidate for the position. Make sure to include information about your qualifications, skills, and experience that are relevant to the job.
Identify and emphasize your strengths. Highlight any technical and administrative abilities that you have, such as data entry, scheduling, and report writing. Also, emphasize any relevant certifications or training that you have completed.
Be sure to include a section on your work history. This is a great way to demonstrate your experience and highlight your success in past positions. Make sure to list the job title, company name, and dates of employment for each position.
Use bullet points to make your resume easier to read. This will make it easier for the hiring manager to quickly scan your resume and identify your qualifications.
Provide references. This will demonstrate your reliability and professionalism, and will give the employer confidence in your capabilities.
By following these key takeaways, you will be able to create an effective resume that will help you stand out from other applicants. With a well-crafted resume, you will be sure to land your dream job in the office support field.
Let us help you build
your Resume!
Make your resume more organized and attractive with our Resume Builder