Are you looking to take your career to the next level? Then it's time to start crafting a standout office supervisor resume. Writing a great resume for an office supervisor role requires some research and organization. It's important to include the right information, highlight your best qualifications, and use clear and concise language that showcases your professionalism. In this guide, we'll provide you with tips and examples of how to create a resume that will make you stand out from the competition.
If you didn't find what you were looking for, be sure to check out our complete library of resume examples.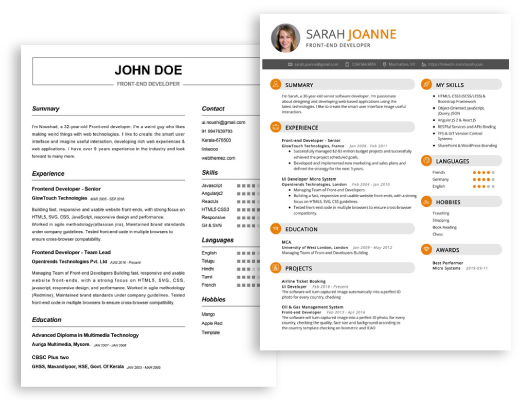 Start building your dream career today!
Create your professional resume in just 5 minutes with our easy-to-use resume builder!
Office Supervisor Resume Examples
John Doe
Office Supervisor
123 Main Street | Anytown, USA 99999 | Phone: (123) 456-7890 | Email: john.doe@email.com
I am an experienced office supervisor with over 10 years of experience in administrative management, customer service, problem solving, and conflict resolution. I possess excellent communication and organizational skills, with the ability to prioritize and multitask. I have a proven track record of managing teams of staff and ensuring the smooth running of all office operations.
Core Skills:
Administration and Office Management
Staff Management and Leadership
Conflict Resolution
Customer Service
Organization and Time Management
Communication and Interpersonal Skills
Professional Experience:
Office Supervisor, ABC Corporation, 2016 – Present
Managed and coordinated all office operations, including supervising a team of 8 staff members
Developed and implemented efficient office procedures, resulting in increased employee productivity
Established positive relationships with clients and vendors
Resolved customer service complaints and disputes efficiently
Administrative Manager, XYZ Corporation, 2014 – 2016
Managed a team of 5 administrative staff, ensuring the smooth running of office operations
Developed and implemented efficient office procedures to increase staff productivity
Handled customer service inquiries and resolved any customer service complaints in a timely manner
Education:
Bachelor of Science (BS), Business Administration, ABC University, 2010 – 2014
Office Supervisor Resume with No Experience
Recent college graduate eager to join the team as an Office Supervisor with a strong focus on organization and customer service. Possess excellent organizational and communication skills with a passion for learning.
Skills
Strong communication and customer service skills
Excellent organizational abilities
Ability to prioritize tasks and manage time efficiently
Strong problem- solving skills
Ability to work independently and as part of a team
Responsibilities
Maintaining office supplies by checking inventory and placing orders
Ensuring customer satisfaction by providing customer service support
Organizing and scheduling meetings and appointments
Handling customer inquiries and complaints
Assisting with filing, customer service duties, and administrative tasks
Answering and routing phone calls
Performing clerical duties such as data entry, filing, and photocopying
Office Supervisor Resume with 2 Years of Experience
A highly organized and detail- oriented professional with 2 years of experience in an office supervisor role, I am adept in managing administrative processes, directing teams towards successful outcomes, and providing support through effective communication. I possess excellent problem- solving and conflict resolution skills, and an eye for detail. My advanced knowledge of office operations, customer service, and administrative duties is an asset to any organization.
Core Skills:
Excellent organizational skills
Strong communication skills
Ability to multitask
Detail Oriented
Team Leadership
Advanced Knowledge of Office Operations
Conflict Resolution
Responsibilities:
Supervise office staff and ensure assigned tasks are completed according to deadline
Coordinate and oversee day- to- day office operations
Manage customer service interactions with professionalism and courtesy
Monitor office supplies and ensure adequate inventory levels
Liaise with other departments to ensure smooth operations
Maintain accurate records and ensure compliance with company policies and procedures
Assist with the development and implementation of office policies and procedures
Create reports and analyze data for management
Provide administrative support to management and staff as needed
Office Supervisor Resume with 5 Years of Experience
A highly motivated Office Supervisor who has 5+ years of experience in overseeing the daily operations of an office environment. A committed and reliable professional with a proven ability to ensure the delivery of high- quality services and successful completion of multiple projects. Possesses exceptional communication and organizational skills, along with a strong ability to multitask and manage competing demands.
Core Skills:
Strong leadership and supervisory skills
Advanced knowledge of office management
Proficient in Microsoft Office Suite
Excellent communication and organizational skills
Ability to multitask and manage competing demands
Highly organized and diligent
Responsibilities:
Leading and supervising the operations of the office
Organizing and delegating tasks to staff members
Ensuring compliance with company policies and procedures
Managing office operations, including filing systems and document management
Coordinating and scheduling meetings and events
Maintaining office supplies and equipment
Developing and executing office management plans and procedures
Monitoring office expenditures and working within budget constraints
Preparing and submitting reports to management
Office Supervisor Resume with 7 Years of Experience
Highly motivated and results- driven Office Supervisor with seven years of experience directing office operations and managing personnel in a fast- paced environment. Expertise in developing and implementing effective organizational systems and procedures to streamline workflow and enhance productivity. Proven ability to solve complex problems, build strong teams, and devise innovative solutions.
Core Skills:
Strong organizational and planning skills
Excellent communication, interpersonal, and customer service skills
Ability to multitask and prioritize work
Proficient in Microsoft Office Suite
Knowledge of financial and accounting principles
Excellent problem- solving and analytical skills
Effective leadership and team management skills
Responsibilities:
Supervised daily office operations including staff management, customer service, budgetary analysis, and financial planning
Monitored and evaluated staff performance, providing coaching and mentoring to foster growth and development
Developed and implemented procedures, policies, and systems to streamline workflow
Assisted in the design and implementation of office systems to improve efficiency and productivity
Liaised with customers, vendors, and other stakeholders to coordinate operational activities and resolve issues
Assisted in the preparation of budget plans and forecasts to ensure financial goals were achieved
Created and maintained accurate records and filing systems for office documents
Office Supervisor Resume with 10 Years of Experience
Experienced and organized Office Supervisor with 10 years of experience in managing administrative and personnel operations within a corporate office setting. Skilled in overseeing the day- to- day administrative tasks, ensuring proper filing and storage of documents, coordinating and delegating assignments, and maintaining communication with all staff members. Highly motivated and knowledgeable in all areas of office management, including budgeting, personnel management, and customer service.
Core Skills:
personnel management
customer service
office administration
budgeting
staff delegating
document filing
problem solving
time management
communication
Responsibilities:
Manage personnel operations and operations of the office.
Coordinate and delegate assignments to staff.
Ensure proper filing and storage of documents.
Monitor and reassign tasks to ensure successful completion.
Oversee staff hiring and training, including onboarding and off- boarding.
Manage office budgets and track expenses.
Handle customer service inquiries and complaints.
Develop and implement operational procedures for improved efficiency.
Maintain communication with staff and other departments.
Troubleshoot any office- related problems.
Oversee office furniture, equipment, and supplies ordering.
Office Supervisor Resume with 15 Years of Experience
I am an experienced Office Supervisor with over 15 years of experience overseeing office operations and providing customer service. I have extensive experience in a variety of roles, including managing staff, overseeing customer service, and administering accounts. I have excellent problem- solving and organizational skills, and am proficient with a wide range of office technologies. I am highly efficient and proactive, with a strong commitment to providing excellent customer service. I am an excellent communicator with a proven ability to effectively manage teams and delegate tasks.
Core Skills:
Office Supervision
Customer Service
Staff Management
Problem- Solving
Accounts Administration
Office Technology
Communication
Delegation
Responsibilities:
Supervised day- to- day office operations, ensuring that administrative tasks are handled in an efficient and effective manner.
Managed staff, delegating tasks and monitoring performance to ensure that all duties are completed in a timely manner.
Oversaw customer service operations, providing assistance to customers with inquiries, resolving conflicts, and handling complaints.
Administered accounts, managing financial records and ensuring accuracy in all transactions.
Utilized office technology, such as computers and software, to streamline administrative tasks.
Developed and maintained excellent customer relations, responding to queries in a timely and professional manner.
Monitored inventory, ordering supplies and materials to ensure that sufficient stock is available to meet operational requirements.
In addition to this, be sure to check out our resume templates, resume formats, cover letter examples, job description, and career advice pages for more helpful tips and advice.
What should be included in a Office Supervisor resume?
The job of an Office Supervisor requires excellent administrative and organizational skills, as well as an ability to lead and manage a team. In order to make sure that your Office Supervisor resume stands out, there are certain key information that needs to be included in your resume. Here are some things that you should include in your Office Supervisor resume:
Professional summary: Provide a brief summary of your professional history, emphasizing your relevant experience and qualifications.
Core competencies: List the most important skills and competencies relevant to the Office Supervisor role, such as organizational and communication skills, problem-solving, multitasking, and time management.
Professional experience: List all of your previous work experiences that are related to the Office Supervisor role. Include information about your job duties and responsibilities, as well as any relevant accomplishments.
Education: List your most recent educational background, such as any diplomas or degrees.
Certifications: Through continuing education and professional certifications, you can demonstrate your commitment to professional development.
Computer skills: Include any computer programs and software that you are proficient in.
References: Include contact information for two or three professional references who can vouch for your qualifications.
What is a good summary for a Office Supervisor resume?
A strong Office Supervisor resume should provide a concise, yet comprehensive summary of your professional skills, qualifications, and accomplishments that demonstrate your ability to effectively lead and manage office operations. Your summary should highlight your expertise in areas like staff and client relations, office procedures, and project management. Additionally, you should showcase your proven success in optimizing efficiency, improving morale, and resolving conflicts. Including any awards, certifications, and other professional credentials you have can make your summary even more impressive. By showcasing your abilities and experience using clear language, your summary sets the tone for the rest of your resume and grabs the reader's attention.
What is a good objective for a Office Supervisor resume?
A well-written objective on a Office Supervisor resume can help you secure the job you're seeking. When crafting an objective, it's important to be clear, concise, and to the point. Your objective should outline the position you're looking for and how you can provide value to the employer.
Here are some examples of good objectives for an Office Supervisor resume:
To obtain a position as an Office Supervisor where I can use my customer service, organizational, and leadership skills to create an efficient and productive office environment.
Seeking a position as an Office Supervisor that will allow me to utilize my problem solving, communication, and decision-making abilities to further the goals of the organization.
Experienced Office Supervisor looking for a challenging role that will allow me to utilize my experience and leadership to drive results and improve operational efficiency.
To leverage my administrative and organizational skills to provide outstanding customer service, streamline processes, and enhance team performance as an Office Supervisor.
How do you list Office Supervisor skills on a resume?
When it comes to office supervisor positions, employers are looking for candidates with certain technical and soft skills. Creating a resume to showcase your skills is a great way to stand out in the job search process. Here are some tips for how to list office supervisor skills on a resume:
Technical Skills: As an office supervisor, you are responsible for managing administrative tasks and keeping the office running smoothly. Listing technical skills such as computer literacy, data entry, project management, and organizational skills demonstrate your qualifications for the position.
Soft Skills: Include soft skills such as communication, problem solving, project management, multitasking, and conflict resolution. These skills demonstrate to an employer that you have the interpersonal skills to handle office management tasks.
Leadership Qualities: As an office supervisor, you will be in charge of delegating tasks and managing employees. List leadership skills such as coaching, training, performance management, and team building to demonstrate your ability to lead and inspire employees.
Professional Certifications: If you have any professional certifications related to office management, include them on your resume. These certifications demonstrate your commitment to the industry and your dedication to keeping up with the latest trends and technologies.
By including technical and soft skills, leadership qualities, and professional certifications, employers will be able to see your qualifications for the position. With these tips, you can create a resume that showcases your skills and highlights your qualifications for an office supervisor position.
What skills should I put on my resume for Office Supervisor?
As an Office Supervisor, you need to have a combination of both soft and hard skills in order to be a successful leader. Your resume should highlight the skills you have acquired in order to demonstrate your knowledge and ability to manage a team.
Below are some skills you should consider putting on your resume:
Communication: The ability to effectively communicate with colleagues and other staff members is essential. As an Office Supervisor, you need to be able to communicate instructions and expectations clearly and concisely.
Interpersonal Skills: As an Office Supervisor, you need to be able to interact with your team in a positive and professional manner. You should be able to work well with others and have a positive outlook.
Problem-Solving: Being able to identify and solve problems quickly and efficiently is important for any Office Supervisor. You should be able to think critically and logically in order to troubleshoot any issues that may arise.
Organization: Keeping an organized workplace is essential for any supervisor. As an Office Supervisor, you should be able to prioritize tasks and ensure that the office runs smoothly.
Leadership: As an Office Supervisor, you need to be able to lead and motivate a team, and be able to delegate tasks and responsibilities. You should be able to provide clear direction to your team and have the ability to inspire and encourage them.
By demonstrating your soft and hard skills, you will be able to show potential employers that you have the necessary skills to be a successful Office Supervisor.
Key takeaways for an Office Supervisor resume
When it comes to creating an effective resume for the position of an Office Supervisor, it's important to highlight your experience, skills, and qualifications that are relevant to the role. To ensure that your resume stands out amongst other applicants, here are some key takeaways to keep in mind:
Emphasize Your Qualifications: Office Supervisors are responsible for managing teams, overseeing operations, and providing leadership. As such, it's important to emphasize your qualifications in areas such as management, organization, and administration. Highlight any relevant courses, trainings, or certifications that you possess.
Demonstrate Your Experience: Employers will be looking for evidence of your past experience as an Office Supervisor. Make sure to include your past employment history, detailing your responsibilities and accomplishments.
Show Your Technical Skills: Office Supervisors need to be proficient in using technology, as well as systems and software. Include any technical skills you possess, such as proficiency in Microsoft Office, Excel, or other relevant software.
Highlight Your Soft Skills: It's also important to emphasize your soft skills, such as your ability to manage people, handle conflicts, and solve problems. Showcase any relevant soft skills you possess that would be beneficial in the role.
By taking these key takeaways into consideration, you can create an effective Office Supervisor resume that will help you stand out amongst other applicants. You can also use the job description as well as the requirements section to ensure you are including relevant information on your resume.
Let us help you build
your Resume!
Make your resume more organized and attractive with our Resume Builder