Writing an effective resume for the job of Office Engineer can be a challenging task. An Office Engineer works as a liaison between different departments and is responsible for providing technical support and maintaining smooth functioning of all office operations. Therefore, it is essential to draft an impressive resume, highlighting the relevant skills and competencies, to make a positive impression on the employer. This guide will provide tips and examples on how to effectively write an Office Engineer resume and make it stand out from the rest. With the help of this guide, you can easily create an impressive resume and land your dream job.
If you didn't find what you were looking for, be sure to check out our complete library of resume examples.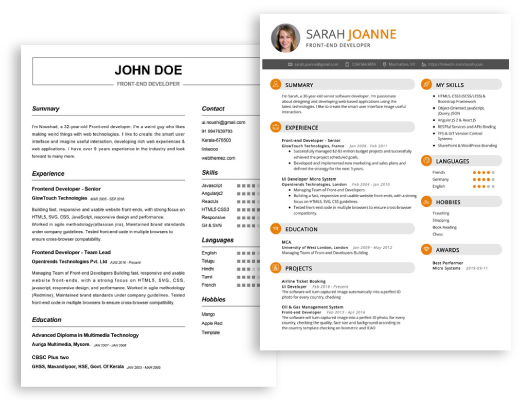 Start building your dream career today!
Create your professional resume in just 5 minutes with our easy-to-use resume builder!
Office Engineer Resume Examples
John Doe
Office Engineer
123 Main Street | Anytown, USA 99999 | Phone: (123) 456-7890 | Email: john.doe@email.com
I am a highly motivated and organized Office Engineer with over 10 years of experience in the field. I am adept at managing office operations, analyzing and streamlining process flows, and developing organizational structures that support efficiency and customer service. My experience includes utilizing various software and technology to facilitate the management of administrative tasks, while also providing customer assistance.
Core Skills:
Proficiency with MS Office Suite
Excellent customer service skills
Strong organizational skills
Excellent written and verbal communication
Ability to multitask and prioritize tasks
Experience with data entry and management
Knowledge of office procedures and protocols
Professional Experience:
Office Engineer, XYZ Company, New York, NY
May 2018 – Present
Developed and implemented an organizational structure to improve customer service and streamline office operations
Established procedures to ensure accuracy and reliability of data
Assisted in the development of various software to facilitate administrative tasks
Assisted in the design and implementation of customer assistance processes
Developed and implemented databases and other data management systems
Analyzed and streamlined process flows to improve efficiency
Office Engineer, ABC Company, Los Angeles, CA
August 2012 – April 2018
Developed and maintained efficient office operations
Established procedures for data entry and management
Developed and implemented customer assistance protocols
Analyzed and streamlined process flows and organizational structures
Assisted in the development of various software and technology
Provided customer assistance and support
Education:
Bachelor of Science in Office Engineering, University of California, Los Angeles, CA, 2009
Office Engineer Resume with No Experience
Recent college graduate with a degree in civil engineering and no prior experience in an office engineering role. Highly organized, detail- oriented, and equipped with strong problem- solving skills. Well versed in the latest engineering technologies, including AutoCAD and Revit.
Skills
Thorough understanding of engineering concepts and principles
Proficient in AutoCAD and Revit
Excellent problem- solving and analytical skills
Ability to manage multiple tasks and prioritize workload
Strong technical writing and communication skills
Proficient in Microsoft Office Suite
Responsibilities
Assisted engineers in completing engineering projects
Prepared drawings and plans using AutoCAD and Revit
Developed technical reports and engineering proposals
Researched and gathered data to support engineering projects
Maintained accurate records of engineering projects
Monitored project timelines and budgets to ensure completion on time and within budget
Office Engineer Resume with 2 Years of Experience
Results- driven Office Engineer with two years of experience in office management and customer service. Experienced in developing and implementing systems, procedures and policies to improve office efficiency. Skilled in customer service and problem solving. Adept at leveraging strong communication and organizational skills to create positive customer experiences.
Core Skills:
Office Management
Customer Service
Organizational Skills
Problem Solving
Systems Implementation
Policy Development
Responsibilities:
Provided a wide range of administrative and office support services.
Set up, maintained and operated standard office equipment.
Greeted incoming visitors and customers.
Answered phones, directed calls, and responded to inquiries.
Managed office files, records, and databases.
Maintained office supplies and ordered new materials when needed.
Organized, scheduled and coordinated office events.
Conducted research and compiled data for reports.
Assisted with special projects as needed.
Office Engineer Resume with 5 Years of Experience
Dynamic and detail- oriented Office Engineer with 5 years of experience in the engineering field. Responsible for project scheduling, budgeting, submittal process, and communication with team members. Expertise in process improvement, cost analysis, and contract management. Proven track record of successful project completion, on- time and on- budget.
Core Skills:
Project Management
Process Improvement
Cost Analysis
Contract Management
Scheduling
Submittal Process
Communication
Responsibilities:
Developed and maintained project schedules for engineering projects
Analyzed project costs to ensure compliance with budget
Developed strategies to improve engineering processes
Developed contracts between engineering firms and clients
Managed submittal process from start to finish
Monitored and tracked project progress with team members
Developed reports to present findings to executive team
Office Engineer Resume with 7 Years of Experience
I am an Office Engineer with 7 years of experience in providing administrative and operational support in the workplace. My experience includes managing resources, overseeing operations and personnel, and providing excellent customer support. I have a proven track record of successfully planning and executing projects from start to finish. I am highly organized, detail- oriented, and have a positive attitude that makes me an asset to any organization.
Core Skills:
Microsoft Office Suite proficiency
Project management
Detail- oriented
Problem- solving
Strong organizational skills
Excellent communication
Customer service
Data entry
Responsibilities:
Develop and implement office policies, procedures, and systems
Manage and coordinate personnel, resources, and operations
Develop and track project budgets
Liaise with vendors and suppliers to ensure the smooth running of the office
Monitor staff performance and provide feedback
Perform administrative tasks such as filing, data entry, and organizing records
Prepare reports and presentations
Respond to customer inquiries
Troubleshoot office equipment and software issues
Maintain office supplies and inventory
Office Engineer Resume with 10 Years of Experience
Highly analytical and skilled Office Engineer with 10 years of experience in the field. Accustomed to working in fast- paced environments while effectively managing multiple ongoing projects simultaneously. Possess an in- depth understanding of key office engineering principles, with an emphasis on cost control and performance optimization. Excellent problem- solving and decision- making skills, combined with a proven ability to diagnose and resolve complex engineering issues.
Core Skills:
Advanced knowledge of engineering principles and practices
Proven ability to work independently and within a team
Superior organizational and project management skills
Excellent communication and interpersonal skills
Proficient in the use of computer applications and software
Strong research, analysis, and problem- solving abilities
Responsibilities:
Developed and implemented technical plans, procedures and standards for office engineering projects.
Assisted in the development of design concepts, drawings and specifications for engineering projects.
Evaluated engineering plans and specifications for compliance with applicable laws and regulations.
Analyzed and reviewed engineering design drawings for accuracy and completeness.
Prepared technical reports and cost estimates for office engineering projects.
Supervised and monitored construction activities to ensure compliance with engineering plans, standards and specifications.
Investigated and resolved engineering- related problems and discrepancies.
Conducted job site inspections to ensure adherence to quality standards.
Monitored project costs and provided cost estimates for budget purposes.
Developed and maintained project schedules and timelines.
Coordinated and liaised with government agencies, suppliers and contractors.
Office Engineer Resume with 15 Years of Experience
A highly motivated and experienced Office Engineer with 15 years of experience and an expertise in managing projects, creating budgets and reports, and coordinating administrative operations. Possesses strong communication, organizational, and problem- solving skills and is comfortable working in a fast- paced environment. Skilled in training and managing staff, analyzing project data, and effectively utilizing technology. A self- starter with a natural ability to thrive in a team setting.
Core Skills:
Project Management
Budgeting and Financial Analysis
Staff Training & Supervision
Data Analysis
Report Writing
Time Management
Organizational Skills
Communication Skills
Technology Utilization
Responsibilities:
Managed complex projects from conception through completion and ensured successful completion.
Developed project budgets, monitored spending, and provided accurate financial reports to stakeholders.
Provided oversight and training to staff members and ensured they had the tools they needed to be successful.
Collected, analyzed, and reported project data to measure performance and ensure quality standards were met.
Created reports and presentations to document project plans, timelines, and results.
Adhered to administrative policies and procedures and effectively utilized technology to streamline operations.
Managed and coordinated daily administrative tasks to ensure efficient operations.
Provided leadership and support to team members in order to meet organizational objectives.
In addition to this, be sure to check out our resume templates, resume formats, cover letter examples, job description, and career advice pages for more helpful tips and advice.
What should be included in a Office Engineer resume?
An Office Engineer resume should include the following information:
Education: Include dates, name, and location of any degrees and certifications that you have.
Professional Experience: List any relevant office engineering experience that you have, including the role and the duration of each position. Include any relevant achievements that you achieved during the role.
Technical Skills: Include any specific technical skills or knowledge that would be beneficial in an office engineer role.
Soft Skills: Showcase any office engineering related soft skills that you possess, such as analytical thinking, problem-solving, communication, and interpersonal skills.
Computer Skills: Demonstrate any computer skills, such as working knowledge of Microsoft Office, knowledge of software programs, or experience with databases.
Additional Work Experience: Include any additional experience that you have that is applicable to the role, such as customer service, financial analysis, or administrative experience.
Volunteer Experience: Demonstrate any volunteer experience that you have that would be beneficial in an office engineer role.
Languages: Include any additional languages that you are proficient in outside of English.
What is a good summary for a Office Engineer resume?
A summary for an Office Engineer resume should highlight the candidate's skills in project management, communication, and problem-solving. This individual should be able to work with a range of people, from engineers and technical staff to executives and clients. They should be comfortable with technology and have a proven record of success in managing and executing projects on-time and on-budget. The summary should also touch on their ability to think critically and use their technical expertise to come up with creative solutions to complex problems. Finally, an Office Engineer should be able to interact effectively with team members to ensure that everyone is on the same page.
What is a good objective for a Office Engineer resume?
Writing a resume for an office engineer position? Whether you're a recent graduate looking for a first job or an experienced professional looking for a new opportunity, you need a resume that stands out from the crowd. Crafting your resume objective is an important part of the process as it can give potential employers an insight into your skills and goals.
Here are some good objectives for an office engineer resume:
To obtain an office engineer position where I can use my expertise in CAD, AutoCAD, and other engineering software to develop efficient and accurate engineering solutions.
To utilize my organizational and problem-solving skills to contribute to the growth and success of an engineering firm.
Seeking an office engineer role that will allow me to apply my knowledge of process improvement and project management to maximize efficiency and productivity.
To leverage my experience in the engineering field to provide exceptional technical support and service to office staff.
To obtain an office engineer position at a forward-thinking engineering firm where I can use my strong communication and interpersonal skills to collaborate effectively with colleagues.
To be part of a team in an office engineering role where I can make valuable contributions to the success of the firm.
How do you list Office Engineer skills on a resume?
When applying for an Office Engineer job, you must make sure that your resume highlights the skills and qualifications required for the role. It is important to craft a document that speaks to the specific needs of the employer and demonstrates that you have the necessary skills for the job.
When listing Office Engineer skills on a resume, you should focus on both your technical abilities and your interpersonal abilities. Here are some skills that you should consider including on your resume:
Technical Skills: Microsoft Office Suite, Database Management, Project Management, Web Development, Network Administration, Troubleshooting, Data Analysis, Software Development
Interpersonal Skills: Communication, Problem-Solving, Collaboration, Time Management, Interpersonal Skills, Attention to Detail, Organization, Customer Service
By showcasing your technical and interpersonal skills in your resume, you can demonstrate to potential employers that you are well-suited for the Office Engineer position. Make sure you provide examples of when you have demonstrated these skills in past roles to give potential employers a better understanding of how you can support them in their company.
What skills should I put on my resume for Office Engineer?
The Office Engineer is responsible for the efficient organization of office procedures and operations. They work in a variety of industries, including engineering and construction, and they need to be organized, detail-oriented, and able to multi-task. To succeed in this role, there are certain skills that should be highlighted on an Office Engineer's resume.
Strategic Planning: Office Engineers must be able to develop and implement strategies that improve office operations and bring the team closer to their overall goals.
Project Management: Office Engineers must be able to manage multiple projects at once, while also overseeing office operations and ensuring deadlines are met.
Leadership: Office Engineers must be able to lead their team and motivate them to succeed.
Technical Skills: Office Engineers must be proficient in the use of office software, such as Microsoft Office, to create and maintain documents, spreadsheets, and databases.
Communication: Office Engineers must be able to effectively communicate with both internal and external stakeholders to ensure that all tasks are completed efficiently.
Problem Solving: Office Engineers must be able to quickly identify and resolve any issues that may arise in the course of their work.
Time Management: Office Engineers must be able to manage their time and prioritize tasks to ensure that projects are completed on time and to the highest standards.
By highlighting the above skills on your resume, you can show potential employers that you have the ability to successfully manage an office and ensure its success.
Key takeaways for an Office Engineer resume
As an office engineer, your resume should be tailored to the specific job you're applying for. This means understanding the job description and emphasizing key skills, experiences, and qualifications that you possess that make you a great fit for the role. Here are some key takeaways for crafting an effective office engineer resume:
Focus on your technical knowledge: Office engineers need to be highly knowledgeable in a variety of software and engineering programs, so be sure to highlight your technical skills and qualifications.
Detail your experience: Office engineers need to have experience working in a professional office environment, so be sure to include any relevant employment history, such as administrative tasks or customer service experience.
Showcase your organizational skills: An office engineer is expected to have excellent organizational and communication skills, so be sure to showcase any relevant skills and qualifications.
Highlight your problem-solving abilities: Office engineers are expected to be able to think on their feet and come up with creative solutions. Highlight any relevant problem-solving experience you have in your resume.
Include a professional summary: A professional summary is a great way to quickly summarize your experience and skills. Make sure to include a brief summary of your experience, qualifications, and skills.
By following these key takeaways, you can create an effective office engineer resume that showcases your relevant skills and experience. With an effective resume, you'll be well on your way to landing the job of your dreams.
Let us help you build
your Resume!
Make your resume more organized and attractive with our Resume Builder