A resume is a document that provides employers with a comprehensive overview of a job seeker's work experience, education and qualifications. As an office assistant, it is important to create a resume that highlights your experience and qualifications for the job. This guide provides tips and advice on how to write an effective resume for an office assistant position and includes examples of resumes that have been successfully used to secure office assistant positions. Follow the steps and use the sample resumes to create an effective office assistant resume and make a great first impression with employers.
If you didn't find what you were looking for, be sure to check out our complete library of resume examples.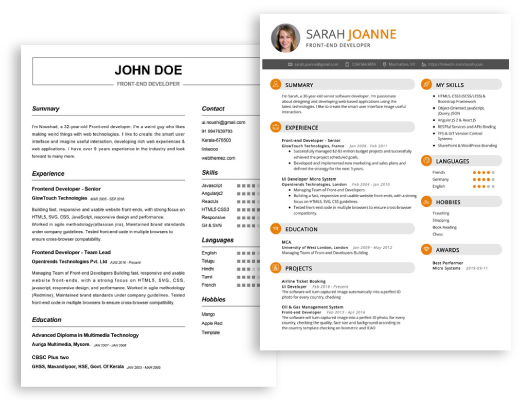 Start building your dream career today!
Create your professional resume in just 5 minutes with our easy-to-use resume builder!
Office Assistant Resume Examples
John Doe
Office Assistant
123 Main Street | Anytown, USA 99999 | Phone: (123) 456-7890 | Email: john.doe@email.com
I am an experienced Office Assistant with a proven track record of providing administrative support to ensure efficient operations within a variety of professional settings. I have an extensive background in customer service, scheduling, data entry, bookkeeping, and document management. I thrive in deadline- driven environments and I am highly organized and detail oriented. My goal is to use my skills and experience to provide the best support possible.
Core Skills:
Organizational and time management abilities
Strong verbal and written communication skills
Proficient with Microsoft Office Suite
Data entry and bookkeeping
Document management and filing
Customer service
Multi- tasking and problem- solving
Professional Experience:
Office Assistant, ABC Company (2017- present)
Greeted and assisted customers and clients
Managed filing and documentation systems
Maintained office supplies inventory
Answered phones and responded to emails
Organized and scheduled appointments
Entered financial and contact information into database
Prepared and distributed memos, reports and other correspondence
Provided administrative support for management
Education:
Associate of Arts Degree, Business Administration, XYZ College (2016)
High School Diploma, ABC High School (2014)
Office Assistant Resume with No Experience
Hardworking and organized office assistant with a strong passion for helping others and providing support. Possess excellent communication and interpersonal skills with the ability to learn quickly and work efficiently in an office setting.
Skills:
Proficient in Microsoft Office and Google Suite
Adaptable to changing technology
Ability to multitask and prioritize tasks
Exceptional customer service skills
Excellent organizational and problem- solving abilities
Detail- oriented and reliable
Responsibilities:
Greet and welcome visitors in office
Answer and direct phone calls
Schedule appointments
Organize and maintain office records
Maintain office supplies and equipment inventory
Organize and store paperwork and documents
Maintain a clean and inviting office environment
Perform data entry tasks
Office Assistant Resume with 2 Years of Experience
Highly organized and efficient Office Assistant with two years of experience providing critical support to busy offices. Adept in setting up filing systems, managing databases and streamlining office processes. Proven ability to effectively prioritize workload and handle confidential information. Skilled in working collaboratively with a wide range of individuals and organizations.
Core Skills:
Multi- tasking
Data entry
Filing and records management
Problem- solving
Written and verbal communication
Organizational abilities
Time management
Relationship building
Computer proficiency
Responsibilities:
Organized and maintained office filing systems
Entered, organized, and updated data in the database
Performed data entry and document processing tasks
Answered incoming calls and emails
Assisted in organizing office events and meetings
Assisted with scheduling and calendar management
Prepared and distributed materials for meetings
Performed general administrative duties such as filing, printing, and copying documents
Provided administrative support to the staff
Office Assistant Resume with 5 Years of Experience
A highly motivated and hardworking individual with 5+ years of experience as an Office Assistant. Skilled in managing all aspects of office operations, including, but not limited to, administrative tasks, customer service, data entry, and filing. Possesses an exemplary track record of providing administrative support in an efficient, proactive and effective manner. Exceptional organizational skills, the ability to prioritize tasks and multitask, and the ability to work both independently and as part of a team.
Core Skills:
Administrative Support
Customer Service
Data Entry
Filing
Multi- tasking
Time Management
Organizational Skills
Communication
Problem Solving
Microsoft Office Suite
Accounts Payable/Receivable
Responsibilities:
Provided administrative support for all office operations
Conducted filing, data entry, and other clerical activities
Managed accounts payable/receivable, invoices, and payments
Assisted with customer inquiries and complaints
Responsible for the preparation of documents and reports
Scheduled meetings and maintained the calendar of the office
Answered telephone calls and emails in a timely manner
Monitored inventory and placed orders for office supplies
Maintained the cleanliness and overall appearance of the office
Office Assistant Resume with 7 Years of Experience
Highly organized and efficient Office Assistant with 7 years of experience providing superior administrative and organizational support to management teams. Proven ability to multitask, prioritize, and quickly adapt to changing environments. Possess excellent interpersonal, communication, and customer service skills. Detail- oriented and committed to producing high- quality work while meeting tight deadlines.
Core Skills:
Microsoft Office Suite
Data Entry
Scheduling
Filing
Document Preparation
Database Management
Records Maintenance
Administrative Assistance
Customer Service
Problem- Solving
Responsibilities:
Assisted with daily operational tasks and special projects.
Managed calendars, scheduling meetings, and coordinated travel arrangements.
Maintained filing system, organized and scanned documents.
Processed invoices, expense reports, and purchase orders.
Entered data into the company database to ensure accurate recordkeeping.
Provided administrative assistance to management team, including creating reports.
Answered phones, emails and provided customer service to clients.
Assisted with training new staff and organizing team events.
Acted as a liaison between management and internal staff.
Resolved customer complaints in a professional and timely manner.
Office Assistant Resume with 10 Years of Experience
Results- oriented professional with 10 years of experience providing administrative and customer service support. Well- versed in the latest office software and technology to streamline operations. Proven track record of delivering excellent customer service, ensuring accuracy and timeliness. Possess excellent organizational, problem solving and communication skills.
Core Skills:
Microsoft Office Proficiency
Time Management
Customer Relations
Data Entry
Attention to Detail
Multi- tasking
Multi- Line Phone System
Record Keeping
Filing and Organization
Invoicing and Billing
Responsibilities:
Maintained and updated filing systems, both paper and digital.
Provided customer service support, including greeting customers, answering phones and responding to customer inquiries.
Assisted in the preparation of various documents, including reports, memos and emails.
Gathered, entered and maintained confidential customer data and records.
Managed schedules, organized and tracked appointments, planned meetings and special events.
Organized and distributed incoming and outgoing mail.
Answered customer inquiries and requests in a timely and efficient manner.
Coordinated and assisted in the implementation of office policies and procedures.
Assisted in the operation of the office, including ordering stationery and supplies.
Processed invoicing, managed billing and payments, and tracked accounts receivable.
Office Assistant Resume with 15 Years of Experience
Highly motivated and organized Office Assistant with 15 years of experience in providing comprehensive administrative and clerical services to a variety of organizations. Proven ability to be an effective multi- tasker in a fast- paced environment with excellent communication and interpersonal skills. Well- versed in managing office operations, scheduling meetings, and maintaining confidential records.
Core Skills:
Proficiency in Microsoft Office Suite (Word, Excel, PowerPoint, Outlook)
Excellent customer service and interpersonal skills
Demonstrated ability to prioritize tasks and work independently
Strong organizational, data entry and problem solving skills
Excellent written and verbal communication skills
Accurate and detail- oriented
Responsibilities:
Managed day- to- day administrative tasks such as answering telephone calls, responding to emails, sorting mail, and greeting visitors.
Assisted in the preparation of documents, reports, and presentations.
Scheduled and coordinated meetings, events, and travel arrangements.
Created and maintained filing systems and databases.
Processed invoices, purchase orders, and requisitions.
Performed data entry, compiled weekly and monthly reports, and reconciled accounts.
Developed and implemented new office systems and procedures to improve efficiency.
Assisted with financial analysis and forecasting.
Assisted in the development and implementation of marketing and promotional plans.
Coordinated and managed office logistical operations.
Provided office administrative support as required.
In addition to this, be sure to check out our resume templates, resume formats, cover letter examples, job description, and career advice pages for more helpful tips and advice.
What should be included in a Office Assistant resume?
When writing a resume for a position as an Office Assistant, it is important to include the necessary skills that employers are looking for. A resume should be a comprehensive list of qualifications and experiences tailored to the job you are applying for. Here are some of the items to consider including in your Office Assistant resume:
Professional Experience: List any relevant professional experience, such as working in an office setting, customer service, data entry, or any other job that demonstrates your technical skills and proficiency in office tasks.
Education: Include your highest level of education, such as a diploma or degree from a college or university.
Technical Skills: Office assistants must have a working knowledge of computers and office applications, as well as good typing and data entry skills. Be sure to list any software programs and office equipment that you have experience with.
Interpersonal Skills: Office assistants must often interact with clients, vendors, and other staff members. Include any experiences that demonstrate your ability to communicate effectively and work well with others.
Administrative Skills: Office assistants must often manage tasks such as filing, record keeping, and scheduling. Include any experiences that show your ability to manage projects and keep accurate records.
Organizational Skills: Office assistants must be well organized. Include any experiences that show your ability to prioritize tasks and keep track of multiple projects at once.
By including these essential components in your Office Assistant resume, you can show potential employers that you have the skills and qualifications they are looking for.
What is a good summary for a Office Assistant resume?
A good summary for an Office Assistant resume should highlight the person's ability to manage office operations efficiently and effectively. It should also emphasize any experience with customer service, administrative tasks, technology, and other related skills. Additionally, it should demonstrate the candidate's strong organizational and communication skills, as well as any previous experience in a similar role. Finally, it should convey the applicant's enthusiasm to take on any office-related responsibilities.
What is a good objective for a Office Assistant resume?
A good objective for an Office Assistant resume should convey your skills and expertise, as well as your commitment to the job. Here are a few examples:
A motivated and organized Office Assistant with 10+ years of experience in providing excellent administrative and clerical support.
Seeking to leverage a proven track record of providing exceptional customer service and data entry to help the organization reach its goals.
Highly qualified Office Assistant with a strong background in creating efficient filing systems, scheduling appointments, and organizing office operations.
A detail-oriented Office Assistant with excellent communication and interpersonal skills, looking for a position to utilize strong organizational and problem-solving abilities.
A reliable Office Assistant with a passion for providing excellent administrative, customer service, and data entry support to facilitate smooth operations.
Experienced Office Assistant seeking to leverage strong organizational, communication, and multi-tasking skills, as well as advanced computer literacy, to benefit the organization.
How do you list Office Assistant skills on a resume?
Office Assistants are responsible for a variety of administrative tasks, so it's important to list all relevant skills on your resume. To make sure your resume stands out, you should highlight the specific skills that you possess that are related to the position. Here are some of the key Office Assistant skills to include on a resume:
Answering and directing phone calls
Scheduling and organizing meetings
Filing and record keeping
Creating and formatting documents
Operating office equipment, such as computers and printers
Maintaining office supplies
Drafting emails and other correspondence
Updating calendars and meeting schedules
Greeting and assisting visitors
Data entry
Typing and transcription
Presenting information in a professional manner
Maintaining confidential records
Interacting with customers and clients
Coordinating between departments
What skills should I put on my resume for Office Assistant?
As an office assistant, it is important to highlight the skills you possess that make you a strong candidate for the job. When crafting your resume, be sure to include the skills that are most relevant to the position you are applying for. Here are some of the top skills you should consider for an office assistant role:
Administrative Support: Office assistants must be able to handle a wide range of administrative tasks, from scheduling meetings to managing databases. Highlight your experience with general office tasks such as filing, data entry, and maintaining records.
Communication: Strong communication skills are a must for any office assistant role. Showcase your ability to effectively communicate with colleagues, clients, and customers.
Time Management: Office assistants must be able to manage their time efficiently to ensure deadlines are met. Highlight your organizational skills and ability to prioritize tasks.
Computer Skills: As an office assistant, you must be proficient in the use of computers, software, and other technology. Show employers your expertise with programs such as Microsoft Office and Adobe Acrobat.
Problem Solving: Office assistants should be able to think on their feet and solve problems quickly and effectively. Showcase your ability to troubleshoot and resolve issues as they arise.
By highlighting your relevant skills on your resume, you'll be able to demonstrate to employers that you are the right candidate for the job.
Key takeaways for an Office Assistant resume
One of the first steps to landing the office assistant position you've been eyeing is creating a killer resume. To ensure your resume gives a great first impression, make sure to include these key takeaways:
Experience: It's important to include any prior office experience on your resume. This can include anything from data entry to managing incoming calls. Make sure to list specific duties you performed as well as any accomplishments you achieved.
Skills: Show off your skills in areas such as customer service, organization, communication, and problem-solving. Include any software programs or specific office equipment you may be familiar with.
Education: If you have any college-level courses, certifications, or degrees in related fields, make sure to highlight those on your resume.
Transferable skills: If you have experience in other types of work, highlight any skills you have that are transferable to the office assistant position.
Awards and references: If you've received any awards, or have any professional references, be sure to include these on your resume as well.
By including all these key takeaways on your resume, you'll have a greater chance of standing out among other candidates and snagging the job you want!
Let us help you build
your Resume!
Make your resume more organized and attractive with our Resume Builder