Writing a great Knowledge Manager resume is an important step in your job search journey. When writing your resume, you want to make sure that it stands out from the competition and effectively highlights your experience and qualifications. This guide will provide you with tips and tricks on how to create a unique and effective Knowledge Manager resume that will help you land your dream job. It will also include example resumes and templates that you can use as a starting point to begin crafting your own. With this guide, you will have all the tools you need to create a resume that will make you stand out from the crowd..
If you didn't find what you were looking for, be sure to check out our complete library of resume examples.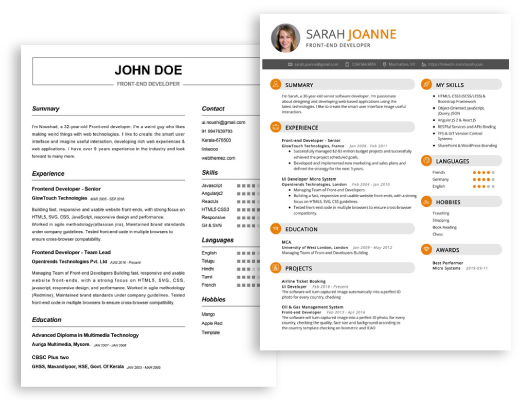 Start building your dream career today!
Create your professional resume in just 5 minutes with our easy-to-use resume builder!
Knowledge Manager Resume Examples
John Doe
Knowledge Manager
123 Main Street | Anytown, USA 99999 | Phone: (123) 456-7890 | Email: john.doe@email.com
A highly motivated and organized Knowledge Manager with over 7 years of experience in strategic technology implementation, asset management, and project management. Proven ability to develop and lead successful teams in challenging environments. Possesses excellent interpersonal and communication abilities, allowing for efficient relationship building and problem solving.
Core Skills:
Strategic Thinking
Asset Management
Technology Implementation
Project Management
Team Leadership
Problem Solving
Customer Service
Interpersonal Skills
Communication
Professional Experience:
Knowledge Manager, XYZ Corporation, June 2013 – Present
Successfully created and developed a new division focused on knowledge and asset management which achieved 20% growth year on year
Implemented a series of strategies to improve customer experience, resulting in a customer satisfaction rate of 90%
Led a team of 10 technology professionals in the successful implementation of new technologies
Collaborated with various departments to ensure effective communication and efficient problem solving
Managed and monitored the performance of technology assets resulting in improved performance and reduced costs
Education:
Bachelor of Science in Business Administration, ABC University, 2008 – 2012
Knowledge Manager Resume with No Experience
Knowledge Manager with no experience seeking to build a career in the field of knowledge management. Possess a passion for learning, organizing and utilizing knowledge for the benefit of an organization. A logical thinker with strong analytical skills to help maximize the value of an organization's knowledge resources.
Skills
Knowledge Management
Organizational Skills
Strategic Thinking
Problem Solving
Analytical Thinking
Data Analysis
Database Management
Document Management
Responsibilities
Assist in the design, implementation and maintenance of the knowledge management system
Analyze and assess data to identify trends and opportunities for improvement
Develop and maintain knowledge databases and catalogs
Participate in the development and delivery of training and learning activities
Monitor and evaluate knowledge sharing initiatives
Monitor and evaluate knowledge management initiatives and provide feedback
Work with stakeholders to promote the adoption of knowledge management processes and practices
Knowledge Manager Resume with 2 Years of Experience
Highly- motivated and results- driven Knowledge Manager professional with 2 years of experience in the field. Proven track record of promoting knowledge management initiatives and improving customer service. Experienced in training and developing staff and increasing customer engagement while ensuring customer satisfaction. Strong leadership and interpersonal skills, with a passion for innovation and creativity.
Core Skills:
Strong customer service and communication skills
Leadership and team building
Knowledge management and training
Organization and problem solving
Data analysis and reporting
Creativity and innovation
Responsibilities:
Developing and implementing knowledge management strategies
Training and mentoring new staff members
Analyzing customer feedback and developing customer engagement plans
Creating and maintaining knowledge databases
Providing support to customers with inquiries
Implementing customer improvement initiatives
Ensuring customer satisfaction with quality service
Knowledge Manager Resume with 5 Years of Experience
A highly motivated and experienced professional with 5+ years of experience in Knowledge Manager roles. Skilled in conducting research, analyzing data, and recognizing trends to develop strategic plans that optimize knowledge management practices. Possesses strong knowledge of organizational objectives and business processes to support knowledge sharing and decision making. Well- versed in utilizing digital tools and techniques to efficiently manage large data sets. Experienced in leading and mentoring teams to leverage technology and ensure adequate utilization of resources.
Core Skills:
Knowledge Management
Research & Analysis
Data Management
Strategic Planning
Digital Technologies
Mentoring & Leadership
Database Administration
Process Improvement
Responsibilities:
Developed and implemented effective knowledge management strategies to ensure information sharing and organizational efficiency.
Conducted data analysis and research to identify trends and recognize insights for knowledge management initiatives.
Designed and maintained databases for storing and sharing knowledge across the organization.
Led and supervised teams to ensure adequate utilization of resources and technologies for knowledge management.
Utilized digital technologies and tools to efficiently manage large data sets.
Developed plans to improve processes and provide support to data governance initiatives.
Assisted in training and mentoring colleagues on knowledge management.
Knowledge Manager Resume with 7 Years of Experience
Dynamic Knowledge Manager with 7 years of relevant experience in developing, implementing and managing knowledge management strategies. Adept at leveraging digital tools to store and organize data, promote knowledge sharing and drive adoption of digital platforms. Skilled in facilitating knowledge transfer through training, mentorship and digital resources. Proven track record of establishing effective knowledge management practices and working collaboratively with stakeholders to ensure successful project outcomes.
Core Skills:
Knowledge Management
Training and Developing
Data Analysis
Digital Platforms
Collaborative Communication
Strategic Planning
Data Organization
Responsibilities:
Developed and implemented knowledge management strategies to support organizational objectives.
Created and maintained digital platforms to facilitate data storage, knowledge transfer and access.
Trained and mentored staff to encourage adoption of practices and tools.
Developed effective processes for storing, organizing and retrieving data.
Analyzed data to identify opportunities for improvement and recommendations.
Developed and implemented strategies to increase user engagement and knowledge sharing.
Collaborated with stakeholders to ensure successful project outcomes.
Fostered a culture of knowledge sharing, learning and collaboration.
Knowledge Manager Resume with 10 Years of Experience
Heavily experienced Knowledge Manager with 10+ years of experience in information management, communication systems and organizational development. Proven ability to lead the development, implementation and management of knowledge systems and processes. Possesses strong problem solving and analytical skills, demonstrated success in creating, managing and maintaining knowledge networks and partnerships. A strong and effective communicator, able to lead knowledge projects, conduct research and develop action plans.
Core Skills:
Knowledge Management
Organizational Development
Communication Systems
Research and Analysis
Database Management
Project Management
Knowledge Networking
Knowledge Sharing
Process Development
Problem Solving
Responsibilities:
Developed and implemented knowledge systems and processes to ensure effective management of organizational information.
Led the development of knowledge networks and partnerships to facilitate knowledge sharing within and across departments.
Developed and maintained databases of organizational knowledge for easy retrieval and access.
Conducted research and analysis to identify new opportunities for knowledge sharing and management.
Managed projects within the knowledge management system, from initiation to completion.
Analyzed and identified existing and potential gaps in knowledge management process and developed action plans to address those gaps.
Facilitated the development of knowledge sharing strategies and practices.
Monitored the effectiveness of knowledge systems and processes and made changes and adjustments as needed.
Knowledge Manager Resume with 15 Years of Experience
A highly experienced and motivated Knowledge Manager with over 15 years of expertise in managing knowledge, developing knowledge- based solutions, and driving enterprise- level initiatives to ensure that organizational knowledge is managed effectively. An expert communicator and problem solver with a track record of success in designing and delivering knowledge management systems that promote an organization's mission and objectives. Possesses a unique combination of business acumen, technical acumen, and team leadership skills.
Core Skills:
Knowledge Management
Analytical Thinking
Problem Solving
Project Management
Business Acumen
Team Leadership
Data Analysis
Information Technology
Communication and Presentation Skills
Responsibilities:
Design and implement knowledge- based solutions, systems, and services to meet organizational objectives.
Develop and manage knowledge management processes, policies, and strategies.
Analyze and report on organizational data to identify trends and opportunities for improvement.
Train and mentor personnel on knowledge management systems and best practices.
Lead cross- functional projects to ensure the successful implementation of knowledge management initiatives.
Manage budgets, resources, and timelines for knowledge management projects.
Collaborate with stakeholders to identify and address knowledge gaps.
Develop training materials and deliver presentations to ensure team members understand the value of knowledge management initiatives.
Facilitate the sharing of knowledge and best practices across the organization.
In addition to this, be sure to check out our resume templates, resume formats, cover letter examples, job description, and career advice pages for more helpful tips and advice.
What should be included in a Knowledge Manager resume?
A Knowledge Manager is a professional who curates, organizes, and disseminates key information within an organization. As such, a Knowledge Manager resume should include details about the candidate's experience in the industry, as well as their ability to manage information and knowledge in an efficient and effective way. Here are some important points to include in a Knowledge Manager resume:
Extensive experience in information management, including the ability to identify, resource, and organize knowledge within an organization
Proven track record of managing and sharing information between departments and stakeholders
Demonstrated ability to interpret complex data, summarize findings, and present conclusions
Expertise in utilizing and optimizing databases and information management systems
Adept at developing and implementing knowledge management strategies
Excellent communication and problem-solving skills
Proficient in managing multiple tasks and responsibilities simultaneously
Experienced in training and coaching employees on knowledge management processes
Knowledgeable about the latest trends and best practices in the industry
What is a good summary for a Knowledge Manager resume?
A knowledge manager is responsible for overseeing the collection and dissemination of information within an organization. In order to be successful in this role, a knowledge manager should possess strong organizational and communications skills, as well as a thorough understanding of the organization's information systems. The following is a good summary for a knowledge manager resume:
A highly organized and detail-oriented knowledge manager with a proven track record of successfully managing large-scale projects and ensuring the accurate and timely collection, organization, and dissemination of knowledge assets. Experienced in developing comprehensive information systems and managing teams of knowledge professionals to ensure their effective use. Proven ability to develop and maintain relationships with stakeholders across multiple departments to ensure the timely delivery of solutions. Skilled at leveraging emerging technologies to improve processes and ensure the ongoing accuracy and reliability of information.
What is a good objective for a Knowledge Manager resume?
Objectives are important components of resumes, as they provide hiring managers with an opportunity to gauge how a candidate's skills and experience match up with the job they are applying for. If you are applying for the role of a knowledge manager, then you need to ensure that your resume objective reflects your qualifications as a knowledge manager.
An effective objective for a knowledge manager resume should include:
Demonstrate expertise in knowledge management principles and practices
Show ability to identify, analyze and organize data and information
Utilize organizational skills to maintain databases and promote knowledge sharing
Possess the ability to identify and address knowledge gaps
Leverage technology and software to achieve knowledge management goals
Provide effective knowledge management solutions to enhance organizational performance
Build and implement frameworks for knowledge management
Facilitate knowledge transfer between different departments and teams
Develop best practices for knowledge sharing and collaboration
Utilize knowledge management strategies to drive innovation and improve efficiency.
How do you list Knowledge Manager skills on a resume?
When applying for a Knowledge Manager position, it's important to showcase your skills on your resume. In order to do this, you need to list all of your relevant skills in a way that will help you stand out from the competition.
Here are some of the key skills you should include on your Knowledge Manager resume:
Knowledge of Knowledge Management Software: Knowledge Managers need to be well-versed in the latest Knowledge Management software. This can include software such as Microsoft SharePoint and other content management systems.
Research Skills: As a Knowledge Manager, you will be required to conduct research to develop and update knowledge resources. This means having strong research skills to find, analyze, and organize the necessary information.
Project Management: Knowledge Managers often manage projects, so having strong project management skills is essential. This includes the ability to manage multiple projects and prioritize tasks effectively.
Problem-Solving: Knowledge Managers need to have excellent problem-solving skills in order to identify and solve any issues that may arise.
Communication Skills: Knowledge Managers must have strong communication skills in order to effectively communicate with colleagues and stakeholders.
Project Leadership: Knowledge Managers must be able to lead and motivate teams in order to ensure that projects are completed successfully.
By including these skills on your resume, you can show recruiters that you are an ideal candidate for the position.
What skills should I put on my resume for Knowledge Manager?
When applying for a knowledge manager position, it is important to have the right skills listed on your resume to demonstrate your qualifications. Having the right qualifications can help you stand out among the competition, so it is important to make sure you are highlighting the right skills. Here are some of the top skills to include on your resume for a knowledge manager position:
Knowledge Management: Knowledge managers are responsible for creating and maintaining systems to identify, analyze, store, and share knowledge and information. Demonstrate your knowledge management skills by including experience in creating and managing databases, developing knowledge-sharing programs, and managing information technology systems.
Communication: Excellent communication is essential for knowledge managers, who must be able to listen to customer's needs and translate that into an effective knowledge management system. Be sure to list any experience you have with communication, such as writing reports and delivering presentations.
Problem Solving: Knowledge managers must be able to analyze and solve problems quickly and efficiently. Include skills such as root cause analysis, process improvement, and data analysis to demonstrate your problem-solving abilities.
Teamwork: Knowledge managers often work with other departments and teams to ensure the knowledge management system works efficiently. List any teamwork experience you have, such as leading teams or collaborating with other departments.
Project Management: Knowledge managers are often responsible for managing projects related to knowledge management. Include any experience you have with project management, such as organizing resources or managing timelines.
Having the right skills on your resume for a knowledge manager position can help you stand out from the competition. Be sure to include these top skills on your resume and highlight any relevant experience you have to maximize your chances of getting the job.
Key takeaways for an Knowledge Manager resume
A Knowledge Manager resume is a special type of resume that focuses on highlighting any relevant experience and abilities related to knowledge management processes or technologies. It is typically used by professionals who work in the field of information management, business intelligence, or data governance.
When creating a Knowledge Manager resume, there are a few key takeaways that you should focus on. Your resume should showcase your experience in managing and organizing large amounts of data, as well as any technical knowledge or certifications you possess. It is also important to highlight any successful projects you've completed in the past that demonstrate your ability to manage knowledge effectively.
Additionally, it is important to showcase your problem-solving and analytical skills, as these are key attributes of a successful Knowledge Manager. Showing how you were able to identify and resolve issues within a project can also demonstrate your ability to manage various data-related tasks.
The most important takeaway for any Knowledge Manager resume is that it should reflect your ability to work effectively with various data sets and technologies. You should be able to demonstrate that you have the necessary skills and experience to effectively manage large amounts of data and generate meaningful insights from the data.
These are just some of the key takeaways that should be included in a Knowledge Manager resume. If you keep these takeaways in mind, you should be able to create an effective and professional resume that can help you land the job you want.
Let us help you build
your Resume!
Make your resume more organized and attractive with our Resume Builder