Applying for a grants manager position can be a daunting task, especially if you are unsure of what to include in the resume. It is imperative that you make sure that you adequately showcase your knowledge and experience in grant management to help your application stand out from the competition. This guide provides a helpful list of grants management specific skills and qualifications to include in your resume, along with examples of how to add them to your document. Use these tips to create a resume that best demonstrates your knowledge and skills for the grants manager role.
If you didn't find what you were looking for, be sure to check out our complete library of resume examples.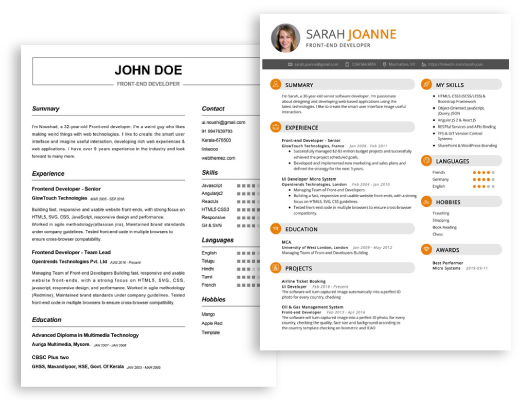 Start building your dream career today!
Create your professional resume in just 5 minutes with our easy-to-use resume builder!
Grants Manager Resume Examples
John Doe
Grants Manager
123 Main Street | Anytown, USA 99999 | Phone: (123) 456-7890 | Email: john.doe@email.com
I am an experienced Grants Manager with over 10 years of experience in the field. I have extensive experience in grant writing, grant management, program management, and fiscal management. I am highly proficient in the development and implementation of grant proposals, developing grant budgets and managing grant funds. I have successfully managed the implementation of programs and projects for a variety of organizations, ensuring that all requirements were met and that grant funds were properly allocated. With my expertise and experience, I am well- equipped to manage grants and other resources in an effective and efficient manner.
Core Skills:
Grant Writing
Grant Management
Program Management
Fiscal Management
Proposal Development
Budget Development
Fund Management
Project Management
Program Implementation
Stakeholder Engagement
Resource Allocation
Data Analysis
Strategic Planning
Professional Experience:
Grants Manager, ABC Company (2011- Present)
Developed and implemented grant proposals to secure funding for new programs and projects
Managed grant funds to ensure proper allocation and usage
Developed grant budgets and monitored expenditures to ensure compliance with grant requirements
Facilitated stakeholder engagement and collaborated with various departments to manage complex projects
Analyzed data to identify trends and areas for improvement
Assisted in the development of strategic plans for future programs
Grants Officer, XYZ Corporation (2007- 2011)
Developed and wrote grant proposals, budgets, and reports to secure funding for various programs
Monitored the implementation of programs and projects, ensuring that all requirements were met
Assisted in the development of strategic plans for future programs
Collaborated with stakeholders and other departments to successfully manage projects
Analyzed data to identify areas for improvement and develop recommendations
Education:
Master of Arts, Grant Writing & Administration, University
Grants Manager Resume with No Experience
Recent college graduate with strong research and written communication skills looking to obtain a position as a Grant Manager. Desiring to apply my education and work ethic to succeed in a fast- paced and challenging environment.
Skills:
Strong research skills
Written and verbal communication
Proficient in Microsoft Office
Ability to multi- task and work under pressure
Organization and time management
Teamwork and collaboration
Detail- oriented
Adaptability
Responsibilities:
Research and review potential grants
Apply for and manage grant applications
Develop and maintain grant databases
Track grant payments and record results
Manage and monitor grant budgeting and expenditures
Identify areas for improvement in grant processes
Communicate with grant writers and other stakeholders about grant progress
Prepare reports to document grant progress
Ensure grant compliance with rules and regulations
Grants Manager Resume with 2 Years of Experience
Highly organized and detail- oriented Grant Manager with 2 years of experience in grant writing, research and fundraising. Skilled in developing and implementing successful grant applications, building relationships with donors, and providing comprehensive grant reports. Exceptional capacity to communicate effectively with a variety of people. Proven ability to manage multiple tasks, develop successful strategies, and meet deadlines.
Core Skills:
Grant Writing
Research
Fundraising
Donor Relations
Project Management
Time Management
Report Writing
Budgeting
Strategic Planning
Relationship Building
Responsibilities:
Developed and managed grant applications and submissions
Researched potential grant opportunities
Developed relationships with potential donors
Prepared and delivered presentations to potential donors
Monitored and tracked progress of funded grants
Prepared and submitted progress and final reports to funding sources
Developed and managed budgets for grants
Developed and implemented strategies for successful fundraising
Collaborated with internal and external stakeholders to ensure successful grant projects
Grants Manager Resume with 5 Years of Experience
Resourceful and highly organized Grants Manager with 5 years of experience in the grants management field. Possesses strong communication, organizational, and project management skills. Demonstrated track record of success in the successful management of grants and providing comprehensive support to grantees. Adept at developing and executing effective strategies to ensure compliance with federal regulations and program rules. Highly motivated and enthusiastic with a commitment to the success of client organizations.
Core Skills:
Grant Writing
Budget Analysis
Federal Regulations
Project Management
Strategic Planning
Stakeholder Relationships
Financial Management
Data Analysis
Responsibilities:
Managed the application process for grants and contracts.
Worked with stakeholders to develop and submit grant applications.
Reviewed and evaluated grant proposals to ensure compliance with program rules.
Developed and maintained relationships with grantors and stakeholders.
Provided guidance and support to grantees regarding contractual and financial obligations.
Monitored grant activities to ensure compliance with state and federal regulations.
Prepared reports for grantors and stakeholders on program outcomes and progress.
Conducted financial reviews of grantees to ensure compliance with budgetary limits.
Collaborated with grantors and stakeholders to identify grant opportunities and develop strategies for grant applications.
Grants Manager Resume with 7 Years of Experience
Grants Manager with seven years of experience in working with government and private organizations to secure funding for non- profit organizations. Skilled in researching, writing and submitting grant applications, developing successful fundraising strategies, and working with other stakeholders to develop collaborative relationships. Proven track record of success in achieving and exceeding funding targets.
Core Skills:
Grant Writing & Submissions
Research & Analysis
Strategic Fundraising
Relationship Building & Management
Project Management
Budgeting & Financial Planning
Public Speaking & Presentations
Responsibilities:
Develop and manage grant submission processes, including researching grants, writing applications, and submitting applications on time
Identify, assess and qualify prospective grant sources
Develop relationships with funders, including meetings and presentations
Work with other stakeholders, such as board members and staff, to develop successful strategies for fundraising and grants
Create budgets for grants, track progress and evaluate outcomes
Monitor changes in funding priorities and regulations
Analyze reports and data to identify trends and opportunities
Develop and implement plans to ensure the successful completion of grant applications
Prepare and deliver presentations to audiences, such as funders and stakeholders
Grants Manager Resume with 10 Years of Experience
Dynamic Grant Manager with 10 years of experience in developing, managing, and administering grant programs. Skilled in performing detailed research, analysis, and evaluation of grant proposals. Effective at managing multiple grants simultaneously and ensuring grants are compliant with regulations. Possesses exceptional organizational, problem- solving, and communication skills.
Core Skills:
Detailed knowledge of grant writing and compliance
Excellent research, analytical, and critical thinking skills
Proficient in MS Office Suite and fundraising software
Skilled in budget preparation and management
Ability to establish and maintain cooperative relationships
Strong writing and verbal communication skills
Responsibilities:
Performing detailed research to identify eligible grants and funding sources
Preparing narrative, budget, and compliance documents for grant proposals
Developing and submitting grant proposals to corporate, foundation, and government sources
Managing multiple grants simultaneously, including budget tracking and reporting
Collaborating with project staff to develop and implement grant plans
Assisting with contract and grant compliance and ensuring adherence to regulations
Providing training and support to project staff on grant policies and procedures
Analyzing and evaluating data to determine effectiveness of grant programs
Grants Manager Resume with 15 Years of Experience
A highly skilled Grants Manager with 15 years of experience in grant writing, budgeting, and program administration. Demonstrated success in securing grant funding from a variety of foundations and government agencies. Exceptional research skills to identify grant sources and develop grant proposals that exceed funding objectives. Proven ability to coordinate and monitor grant activities, ensure compliance with grant regulations, and evaluate grant outcomes. Adept in leading grant- funded projects and mobilizing resources to achieve financial, programmatic, and strategic objectives.
Core Skills:
Grant writing and budgeting
Project management
Program administration
Research and evaluation
Organizational and financial management
Compliance with grant regulations
Leadership and collaboration
Responsibilities:
Identifying potential grant sources and developing grant proposals
Assessing grant compliance and financial management
Monitoring grant activities to ensure timely completion and satisfactory performance
Coordinating the preparation and submission of grant applications
Leading grant- funded projects and mobilizing resources
Evaluating outcomes of grant- funded projects and programs
Collaborating with program stakeholders to ensure successful grant project implementation
In addition to this, be sure to check out our resume templates, resume formats, cover letter examples, job description, and career advice pages for more helpful tips and advice.
What should be included in a Grants Manager resume?
Writing a resume for a Grants Manager position requires a combination of technical knowledge and interpersonal skills. This position requires a detailed understanding of the grant process and the ability to manage the administration of grants. It is important to highlight relevant skills and qualifications when crafting a Grants Manager resume.
Here are some tips on what to include:
Education/Certifications: Include any related degrees, certifications, or professional development courses you have completed.
Work Experience: List any relevant work experience such as grant writing, grant management, program management, or research related to grant writing or grant management.
Technical Skills: Demonstrate your technical skills by including your proficiency in grant management software and other applications related to grant management.
Interpersonal Skills: Highlight your ability to collaborate, effectively manage teams, and communicate effectively with external stakeholders.
Project Management Skills: Demonstrate your ability to manage complex projects with success by including examples of successes in your past roles.
Research Skills: Showcase your research abilities by including examples of successful research projects you have completed.
By including these elements, you can create a compelling resume that will impress potential employers.
What is a good summary for a Grants Manager resume?
A Grants Manager resume should include a summary that highlights the individual's expertise in grant proposal writing, grant research and project management. This summary should also emphasize their experience with grant budgeting and compliance, as well as their ability to cultivate relationships with potential funders. Additionally, it should highlight any special skills or professional certifications that the individual holds. A good summary should be concise and to the point, while still conveying the individual's qualifications and professional acumen.
What is a good objective for a Grants Manager resume?
A Grants Manager is an integral part of any non-profit organization, and their role is to ensure that the organization receives the funds it needs to operate. When crafting your resume for this role, it's important to have a concise, clear objective that reflects your understanding of the duties and qualifications required for the job. Here are some good objectives for a Grants Manager resume:
To secure a Grants Manager position utilizing my 5+ years of experience in managing large-scale grants and related administrative tasks.
To utilize my expertise in grant research, proposal writing and budgeting to obtain a Grants Manager role in a non-profit organization.
To obtain a Grants Manager position within an established non-profit organization where I can apply my experience in fundraising, financial management and donor relations.
To leverage my background in program management, grantwriting and strategic planning to secure a Grants Manager position at a reputable non-profit organization.
To acquire a Grants Manager role and apply my extensive knowledge in proposal development, grant program support and donor relationship management.
How do you list Grants Manager skills on a resume?
When crafting your resume for a Grants Manager role, you must emphasize the skills that are most important for a successful role. It is critical to highlight your abilities to secure funding and manage grant applications.
When listing your Grants Manager skills on a resume, consider the following:-
Knowledge of grant-writing software and procedures: A Grants Manager must have a thorough understanding of the grant-writing software and procedures used to submit applications to funding sources.
Strong project management skills: Being able to accurately manage multiple complex projects and deadlines is essential in a Grants Manager role.
Budgeting and financial analysis: Financial analysis skills are necessary in order to analyze the financial impact of grants and to oversee budgeting for the organization.
Communication skills: A Grants Manager must be able to clearly and effectively communicate with a variety of stakeholders, such as potential funders and other agencies.
Research and writing skills: The ability to research potential funding sources and write compelling grant applications are essential skills for a Grants Manager.
By emphasizing key Grants Manager skills on your resume, you can help demonstrate your qualifications for the role.
What skills should I put on my resume for Grants Manager?
When creating a resume for a Grants Manager position, it is important to highlight the skills and experiences that demonstrate your ability to efficiently manage grant funding and keep track of a non-profit organization's projects. Whether you are experienced in grant writing, budgeting, or management, there are certain skills employers look for in a Grants Manager. Here are some of the skills you should include on your resume when applying for a Grants Manager position:
Grant Writing: An effective Grants Manager should have the skills and experience to create grant proposals that the organization can use to obtain funds. This includes researching potential grant opportunities, preparing the grant proposal, and submitting it to the appropriate funding agency.
Budgeting: A Grants Manager must be able to develop a budget that aligns with the organization's goals and objectives, as well as track financial resources to ensure the organization is meeting its budgetary goals.
Project Management: Grants Managers are often tasked with overseeing the organization's various projects and ensuring that they are completed on time and within budget. This requires the ability to effectively manage and coordinate resources, manage deadlines, and ensure the quality of the completed project.
Communication: A successful Grants Manager must have strong communication skills, both verbal and written. This includes the ability to effectively communicate with the organization's staff, as well as external parties such as vendors, donors, and potential grant funders.
Analytical Skills: A Grants Manager must be able to analyze data and interpret the results to make informed decisions about the organization's projects and programs.
Interpersonal Skills: Grants Managers must be able to build relationships with internal and external stakeholders, and be able to effectively negotiate and collaborate with people from different backgrounds and perspectives.
By highlighting these skills on your resume, you will demonstrate to potential employers that you have the necessary qualifications to effectively manage grants and lead the organization'
Key takeaways for an Grants Manager resume
Writing a resume for a Grants Manager role can be a challenge, as it requires a broad range of skills and experience. In order to make sure that you stand out from the competition, there are certain key takeaways to include in your resume. Here are four key points to consider when crafting your Grants Manager resume:
Showcase Your Leadership Skills – Grants Managers are responsible for working with various teams and stakeholders, so it's important to showcase your leadership and problem-solving skills. Include any experience you have leading projects and working in cross-functional teams, as well as any awards or recognition you've received for your work.
Demonstrate Your Understanding of the Grants Process – Your resume should also demonstrate your understanding of the grants process, including grant writing, research, and monitoring grant programs. Include any relevant training or certifications you've earned, as well as any experience in grant management you've gained.
Highlight Your Financial Acumen – To be successful as a Grants Manager, you must have a solid understanding of financial principles and regulations. Demonstrate your financial acumen by including any relevant experience you have in budgeting and financial management, as well as any certifications or advanced degrees you have in these areas.
Showcase Your Communication Skills – Grants Managers must be able to effectively communicate with a variety of stakeholders, so it's important to showcase your communication skills. Include in your resume any experience you have in writing grants or other reports, as well as any presentations you've delivered.
By considering these four key takeaways when crafting your Grants Manager resume, you will be sure to stand out from the competition and make a strong impression on recruiters. Good luck!
Let us help you build
your Resume!
Make your resume more organized and attractive with our Resume Builder