Writing a resume for becoming a grant coordinator can be daunting, especially since the position involves creating successful grant proposals and managing the award process for grants. This guide will provide you with tips and tricks on how to write a great grant coordinator resume based on a few specific examples tailored to the job. Writing a resume for a position like this requires an understanding of the qualifications and experience necessary and this guide will help you craft a resume that will stand out and make you a great candidate. By the end of this guide, you'll have a winning resume and will be one step closer to becoming a grant coordinator.
If you didn't find what you were looking for, be sure to check out our complete library of resume examples.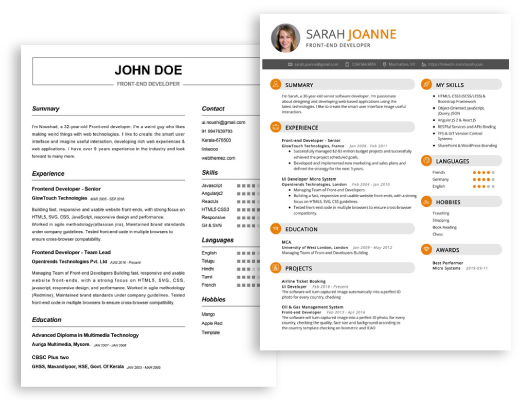 Start building your dream career today!
Create your professional resume in just 5 minutes with our easy-to-use resume builder!
Grant Coordinator Resume Examples
John Doe
Grant Coordinator
123 Main Street | Anytown, USA 99999 | Phone: (123) 456-7890 | Email: john.doe@email.com
Highly organized and detail- oriented Grant Coordinator with 5 years of experience working in the nonprofit sector. Skilled in providing support in all facets of grant writing, including researching, analyzing, and writing grant proposals, as well as tracking and managing grant expenditures. Possessing excellent communication and organizational abilities and a dedication to meeting deadlines. Focused on helping organizations secure the resources needed to pursue their mission.
Core Skills:
Grant Writing
Proposal Analysis
Budget Management
Data Analysis
Donor Relations
Records Management
Report Writing
Event Planning
Professional Experience:
Grant Coordinator, XYZ Nonprofit, June 2015 – Present
Research and write grant proposals for various funding sources
Develop grant budgets and track grant expenditures
Monitor grant projects and evaluate progress
Develop and maintain relationships with current and potential donors
Assist in organizing and executing special events
Grant Writer, ABC Nonprofit, April 2013 – June 2015
Wrote high- quality grant proposals for a variety of funding sources
Developed annual grant strategy and timeline for funding requests
Built relationships with foundations, corporations, and government entities
Researched and analyzed available grant opportunities
Assisted with special event planning and fundraising initiatives
Education:
Bachelor of Arts in Nonprofit Management, University of California, Los Angeles 2012
Graduated with honors and received the Dean's Award for Academic Excellence
Grant Coordinator Resume with No Experience
Energetic and organized recent college graduate looking to start my career in the field of grant coordination
Excellent project management, research, and communication skills
Proficient in Microsoft Office Suite and data management
Ability to multi- task in a fast- paced setting
Skills
Project Management
Writing and Research
Data Analysis
Communication and Interpersonal Skills
Time Management
Organizational Abilities
Proficiency in Microsoft Office Suite
Responsibilities
Performing research and analysis for grant opportunities
Assisting with the preparation of grant proposals
Writing and editing grant applications
Maintaining accurate and up- to- date records and reports
Communicating with grant providers and other stakeholders
Drafting and distributing grant- related correspondence
Assisting with the tracking and evaluation of grant projects
Grant Coordinator Resume with 2 Years of Experience
Dynamic grant coordinator with two years of experience in grant management and research. Highly organized and detail- oriented, with the ability to manage multiple projects and tasks. Proven track record of successfully developing and implementing grant proposals, meeting organizational goals and budget requirements. Skilled communicator, both orally and in writing, with the ability to effectively collaborate with team members and stakeholders to develop successful projects.
Core Skills:
Grant Writing
Grant Research
Data Entry
Proposal Development
Presentations
Project Coordination
Budget Management
Organizational Skills
Interpersonal Communication
Responsibilities:
Conducted grant research and analyzed data to develop grant proposals
Developed proposal budgets and monitored budget to ensure compliance
Submitted grant proposals and applications to various agencies, companies and foundations
Compiled grant documents and maintained grant records
Prepared presentations for grant funding board meetings
Coordinated grant activities, including project management and document preparation
Provided grant writing and research support to other departments
Drafted progress reports and ensured grant requirements were met
Reviewed grant documents and reports to ensure accuracy and compliance with grant regulations
Grant Coordinator Resume with 5 Years of Experience
Highly motivated and experienced Grant Coordinator with 5+ years of experience in the non- profit sector. Proven track record of successfully coordinating and administering grants, while ensuring compliance with Federal, State and Local regulations. Experienced in developing and maintaining relationships with donors, program staff and other stakeholders. Possesses excellent interpersonal and communication skills, with an ability to effectively collaborate with colleagues and stakeholders.
Core Skills:
Grant Writing
Budgeting
Compliance
Relationship- Building
Interpersonal Skills
Communication
Report Writing
Data Management
Responsibilities:
Assist with the preparation and submission of grant applications and reports
Collaborate with program staff and external stakeholders to develop and implement grant proposals
Monitor and review grant budgets, ensuring compliance with Federal, State and Local regulations
Manage and maintain grant databases, tracking program activities and expenditures
Develop and maintain relationships with donors and other stakeholders
Analyze reports to ensure accuracy and compliance with grant requirements
Prepare and submit periodic reports to funding agencies
Track and evaluate program outcomes to ensure compliance with grant objectives
Grant Coordinator Resume with 7 Years of Experience
Highly organized and detail- oriented grant coordinator with 7+ years of experience providing support services to grant managers in various nonprofit organizations. Skilled at conducting research on grant opportunities and in preparing and organizing grant applications. Proven success in managing grant information and ensuring compliance with grant regulations. Experienced in providing assistance to grant managers in developing grant proposals and in coordinating grant- funded projects.
Core Skills:
Grant Writing
Budget Management
Data Analysis
Project Coordination
Compliance
Research
Fundraising
Database Management
Responsibilities:
Conducted research on potential grants and identified potential funding opportunities that aligned with program goals and objectives
Assisted with the preparation and coordination of grant applications, including the review and submission of applications
Managed grant- related databases and tracked grant activities to ensure accuracy and compliance with grant regulations
Prepared grant budgets and monitored expenses to ensure compliance with grant requirements
Provided technical assistance in the development of grant proposals and project plans
Maintained communication with grant funding organizations to remain informed about grant regulations and deadlines
Assisted with the development of project reports and other grant- related materials
Provided administrative support to grant managers and assisted with the coordination of grant- funded projects
Grant Coordinator Resume with 10 Years of Experience
Resourceful and organized Grant Coordinator with 10 years of experience in managing grant programs and projects. Proven ability to research, develop and evaluate funding proposals, analyze financial and administrative data, and ensure compliance to grant requirements. Efficiently tracks and monitors project progress and performance, financial resources and timelines. Excels in developing relationships with stakeholders, facilitating effective collaboration and communication, and delivering quality performance.
Core Skills:
Grant Proposal Development
Financial Analysis and Budgeting
Compliance and Reporting
Relationship Management
Program Management
Project Documentation
Strategic Planning
Communication and Interaction
Problem- Solving
Responsibilities:
Developed and evaluated grant proposals, budgets and applications to obtain funding.
Prepared grant reports to be submitted to the appropriate government entities and funding sources.
Managed grant tracking systems including development and implementation of internal procedures.
Monitored grant activities to ensure compliance with grant requirements and regulations.
Created and maintained financial and administrative records of grant- funded projects.
Collaborated with stakeholders to meet program objectives and ensured timely completion of projects.
Assessed program performance and reported program outcomes to various stakeholders.
Identified and implemented strategies to improve program performance, efficiency and outcomes.
Developed and maintained relationships with stakeholders, including funders and partners.
Grant Coordinator Resume with 15 Years of Experience
An experienced grant coordinator with 15 years of experience in grant research, grant writing, grant management, grant accounting, and grant reporting. Having managed over $100 million in grants since 2005, I have a proven track record of success in being able to develop and execute grant initiatives that have a real impact on communities. I have an excellent understanding of the grant process, as well as the ability to identify and build strong relationships with funders. I am a detail- oriented, self- motivated professional who is able to work independently and as part of a team.
Core Skills:
Grant Research
Grant Writing
Grant Management
Grant Accounting
Grant Reporting
Strong Relationship Building
Excellent Written and Oral Communication
Project Management
Microsoft Office Suite
Responsibilities:
Develop and execute grant initiatives for local, state, and federal grants
Complete grant research, write proposals, and submit applications
Review and analyze grant applications for accuracy and completeness
Develop and manage budgets, fund allocations, and compliance reports
Maintain accurate records and proper documentation of all grants
Conduct regular meetings with stakeholders to discuss grant progress
Develop and maintain relationships with funders, partners, and other stakeholders
Coordinate with program staff to ensure grant objectives are met
Ensure compliance with all applicable local, state, and federal regulations
Assist with fundraising efforts to maximize grant funding
In addition to this, be sure to check out our resume templates, resume formats, cover letter examples, job description, and career advice pages for more helpful tips and advice.
What should be included in a Grant Coordinator resume?
A Grant Coordinator plays a critical role in helping organizations secure funding for their projects, so it is important that your resume is tailored to the job you are applying for. Here are some key points to include in your resume if you are applying for a Grant Coordinator role:
Extensive experience in grant writing or grant coordination.
Knowledge of the grant application process and procedures, including budgeting and compliance.
Proficiency in using grant writing software and databases.
Excellent verbal and written communication skills.
Ability to work independently and collaboratively in a team environment.
Proven organizational and problem-solving skills.
Ability to manage multiple projects and meet deadlines.
Demonstrated success in securing grant funds.
Bachelor's degree in a related field such as business, finance, or marketing.
What is a good summary for a Grant Coordinator resume?
A Grant Coordinator is responsible for acquiring and managing grants from foundations and other sources. A successful Grant Coordinator resume should demonstrate an aptitude for research, writing, and public relations.
The summary for a Grant Coordinator resume should be tailored to the particular requirements of the position but should also highlight skills such as grant writing, grant research, grant funding, grant management, grant reporting, grant tracking, budgeting, and proposal writing.
It should also mention experience working with government grants, non-profit organizations, and other third-party grant sources. Additionally, the summary should include any special qualifications such as knowledge of grant compliance regulations and documentation requirements.
A good summary for a Grant Coordinator resume should demonstrate an understanding of the position and the candidate's ability to successfully fulfill the duties involved. It should also provide a clear picture of the candidate's qualifications and experience.
What is a good objective for a Grant Coordinator resume?
A grant coordinator resume should have a strong and clear objective that sets it apart from other resumes and provides a succinct, impactful summary of the applicant's experience and qualifications. A good objective for a grant coordinator resume should focus on the candidate's experience and skills that make them a great fit for the job, as well as their enthusiasm for any particular responsibilities that would be entrusted to them.
Highlight your experience in grant writing and administration, including the number of successful projects you have completed.
Make sure to emphasize any special skills that make you uniquely qualified for the job, such as complex problem-solving and project management.
Demonstrate your knowledge of relevant organizations and funding sources.
Showcase your excellent communication, time management, and organizational skills.
Demonstrate your ability to think strategically and prioritize tasks.
Emphasize your passion for and commitment to helping your organization reach its goals by securing funding through grants.
How do you list Grant Coordinator skills on a resume?
A Grant Coordinator is an important role in any organization that applies for grants. They are responsible for researching, tracking, and applying for grants, as well as managing and monitoring the process of obtaining funds. As such, effective Grant Coordinators must have a wide range of skills and knowledge. In order to show these skills on a resume, here are some tips for listing Grant Coordinator skills.
Research Skills: A Grant Coordinator must have the ability to research available grants and know how to find the ones that are the most relevant to the organization. They should be knowledgeable in grant research sources, such as grant databases and grant-specific websites, and be able to quickly and accurately evaluate grant opportunities.
Writing Skills: Writing is an essential part of a Grant Coordinator's job. They must be able to write persuasive grant proposals and reports that clearly explain the organization's need and how the funds will be used.
Organizational Skills: A Grant Coordinator must be able to manage the entire grant process, which includes creating and monitoring timelines and deadlines, tracking progress, and gathering and organizing necessary documents. They must have excellent organizational skills in order to keep track of the details and be able to prioritize tasks.
Budgeting Skills: A Grant Coordinator must be able to prepare budgets for grant proposals and be able to accurately estimate the cost of projects. They must also be able to monitor budget performance and adjust it as needed.
Interpersonal Skills: A Grant Coordinator must be able to interact with a wide range of people, from staff to funders, and have excellent communication skills. They must be able to clearly explain the organization's mission, goals, and objectives to potential funders and be able to respond to any questions or concerns.
Analytical Skills: A Grant Coordinator must be able to analyze data and make decisions based on the results.
What skills should I put on my resume for Grant Coordinator?
When creating a resume for a Grant Coordinator position, it is important to include the relevant skills and qualifications that demonstrate you are the ideal candidate for the job. Here is a list of some key skills to include on your resume:
Knowledge of grant writing: Grant Coordinators need to be knowledgeable in the process of grant writing, from researching eligible grants to writing the grant itself and managing the grant application process.
Understanding of grant regulations: A Grant Coordinator should be familiar with the rules and regulations for each grant program that is applied for. This includes documenting the grant and following up with funders.
Excellent communication skills: As a Grant Coordinator, you will need to be able to communicate effectively with a wide variety of people, from funders to writers and project managers. You should also have strong writing skills and be able to write clear and persuasive reports.
Budgeting and financial management: You should have a good understanding of financial management, including budgeting and tracking expenses related to the grant.
Project management: You should be able to manage projects related to the grant, such as tracking progress and ensuring deadlines are met.
Collaborative: Grant Coordinator positions often require you to work with other team members, so it is important to have strong interpersonal and collaborative skills.
By including these skills on your resume, you can demonstrate to employers that you have the necessary skills and qualifications to be successful as a Grant Coordinator.
Key takeaways for an Grant Coordinator resume
As a grant coordinator, your resume is your best tool for demonstrating your knowledge, expertise and experience in the field of grants management. When you are preparing your resume, there are several key takeaways that you should consider to help you create an effective document that will stand out from the competition.
Focus on Your Grant Writing Skills: It is essential to highlight your grant writing abilities on your resume. Your experience in writing and submitting successful grant proposals should be a core component of your resume. Highlight any grants you've worked on in the past and any successes you've achieved.
Include Relevant Achievements: Grant coordinators should also emphasize their relevant professional achievements. Whether you have managed successful projects, exceeded deadlines or created successful funding strategies, these should be included in your resume. Be sure to also include any awards or honors you have received as a result of your work.
Showcase Your Knowledge of Grant Management: In addition to your grant writing skills, it is important to demonstrate your knowledge of grant management. Include any certifications or trainings you have completed and emphasize any research experience or fiscal oversight you have.
Demonstrate Your Interpersonal Skills: As a grant coordinator, you will need to be able to collaborate with a variety of stakeholders. Highlight qualities such as communication, problem solving and teamwork to demonstrate your ability to work with others.
By following these key takeaways, you can create a comprehensive yet concise resume that will stand out to potential employers. With the right approach, you'll be on your way to landing your dream job.
Let us help you build
your Resume!
Make your resume more organized and attractive with our Resume Builder