Writing a resume for a field manager is a challenging task, as it requires an in-depth understanding of the job, its responsibilities and its unique requirements for success. It is important to craft a resume that captures the attention of potential employers and highlights your qualifications for the position. This guide will provide an overview of the key components of a field manager resume, along with tips, strategies and examples to help you create an effective document that will stand out from the competition. With the right approach, you can create a resume that accurately portrays your professional experience and qualifications, and will give you the edge you need to land your dream job.
If you didn't find what you were looking for, be sure to check out our complete library of resume examples.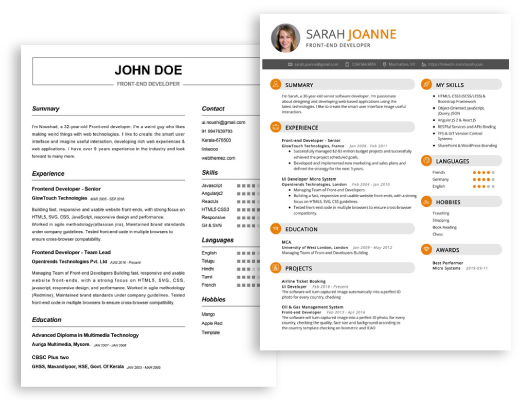 Start building your dream career today!
Create your professional resume in just 5 minutes with our easy-to-use resume builder!
Field Manager Resume Examples
John Doe
Field Manager
123 Main Street | Anytown, USA 99999 | Phone: (123) 456-7890 | Email: john.doe@email.com
Highly organized and motivated professional with over three years of experience in field management. Proven track record of success in developing and executing successful marketing campaigns, managing large teams, and providing exceptional customer service. Possess strong analytical and problem- solving skills, as well as excellent communication skills. Looking to leverage my experience and bring my knowledge to an organization in need of field management expertise.
Core Skills:
Team Management
Client Relations
Event Planning
Research & Analysis
Sales & Marketing
Budgeting & Forecasting
Public Speaking
Customer Service
Professional Experience:
Field Manager, ABC Company, 2019 – Present
Develop and implement successful marketing campaigns to maximize reach and increase sales.
Manage a team of 5- 10 representatives to ensure that all tasks are completed on time and within budget.
Oversee the planning and execution of large events, ensuring that all logistics are handled properly.
Conduct in- depth market research and analyze data to understand customer needs and preferences.
Manage relationships with clients and vendors to ensure that all parties are satisfied with the results.
Develop strategic plans to optimize sales performance and meet organizational goals.
Analyze financial data to identify opportunities for cost savings and increased profitability.
Education:
Bachelor of Science in Business Administration, University of XYZ, 2016
Field Manager Resume with No Experience
Self- motivated individual seeking to apply exemplary management skills and strong work ethic to become a successful field manager.
Skills
Strong organizational and time management skills
Ability to multi- task and work in a fast- paced environment
Excellent communication and interpersonal skills
Proficient in Microsoft Office Suite
Able to develop and maintain positive relationships with co- workers and clients
Responsibilities
Manage daily operations of field team
Coordinate and execute tasks for field team
Oversee the planning and implementation of projects
Train and mentor field staff
Ensure compliance with policies and procedures
Monitor performance and provide constructive feedback
Coordinate and collaborate with external partners and vendors
Field Manager Resume with 2 Years of Experience
A highly motivated and detail- oriented field manager with two years of experience leading complex projects and teams. Proven track record of consistently delivering high- quality results with a keen eye for detail. Excellent communication and organizational skills, able to prioritize tasks and meet deadlines. Experienced in managing finances, setting budgets and overseeing staff performance.
Core Skills:
Project Management
Financial Management
Staff Management
Problem Solving
Communication
Time Management
Responsibilities:
Developed and managed project plans, timelines, and budgets for multiple projects
Monitored project progress and identified potential risks, proposing solutions to keep projects on track
Managed team performance by setting goals, providing feedback, and evaluating employee performance
Developed and maintained strong relationships with project stakeholders
Monitored financial performance, set budgets, and prepared financial reports
Trained and mentored new staff on project management and leadership skills
Created and implemented project processes and procedures to ensure successful project completion
Field Manager Resume with 5 Years of Experience
Dynamic and experienced Field Manager with 5 years of experience in managing operations and leading teams in fast- paced, challenging environments. Proven record of success in identifying process improvements to increase efficiency and reduce costs. Proven ability to build and manage successful teams to ensure goals are met and exceeded on a consistent basis. Possess strong communication and interpersonal skills with the ability to resolve any customer issues quickly and effectively.
Core Skills:
Strong organizational and problem- solving skills
Ability to work independently and as part of a team
Proficient in Microsoft Office Suite
Excellent communication and interpersonal skills
Ability to analyze data and make strategic decisions
Project management and budgeting experience
Responsibilities:
Managed daily field operations, ensuring all staff were adequately trained and met company standards.
Developed and implemented processes to streamline operations and improve efficiency.
Monitored and tracked team performance and individual team member progress.
Conducted regular meetings with team members to review objectives and set goals.
Maintained accurate records of all operations, including inventory, sales, and customer service inquiries.
Assisted in budgeting and forecasting, ensuring that funds were allocated appropriately.
Resolved customer inquiries and complaints in a timely manner.
Field Manager Resume with 7 Years of Experience
An experienced Field Manager with seven years of experience in managing field personnel, developing successful strategies to maximize productivity and product quality, and effectively managing customer relations. Possesses strong communication, organizational, and problem solving skills, as well as an ability to effectively liaise with customers, colleagues, and vendors.
Core Skills:
Leadership
Strategic Planning
Problem Solving
Communication
Customer Relations
Negotiation
Time Management
Responsibilities:
Arranged schedules and managed field personnel to optimize productivity and product quality
Developed and implemented comprehensive policies and procedures to maintain operational efficiency
Utilized problem- solving skills to resolve customer concerns and inquiries
Negotiated contracts with customers and vendors to ensure mutually beneficial terms
Developed detailed reports and presentations to demonstrate project progress
Provided exceptional customer service to maintain long- term relationships
Analyzed customer feedback and implemented strategies for improvement
Trained new staff members in customer relations, operations, and safety protocols
Monitored safety compliance and maintained a safe and secure work environment.
Field Manager Resume with 10 Years of Experience
Dynamic and results- oriented Field Manager with 10 years of diverse experience in managing day- to- day operations, supervising teams, and leading projects to successful completion. Proven track record in improving operational efficiency and customer satisfaction. Adept at identifying and resolving operational problems, developing and executing sales strategies, and creating and executing training plans. Possesses excellent problem- solving and communication skills.
Core Skills:
Resource Management
Strategic Planning
Sales & Marketing Strategies
Project Management
Training & Development
Operational Efficiency
Team Supervision
Budgeting & Forecasting
Analytical & Critical Thinking
Customer Service
Responsibilities:
Developed and implemented strategies for improving team performance and productivity
Supervised team of employees, monitored results, and provided feedback as needed
Developed and executed sales plans to improve customer service and increase sales
Created and monitored budgets to ensure efficient use of resources
Assisted in the recruitment of new employees and oversaw the training and onboarding processes
Analyzed customer feedback and implemented strategies to improve customer satisfaction
Developed and implemented strategies to improve operational efficiency
Supported the development of marketing campaigns to increase brand awareness
Investigated and resolved customer service issues in a timely manner
Managed day- to- day operations and delegated tasks as necessary
Field Manager Resume with 15 Years of Experience
Highly experienced Field Manager with over 15 years of industry experience in managing field operations, staff, and resources. Proven ability to plan, develop and implement strategies for successful field operations. Skilled in problem solving and making decisions to increase efficiency, profitability, and customer satisfaction. Possess strong organizational, interpersonal, and communication skills.
Core Skills:
Excellent management and leadership abilities
Proficient in field operations and staff management
Strong analytic and problem- solving skills
Strong written and verbal communication skills
Strong organizational and multitasking skills
Ability to make decisions to increase efficiency and profitability
Responsibilities:
Develop and oversee field operations
Develop strategies for successful field operations
Lead and manage field staff
Coordinate recruiting and training of field staff
Develop and implement policies and procedures
Monitor staff performance and provide feedback
Analyze field operations and recommend improvements
Develop and manage budgets
Ensure customer satisfaction and service quality
In addition to this, be sure to check out our resume templates, resume formats, cover letter examples, job description, and career advice pages for more helpful tips and advice.
What should be included in a Field Manager resume?
A Field Manager resume should include relevant information to demonstrate a potential employee's ability to assume this role successfully. The following should be included:
Professional Summary: The Professional Summary should highlight the most important qualifications and experience that the applicant has.
Education: Include the highest educational level achieved and which school or institutions it was obtained from.
Work Experience: Include all applicable experience in the field of management, as well as any experience in related fields.
Technical Skills: Any technical skills needed to be a successful Field Manager, such as knowledge of databases, software applications, and customer service should be included.
Soft Skills: Soft skills are important for a Field Manager, so it is important to include any skills related to communication, problem solving, conflict resolution, and decision-making.
Leadership Qualities: Any qualities related to leading a team and managing personnel should be included.
Certifications: Include any certifications or awards related to field management.
Professional Development: Include any professional development courses or seminars related to field management.
By including all of the above information, a potential employer will have a clear and comprehensive understanding of an individual's background and skill set. This will make it easier for them to make an informed decision about a potential Field Manager.
What is a good summary for a Field Manager resume?
A good summary for a Field Manager resume should highlight the candidate's experience in managing a team, executing projects, and driving operational success. The summary should also include relevant information about the candidate's leadership skills, ability to stay organized, problem-solving skills, and any other relevant experience or qualifications. The summary should be concise, yet articulate enough to provide a snapshot of the candidate's qualifications and capabilities. Ultimately, the summary should be an effective representation of the candidate and their work experience as a Field Manager.
What is a good objective for a Field Manager resume?
A Field Manager is responsible for overseeing a team of employees in an outdoor environment. As such, it is important to have a good objective on your resume that shows employers that you are well qualified and capable of handling the duties of a Field Manager. Here are some ideas for a good objective for a Field Manager resume:
To leverage my extensive experience in leading successful teams to benefit the organization I work for
To utilize my organizational and communication skills to ensure the efficient and effective management of a field team
To use my problem-solving abilities to quickly identify and resolve issues that arise in the field
To ensure a safe and effective work environment for my team by implementing best practices in safety and operations
To motivate and inspire my team to consistently achieve the highest levels of performance and productivity
To develop and maintain positive relationships with customers, vendors, and other stakeholders
To create an atmosphere of collaboration and teamwork within the team so that everyone works together to achieve the best results
To manage the team with integrity, fairness, honesty, and respect for all individuals involved.
How do you list Field Manager skills on a resume?
A Field Manager is an effective and efficient leader who is responsible for managing field operations and a team of employees in the field. They must have strong people management and organizational skills, as well as a deep knowledge of day-to-day field operations. When writing a resume for a Field Manager role, it is important to list all of your relevant skills, so employers can see that you are the best candidate for the job.
The following are some of the key skills and qualifications you should list on your resume:
Ability to lead and manage a diverse field team
Solid understanding of field operations and processes
Exceptional communication and problem-solving skills
Experienced in developing and implementing field strategies
Proficient in using field resources to achieve organizational goals
Excellent planning, budgeting, and organizational skills
Ability to make timely and effective decisions
Strong interpersonal, leadership, and motivational skills
Skilled in coaching and developing team members
Outstanding customer service and conflict resolution skills
What skills should I put on my resume for Field Manager?
Writing a resume for a Field Manager position requires the applicant to showcase the unique qualifications that set them apart from the competition. As a Field Manager, you'll be responsible for setting objectives, tracking progress, and leading a team. To stand out as a candidate, you'll need to demonstrate that your management and communication skills are up to par. Below are some of the most important skills to include on your Field Manager resume.
Communication: Effective communication is key to success in any field management role. You should demonstrate an ability to effectively convey information and ideas to both colleagues and clients.
Leadership: A Field Manager is a leader and must be able to inspire and motivate their team. Showcase the leadership skills that have enabled you to successfully manage teams in the past.
Project Management: A Field Manager must be able to plan, organize, and coordinate projects and initiatives. Describe your experience with project management tools and techniques and how you have successfully employed them.
Problem-Solving: As a Field Manager, you will be expected to troubleshoot and resolve issues that arise. Highlight any experience you have had solving complex problems and how you have been able to use creative solutions to get the job done.
Technical Skills: Modern Field Managers must be proficient in the use of computer programs and technology. Display your knowledge in software such as Microsoft Office as well as any specialized programs you may have experience with.
By showcasing the right qualifications on your resume, you can make sure that you stand out as a top candidate for the Field Manager position. With the right skills in your arsenal, you can be sure that you'll be able to demonstrate that you're the perfect fit for the job.
Key takeaways for an Field Manager resume
As a field manager, you know the value of a strong resume. Your resume is one of the most important documents that an employer will use to evaluate your candidacy for a job. Here are some key takeaways that you should consider when crafting your resume:
Highlight your leadership skills. Employers will be looking for someone who can effectively manage a team and take the lead in setting priorities for the team. Include any experiences in which you have led a team or project, and outline your successes in these roles.
Focus on your accomplishments. Rather than just listing your duties and responsibilities, demonstrate how your work has had a positive impact on the organization. Showcase your successes in managing projects, improving processes, and meeting deadlines.
Tailor your resume to the job. Make sure you read the job description closely and customize your resume to show that you have the skills and experience needed for the position. Include keywords from the job description and examples of how you have used those skills in past roles.
Showcase your technical skills. In addition to your leadership and management skills, you will also need to demonstrate your technical proficiency. Include any software used in your field, as well as any specialized knowledge you have in the industry.
Be concise. Keep your resume to a maximum of two pages and focus on the most relevant information. Employers don't have time to read through long, drawn-out resumes, so make sure you are using the space effectively to highlight your strengths.
By following these key takeaways, you can create an effective field manager resume that will stand out from the competition and get you the job you want.
Let us help you build
your Resume!
Make your resume more organized and attractive with our Resume Builder