Writing a resume as a Facilities Assistant can be difficult, as the job entails a wide range of important responsibilities. From providing support to the facilities manager to maintaining the cleanliness of the building, the role requires a thorough understanding of the list of core job duties. Therefore, it is important to craft a resume that clearly outlines your qualifications, experience, and abilities that are relevant to the position. This guide will provide you with advice on how to write a Facilities Assistant resume, as well as provide examples to inspire your own. With the right information, you can create a resume that will stand out and help you land your dream job.
If you didn't find what you were looking for, be sure to check out our complete library of resume examples.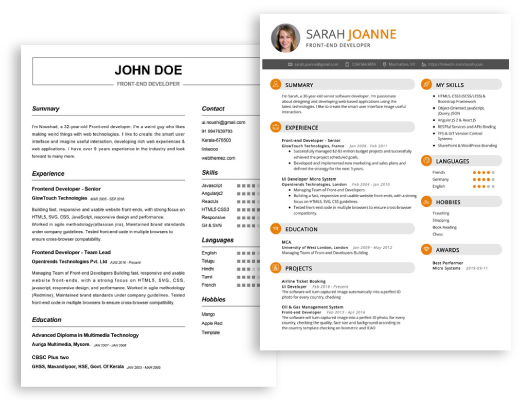 Start building your dream career today!
Create your professional resume in just 5 minutes with our easy-to-use resume builder!
Facilities Assistant Resume Examples
John Doe
Facilities Assistant
123 Main Street | Anytown, USA 99999 | Phone: (123) 456-7890 | Email: john.doe@email.com
I am a highly organized and detail- oriented Facilities Assistant with 8+ years of experience in the maintenance and operations of a variety of commercial and residential buildings. I have a proven track record of working effectively with the landlords, tenants, vendors, and contractors in order to ensure a safe, clean and secure environment. I am committed to providing outstanding customer service and strive to ensure that all needs are met in a timely manner.
Core Skills:
Facility Management
Building Maintenance
Customer Service
Landlord/Tenant Relations
Security Systems
Operational Protocols
Computer Literacy
Project Coordination
Scheduling
Budget Management
Professional Experience:
Facilities Assistant, ABC Company, San Francisco, CA
Assisted with the daily management of the building and coordinated with other departments to ensure all maintenance needs were met
Ensured all tenant requests were answered promptly and handled any tenant complaints and inquiries
Managed all security systems and conducted regular safety inspections
Implemented operational protocols to ensure the safety and security of the building
Scheduled and coordinated building maintenance activities and projects
Worked with vendors and contractors to ensure timely completion of all projects
Developed and implemented a budget for all maintenance and operations related activities
Education:
Bachelor of Arts, Business Administration, San Francisco State University, San Francisco, CA
Certified Professional Facilities Manager, Building Owners and Managers Association International, San Francisco, CA
Facilities Assistant Resume with No Experience
Motivated and organized Facilities Assistant with a passion for helping others and providing excellent customer service. Excellent communicator, with the ability to take initiative and independently follow direction.
Skills:
Excellent customer service
Organizational skills
Attention to detail
Self- motivated
Multi- tasking
Problem solving
Strong communication
Responsibilities
Assisting with daily tasks such as cleaning, restocking, and organizing
Monitoring the facility for cleanliness and safety
Assisting with event setup and breakdown
Providing customer service to guests
Responding to inquiries in a timely and professional manner
Performing preventative maintenance on the facility
Assisting with the installation of new equipment and furniture
Tracking inventory of supplies and equipment
Ensuring compliance with all applicable laws and regulations
Facilities Assistant Resume with 2 Years of Experience
I am an experienced Facilities Assistant with over two years of experience in the field. I possess excellent organizational, communication, and customer service skills to efficiently manage and coordinate the day- to- day operations of the facility. I have successfully managed a variety of tasks such as managing inventory, handling customer inquiries, and organizing event logistics. I am a reliable and dedicated worker who strives to provide an efficient and professional work environment.
Core Skills:
Excellent organizational skills
Strong customer service skills
Knowledge of basic facilities maintenance
Ability to multitask
Solid communication skills
Responsibilities:
Manage the daily operations of the facility
Handle customer inquiries in a professional manner
Maintain facility inventory and supplies
Track facility maintenance and repairs
Ensure the safety and cleanliness of the facility
Coordinate events and meetings as needed
Facilitate communication between departments
Troubleshoot issues and resolve conflicts as needed
Facilities Assistant Resume with 5 Years of Experience
Dynamic, hardworking, and detail- oriented Facilities Assistant with five years of experience in providing excellent support and assistance to the Facilities Manager. Determined to ensure 100% customer satisfaction and excellent organizational skills. Proficient in MS Office, Outlook, and other industry- standard software tools.
Core Skills:
Knowledge of facility maintenance
Strong troubleshooting skills
Excellent customer service
Ability to work in a fast- paced environment
Superior communication skills
Great organizational skills
Proficient in MS Office and Outlook
Responsibilities:
Maintaining the cleanliness of the facility and its grounds
Ensuring that all facilities are properly stocked and organized
Ensuring that all equipment is in good working order
Performing routine maintenance and repairs on facility equipment
Liaising with vendors and other service providers
Responding to emergency maintenance issues
Assisting with the preparation and planning of events
Scheduling and supervising subcontractors and temporary workers
Facilities Assistant Resume with 7 Years of Experience
Highly organized and efficient Facilities Assistant with 7 years of experience in providing administrative services to ensure facilities are up to date and operational. Expertise in facility maintenance and upkeep, security systems management, customer service, inventory control and record keeping. Demonstrated ability to evaluate, identify and resolve complex facilities- related issues and ensure compliance with safety regulations. Highly skilled in organization, problem- solving and multitasking in a busy work environment.
Core Skills:
Customer service
Facilities maintenance and upkeep
Security systems management
Inventory control and record keeping
Organization
Problem- solving
Multi- tasking
Safety regulations compliance
Responsibilities:
Maintained and operated all facility equipment, systems and facilities.
Scheduled and supervised maintenance, repairs and upgrades of facility equipment and systems.
Ensured all security systems and access control for the facility.
Managed and monitored all inventory control and record keeping.
Coordinated customer service by responding to inquiries and resolving customer issues.
Developed and implemented safety procedures to ensure compliance with safety regulations.
Monitored facility operations and provided reports to management.
Assisted with various office tasks as needed.
Facilities Assistant Resume with 10 Years of Experience
Highly experienced Facilities Assistant with 10+ years in providing optimal customer service and administrative support. Skilled in the coordination and provision of any facilities- related tasks, such as general maintenance, repairs, and office management. Known for having excellent problem- solving, communication, and organizational skills.
Core Skills:
Strong customer service and communication skills
Excellent organizational skills
Ability to problem solve
Proficiency with Microsoft Office Suite
Knowledge of basic maintenance, repair, and office management
Familiarity with safety protocols
Responsibilities:
Assist in the provision of facilities services, such as maintenance and repairs
Ensure compliance with all applicable laws, regulations, and policies
Coordinate office moves and organize any necessary arrangements
Assist in the management of office inventory, equipment, and supplies
Monitor and troubleshoot any technical problems
Perform general administrative work, such as data entry and filing
Implement and maintain safety protocols to ensure a safe working environment
Provide assistance to customers with any queries or requests
Facilities Assistant Resume with 15 Years of Experience
I am a motivated and highly experienced Facilities Assistant with over fifteen years of experience in the field. I possess excellent organizational and problem- solving skills, and have a proven track record of efficiently managing the day- to- day operations of facilities. I am also knowledgeable in areas such as maintenance, janitorial services and general office support. I have a strong ability to quickly assess and resolve issues, as well as develop and implement practices that improve operational efficiency.
Core Skills:
Strong organization and problem- solving skills
Excellent customer service and communication skills
Knowledge of maintenance and janitorial services
Ability to quickly assess and resolve issues
Ability to develop and implement operational practices
Proficient in Microsoft Office Suite
Excellent time management and multitasking skills
Responsibilities:
Maintain and oversee all facility operations
Perform routine maintenance and janitorial services
Provide general office support
Support the development and implementation of operational practices
Conduct regular facility inspections and make recommendations
Handle all incoming calls, inquiries and requests
Ensure that all safety regulations are adhered to
Monitor inventory of supplies and order new materials
Coordinate with contractors and vendors for repair services
Assist with any special projects or additional duties as required
In addition to this, be sure to check out our resume templates, resume formats, cover letter examples, job description, and career advice pages for more helpful tips and advice.
What should be included in a Facilities Assistant resume?
A Facilities Assistant provides administrative and physical support to help a company's facilities operate efficiently and effectively. They need to be highly organized and have excellent problem-solving skills. To be successful in a Facilities Assistant position, you need to have a resume that accurately reflects your abilities. Here are the key components you should include in your Facilities Assistant resume:
Professional Summary: A brief paragraph that summarizes your experience, skill set, and career goals.
Education: Include your highest degree, where you obtained it, and any other courses, certifications, or training you have completed.
Skills: Include any soft and technical skills that may be applicable to the position you are applying for.
Experience: List any relevant work experience you have that is related to facilities management. Be sure to include job titles, dates, and a brief description of duties.
Achievements: Include any awards or recognition you have received for your work in the field.
Language: List any languages you are fluent in besides English.
Additional Information: Include any additional information that may be relevant to the position. This could include volunteer experience, internships, or computer knowledge.
By including these components in your Facilities Assistant resume, you will give yourself the best chance of landing the job you desire. Good luck!
What is a good summary for a Facilities Assistant resume?
A Facilities Assistant is a person who is responsible for the upkeep of a facility and its related services, such as providing janitorial, maintenance and repair services. When writing a resume for this role, it is important to include a good summary that highlights your experience, qualifications and strengths.
A strong Facilities Assistant resume should showcase your experience in the field, as well as your knowledge in performing maintenance and repairs. It should also include your ability to work independently and collaboratively, your problem-solving skills, and your ability to stay organized and focused in a fast-paced environment. Additionally, you should demonstrate your knowledge and experience in using various tools and equipment.
Your summary should also include your certifications, such as HVAC, plumbing, and electrical. Finally, it should speak to your commitment to safety and your ability to comply with codes, regulations, and policies.
By providing a detailed and focused summary, you can help employers see your qualifications and skills and how you can contribute to the job. This will make you stand out among other job applicants and increase your chances of getting the job.
What is a good objective for a Facilities Assistant resume?
A Facilities Assistant resume should focus on the applicant's ability to fulfill the duties and responsibilities of the position. The objective should highlight the applicant's qualifications and experience in managing facility operations, resolving customer issues, and performing administrative tasks. Here are some suggested objectives for a Facilities Assistant resume:
Provide superior customer service while managing facility operations and troubleshooting customer issues
Utilize excellent organizational and communication skills to ensure efficient facility operations
Contribute to the company's success by providing administrative support to management
Deliver top-notch customer service by resolving customer complaints in a timely and professional manner
Work collaboratively with different departments to ensure the efficient operation of facilities
Demonstrate the ability to accept new challenges and utilize problem-solving skills to effectively address customer and facility issues
Develop and maintain relationships with customers and vendors to ensure positive customer experience
How do you list Facilities Assistant skills on a resume?
A Facilities Assistant requires a variety of skills to be successful. To highlight your abilities on a resume, you should include a section devoted to listing your skills. This section should be easy to find, so it's a good idea to place it near the top of the page.
When listing your Facilities Assistant skills, be sure to include experience specific to this role. Here are some skills to include:
Facility Maintenance: Ability to maintain a safe and clean working environment, inspect and repair equipment, and adjust HVAC systems.
Interpersonal Communication: Ability to communicate effectively with colleagues and customers.
Time Management: Ability to meet tight deadlines and prioritize tasks.
Problem Solving: Ability to troubleshoot issues, analyze data, and come up with creative solutions.
Health and Safety: Knowledge of health and safety regulations and protocols.
Organizational Skills: Ability to maintain orderly records, logs, and filing systems.
Administrative Tasks: Ability to update databases, manage inventory, and process paperwork.
Computer Literacy: Knowledge of computers and office software.
By including this dedicated skills section, you will show potential employers what assets you bring to the table as a Facilities Assistant. Make sure to include any relevant experience and qualifications as well to create a comprehensive resume.
What skills should I put on my resume for Facilities Assistant?
When creating a resume for a Facilities Assistant role, you must focus on highlighting the skills that you possess that make you the ideal candidate for the job. It is important to showcase the relevant experience and qualifications you have that align with the position. Below is a list of skills that you should consider including on your resume for a Facilities Assistant role:
Excellent communication and customer service skills: This is essential for a Facilities Assistant role, as you will be dealing with a variety of stakeholders and customers on a daily basis.
Knowledge of Health and Safety Regulations: In this role, you will play an important role in ensuring that the facilities meet all necessary health and safety regulations.
Problem-solving and troubleshooting abilities: As a Facilities Assistant, you will be required to identify and address any potential problems and issues that may arise.
Ability to work independently: You will need to be able to work independently with minimal supervision.
Knowledge of Facility Management Software: You should have experience working with facility management software and be able to use it effectively.
Attention to detail: You should be able to pay close attention to detail and be able to work accurately and efficiently.
Ability to work in a fast-paced environment: You should have the ability to work in a fast-paced environment and be able to handle multiple tasks at once.
By highlighting these skills on your resume, you will demonstrate that you are the best candidate for the role.
Key takeaways for an Facilities Assistant resume
When writing a resume for a position as a Facilities Assistant, there are several key takeaways to consider.
First and foremost, it is important to highlight any experience you have working in a facility. Any experience in maintenance, cleaning, security, or other related fields can be beneficial for the potential employer to know. Additionally, it is beneficial to list any certifications or training you may have in any of these areas, as this can give your resume an extra boost.
Additionally, any experience or education related to the management of a facility is also highly beneficial. For example, if you have a degree in logistics or project management, or a certification in safety management, be sure to list this on your resume. This can be a great way to demonstrate to potential employers your aptitude in managing a facility.
Finally, be sure to highlight any special skills you have that could be beneficial to a Facility Assistant position. These could include computer skills, such as an ability to use software programs; organizational skills, such as the ability to plan and coordinate events; and communication skills, such as the ability to effectively communicate with customers and coworkers.
By including these key takeaways in your resume, you can demonstrate to potential employers that you are the perfect candidate for the position as a Facilities Assistant.
Let us help you build
your Resume!
Make your resume more organized and attractive with our Resume Builder