When writing a resume for a job as a Documentation Specialist, it is important to make sure that you focus on the key skills and qualifications relevant to the role. As these roles require a high level of expertise in the creation and maintenance of a variety of documents, it is important to highlight your experience and knowledge in this area. This resume writing guide for a Documentation Specialist provides detailed examples and best practices to help you craft an effective and targeted resume for the job you are applying for. With the right approach, your resume can stand out from the crowd and get you closer to landing the job.
If you didn't find what you were looking for, be sure to check out our complete library of resume examples.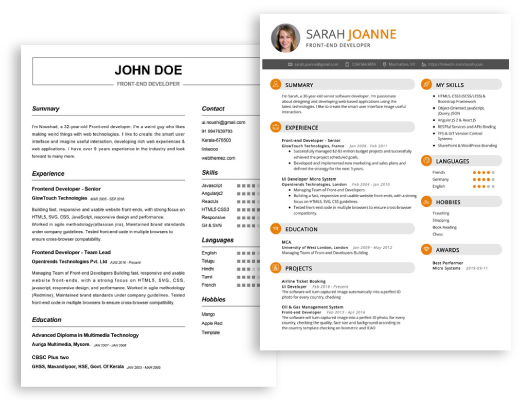 Start building your dream career today!
Create your professional resume in just 5 minutes with our easy-to-use resume builder!
Documentation Specialist Resume Examples
John Doe
Documentation Specialist
123 Main Street | Anytown, USA 99999 | Phone: (123) 456-7890 | Email: john.doe@email.com
A results- oriented and highly motivated professional with more than 8 years of experience as a Documentation Specialist in the legal field. I have developed excellent organizational and communication skills, enabling me to work with different teams and manage complex projects. I am accustomed to following the highest standards of quality and accuracy in order to produce superior documents, and I possess strong problem- solving and analytical skills.
Core Skills:
Proficiency in Microsoft Office and Adobe Acrobat Professional
Knowledge of legal terminology, formats, and conventions
Excellent written and verbal communication skills
Exceptional attention to detail and accuracy
Ability to multi- task and work under tight deadlines
Strong problem- solving skills
Professional Experience:
Documentation Specialist, Legal Firm, 2017- Present
Develop and classify documents according to company protocols and regulations
Manage and track document submissions and records
Proofread and review documents for accuracy
Provide administrative support to the legal department
Ensure timely preparation and delivery of documents
Assist in the preparation of legal documents
Document Clerk, Legal Firm, 2012- 2017
Organized and stored documents in an efficient and orderly fashion
Reviewed and verified documents for accuracy
Ensured document compliance with legal regulations
Performed data entry duties to input information into the company database
Prepared, sorted, and distributed documents
Developed new filing systems
Education:
Bachelor's Degree in Business Administration, University of State, 2012
Documentation Specialist Resume with No Experience
Recent graduate with a degree in English Literature, seeking a Documentation Specialist position to help foster corporate and personal growth. Possess excellent communication and interpersonal skills, critical thinking, problem- solving and organizational skills. A motivated individual with a desire to help others succeed.
Skills
Exceptional written and verbal communication skills
Proficient with Microsoft Office
Knowledge of technical writing principles and practices
Excellent comprehension of grammar and syntax
Abilitiy to research and analyze data
Ability to collaborate with cross- functional teams
Responsibilities
Develop, organize and manage technical documents
Review and revise existing documents
Create and update internal and external documents
Maintain filing systems and ensure documents are up to date
Ensure accuracy and completeness of documents
Monitor and revise documents to ensure compliance with regulatory standards
Respond to customer inquiries in a timely and accurate manner
Documentation Specialist Resume with 2 Years of Experience
A highly motivated Documentation Specialist with 2 years of experience in providing technical writing to create and produce user manuals, reference guides, and other documents. I specialize in creating content that is well- structured, easy to read, and user- friendly. In addition to my technical writing skills, I am also well- versed in graphic design, web design, and content management systems. My experience also includes editing and proofreading for accuracy, proper grammar, and readability.
Core Skills:
Excellent technical writing and editing skills
Knowledge of content management systems
Graphic design and web design knowledge
Ability to produce quality documents in a timely manner
Proficiency in Adobe Creative Suite
Proficiency in Microsoft Office Suite
Responsibilities:
Creating and producing user manuals, reference guides, and other documents
Editing and proofreading documents for accuracy and readability
Developing content to ensure content is well- structured and user- friendly
Working with graphic design and web design teams to create engaging visuals
Maintaining and updating existing content as needed
Troubleshooting and resolving technical writing issues
Documentation Specialist Resume with 5 Years of Experience
I am a Documentation Specialist with 5 years of experience in the field. I have experience in the preparation and processing of technical documents such as software user and technical manuals, product brochures, and other training materials. My technical writing experience and knowledge of computer technology have assisted me in the preparation of detailed and comprehensive documentation. I am also experienced in assisting with the development and management of technical library systems.
Core Skills:
Comprehensive knowledge of software documentation
Excellent writing and proofreading abilities
Proficient in technical writing and editing
Experienced in creating and maintaining technical library systems
Ability to communicate complex technical processes in easy to understand terms
Skilled in the use of various software applications
Responsibilities:
Create, edit and update software user manuals, technical documents, and other training materials
Prepare user guides, product brochures and other technical documents
Research and write new documentation for software products
Assist in the development and maintenance of technical library systems
Monitor document usage and distribution
Ensure accuracy and quality of documents created and released for use
Documentation Specialist Resume with 7 Years of Experience
A highly experienced Documentation Specialist with 7 years of experience in the field of created organized and accurate documentation for various organizations. Possesses the ability to quickly learn and master organizational processes and procedures, and skilled in developing document control systems. Expert in all aspects of document management such as creating, organizing, storing and distributing documents.
Core Skills:
Data Entry
Documentation Strategies
Database Management
File Archiving
MS Office Suite
Technical Writing
Project Management
Quality Assurance
Responsibilities:
Developed document control systems to ensure organization and accuracy of documents.
Evaluated existing document control systems and procedures, and implemented improvements where necessary.
Created and maintained documents such as letters, memos, reports, spreadsheets, and presentations.
Developed and maintained databases to store documents and other related information.
Ensured accuracy and completeness of documents by verifying data and performing quality checks.
Conducted research and gathered information to create and update documents.
Developed and distributed training materials to educate personnel on document control procedures.
Monitored the progress of projects, tracked completion of tasks and maintained project documents.
Developed document tracking systems to maintain document versions.
Resolved discrepancies and issues regarding document management processes.
Documentation Specialist Resume with 10 Years of Experience
Dedicated Documentation Specialist with 10 years of experience in data entry, document processing, and content management. Proven track record of accuracy, high productivity, and team coordination. Adept in using computer programs to organize and process data, documents and files. Knowledgeable in technical writing and review processes.
Core Skills:
Data entry
Document processing
Content management
Computer programs
Technical writing
Review processes
Accurate
Highly productive
Strong communication
Responsibilities:
Entering and organizing data in database systems
Processing and verifying documents for accuracy
Generating content for reports, presentations, and other materials
Maintaining library of documents and files
Verifying data entry accuracy
Developing and executing audit plans
Writing and editing technical documents
Reviewing documents for accuracy and errors
Controlling document flow and editing procedures
Providing administrative and technical support to team members
Documentation Specialist Resume with 15 Years of Experience
A seasoned Documentation Specialist with 15 years of extensive experience in document management and quality assurance. Possess strong organizational and problem- solving skills, with the ability to analyze and interpret data efficiently. Experienced in maintain accurate, up- to- date records, preparing documents, and ensuring quality assurance. Able to create and maintain effective relationships with internal and external customers, as well as work well as part of a team.
Core Skills:
Document management
Quality assurance
Organizational skills
Problem solving
Data analysis
Interpretation
Customer service
Teamwork
Responsibilities:
Maintained accurate and up- to- date documentation in accordance to company standards.
Developed policies and procedures related to document management.
Conducted quality assurance tests on documentation to ensure accuracy and completeness.
Prepared documents for meetings, presentations, and other special projects.
Worked closely with other departments to ensure documents were completed and ready for review.
Provided support to internal and external customers by providing timely and accurate information.
Handled confidential documents and ensured data protection.
Assisted in creating procedures for document retention and disposal.
Trained staff on proper document management techniques.
In addition to this, be sure to check out our resume templates, resume formats, cover letter examples, job description, and career advice pages for more helpful tips and advice.
What should be included in a Documentation Specialist resume?
A Documentation Specialist resume should contain the following information:
Personal Information: This should include your name, contact information, and any other relevant information that will enable a potential employer to reach out to you.
Professional Summary: This section should provide a concise overview of your qualifications and experience. It should also showcase your knowledge and abilities related to the specific role you're applying for.
Key Skills: This section should include any special skills or certifications you may have. It is also a good idea to include any relevant software and systems you are proficient with.
Experience: This should include both professional experience and any relevant volunteer or educational experience. Be sure to include job titles, the company or organization you worked for, and a brief description of your duties and accomplishments.
Education: Include any college or university degrees you have, as well as any specialized training or certifications you have obtained.
Awards and Achievements: Include any awards, honors, or other notable accomplishments you have achieved, such as awards for excellence in documentation or other related fields.
Professional Activities and Memberships: Include any professional activities or memberships you may have, such as membership in professional organizations or societies.
References: Finally, include references from former employers or colleagues.
What is a good summary for a Documentation Specialist resume?
A Documentation Specialist resume should showcase a candidate's ability to create and maintain organizational documents. A successful resume will highlight a candidate's experience in creating and utilizing technical documents, formatting and editing documents, and providing customer service related to documentation. In addition, the candidate should emphasize their knowledge of document control systems, document storage and retrieval systems, and document management software. Finally, the resume should illustrate the candidate's ability to communicate effectively, both verbally and in writing, as well as their ability to work well independently and as part of a team.
What is a good objective for a Documentation Specialist resume?
A Documentation Specialist is a professional responsible for creating and maintaining documents, as well as performing administrative tasks. A well-written resume objective can help you stand out from the competition and give potential employers a good idea of your skills and experience.
When writing a Documentation Specialist resume objective, the following points should be taken into consideration:
Showcase your knowledge and expertise in document creation and management
Highlight your technical skills, such as working with various software programs and databases
Demonstrate your organizational skills and attention to detail
Mention any experience with customer service or problem solving
Express your commitment to quality work and accuracy
Overall, a good objective for a Documentation Specialist resume should be concise yet comprehensive. It should emphasize your professional skills and highlight your achievements. By doing so, it will make you stand out from other candidates and get you closer to securing the job.
How do you list Documentation Specialist skills on a resume?
Documentation Specialists are responsible for maintaining and organizing important documents and records. This could include anything from technical documents to customer files. It's important to showcase your skills and experience in this specialized area on your resume to stand out to potential employers. Here are some skills to consider listing on your resume:
Knowledge of Database Management Software: Having knowledge of database management software such as Access, Excel, or other software systems is essential for keeping track of documents.
Organizational Skills: Documentation Specialists must have excellent organizational skills in order to keep track of a large number of documents.
Attention to Detail: It's important to pay attention to the details of each document to make sure it's accurate and up to date.
Communication Skills: Documentation Specialists are often required to communicate effectively with other departments or business partners.
Technical Writing: Being able to write clear, concise, and accurate technical documents is essential for a successful Documentation Specialist.
Research Skills: Documentation Specialists must be able to conduct research in order to find the necessary information for their documents.
What skills should I put on my resume for Documentation Specialist?
Making a strong impression on potential employers can be a challenge, but crafting a resume that accurately highlights your abilities and experience will help you stand out from the competition. As a Documentation Specialist, you will need to have a deep understanding of the software and processes relevant to your role as well as a mastery of written and verbal communication skills. Here are some key skills you should include in your resume:
Knowledge of Documentation Processes: Document specialists must understand the ways in which information is gathered and stored, including how to format and organize documents in a logical manner.
Software Proficiency: Document specialists must be proficient with a wide range of software, including Microsoft Office Suite, Adobe Acrobat, SharePoint, and other document management systems.
Understanding of Technical Terminology: Documentation specialists must be familiar with technical terminology and concepts, and able to quickly learn new software and systems.
Excellent Writing and Editing Skills: Document specialists need to be able to clearly and concisely express information in both written and verbal form, and have strong editing skills.
Attention to Detail: Document specialists must be detail-oriented and able to consistently create accurate and error-free documents.
Organizational Skills: Document specialists must be able to quickly and efficiently organize large amounts of information and prioritize tasks.
By including these skills in your resume, you will demonstrate to potential employers that you are a well-rounded Documentation Specialist who is capable of creating and managing high-quality documents.
Key takeaways for an Documentation Specialist resume
If you are looking to create a resume for a position as a Documentation Specialist, there are a few key takeaways to keep in mind. First and foremost, emphasize your experience in the field. Documentation Specialists must be organized, efficient, and detail-oriented, so you'll want to make sure that you highlight any past positions or internships related to this type of work.
Include information about any software programs you're familiar with or have used in the past, such as Microsoft Word and Excel, Adobe InDesign, and other document publishing programs. Showcase any training or certifications you may have related to this role, as well as any awards or recognition you've received for your work.
When describing your skills, focus on those that are related to this type of job, such as organization, attention to detail, writing and editing, research, and problem-solving. Additionally, be sure to mention any experience you may have in creating documents, such as manuals, user guides, and reference materials.
Finally, be sure to include details about your ability to work with different departments, whether externally or internally. Demonstrate how you can communicate effectively and work with others to ensure that all documents are up-to-date, accurate, and organized.
By emphasizing these key takeaways, you can create a resume that will stand out and help you land the position of Documentation Specialist.
Let us help you build
your Resume!
Make your resume more organized and attractive with our Resume Builder