Writing a resume can be daunting, especially if it is your first time. However, if you take the time to familiarize yourself with what should be included, you can craft a compelling resume that will help you stand out from the competition. This document processor resume writing guide will provide you with examples and tips to help you create a resume that captures your qualifications, experiences, and accomplishments. With the right approach and the right information, you can develop a resume that will help you get noticed and land a job in the field of document processing.
If you didn't find what you were looking for, be sure to check out our complete library of resume examples.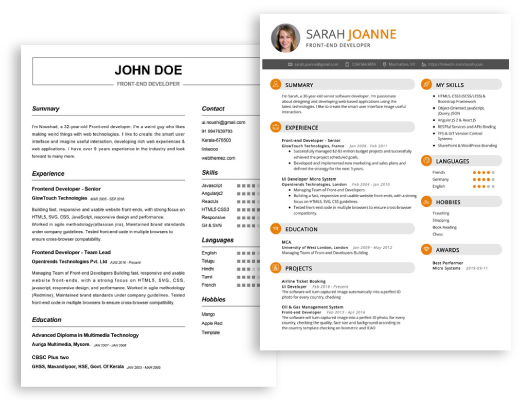 Start building your dream career today!
Create your professional resume in just 5 minutes with our easy-to-use resume builder!
Document Processor Resume Examples
John Doe
Document Processor
123 Main Street | Anytown, USA 99999 | Phone: (123) 456-7890 | Email: john.doe@email.com
I am an experienced document processor with a highly organized and methodical approach to managing documents in both digital and paper formats. I have extensive experience in developing efficient filing systems and organizing large volumes of digital and physical documents. I also have excellent problem- solving skills and the ability to adjust my work style to fit the needs of any organization. My professional experience includes working with organizations in the legal, insurance, and medical fields. My passion for document management combined with my exceptional attention to detail allows me to provide superior document processing services.
Core Skills:
File Management: Expertise in developing, organizing, and maintaining both digital and physical filing systems.
Document Processing: Excellent skills in creating, editing, and modifying documents.
Problem Solving: Highly adept in troubleshooting and resolving issues with documents and filing systems.
Attention to Detail: Careful and accurate review of documents and records.
Communication: Strong ability to communicate effectively and professionally with people from all levels of an organization.
Professional Experience:
Document Processor, ABC Legal Services, 2018- Present
Developed an efficient filing system for the company's digital and physical documents.
Processed, edited, and managed all legal documents for the firm.
Assisted attorneys in the preparation of legal documents and filing paperwork.
Ensured all documents were accurate before being sent to clients.
Document Processor, XYZ Insurance Agency, 2016- 2018
Processed and managed all documents related to insurance claims.
Collaborated with claims adjusters to ensure accuracy and timely processing of documents.
Developed and maintained an organized filing system for the company's digital and physical documents.
Education:
Bachelor's degree in Business Administration, ABC University, 2014- 2018
Document Processor Resume with No Experience
A motivated individual seeking to apply knowledge of document processing in a professional setting. Passionate about providing excellent client service, possess strong organizational and problem- solving skills. Ready to take on a challenge and learn new skills.
Skills
Demonstrated ability to communicate effectively
Detail- oriented and organized
Ability to prioritize tasks
Strong problem- solving skills
Proficient in Microsoft Office Suite
Responsibilities
Processing incoming documents by verifying accuracy
Organizing and filing documents
Scanning and uploading documents
Ensuring accuracy of data entry
Maintaining paperwork and records
Assisting with various administrative tasks
Document Processor Resume with 2 Years of Experience
Detail- oriented and results- driven Document Processor with two years of experience in document review and data entry. Experienced in processing and analyzing documents for accuracy and data integrity. Skilled in regulatory compliance and customer service. Highly organized and efficient in handling multiple tasks and meeting tight deadlines.
Core Skills:
Document review and data entry
Attention to detail
Regulatory compliance
Quality assurance
Data integrity
Customer service
Time management
Responsibilities:
Reviewed and processed documents for accuracy and data integrity
Entered data into internal systems accurately
Checked documents for compliance with company policies
Monitored document processing and ensured adherence to deadlines
Analyzed data and produced reports to track project progress
Provided support to customers by answering queries and resolving complaints
Performed quality assurance checks on all documents processed
Collaborated with team members to ensure efficient and accurate document processing
Document Processor Resume with 5 Years of Experience
Experienced Document Processor with 5+ years of experience in office administration and document processing. Skilled in managing a variety of office tasks and processes including data entry, document filing, record keeping and customer service. Possess a working knowledge of Microsoft Office products and other software commonly used in office administration. Experienced in organizing and managing large workloads, with a keen attention to detail, accuracy and deadlines.
Core Skills:
Data Entry
Document Processing
Record Keeping
Customer Service
Software Proficiency
Attention to Detail
Time Management
Responsibilities:
Coordinate with internal and external stakeholders to process, review and distribute documents
Handle data entry of incoming documents into database systems
Maintain filing system for documents and records
Provide customer service when necessary to answer inquiries and resolve issues
Utilize software programs to manage and organize documents
Review documents to ensure accuracy and completeness
Maintain accuracy and quality of all documents processed
Timely resolve document discrepancies
Maintain confidentiality of sensitive documents and information
Document Processor Resume with 7 Years of Experience
Hardworking and detail- oriented Document Processor with 7 years of experience in handling confidential documents in a timely manner. Thoroughly familiar with document processing systems and proficient in Microsoft Office applications, Adobe Acrobat and Google Docs. Possess excellent organizational and communication skills and able to work independently as well as collaboratively.
Core Skills:
Proficient in Microsoft Office applications, Adobe Acrobat and Google Docs
Knowledgeable of document processing systems
Able to maintain accuracy and confidentiality of documents
Excellent time management, organization and communication skills
Ability to work independently and collaboratively
Responsibilities:
Reviewed incoming documents and sorted them according to type
Scanned, digitized and indexed documents in the system
Created and updated filing systems and maintained confidential documents
Verified accuracy of data entered in the system
Archived documents and retrieved them as needed
Checked documents for completeness and processed them to the next stage
Monitored document processing systems and notified management of any issues
Document Processor Resume with 10 Years of Experience
I am an experienced Document Processor with over 10 years of experience. I am skilled in identifying, verifying and processing documents for accuracy, completeness and consistency. I am proficient in using automation processes and systems to streamline document processing. I am an excellent team player and a highly organised individual who is able to multi- task effectively and remain flexible in a fast- paced environment.
Core Skills:
Data entry and extraction
Document analysis
Automation processes
Quality assurance
Attention to detail
Problem solving
Time management
Excellent verbal and written communication
Responsibilities:
Compile, classify, verify and process documents to ensure accuracy and completeness
Identify and analyse discrepancies in documents
Utilize computer systems and software to enter, store and retrieve data
Manage filing systems, including electronic and paper documents
Monitor data entry projects and provide support to team members
Utilize automation processes and systems to improve document processing accuracy and efficiency
Ensure documents are up- to- date and in accordance with company standards
Work with other departments to ensure document accuracy and consistency
Document Processor Resume with 15 Years of Experience
Highly efficient and detail- oriented Document Processor with 15 years of experience in scanning, filing, processing and indexing documents. Skilled in utilizing a variety of document processing software to verify the accuracy of documents and remove errors. Possess excellent communication and organizational skills, with the ability to maintain a large volume of documents in an orderly and accessible format.
Core Skills:
Document Scanning and Filing
Document Processing Software
Indexing and Verifying Documents
Excellent Communication
Excellent Organizational Skills
Responsibilities:
Scan, process and index documents according to established protocols
Verify accuracy of documents and remove errors
Maintain a large volume of documents in an orderly and accessible format
Monitor documents to ensure they are properly filed and maintained
Create and manage records of documents, including filing numbers and expiration dates
Ensure accuracy and security of documents and data integrity
Respond to inquiries related to document processing and filing
In addition to this, be sure to check out our resume templates, resume formats, cover letter examples, job description, and career advice pages for more helpful tips and advice.
What should be included in a Document Processor resume?
A document processor resume is an important document that employers use to understand a candidate's experience and qualifications. It should include the following:
Contact information: Your name, address, phone number, and email address should be at the top of your resume.
Summary statement: This should give a brief overview of the candidate's experience and qualifications related to document processing.
Work experience: This should include the company, position, and dates of employment.
Education: This should include the degree or certification and the school or institution where it was received.
Technical skills: This should include any software or other technical skills related to document processing.
Certifications: Any certifications related to document processing should be included.
Soft skills: This should include any interpersonal skills or other skills related to document processing.
Awards: Any awards or accolades related to document processing should be included.
Interests: Any interests or hobbies related to document processing should be included.
By including all of the above information, you can ensure that your document processor resume will be comprehensive and accurate.
What is a good summary for a Document Processor resume?
Writing a strong document processor resume summary is essential in order to stand out among the competition. A good summary should clearly demonstrate your ability to handle confidential and sensitive material, manage documents quickly and accurately, and work efficiently with the latest technology. Make sure to highlight any certifications or qualifications you have, as well as any experience that you have with document processing software and systems. Mention your track record of providing excellent customer service to internal and external stakeholders, as well as any other notable accomplishments. Finally, showcase your commitment to accuracy and attention to detail, as well as your ability to work independently and in a team environment.
What is a good objective for a Document Processor resume?
Creating a Document Processor resume should be focused on how your qualifications and experience make you a great candidate for the job. The goal of the resume should be to capture an employer's attention and to highlight the skills and abilities you possess that make you an ideal candidate.
The objective section of a Document Processor resume is where you can set yourself apart from other applicants by emphasizing the unique qualifications that you possess that make you well-suited for the job. A good objective should focus on the skills and experience relevant to the position and explain why you are the right person for the job.
Here are some tips to consider when crafting your Document Processor resume objective:
Highlight your experience and qualifications that make you a great fit for the job
Showcase the skills you have acquired over the years that have prepared you for the role
Demonstrate your commitment to the company's mission and values
Stress the importance of accuracy and attention to detail
List the qualifications and competencies that make you a top-notch candidate
Include certifications or memberships that demonstrate your expertise
With a well-crafted objective, you can effectively capture the attention of employers and show them that you are the perfect fit for the role. A good objective should be concise, compelling and provide evidence of your expertise and knowledge in the field.
How do you list Document Processor skills on a resume?
When creating a resume, it is important to showcase your skills and qualifications. This is especially true when applying for a job in document processing, where employers are looking for candidates who are experienced and knowledgeable in the field.
To list your document processor skills on your resume, use the following tips:
Begin by making a list of the document processing skills you have. Include any software or programs you're familiar with, such as Microsoft Word, Adobe Acrobat, and other document processing software.
Highlight any training you've completed in the field. This could include online courses or workshops.
Include any relevant certifications or awards you've earned in document processing.
Remember to include any experience you have in the field, including any internships or volunteer work.
Mention any special skills you have that are related to document processing, such as researching, problem solving, and data entry.
Emphasize any leadership or management experience you have in document processing.
Following these tips will help you create an impressive resume that showcases your skills and qualifications for a document processor position. Be sure to customize your resume for each job you apply for, so that the hiring manager knows you are the best candidate for the job.
What skills should I put on my resume for Document Processor?
A Document Processor is a vital position in any organization that requires a comprehensive understanding of the organization's data and documents. Therefore, when putting together a resume for this role, there are several essential skills that should be highlighted to demonstrate your competency for the job.
Below are some of the most important skills to include on your Document Processor resume:
Knowledge of Document Processing: Document Processors must have an extensive knowledge of the processes and systems used to process and manage documents within the organization. This includes understanding document formats, software used to process documents, and the various ways in which documents can be efficiently processed.
Data Entry Proficiency: Document Processors must be able to quickly and accurately input data into the system. This requires both technical proficiency and a strong attention to detail.
Technical Skills: It is important that Document Processors possess a high level of computer literacy. This includes being familiar with a wide range of software and programs, such as Microsoft Office and Adobe Acrobat.
Problem-solving Skills: Document Processors must be able to troubleshoot and solve problems that occur in the document processing system. This requires critical-thinking and problem-solving skills, in addition to the technical skills required.
Organizational Skills: Document Processors must be able to manage a high volume of data, documents, and tasks in an organized and efficient manner. This requires strong organizational and prioritization abilities.
By highlighting these skills on your resume, you can demonstrate to potential employers that you have the necessary knowledge and abilities to effectively perform the role of Document Processor.
Key takeaways for an Document Processor resume
Writing a resume to showcase your skills as a document processor can be a daunting task. However, with the right amount of preparation and research, you can create a resume that will help you stand out from other applicants. Here are some key takeaways to keep in mind when crafting your document processor resume:
Highlight your experience: Make sure to emphasize your experience in document processing, including any additional skills you may have acquired along the way, such as data entry and coding. Be sure to include specific details of the tasks you have completed and the software you have used.
Provide examples of your work: Include examples of projects you have worked on and the work you have produced. This should demonstrate to potential employers your proficiency in document processing.
Demonstrate your organizational skills: Show that you have the ability to organize and prioritize tasks efficiently. Employers will be looking for someone who can handle large volumes of data in an organized manner.
Emphasize your attention to detail: Document processors must be detail-oriented to produce accurate results. Make sure to emphasize your ability to pay attention to the smallest details.
Demonstrate your strong technical skills: Good document processors need to be proficient in a variety of software applications, such as MS Word, Excel, and Adobe Acrobat. Showcase your technical skills by listing the programs you are familiar with on your resume.
By following these key takeaways, you can create an effective document processor resume that will help you stand out from the competition. Good luck!
Let us help you build
your Resume!
Make your resume more organized and attractive with our Resume Builder