Creating the perfect resume for a document analyst role is no easy feat. But it doesn't have to be a daunting task. In this blog post, we'll provide you with an in-depth guide to writing a document analyst resume with helpful examples. From showcasing your qualifications to highlighting your skills and experience in document analysis, we'll show you the best practices for creating a standout resume.
If you didn't find what you were looking for, be sure to check out our complete library of resume examples.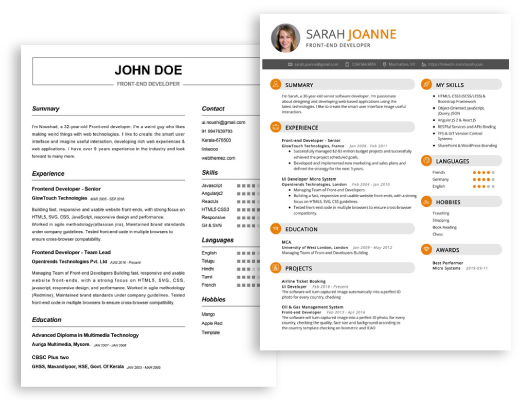 Start building your dream career today!
Create your professional resume in just 5 minutes with our easy-to-use resume builder!
Document Analyst Resume Examples
John Doe
Document Analyst
123 Main Street | Anytown, USA 99999 | Phone: (123) 456-7890 | Email: john.doe@email.com
Highly experienced Document Analyst with 5+ years of experience providing assistance with managing and maintaining documents. Knowledgeable in document control management systems such as SharePoint, Access and other programing language. Skilled in auditing and validating documents for accuracy and completeness. Demonstrated ability to analyze and assess documents for compliance with company policies and procedures.
Core Skills:
Document Control Management
Programming Languages
Data Analysis
Auditing and Validating Documents
Data Entry
Proofreading
Administrative Support
Professional Experience:
Document Analyst, ABC Company, Fairfax VA
June 2019 – Present
Maintained and updated documents stored in the company's document control management system
Verified documents for accuracy and completeness
Ensured documents adhere to company policies and procedures
Analyzed documents for errors or discrepancies
Entered data into the system
Conducted research and provided recommendations on document management processes
Education:
Bachelor of Science in Business Administration, ABC University, Fairfax VA
August 2015 – June 2019
Graduated with a 3.7 GPA
Major in Business Administration
Document Analyst Resume with No Experience
Recent college graduate with a passion for data analysis and process improvement. Experienced in project organization and planning, and eager to use my knowledge to help guide document analysis.
Skills
Strong understanding of data analysis techniques
Excellent organizational and planning skills
Highly analytical with strong attention to detail
Excellent communication, interpersonal and problem- solving skills
Proficient in Microsoft Office and other related software
Responsibilities
Analyze documents to identify and assess relevant data
Organize and store documents and information in an efficient manner
Perform data entry and ensure accuracy of data
Develop process procedures and document guidelines
Assist in document management tasks, such as filing, scanning, and archiving
Document Analyst Resume with 2 Years of Experience
Versatile and detail- oriented document analyst with 2 years of experience in data analysis and report writing. Skilled in data mining, data processing, and project management. Able to effectively collaborate with team members to develop solutions- oriented documents and reports. Adept at analyzing and diagnosing problems and providing comprehensive solutions.
Core Skills:
Data Analysis
Data Mining
Data Processing
Project Management
Documentation
Problem Solving
Report Writing
Responsibilities:
Analyzed data from various sources and generated comprehensive reports
Utilized data mining techniques to identify trends and patterns in large datasets
Provided support during the development and implementation of projects
Reviewed and updated documents and reports as requested
Performed quality control checks on all documents and reports
Collaborated with team members to develop solutions- oriented documents and reports
Provided feedback and suggestions on documents and reports
Assisted in the creation of plans and strategies to meet project goals and objectives
Document Analyst Resume with 5 Years of Experience
A highly organized and detail- oriented document analyst with 5 years of experience in providing quality control, research and project management support. Possesses strong working knowledge of document formatting, workflow management, risk management and stakeholder management. Skilled in the use of the Microsoft Office Suite to create efficient document systems and ensure accuracy of data. Excellent interpersonal and communication skills with the ability to effectively collaborate and work with teams.
Core Skills:
Data Analysis
Document Formatting
Workflow Management
Risk Management
Team Collaboration
Document Control
Technical Writing
Stakeholder Management
Responsibilities:
Provided quality control and document management support for various projects
Created and maintained documents for organizational use including forms, presentations and reports
Facilitated document system upgrades by researching and testing products
Managed document workflow and ensured accuracy of data
Monitored document control processes and performance
Collaborated with teams to ensure successful project completion
Developed technical documents and manuals
Analyzed data to identify opportunities and risks
Coordinated with stakeholders to ensure all requirements were met
Document Analyst Resume with 7 Years of Experience
I am a Document Analyst with 7 years of experience. I am detail- oriented, and organized with a passion for data and analytics. I excel in creating and interpreting documentation, and identifying discrepancies. I possess strong organizational and problem solving abilities, as well as the ability to work independently and in a team environment. I am confident that I have the qualifications to be an outstanding Document Analyst.
Core Skills:
Data Analysis
Documentation
Organization
Problem Solving
Communication
Time Management
Analytical Thinking
Responsibilities:
Analyze data to identify problems and discrepancies
Compile and organize data into documents
Manage multiple document sources
Ensure accuracy and consistency of documents
Develop and implement solutions to discrepancies
Communicate effectively with stakeholders
Maintain organized filing systems
Develop and update document templates
Document Analyst Resume with 10 Years of Experience
Analytical and highly organized Document Analyst with 10 years of experience in document management. Proven ability to accurately detect and correct discrepancies and errors in all areas of document management including storage and retrieval, cataloguing, and data entry. Skilled in extracting relevant information for the purpose of record keeping and document management. Talented in utilizing various document management and imaging systems to perform various tasks such as scanning, indexing, and quality control. Ability to effectively communicate with colleagues, customers, and vendors.
Core Skills:
Document management
Data entry
Document imaging
Indexing
Quality control
Storage and retrieval
Problem solving
Time management
Organizational skills
Communication
Responsibilities:
Develop and implement document management procedures and systems
Organize and index documents for storage and retrieval
Perform scanning, sorting, and filing of documents
Conduct quality control checks to ensure accuracy and completeness of documents
Key in data from source documents into management systems
Generate reports from document management systems
Update document management systems as needed
Communicate with colleagues, customers, and vendors on all issues related to documents
Perform research and other tasks as needed
Document Analyst Resume with 15 Years of Experience
Highly experienced Document Analyst with 15 years of experience in the industry. Possess a keen eye for detail and the ability to analyze various types of documents with speed and accuracy. Proven track record of managing documents and records, as well as translating documents into multiple languages. Possess excellent problem- solving and communication skills.
Core Skills:
Document Analysis
Data Entry
Project Management
Document Retention
Database Administration
Multi- Lingual Translations
Problem Solving
Communication
Responsibilities:
Analyze documents and ensure accuracy, compliance, and completeness
Maintain and manage documents and records in accordance with established protocols
Create and implement quality control processes to ensure the accuracy of all documents
Enter data accurately and efficiently into databases
Monitor and update document records, ensuring the information is up- to- date
Translate documents into multiple languages
Manage projects to ensure documents are correctly stored, archived, and destroyed
Provide technical support and guidance to team members on document and record management
In addition to this, be sure to check out our resume templates, resume formats, cover letter examples, job description, and career advice pages for more helpful tips and advice.
What should be included in a Document Analyst resume?
A document analyst is a professional specialist who is responsible for managing, analyzing, and interpreting internal and external documents. As such, a Document Analyst resume should include key skills related to document management, analysis, and communication. Here are some of the key skills and experiences to include in a Document Analyst resume:
Experience with document analysis, including document scanning, data entry, and indexing
Expertise in Adobe Acrobat, Microsoft Office Suite, and other software programs
Proficiency in document formatting, including font selection, columns layout, and margins
Knowledge of data security and privacy regulations
Familiarity with document management and archiving systems
Excellent communication, problem-solving, and organizational skills
Track record of completing projects on time and on budget
Ability to work independently and as part of a team
Proven record of developing and implementing document management systems
Strong attention to detail and accuracy
Ability to identify key trends in documents and analyze data for actionable insights
What is a good summary for a Document Analyst resume?
A Document Analyst resume should accurately and concisely outline an individual's qualifications, skills and experience in managing large volumes of documents. It should include details of past positions, relevant certifications and any applicable software programs, as well as any specialized training or knowledge. The resume should also feature any relevant accomplishments, such as assisting in the development of detailed document management plans, utilizing best practices and working with multiple stakeholders. Additionally, any experience in researching, gathering, assessing and archiving documents should be included. The summary should concisely highlight the individual's relevant qualifications and accomplishments, making it an easy-to-read snapshot of the individual's resume.
What is a good objective for a Document Analyst resume?
A Document Analyst resume should include a clear and concise objective statement that outlines the skills you bring to the prospective employer. An effective objective statement should highlight the qualifications and experience that make you a good fit for the position and emphasize the value you can bring to the employer.
Demonstrate an understanding of document flow and the ability to identify and resolve gaps in document analysis.
Utilize technology to streamline the document analysis process and maintain accuracy.
Utilize strong organizational skills to ensure that documents are monitored and managed from creation to destruction.
Demonstrate ability to work with multiple stakeholders in both the public and private sectors to ensure that documents meet the necessary standards.
Proven ability to analyze and interpret large volumes of data to produce insightful reports.
Recognize potential areas of risk and ensure that documents are compliant with relevant regulatory requirements.
Utilize strong problem-solving and communication skills to develop creative solutions to document-related issues.
How do you list Document Analyst skills on a resume?
A Document Analyst is tasked with organizing, managing, and analyzing a variety of documents and records. In order to be successful in this role, an individual needs to possess a unique set of technical, organizational, and communication skills.
If you are applying for a Document Analyst position, you will need to ensure that you list these skills in your resume. Here are some of the most important Document Analyst skills to include on your resume:
Data Analysis: Document Analysts must be able to review documents and identify patterns and trends in the data. This requires strong analytical skills and the ability to think critically.
Organizational Skills: Document Analysts must be able to maintain and organize large amounts of data. This requires the ability to organize data in a logical manner and to keep track of multiple documents.
Reporting: Document Analysts must be able to present their findings in detailed reports. This requires strong communication and writing skills.
Research: Document Analysts must be able to conduct research in order to produce accurate reports. This requires strong research skills and the ability to find relevant information.
Problem-Solving: Document Analysts must be able to identify problems and develop solutions. This requires the ability to think outside the box and come up with creative solutions.
By including these skills on your resume, you will demonstrate that you possess the necessary skills to be a successful Document Analyst.
What skills should I put on my resume for Document Analyst?
When applying for a job as a Document Analyst, it's important to showcase your skills on your resume to catch the attention of employers. While the exact skills you should include will vary depending on the job, here are some essential skills to put on your resume to demonstrate your qualifications as a Document Analyst:
Strong knowledge of document analysis principles and practices: Document Analysts should have a deep understanding of document analysis tools and techniques, such as text analysis, metadata extraction, document classification, and indexing.
Ability to interpret requirements and develop solutions: A Document Analyst should be able to interpret the requirements of a project, develop solutions and recommend the best approach for a project.
Excellent communication and organizational skills: Document Analysts must be able to communicate effectively with other members of the team, as well as being organized and efficient in their work.
Ability to work under pressure: Document Analysts must be able to work effectively under tight deadlines and manage their workload effectively.
Knowledge of relevant software: Document Analysts should have a good understanding of relevant software, such as Microsoft Office, Adobe Acrobat, and document processing software.
Knowledge of industry standards: Document Analysts should be familiar with the industry standards and regulations related to document analysis.
These skills are essential for Document Analysts, and by highlighting them on your resume, you can give employers a better understanding of your qualifications and experience.
Key takeaways for an Document Analyst resume
As a document analyst, your resume should showcase your analytical skills and ability to manipulate large data sets. When writing a document analyst resume, there are several key takeaways that you should keep in mind to make sure your resume is as effective as possible.
First, focus on emphasizing your technical skills. As a document analyst, you will be responsible for analyzing and manipulating large data sets, so you should emphasize any technical skills you have, such as SQL, Python, or R. You should also mention your ability to use data visualization tools such as Tableau or Power BI.
Second, highlight your experience in data analysis. This includes any experiences with data cleaning or pre-processing, data transformation and modeling, and predictive analytics. Be sure to include any relevant projects and their outcomes so potential employers can see your successes.
Third, emphasize your soft skills. Document analysts need to be able to communicate effectively with different teams, so make sure to include your communication, collaboration, and problem-solving skills.
Finally, make sure your resume is visually appealing. Use clean fonts, headings, and formatting to make your resume easy to read.
By following these key takeaways, you can create a strong resume that will help you stand out from the competition and land your dream job as a document analyst.
Let us help you build
your Resume!
Make your resume more organized and attractive with our Resume Builder