It can be a daunting task to write a resume for a Director of Facilities position. After all, this is a highly specialized role that requires a unique blend of technical and managerial skills. The resume must be able to effectively communicate these highly sought-after qualifications to potential employers. Fortunately, this guide provides some tips and examples to make sure that your resume is up to the task. Here, you will learn how to properly format and summarize your experience, what skills and accomplishments to include, and some common mistakes to avoid. By the end of this guide, you'll have a strong, comprehensive resume ready to apply for Director of Facilities positions.
If you didn't find what you were looking for, be sure to check out our complete library of resume examples.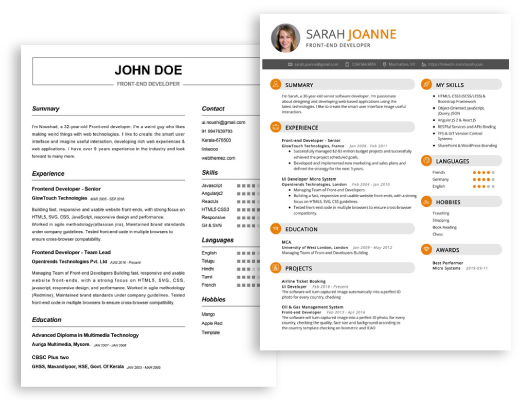 Start building your dream career today!
Create your professional resume in just 5 minutes with our easy-to-use resume builder!
Director Of Facilities Resume Examples
John Doe
Director Of Facilities
123 Main Street | Anytown, USA 99999 | Phone: (123) 456-7890 | Email: john.doe@email.com
Highly organized and proactive Director of Facilities with 13 years of experience managing staff, operations, and budgets. Skilled in improving operations and processes while maintaining a focus on customer satisfaction and employee morale. Proven track record of successfully managing high- volume facilities in a variety of industries. Experienced in developing and implementing safety protocols, budget management, and facility maintenance. Committed to delivering excellent customer service and creating a collaborative, productive, and safe work environment.
Core Skills:
Budget Management
Facilities Management
Project Management
Employee Training
Process Improvement
Safety Protocols
Maintenance Scheduling
Conflict Resolution
Customer Service
Team Leadership
Professional Experience:
Director of Facilities, ABC Corporation, 2012 – Present
Manage a team of 15 facilities staff including maintenance technicians, security guards, janitors, and administrative personnel
Develop and implement policies and procedures related to safety, security, and operations
Implement and monitor cost- saving initiatives to reduce operating costs
Coordinate with vendors to ensure timely and quality completion of projects
Develop and implement preventative maintenance plans to extend the lifespan of appliances and equipment
Establish and maintain clear communication channels with departmental staff
Monitor facility safety and compliance with OSHA regulations
Facilities Manager, XYZ Corporation, 2008 – 2012
Managed daily operations of 10 facilities and 45 staff
Developed and enforced safety protocols to ensure a safe and secure work environment
Scheduled and managed facility maintenance and repairs
Developed and monitored department budget
Trained, supervised, and evaluated staff performance
Negotiated and managed vendor contracts
Education:
Bachelor of Science, Business Administration, University of California, 2006
Director Of Facilities Resume with No Experience
Recent college graduate with strong organizational, problem- solving and communication skills. Seeking a Director of Facilities position to utilize my knowledge and experience in the coordination and management of facilities, building operations and maintenance.
Skills
Organizational skills
Problem- solving skills
Communication skills
Facilities coordination
Building operations
Maintenance
Project management
Responsibilities
Develop and implement comprehensive facility management protocols
Ensure compliance with building codes and applicable regulations
Coordinate and oversee preventive maintenance and repair of facilities
Manage facility budget and resources
Plan, manage and prioritize facility projects
Develop and enforce safety protocols and procedures
Develop and maintain positive relationships with tenants and service providers
Ensure the facility and grounds are secure, clean and well- maintained
Track and monitor facility usage and occupancy data
Director Of Facilities Resume with 2 Years of Experience
Experienced Director of Facilities with two years of experience in managing and maintenance of physical assets, resources and operations of an organization. Possessing excellent organizational, communication and problem- solving skills. Proven ability to lead, collaborate and contribute to overall team objectives while maintaining a stable and safe working environment.
Core Skills:
Facilities Management
Asset Management
Team Supervision
Vendor Relations
Project Management
Budgeting
Customer Service
Safety Compliance
Responsibilities:
Managed daily operations of multiple facilities and supervised teams of personnel providing services
Maintained physical security of facilities and equipment by performing preventative maintenance and repairs
Controlled facilities budget, monitored and minimized spending and ensured timely payments for services
Negotiated terms and contracts with vendors for services including HVAC, electrical and plumbing
Ensured adherence to safety standards and regulations in compliance with local and federal laws
Managed building projects including energy- saving initiatives, renovations and new installations
Provided excellent customer service to tenants, visitors and vendors of the organization
Director Of Facilities Resume with 5 Years of Experience
A highly accomplished Director of Facilities with 5 years of experience in leading and managing facilities operations. Possesses an in- depth understanding of construction, management, and budget control and compliance. Excellent command of the latest facility management IT technology and a proven track record of exceeding expectations. Skilled in motivating team members to drive success and ensure efficiency in the daily operations.
Core Skills:
Strategic Planning
Budget Control
Risk Management
Construction & Renovation
Team Leadership
Project Management
Facility Inspections
Compliance
Equipment Maintenance
Customer Service
Responsibilities:
Developed and implemented long- term strategies for the optimization of facility operations.
Delivering budgets and providing financial and cost management of the facilities.
Conducting facility inspections and maintaining equipment in working order.
Coordinating renovation and construction projects.
Overseeing the maintenance of facility systems, such as HVAC, electrical, plumbing, etc.
Maintaining compliance with applicable laws and regulations.
Established systems, processes and procedures to ensure operational efficiency.
Provided team leadership and support to ensure the highest levels of customer service.
Developed and managed relationships with vendors and external service providers.
Director Of Facilities Resume with 7 Years of Experience
With 7 years of experience in facilities management, I bring a multitude of skills and experiences gained in the field to the role of Director of Facilities. My experience consists of working in physical plant maintenance and construction, grounds management and oversight of facility personnel. I am adept at developing and executing effective operational plans while maintaining a safe and secure working environment. My skills include budgeting, forecasting, problem solving, and strategic planning. I am also well- versed in the principles of sustainability and green building and have experience managing LEED certified projects.
Core Skills:
Budgeting and Forecasting
Strategic Planning
Problem Solving
Facilities Management
Grounds Management
Safety and Security
LEED Certified Projects
Sustainability and Green Building
Responsibilities:
Manage physical plant maintenance, construction and grounds management.
Develop and execute effective operational plans.
Manage facility personnel.
Create and manage budgets, forecasts and strategic plans.
Ensure facilities are safe, secure and adhere to sustainability and green building principles.
Manage LEED certified projects.
Implement safety and security protocols.
Director Of Facilities Resume with 10 Years of Experience
Experienced Facilities Director with 10 years of progressive experience across a wide array of industries. Proven track record in creating and executing strategies to improve operational efficiency and reduce costs. Skilled in managing a staff of 50 personnel, creating budgets/financials, and developing diverse teams. Possess a strong commitment to customer service and a desire to exceed expectations.
Core Skills:
Facilities Management
Budgeting and Financials
Staff Management
Business Process Improvement
Problem Solving
Team Building
Customer Service
Responsibilities:
Directed facilities operations and maintenance of a large office building.
Developed and implemented processes to increase efficiency and reduce cost.
Managed a staff of 50 personnel and provided direction, guidance, and training.
Created and managed annual budgets, monitored expenditures, and maintained financial records.
Developed and implemented processes to ensure compliance with industry regulations.
Oversaw day- to- day activities and ensured safe working environment.
Collaborated with stakeholders to identify and resolve issues related to the facility operations.
Monitored and evaluated employee performance and provided feedback to improve performance.
Ensured consistent customer service and resolved customer issues.
Director Of Facilities Resume with 15 Years of Experience
Experienced director of facilities with 15 years of experience in the industry. Skilled in managing day- to- day operations, developing facilities plans and strategies, and overseeing maintenance and repair work. Adept at problem solving and ensuring adherence to safety standards while leading teams to deliver successful outcomes.
Core Skills:
Project Management
Facilities Planning & Strategy
Maintenance & Repair
Safety Compliance
Team Leadership
Financial Management
Budgeting & Cost Control
Resource Allocation
Communication
Responsibilities:
Managing the day- to- day operations of the facilities department
Developing facilities plans and strategies in line with company goals
Overseeing maintenance and repair work and ensuring standards are met
Advising on financial management and budgeting for the department
Ensuring adherence to safety and health regulations
Leading and motivating a team of staff to deliver successful outcomes
Working with external contractors to complete projects on time and on budget
Identifying areas for improvement and providing solutions to increase efficiency
Analyzing data and making recommendations to senior management
Ensuring the security of the facility and its contents
In addition to this, be sure to check out our resume templates, resume formats, cover letter examples, job description, and career advice pages for more helpful tips and advice.
What should be included in a Director Of Facilities resume?
A Director of Facilities is a professional who oversees the facility operations and maintenance of a business, organization or institution. A Director of Facilities must have a comprehensive understanding of construction, maintenance, repair, and safety codes. A well-crafted resume can help a Director of Facilities to stand out from the competition.
The following should be included in a Director of Facilities resume:
Education and Certifications: Include any degrees, certifications, and licenses held in the field of facilities management.
Professional Experience: List any professional experience working in the field of facilities management. Include positions held, dates of employment, and any accomplishments achieved while in the position.
Skills: Highlight any skills relevant to the position, such as coding knowledge, budgeting, and management techniques.
Projects: Include any projects managed or completed by the applicant, such as managing the construction of a new building, or supervising a renovation.
Technical Skills: List any technical skills relevant to the position, such as knowledge of building systems and HVAC systems.
Leadership: Include any leadership roles held in the past. Highlight how the applicant has successfully managed teams and projects.
References: List at least two professional references who can vouch for the applicant's experience and qualifications.
What is a good summary for a Director Of Facilities resume?
A summary for a Director of Facilities resume should highlight the candidate's experience and qualifications in managing the day-to-day operations of a facility. The individual should demonstrate their ability to plan, develop, and implement strategic facility operations strategies, as well as identify and address any safety or compliance concerns. The person should also be able to communicate effectively with staff, vendors, and other stakeholders. Additionally, the summary should include the candidate's ability to manage budgets and personnel, as well as their knowledge of building maintenance systems, relevant regulations and codes, and best practices. A successful Director of Facilities should have strong organizational, problem-solving, and analytical skills, and the ability to work collaboratively and independently.
What is a good objective for a Director Of Facilities resume?
A good objective for a Director Of Facilities resume should focus on the key skills and expertise that demonstrate the applicant's ability to manage facilities operations. It should also indicate the applicant's commitment to ensuring efficient and safe workplace environments.
An effective objective statement should include:
Extensive experience in managing the daily operations of a large or complex facility
Proficiency in supervising staff and coordinating facility maintenance and repairs
Knowledge of a wide range of safety regulations and security protocols
Ability to develop and implement policies and procedures in order to ensure efficient and safe operation of the facility
Excellent communication and interpersonal skills to effectively collaborate with other departments and personnel
A commitment to providing outstanding customer service
Proven track record of maintaining high standards and achieving organizational objectives.
How do you list Director Of Facilities skills on a resume?
When creating a resume for a Director Of Facilities position, it is important to list the right skills that show you are qualified for the job. Here are some essential skills to include:
Ability to Manage Maintenance and Repairs: Directors of Facilities must be able to effectively manage maintenance and repair staff, as well as coordinate daily operations.
Knowledge of Building Maintenance: A Director of Facilities should possess comprehensive knowledge of building systems and how to maintain them.
Budgetary Responsibility: Directors of Facilities need to be able to work within a predetermined budget and manage expenses to ensure fiscal responsibility.
Project Management: Directors of Facilities often manage multiple projects at once, so they need to have a proven track record of successful project management.
Safety and Compliance Knowledge: Directors of Facilities must have a thorough understanding of safety and compliance regulations and be able to ensure that their sites are in compliance.
Excellent Communication: Directors of Facilities should possess strong communication skills in order to effectively manage staff, coordinate with other departments, and communicate with vendors.
By showcasing these skills on your resume, you'll demonstrate to potential employers that you are a qualified and capable candidate for the Director Of Facilities role.
What skills should I put on my resume for Director Of Facilities?
As Director of Facilities, you are responsible for the overall oversight of a facility and its operations. You need to have a wide range of skills to perform the duties of this position effectively. Here are some skills that you should include on your resume for Director of Facilities:
Leadership: As Director of Facilities, you need to be able to lead a team to ensure that all operations are running smoothly. You should have the ability to make decisions and solve problems quickly, as well as be able to motivate and inspire your team.
Management: You should have experience in managing staff, budgeting and scheduling tasks. You should be able to create efficient systems for tracking and completing tasks, as well as be able to manage conflicts and implement strategies for improving operations.
Communication: You need to have strong communication skills in order to effectively communicate with staff, guests, and other stakeholders. You should be able to provide clear directions and ensure that all tasks have been completed in a timely manner.
Technical Knowledge: You need to be able to understand the technical aspects of facility operations and be able to troubleshoot any issues that may arise. You should have a good knowledge of building maintenance, HVAC systems, and other systems that are used in facility operations.
Adaptability: You need to be able to quickly adapt to changing conditions and be able to come up with creative solutions to any issues that may arise. You should be able to think on your feet and be able to make decisions quickly in order to ensure that operations run smoothly.
Key takeaways for an Director Of Facilities resume
As a Director of Facilities, your resume should demonstrate your ability to manage daily operations, oversee safety and maintenance, and maximize profit potential. While crafting a resume for this position, there are a few key takeaways that should be considered.
It is important to showcase any experience managing staff, facilities, and operations. This can include leading teams in the development and implementation of projects, budgeting and financial management, creating procedures and protocols, and strategic planning.
It is also important to emphasize any past experience in customer service, as it is a crucial part of the role of Director of Facilities. Showcasing your ability to understand customer needs, as well as any experience in problem solving and resolution, will demonstrate your value to potential employers.
When presenting your professional experience, use specific examples of projects and initiatives that have been successfully completed. This will demonstrate to recruiters your ability to take on challenging tasks, as well as your ability to think outside the box and be a leader in any situation.
It is also important to include any certifications or qualifications that could benefit the role of Director of Facilities. This could include certifications in facilities management, budget management, or even safety and maintenance.
Finally, it is important to highlight any special skills or abilities that could help you stand out as a potential Director of Facilities. These could include excellent organizational skills, strong communication abilities, or the ability to work with diverse teams and stakeholders.
By incorporating these key takeaways into your resume, you can demonstrate to recruiters that you are the ideal candidate for the role of Director of Facilities.
Let us help you build
your Resume!
Make your resume more organized and attractive with our Resume Builder