Writing a resume for a crew scheduler job is no easy task. After all, you need to convey your experience, skills and other professional qualifications in a concise and effective way that will make you stand out among the competition. With that in mind, this guide is designed to provide you with a comprehensive look at what makes a great crew scheduler resume and the tips, examples, and templates you can use to craft your own successful document. With the right approach and attention to detail, you'll be able to create a resume that clearly demonstrates why you're the best candidate for the job.
If you didn't find what you were looking for, be sure to check out our complete library of resume examples.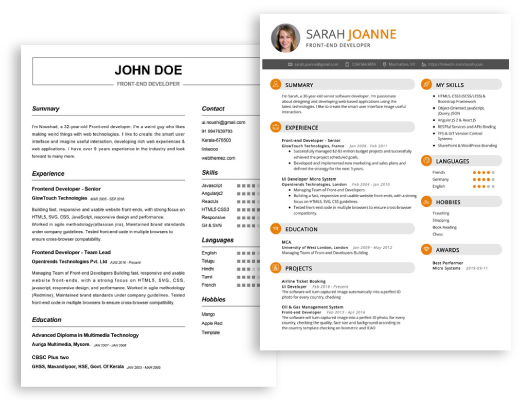 Start building your dream career today!
Create your professional resume in just 5 minutes with our easy-to-use resume builder!
Crew Scheduler Resume Examples
John Doe
Crew Scheduler
123 Main Street | Anytown, USA 99999 | Phone: (123) 456-7890 | Email: john.doe@email.com
I have 3+ years of experience in the aviation industry, working as a crew scheduler for several airlines. My core skills include excellent organizational skills, detail- oriented mindset, interpersonal communication and problem- solving. I have a proven ability to work with multiple stakeholders to create the most efficient crew schedules and ensure the safety of operations. I am passionate about the aviation industry and highly motivated to apply my skills to create the best possible crew schedules.
Core Skills:
Excellent organizational skills
Detail- oriented mindset
Interpersonal communication
Problem- solving
Knowledge of aviation regulations
Strong multi- tasking capabilities
Ability to work under pressure
Proficient in Microsoft Office Suite
Professional Experience:
Scheduling Officer, ABC Airlines (2018- Present)
Develop crew schedules for multiple departments, ensuring compliance with aviation regulations
Resolve crew scheduling issues and manage changes in a timely manner
Liaise with multiple stakeholders, ranging from the flight crew to the operations department
Monitor crew performance and provide feedback when needed
Utilize analytical and problem- solving skills to identify and address any scheduling conflicts
Scheduling Administrator, XYZ Airlines (2015- 2018)
Assisted in the development of crew schedules and the maintenance of rosters
Analyzed flights and ensured that all crew requirements were met
Generated reports on crew performance and communicated any issues to the relevant parties
Ensured that all paperwork for crew scheduling was completed and filed
Education:
Bachelor's Degree in Aviation, ABC University (2013- 2017)
Associate's Degree in Aviation Management, XYZ College (2011- 2013)
Crew Scheduler Resume with No Experience
Hardworking and organized Crew Scheduler with a strong background in customer service and aviation/airline operations. Experienced in creating efficient crew scheduling and coordinating flight operations to ensure timely and cost- effective operations. A proven team player and problem- solver, who works well in fast- paced and challenging environments.
Skills
Strong customer service skills
Excellent communication and interpersonal skills
Proficient in aviation/airline operations
Ability to work under pressure and within tight deadlines
Ability to multitask and coordinate multiple projects
Knowledge of computer applications such as Microsoft Office, Excel, and GDS
Responsibilities
Create and maintain crew schedules
Coordinate daily operations and ensure adherence to flight regulations
Provide customer service to passengers and crew
Monitor and manage flight operations and crew availability
Ensure compliance with safety regulations
Maintain accurate flight and crew records
Crew Scheduler Resume with 2 Years of Experience
A motivated and detail- oriented Crew Scheduler with two years of experience in the aviation industry. Proven ability to develop and manage efficient flight operations, effectively coordinate crew and aircraft movements, and negotiate customer requests. Possess a comprehensive understanding of air traffic regulations and safety protocols. A highly organized individual with exceptional customer service skills, strong problem- solving ability, and a proven track record of managing successful crew scheduling operations.
Core Skills:
Flight Operations Management
Aircraft Movement Coordination
Air Traffic Regulations
Safety Protocols
Problem- Solving
Schedule Management
Crew Scheduling
Attention to Detail
Negotiation
Customer Service
Responsibilities:
Developed and managed efficient flight operations.
Coordinated movements of aircraft and personnel.
Negotiated customer requests, working with operations and ground staff.
Ensured compliance with air traffic regulations and safety protocols.
Developed and implemented customized crew scheduling plans.
Ensured accuracy of flight information and crew assignments.
Resolved scheduling conflicts and developed alternative solutions.
Monitored reports to ensure compliance with aircraft maintenance schedules.
Provided customer service support to passengers and crew.
Developed strategies to maximize efficiency and minimize delays.
Crew Scheduler Resume with 5 Years of Experience
A highly organized and detail- oriented professional with five years of experience in crew scheduling and resource management. Proven ability to multi- task and prioritize workloads efficiently to maximize operational performance. Skilled in troubleshooting and resolving operational issues quickly and efficiently. Possesses excellent communication and problem- solving skills, and is a proven team player.
Core Skills:
Crew Scheduling
Resource Management
Performance Monitoring
Problem Solving
Organizational Skills
Communication
Teamwork
Responsibilities:
Developed, implemented, and maintained crew schedules and resource plans.
Monitored performance metrics to identify areas of improvement and ensure operational efficiency.
Developed and maintained relationships with stakeholders, such as ground personnel and crew members.
Researched and resolved operational issues in a timely and effective manner.
Provided leadership and guidance to staff to ensure operational consistency and compliance with organization policies.
Analyzed data to identify trends and areas of improvement and present findings to senior management.
Coordinated with various departments to ensure timely and accurate completion of tasks.
Crew Scheduler Resume with 7 Years of Experience
Highly experienced in scheduling and organizing crew members for logistics and transportation operations. Possess a deep understanding of the shipping and transportation industry and regulations. Utilize strong organizational and problem- solving skills to develop solutions to accommodate efficiently and cost- effectively manage staff, assets and schedules. Possess a Bachelor's degree in Supply chain management and 7 years of Crew Scheduler experience.
Core Skills:
Crew Scheduling
Staff Management
Organizational Skills
Problem Solving
Transportation Logistics
Cost- Effective Solutions
Asset Management
Knowledge of Shipping & Transportation Regulations
Responsibilities:
Develop and manage crew schedules and organize shift rosters
Assign aircraft to routes and coordinate crew members with flight and ground operations
Monitor flight schedules and bookings to ensure crew availability and appropriate rest periods
Manage personnel resources and ensure compliance with legal regulations and airline standards
Coordinate with pilots and other personnel to ensure timely departures and arrivals
Liaise with various departments to ensure staff and asset utilization
Monitor and update flight and crew information on the computer system
Manage and resolve crew- related issues in a timely manner
Analyze flight operations and crew rosters to identify cost- saving opportunities.
Crew Scheduler Resume with 10 Years of Experience
A highly experienced Crew Scheduler with 10 years of solid operational experience managing the scheduling of aircraft crews. Proven ability to stay up- to- date on industry regulations and FAA requirements while creating efficient flight crew and line operator schedules. Excellent working knowledge of aviation scheduling systems, excellent problem solving skills, and a strong commitment to safety.
Core Skills:
Highly knowledgeable in aviation regulations and FAA requirements
Excellent problem solving and decision- making skills
Strong organizational, communication, and customer service skills
Highly proficient in aviation scheduling software
Ability to work independently and collaborate with cross- functional teams
Responsibilities:
Created and maintained efficient flight crew and line operator schedules
Monitored crew duty times to ensure compliance with regulations and safety
Ensured the scheduling of aircraft crews met contractual obligations
Developed and implemented strategies to maximize crew utilization
Coordinated with crewmembers and other departments to resolve scheduling conflicts
Processed paperwork related to crew scheduling including trip sheets, hotel and transportation arrangements, and overtime requests
Identified discrepancies in crew scheduling and took corrective action as needed
Crew Scheduler Resume with 15 Years of Experience
Highly experienced Crew Scheduler with 15 years' experience in the transportation and logistics industry. Experienced with coordinating crew scheduling, overseeing aircraft maintenance, and managing flight crews. Demonstrated ability to work independently and collaboratively with cross- functional teams. Skilled at using scheduling software, interpreting aviation regulations, and maintaining strong relationships with customers and crew members.
Core Skills:
Team Leadership
Crew Scheduling
Flight Coordination
Maintenance Oversight
Aviation Regulations
Flight Crew Relations
Scheduling Software
Project Management
Responsibilities:
Coordinated crew scheduling for multiple flights per day
Monitored aircraft maintenance and kept records of any repairs or replacements
Managed flight crew requirements, including availability and qualifications
Interpreted aviation regulations and ensured crew members were in compliance
Developed strong relationships with customers to ensure all their needs were met
Created and maintained schedules for routes, crew members, and aircrafts
Assisted with project management for new flight routes and crew training
Maintained records of all flight logs, crew activities, and aircraft maintenance.
In addition to this, be sure to check out our resume templates, resume formats, cover letter examples, job description, and career advice pages for more helpful tips and advice.
What should be included in a Crew Scheduler resume?
A Crew Scheduler resume is essential for anyone looking for a career in flight operations, aviation, or aircraft crew scheduling. It should highlight your experience in the field, as well as any applicable certifications, awards, or other qualifications that make you stand out from other applicants. Here are some key things to include in your Crew Scheduler resume:
Education: Include any relevant degrees or certifications related to aircraft crew scheduling.
Experience: List any relevant experience you have in aircraft crew scheduling. This could include previous positions or projects you've worked on.
Skills: Include any pertinent skills related to aircraft crew scheduling such as knowledge of aviation regulations, flight planning, and scheduling software.
Awards/Achievements: List any awards or achievements related to your work in aircraft crew scheduling.
Professional References: Provide the contact information of two or three relevant professionals who can provide a reference for your work.
By including these key elements in your Crew Scheduler resume, you will be able to stand out from other applicants and demonstrate why you should be the best choice for the position.
What is a good summary for a Crew Scheduler resume?
A Crew Scheduler resume should accurately and concisely summarize a candidate's experience and qualifications for the job. It should include information about their experience in aviation and crew scheduling, their ability to work with large groups, their organizational and communication skills, and relevant certifications or educations. A Crew Scheduler resume should also highlight any successful collaborations with other departments and any awards or recognition received. Ultimately, a Crew Scheduler resume should accurately depict how the candidate's skills can benefit the company and efficiently communicate why they are the best choice for the position.
What is a good objective for a Crew Scheduler resume?
What is a Good Objective for a Crew Scheduler Resume?
As a crew scheduler, you are responsible for organizing the scheduling of aircraft crews and making sure the flights stay on time. You must have a well-written resume if you want to take on this specialized role. An effective objective statement will provide a clear indication of your qualifications and make your resume stand out.
To maximize the impact of your resume, follow these tips to write a strong crew scheduler objective:
Highlight your relevant experience: Make sure to include any previous experience you have as a crew scheduler or in a related position.
Demonstrate your organizational skills: Stress your ability to handle scheduling and other duties in a timely and organized manner.
Showcase your problem-solving capabilities: Mention your skills in resolving aircraft crew scheduling problems.
Show your communication and interpersonal skills: Stress your ability to effectively communicate with crew members and other personnel.
Demonstrate your technological expertise: Describe your knowledge of software and other computer systems used to manage crew schedules.
By highlighting your relevant skills and experience in your objective statement, you can ensure that your resume catches the eye of potential employers. With the right objective, you can increase your chances of getting the crew scheduler role you are hoping for.
How do you list Crew Scheduler skills on a resume?
Crew Scheduling is a crucial function in the aviation and airline industry. The successful operation of any airline depends upon the effective scheduling of crew members to ensure that operations are conducted safely and efficiently. A Crew Scheduler is a highly specialized professional who is responsible for developing and ensuring the accuracy of a variety of flight schedules.
When listing Crew Scheduler skills on a resume, it is important to highlight the relevant experience and skills that make you a suitable candidate for the position. Below are some of the key skills and tasks associated with the role of a Crew Scheduler:
Developing, implementing and maintaining complex flight schedules that adhere to industry regulations and standards
Maintaining accurate records of crew members' availability and qualifications
Communicating with management and crew members to ensure that all requirements and regulations are met
Negotiating crew members' schedules to meet the needs and requirements of the airline
Working closely with other departments to ensure crew schedules are in line with corporate objectives
Analyzing data to identify and resolve potential scheduling conflicts
Planning and monitoring crew members' training and development
Performing administrative duties, such as preparing and submitting reports, updating records, and responding to inquiries.
What skills should I put on my resume for Crew Scheduler?
Having an impressive resume is the first step towards landing the perfect job. As a crew scheduler, you will be responsible for ensuring that all flights and flight crews are correctly and efficiently planned and managed. To stand out from the competition, you will need to have the right set of qualifications and skills on your resume. Here are some skills that should be included in your resume for a crew scheduler position:
Knowledge of aviation industry: Since your job will involve managing aircrews and flights, having a comprehensive knowledge of the aviation industry is essential. This includes understanding the regulations and policies required in the sector, as well as the common practices and procedures.
Attention to detail: As a crew scheduler, you will need to ensure that all details are accurate and that all flights and crew members are scheduled correctly. Attention to detail and a strong focus on accuracy are essential for this position.
Organizational skills: The ability to stay organized and plan ahead is necessary for a crew scheduler. You will need to be able to track and manage all flights and crew members, as well as keep up with any changes and updates.
Communication skills: You will need to be able to communicate clearly and effectively with a variety of people, including crew members, supervisors, and customers. Being able to calmly and professionally handle queries and complaints is a must-have skill.
Problem-solving skills: Working as a crew scheduler can involve a lot of problem-solving and troubleshooting. You should have the skills to be able to quickly identify and address any issues that arise.
Key takeaways for an Crew Scheduler resume
Crew Schedulers are responsible for managing and scheduling the use of personnel and aircraft resources to ensure the optimal use of resources at minimal cost. This is a specialized role that requires strong organizational and analytical skills, as well as excellent communication skills. A well-crafted resume is key to standing out from the competition.
When crafting a resume for a Crew Scheduler role, it is important to highlight your skills and experience in the areas of optimization and resource management. Additionally, be sure to include your ability to analyze data, assess resource requirements, and communicate efficiently. Here are some key takeaways to consider when crafting a Crew Scheduler resume:
Highlight Your Skills: Identify your skills in the areas of resource optimization and management, data analysis, communication, and problem-solving. Make sure you are specific in outlining the skills you have acquired throughout your career.
Focus on Experience: It is important to include a detailed account of your experience in the job role. Be sure to provide specific examples of how you were able to optimize resources, manage aircraft operations, and produce cost-effective solutions.
Demonstrate Your Analytical Skills: It is essential to demonstrate your ability to analyze data, assess resource requirements, and devise efficient solutions. Be sure to include examples of how you have used analytics to improve the efficiency of operations.
Showcase Your Communication Skills: Crew Schedulers need to be able to communicate efficiently with peers, managers, and customers. Be sure to highlight any relevant experience in communication, especially if it pertains to customer service or project management.
Following these key takeaways will help ensure that your resume stands out from the competition. By highlighting your skills and experience in the areas of optimization and resource management, analytics, and communication, you can give yourself the best chance of getting hired as a Crew Scheduler.
Let us help you build
your Resume!
Make your resume more organized and attractive with our Resume Builder