As an administrative coordinator, you are responsible for supporting the executive team and managing operations. To be successful in this role, it is essential that your resume stands out from the rest and clearly communicates your key skills and strengths. This guide will provide you with tips on crafting an effective resume for an administrative coordinator role and provide examples to help you create a winning resume.
If you didn't find what you were looking for, be sure to check out our complete library of resume examples.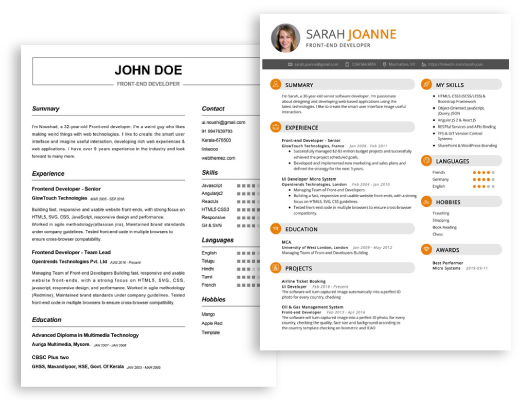 Start building your dream career today!
Create your professional resume in just 5 minutes with our easy-to-use resume builder!
Administrative Coordinator Resume Examples
John Doe
Administrative Coordinator
123 Main Street | Anytown, USA 99999 | Phone: (123) 456-7890 | Email: john.doe@email.com
A highly organized and professional Administrative Coordinator with over 10 years of experience providing high- level administrative support to executives, staff and departments. Possess excellent organizational, problem- solving and communication skills, as well as the ability to work independently and efficiently. Thrives in a fast- paced environment where multitasking is needed to help drive daily operations.
Core Skills:
Project Management
Budget Management
Calendar Management
Documentation & Reporting
Event Planning
Scheduling & Logistics
Office Administration
Data Entry & Analysis
Problem- Solving
Customer Service
Communication & Interpersonal Skills
Professional Experience:
Administrative Coordinator, ABC Company, 2010- 2020
Plan and coordinate office procedures, tasks, and operations in accordance with company's policies
Manage multiple administrative projects in a timely and accurate manner
Monitor trends, track budgets, and order office supplies
Manage and maintain calendar schedules, arrange travel plans, and book meeting and conference rooms
Compile, edit and summarize data for presentations and reports
Prepare invoices and process payments
Perform data entry tasks, organize and maintain filing systems, and update databases
Serve as a point of contact for internal and external customers
Answer phone calls, attend to inquiries, and provide customer service
Education:
Bachelor of Arts, ABC University, 2010
Administrative Coordinator Resume with No Experience
Administrative Coordinator with a keen eye for detail, excellent multi- tasking abilities, and organization. Highly motivated and driven individual with a passion for helping others and making a positive impact.
Skills:
Attention to detail
Organizational and problem- solving skills
Time management
Professionalism
Interpersonal communication
Computer proficiency
Responsibilities:
Answer incoming calls and direct callers to appropriate staff members
Assist with managing and scheduling appointments
Assist with the preparation of documents and reports
Maintain office supplies and order when necessary
Prepare and distribute mail or other documents
Support and collaborate with other staff members in administrative tasks
Provide administrative support for various projects
Track and maintain records of office activities and tasks
Other duties as assigned
Administrative Coordinator Resume with 2 Years of Experience
A highly organized and dedicated professional with over two years of experience providing administrative support to a variety of departments and functions. Proven ability to manage multiple projects simultaneously and ensure all tasks are completed in an efficient and timely manner. Possesses excellent interpersonal, customer service and communication skills.
Core Skills:
Microsoft Office Suite (Word, Excel, Outlook)
Data entry and database management
Event planning and coordination
Complex calendar management
Multi- line phone system
Invoice processing and bookkeeping
Client customer service
Responsibilities:
Coordinated meeting and conference schedules for executives and staff.
Create, updated and organize spreadsheets for information management.
Developed, wrote, and distributed various reports, memos, letters, and other documents.
Answered and directed phone calls and emails, providing customer service.
Processed invoices and payments, maintained accounts payable records.
Assisted with data entry, filing and creating databases.
Monitored, ordered, and maintained office supplies and equipment.
Planned and coordinated various events and meetings.
Administrative Coordinator Resume with 5 Years of Experience
Highly organized, proactive and results- oriented Administrative Coordinator with 5 years of experience working in fast- paced, high- pressure environments. Proven ability to effectively manage multiple projects simultaneously while meeting tight deadlines. Comprehensive knowledge of administrative processes, best practices and protocols.
Core Skills:
Excellent organizational and problem- solving skills
Strong verbal and written communication
Proficiency in MS Office and other necessary software
Exceptional attention to detail
Highly efficient time management and multitasking abilities
Responsibilities:
Provided administrative support to management, team members, and external customers
Organized and maintained files, documents and records
Managed scheduling and calendar organization
Coordinated travel arrangements and prepared expense reports
Processed invoices and payments
Developed and implemented new filing systems
Processed incoming and outgoing mail
Performed data entry and created reports
Handled confidential information in a professional manner
Provided customer service and reception duties
Administrative Coordinator Resume with 7 Years of Experience
A highly- motivated and experienced Administrative Coordinator with a successful 7 year track record in providing professional administrative and organizational support to executive staff. Possesses a wide range of skills including data entry, customer service, budgeting, and office management. Proven track record of delivering high- quality work efficiently, meeting goals and deadlines, and improving office productivity.
Core Skills:
Extensive knowledge of office administrative procedures
Excellent communication, organizational, and time management skills
Ability to establish and maintain effective business relationships
Proficient in Microsoft Office (Word, Excel, Outlook, and PowerPoint)
Ability to multitask and prioritize tasks
Strong problem solving and decision making skills
Highly detail- oriented
Responsibilities:
Assisted in managing daily operations of the office
Organized and maintained filing systems, both manual and electronic
Coordinated meetings and other events, including setting up conference calls, webinars, and video conference meetings
Prepared and monitored budgets and other financial documents
Handled customer inquiries, complaints and requests in a professional manner
Provided administrative support to office staff, including scheduling appointments and travel arrangements
Created and updated various organizational reports in a timely manner
Performed data entry and other related tasks as required
Administrative Coordinator Resume with 10 Years of Experience
Administrative Coordinator with 10+ years of experience in creating and overseeing budgets and managing projects. Proven ability to work with minimal direct supervision and complete administrative tasks with high efficiency and accuracy. Highly motivated and able to work within tight deadlines.
Core Skills:
Assisting in budget and financial planning
Coordinating and scheduling meetings
Scheduling and organizing events
Drafting and editing communication material
Ability to multitask
Strong problem- solving skills
Proficient in Microsoft Office
Excellent communication and organizational skills
Strong customer service experience
Responsibilities:
Developing and maintaining budget plans for department
Overseeing administrative tasks, such as payroll and personnel management
Scheduling and organizing events, such as conferences and training sessions
Drafting and editing communication material for internal and external use
Supervising and coordinating activities of staff
Providing administrative support to management
Assisting in creating and managing project plans
Responding to customer inquiries and complaints
Assisting in developing and implementing policies and procedures
Administrative Coordinator Resume with 15 Years of Experience
Highly organized and detail- oriented Administrative Coordinator with 15 years of experience in clerical and administrative roles. Proven track record of providing excellent customer service, problem solving, and maintaining the highest level of accuracy. Skilled at managing multiple assignments simultaneously, prioritizing tasks, and meeting deadlines with minimal supervision.
Core Skills:
Database Management
Office Administration
Document Preparation
Scheduling/Calendar Management
Customer Service
Recordkeeping
Time Management
Computer Proficiency
Responsibilities:
Coordinated meetings, appointments, and travel arrangements for executive staff.
Composed and distributed meeting minutes and agendas.
Assisted department managers in administrative functions, such as organizing department schedules and resources.
Created and maintained filing systems.
Developed and implemented office policies and procedures.
Responded to customer inquiries, requests, and complaints.
Collected and entered data into databases.
Processed invoices and prepared expense reports.
Ordered office supplies and maintained inventory.
Monitored and tracked daily progress of ongoing projects.
In addition to this, be sure to check out our resume templates, resume formats, cover letter examples, job description, and career advice pages for more helpful tips and advice.
What should be included in a Administrative Coordinator resume?
An Administrative Coordinator plays a vital role in many organizations, and thus should showcase their skills and experience in an effective manner on their resume. To do this, they should include the following:
Professional Summary: Provide a brief overview of your skills and qualifications.
Education and Training: Outline your educational background and any additional training or certifications that you have completed.
Work Experience: List all relevant positions held, including the company name, job title, and dates employed. Include duties and accomplishments for each role.
Technical Skills: List any computer software and other technical skills that you possess.
Administrative Skills: Include any relevant administrative skills, such as communication, organization, and problem-solving.
Leadership: Describe any leadership positions taken, such as project management or team leadership.
Additional Experience: Include any other relevant experience, such as volunteer or personal projects.
By including all of these components in an Administrative Coordinator resume, individuals can effectively showcase their skills and qualifications for the role.
What is a good summary for a Administrative Coordinator resume?
When writing a summary for an administrative coordinator resume, it is important to focus on the skills and experience that make you a great candidate for the job. Your summary should highlight your ability to manage projects, provide excellent customer service, and maintain a high level of organization. Additionally, include any unique qualifications or certifications, such as fluency in multiple languages or experience with specific software programs. Be sure to include any relevant experience or education that make you uniquely qualified for the position. With a summary that emphasizes your key skills and qualifications, you can make a strong first impression and stand out from the crowd.
What is a good objective for a Administrative Coordinator resume?
A good objective for an administrative coordinator resume should clearly express the skills and experience you possess, as well as the position for which you are applying. When crafting an administrative coordinator resume objective, consider the following points:
Highlight your skills and experience in the field of administrative coordination, such as scheduling, organizing, and coordinating
Demonstrate a commitment to professional growth and development
Showcase your ability to work both independently and collaboratively
Identify the role you are applying for and how your qualifications make you a great fit
Provide examples of past successes in the field of administrative coordination
Showcase your excellent communication and organizational skills
Emphasize your ability to prioritize tasks, take initiative, and think creatively
Express your dedication to providing the highest quality customer service
Convey your knowledge of the latest software and technologies used in administrative coordination
Demonstrate your knowledge of various business procedures and processes
Show commitment to upholding high standards of efficiency and accuracy in all aspects of your work
Highlight your flexibility in adapting to new situations and challenges.
How do you list Administrative Coordinator skills on a resume?
When writing a resume as an Administrative Coordinator, it's important to showcase the skills and qualifications that make you a standout candidate. The most effective way to do this is by showcasing your skills in the form of bullet points. Here are some skills that are commonly included in an Administrative Coordinator resume:
Detail-Oriented: Successful Administrative Coordinators need to be able to stay organized and manage tasks efficiently. This should include paying attention to details and ensuring accuracy in all tasks.
Time Management: An Administrative Coordinator needs to be able to manage their own time, as well as the time of their team. They should have strong project management skills and an understanding of how to prioritize tasks.
Communication: Communicating effectively is essential for an Administrative Coordinator. This includes both verbal and written communication, as well as being able to effectively engage with team members to ensure tasks are completed in a timely manner.
Computer Skills: Most Administrative Coordinators need to be proficient with computers and software programs, such as Microsoft Office, Google Suite, etc.
Problem-Solving: Being able to think critically and come up with solutions to problems is an important skill for Administrative Coordinators. This could include problem-solving with team members or clients, as well as finding solutions independently.
These are just a few of the skills that an Administrative Coordinator should include in their resume. It's important to tailor your skills to the specific job you're applying for, so make sure to highlight the skills that are most relevant to the job.
What skills should I put on my resume for Administrative Coordinator?
Administrative Coordinators are responsible for managing office operations, providing support to staff, and maintaining records. When applying for a position in this field, it's important to showcase the skills and experience that make you an ideal candidate. Here are some skills to include on your resume for an administrative coordinator position:
Proficiency in Microsoft Office: Administrative coordinators are expected to have solid computer skills, including the ability to work with Microsoft Office programs. Demonstrate your experience using Word, Excel, Outlook, and PowerPoint on your resume.
Organizational Skills: As an administrative coordinator, you'll be organizing files, arranging meetings, and managing calendars. Showcase your organizational skills on your resume.
Communication Skills: As an administrative coordinator, you need to be able to communicate effectively with people at all levels of the organization. List your experience with verbal and written communication on your resume.
Time Management: Managing the organization's time is a key part of an administrative coordinator's role. Demonstrate your ability to manage time effectively by listing past experience on your resume.
Problem-Solving Skills: As an administrative coordinator, you'll be tasked with solving problems. Highlight your problem-solving skills by describing times you've successfully solved issues on your resume.
Key takeaways for an Administrative Coordinator resume
As an administrative coordinator, you'll be a key player in helping businesses run smoothly and efficiently. To ensure that your resume stands out among the competition, here are some key takeaways you should consider including:
Organization and Attention to Detail: Administrative coordinators need to be able to organize and manage complex tasks, prioritize work, and pay close attention to detail in order to ensure accuracy and efficiency. Showcase your organizational and attention to detail skills by providing examples of how you've successfully managed projects and met deadlines.
Leadership and Interpersonal Skills: An administrative coordinator is responsible for leading and motivating others to get the job done. Showcase your leadership and interpersonal skills by highlighting how you've worked with team members in the past and any initiatives you've led.
Technical Skills: An administrative coordinator position may require specific technical skills such as proficiency in computer software and cloud-based applications. List any technical skills you have that are relevant to the position you're applying for.
Adaptability: As an administrative coordinator, you need to be able to think on your feet and respond to quickly changing situations. Showcase your ability to be adaptable by providing examples of times when you were able to think fast and pivot in order to make sure the job got done.
By highlighting these key takeaways on your resume, you'll be able to showcase your skills and qualifications and ensure you stand out among the competition for an administrative coordinator position.
Let us help you build
your Resume!
Make your resume more organized and attractive with our Resume Builder