If you are looking for a job as a Contracts Administrator, getting your resume in order is the first step to success. Writing a resume can be difficult and overwhelming, especially when you are in a competitive job market. Fortunately, this guide provides a concise and informative overview of how to write a winning Contracts Administrator resume. It includes examples to help you gain inspiration and guidance on how to showcase your skills, experience, and accomplishments. Additionally, tips are provided to help you create a resume that stands out among the competition and get noticed by potential employers. With these tips and examples, you will be able to create an effective resume that will help you land the job of your dreams
If you didn't find what you were looking for, be sure to check out our complete library of resume examples.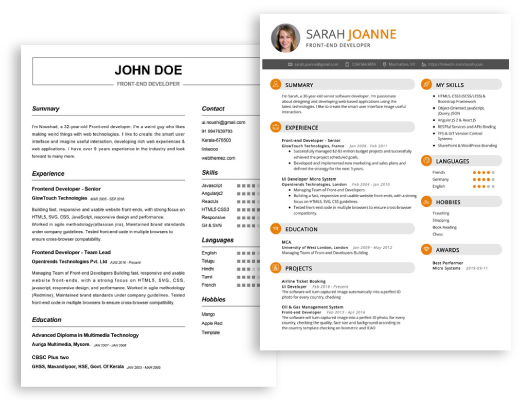 Start building your dream career today!
Create your professional resume in just 5 minutes with our easy-to-use resume builder!
Contracts Administrator Resume Examples
John Doe
Contracts Administrator
123 Main Street | Anytown, USA 99999 | Phone: (123) 456-7890 | Email: john.doe@email.com
Highly- motivated and organized Contracts Administrator with 5+ years of experience in the legal and administrative fields. Possesses a comprehensive understanding of contract law and principles and exceptional communication, problem- solving, and organizational skills. Experienced in reviewing and negotiating contracts and ensuring their legality, accuracy, and completeness. Committed to providing excellent customer service, working closely with clients, and managing all aspects of contract creation, execution, and performance.
Core Skills:
Contract Review and Negotiation
Contract Administration
Legal Research and Writing
Microsoft Office
Time Management
Interpersonal Communication
Customer Service
Project Management
Professional Experience:
Contracts Administrator, XYZ Company, 2018- Present
Responsible for developing and managing contracts, creating and editing documents, and ensuring contract accuracy.
Reviewed and negotiated contracts while ensuring their legality, accuracy, and completeness.
Advised and assisted clients in understanding contracts and resolving disputes.
Researched relevant legal information and compiled data for internal reports.
Reviewed performance of existing contracts and implemented corrective measures.
Developed and maintained strong relationships with clients.
Administered contract documents, maintained records, and generated reports.
Education:
Bachelor of Arts in Business Law, ABC University, 2014- 2018
Contracts Administrator Resume with No Experience
Recent college graduate with a Bachelor of Science degree in Business Administration, specializing in Contracts Administration
Experienced in customer service and problem solving
Excellent communication, interpersonal, and organizational skills
Motivated and hardworking with a proactive attitude
Skills
Strong customer service skills
Excellent communication, interpersonal, and organizational skills
Proficient in Microsoft Office, including Word, Excel and PowerPoint
Knowledge of contract management principles and processes
Ability to effectively manage multiple projects and deadlines
Strong problem- solving skills
Responsibilities
Assisting with the drafting and review of contracts
Interacting with clients and vendors to ensure that contract terms are accurately communicated
Developing and implementing contract management processes and procedures
Managing the document control process, including the organization and storage of contracts and related documents
Monitoring contract performance and analyzing data to identify areas of potential risk
Ensuring that contracts are in compliance with applicable laws and regulations
Providing support on contract negotiations and disputes
Performing due diligence reviews, drafting and negotiating amendments, and tracking contract milestones
Conducting risk analysis, research, and other contract related activities as necessary.
Contracts Administrator Resume with 2 Years of Experience
Highly motivated and organized Contracts Administrator with two years of experience in contract management and administration. Possesses excellent organizational, communication, and problem- solving skills with an eye for detail. Experienced in researching and drafting contracts, managing vendor relationships, and understanding the legal implications of negotiable documents. Skilled at providing support to senior contract staff and resolving contractual issues.
Core Skills
Contract Management
Legal Issues
Vendor Relationships
Research and Drafting
Communication
Problem Solving
Organizational Skills
Responsibilities
Managed and administered all aspects of contracts, including negotiating and revising contract terms, interpreting language, and resolving contractual issues
Drafted, reviewed and edited contracts and other documents to ensure compliance with applicable laws and regulations
Monitored contract performance and identified potential risks and solutions
Researched and analyzed contractual data to identify issues and trends
Maintained and updated all contract records, including documents, communications, and reports
Conducted negotiations and developed strategies to ensure successful contract outcomes
Provided administrative support to senior contract staff, including scheduling meetings, preparing documents, and managing communications
Contracts Administrator Resume with 5 Years of Experience
I am a highly organized and detail- oriented Contracts Administrator with 5 years of experience in contract development, drafting, negotiation, and management. I possess excellent communication and negotiating skills which allow me to effectively represent clients in contract negotiations, advise them on contract language, and ensure clients are aware of their contractual rights and obligations. My knowledge in contract law and principles is highly developed, and I am well- versed in the local and federal regulations that govern the contractual process. I am able to effectively handle all aspects of the contract administration process, from the initial drafting to the closure of the agreement.
Core Skills:
Contract Drafting
Contract Negotiation
Contract Management
Contract Administration
Contract Law
Regulatory Compliance
Analytical and Problem- Solving
Communication and Interpersonal
Responsibilities:
Develop and draft contracts for clients, ensuring all relevant information is included and properly documented
Review and analyze contracts for accuracy and compliance
Negotiate contract terms, pricing, and deadlines with clients
Manage and monitor existing contracts to ensure timely performance
Advise clients and management on contractual rights and obligations
Develop and maintain records and databases of contract information and document actions taken
Remain knowledgeable of local and federal regulations governing the contracts process
Monitor and review contracts for compliance with applicable laws and regulations
Contracts Administrator Resume with 7 Years of Experience
A results- driven Contracts Administrator with seven years of experience in commercial and residential construction contracts. Experienced in negotiating, preparing, and administering construction contracts. Excellent communication and negotiation skills, strong organizational and teamwork skills, and the ability to multitask efficiently in a fast- paced environment.
Core Skills
Negotiation
Contract preparation
Contract administration
Communication
Organization
Teamwork
Multitasking
Responsibilities:
Negotiated and drafted construction contracts for both commercial and residential projects, ensuring that all documents met state and federal regulations.
Reviewed blueprints and other documents to ensure accuracy and compliance with the contract.
Monitored construction work to ensure adherence to the contract and that all elements were completed on schedule and on budget.
Verified financial documents such as invoices, budgets, and cost projections to ensure accuracy.
Collaborated with construction teams, subcontractors, and suppliers to ensure the successful completion of projects on time.
Resolved any disputes between contractors and clients in a timely and professional manner.
Prepared and monitored project reports to ensure that all work was completed as specified in the contract.
Contracts Administrator Resume with 10 Years of Experience
Experienced Contracts Administrator with over 10 years of experience in drafting, reviewing, and negotiating contracts. Proven ability to maximize profits, ensure compliance to regulations, and ensure contractual obligations are met. Skilled in negotiating and managing high- value contracts and developing long- term relationships with clients, vendors, and suppliers.
Core Skills:
Contract Negotiation
Financial Analysis
Risk Management
Vendor Negotiation
Contract Law
Process Development
Contract Drafting
Project Management
Contract Administration
Compliance and Regulatory Standards
Responsibilities:
Prepared and negotiated contracts according to standard operating procedures.
Reviewed and recommended improvements to existing contracts.
Established contract terms and conditions with customers, vendors and suppliers.
Monitored contract performance and compliance.
Identified and mitigated risk associated with contracts.
Assisted in the development and enforcement of corporate policies and contract processes.
Assessed and resolved contract disputes.
Ensured compliance with contractual obligations and applicable regulations.
Maintained and updated contract database.
Created and implemented strategies for contract negotiation.
Contracts Administrator Resume with 15 Years of Experience
Seasoned Contracts Administrator with over 15 years of experience in contract negotiations, drafting, and management. Proven ability to utilize a wide range of corporate and legal knowledge to efficiently negotiate, create and manage contracts. Skilled in conflict resolution, internal and external communications, and client relations. Experienced in providing both inside and external counsel to corporations on all aspects of contract law.
Core Skills:
Contract Negotiations
Drafting & Management
Conflict Resolution
Internal & External Communications
Client Relations
Legal Knowledge
Research and Analysis
Organizational Skills
Problem Solving & Decision Making
Responsibilities:
Audit of existing contracts and negotiations of new contracts
Develop and maintain accurate records and tracking systems for contracts
Ensure compliance of contracts with all relevant laws and regulations
Monitor contractual performance and provide proactive advice and guidance to internal stakeholders
Research and analyze complex legal and regulatory issues related to contracts and provide solutions
Structure and review contract language in order to protect the company's interests and mitigate risk
Manage and review contract documents to ensure accuracy and completeness
Advise on the amendment, extension and termination of existing contracts
In addition to this, be sure to check out our resume templates, resume formats, cover letter examples, job description, and career advice pages for more helpful tips and advice.
What should be included in a Contracts Administrator resume?
The Contracts Administrator is a highly important role, responsible for managing the legalities of contracts and helping to ensure that businesses stay within the law. With this in mind, it's essential that any candidate vying for a role as a Contracts Administrator has a strong and effective resume.
When crafting a resume for a Contracts Administrator role, here are a few essential things to consider including:
An up-to-date summary of your professional experience. This should include positions you've held, companies you've worked for, and any management or legal skills you've acquired over the course of your career.
Details of any relevant qualifications you may have. This could include degrees and certifications related to business law, contract management, negotiation, or conflict resolution.
Evidence of your ability to manage contracts. This could include examples of successful negotiations, or successful contract management strategies you've implemented in the past.
An understanding of the legal concepts involved in contract management. This could include knowledge of applicable laws and regulations, as well as understanding of business law and legal precedents.
Any knowledge or experience you may have of relevant software and systems. This could include contract management software, databases, and business intelligence systems.
Any relevant contacts or networks you have in the industry. This could include links to lawyers, business owners, and other industry professionals.
With these elements included, a resume for a Contracts Administrator can help ensure that you stand out from the competition.
What is a good summary for a Contracts Administrator resume?
A Contracts Administrator resume should concisely summarize the applicant's skills, qualifications, and experience. The summary should focus on the key roles and responsibilities of the position, such as reviewing and negotiating contracts, ensuring compliance with regulations, and liaising with internal and external stakeholders. Relevant educational qualifications, certifications, and any other qualifications should also be listed. Additionally, the summary should emphasize the applicant's commitment to excellence and their ability to build relationships with clients. Finally, the summary should provide evidence of the applicant's ability to efficiently and effectively manage projects, meet deadlines, and ensure efficiency and accuracy.
What is a good objective for a Contracts Administrator resume?
A strong objective for a Contracts Administrator resume should focus on the skills and experience necessary for the job. The objective should also emphasize the individual's ability to work with a variety of teams, manage multiple agreements, and ensure compliance with all regulations.
Here are some examples of objectives for a Contracts Administrator resume:
Seeking a challenging opportunity to utilize my expertise in contract management, negotiation, and compliance in a Contracts Administrator role.
To use my extensive background in legal and administrative support to develop contract management systems and maintain contractual agreements.
Looking to apply my strong problem-solving and analytical skills to ensure compliance with all laws and regulations as a Contracts Administrator.
Motivated and organized professional with advanced knowledge of contract management and negotiation strategies seeking position as a Contracts Administrator.
Experienced Contracts Administrator who is committed to ensuring customer satisfaction and legal compliance in all agreements.
How do you list Contracts Administrator skills on a resume?
When creating a resume for a Contracts Administrator position, it is important to showcase the skills that make you a qualified candidate. The skills you list will depend on the job listing and your personal experience. Here are some skills you may want to include when listing the Contracts Administrator position on your resume:
Knowledge of legal regulations: A Contracts Administrator must understand the legal implications of contract management and be able to interpret legal documents.
Attention to detail: Contracts Administrators must have excellent attention to detail when reviewing and drafting contracts.
Communication skills: Contracts Administrators must be able to effectively communicate with clients and colleagues in order to negotiate and resolve contract disputes.
Teamwork: Contracts Administrators must be able to work well with others and coordinate efforts with other team members to help ensure contracts are completed accurately and on time.
Time management: Contracts Administrators must be able to manage their time effectively in order to meet deadlines and ensure contracts are completed in a timely manner.
Organization: Contracts Administrators must be able to organize and store a large volume of contracts in an efficient and organized manner.
Problem-solving: Contracts Administrators must be able to quickly identify and resolve any issues related to contract management.
What skills should I put on my resume for Contracts Administrator?
When you're creating a resume for a Contracts Administrator position, there are certain skills employers expect you to possess. In this blog, we'll go over the key skills that employers look for and how to showcase them on your resume.
No matter what Contracts Administrator position you're applying for, employers will expect you to have certain core competencies. To effectively communicate your skills and qualifications to employers, here are the skills to include on your resume:
Contract Negotiation: As a Contracts Administrator, you'll need to be skilled in contract negotiation. This includes understanding the terms of the contract, being able to negotiate and revise terms, and having the ability to write contracts that are fair and favorable for both parties.
Communication: Great communication skills are essential for a Contracts Administrator, as you'll need to be able to effectively communicate with all parties involved in the contract. This includes being able to clearly explain contract terms, as well as being able to listen to and address questions and concerns.
Organizational Skills: Contracts Administrators must be highly organized, as they'll need to handle multiple contracts and projects, while also ensuring they are in compliance with all regulations and laws.
Attention to Detail: Contracts are all about the details, and as a Contracts Administrator, you must pay attention to even the smallest details in order to ensure the contract is accurate and comprehensive.
Problem-Solving: As a Contracts Administrator, you'll need to be able to think outside the box and come up with creative solutions to any issues or problems that may arise.
Technical Skills: Depending on the position you're applying for, you may need to have some technical skills, such as knowledge of databases, spreadsheets, and other computer programs.
By showcasing these skills on your resume, employers will be able to see that
Key takeaways for an Contracts Administrator resume
A Contracts Administrator role is a high-level position that requires a high level of skill and experience to handle the complex and often sensitive tasks associated with this role. As a result, a well-crafted Contracts Administrator resume is essential to ensuring that you stand out from the competition. In this post, we'll provide you with a few key takeaways to help you craft a resume that will get you noticed.
Highlight Your Core Skills – Contracts Administrators are expected to have a wide range of skills and experience, so make sure you highlight the specific skills that make you the ideal candidate for the position. Include any industry-specific experience or certifications that you have acquired, as well as any relevant training or educational credentials.
Showcase Your Attention to Detail – This is one of the most important skills for a Contracts Administrator and is essential for ensuring that contracts are created and managed accurately. Demonstrate your attention to detail in your resume by providing examples of your successful contract negotiations, contract reviews, and contract maintenance.
Demonstrate Your Problem-Solving Ability – The Contracts Administrator role requires an individual who can think strategically and identify solutions to complex problems. Showcase your problem-solving skills in your resume by including examples of your successful contract dispute resolution and contract negotiations.
Display Your Leadership Qualities – Display your leadership qualities in your resume by highlighting any positions of responsibility that you have held in the past, such as project management experience. Additionally, include any certifications or awards that demonstrate your leadership skills.
These are just a few key takeaways to help you create an effective Contracts Administrator resume. Don't forget to showcase your professional accomplishments and highlight any relevant experience or certifications that make you the ideal candidate for the position. With a well-crafted resume, you are sure to stand out from the competition and make a great first impression to potential employers.
Let us help you build
your Resume!
Make your resume more organized and attractive with our Resume Builder