If you're looking to apply for a clerk typist job, you need to make sure your resume stands out among the competition. Your resume should accurately showcase your skills, knowledge, and experience, while also demonstrating why you're the best candidate for the position. This guide will provide you with all the information you need to create a standout clerk typist resume. You'll learn how to structure your resume, what information to include, and review some examples of successful resumes.
If you didn't find what you were looking for, be sure to check out our complete library of resume examples.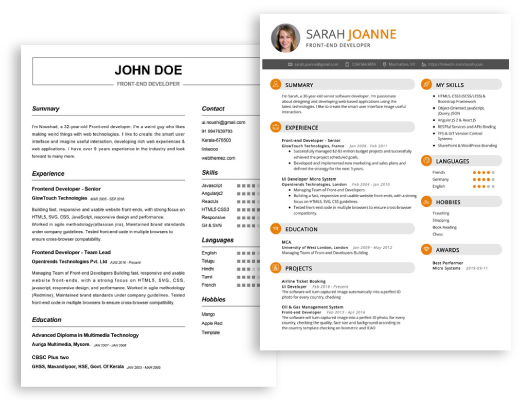 Start building your dream career today!
Create your professional resume in just 5 minutes with our easy-to-use resume builder!
Clerk Typist Resume Examples
John Doe
Clerk Typist
123 Main Street | Anytown, USA 99999 | Phone: (123) 456-7890 | Email: john.doe@email.com
Clerk Typist Resume
Highly organized and professional Clerk Typist with 5+ years of experience in data entry, record keeping, and general clerical duties. Possesses a strong focus on accuracy and timeliness. A team player and self- starter, capable of multitasking efficiently and ensuring all tasks are completed to the highest standard.
Core Skills:
Excellent typing and data entry skills
Proficient in Microsoft Office, including Word, Excel, and Outlook
Highly organized, with excellent attention to detail
Able to work independently and in team environments
Strong customer service and communication skills
Familiar with office procedures and protocols
Professional Experience:
Clerk Typist, ABC Company, 2014- 2019
Performed general clerical duties, such as filing and data entry
Entered and updated customer information into the company database
Composed letters and documents
Provided administrative support to various departments
Answered customer inquiries via phone and email
Organized and maintained office supplies
Education:
Bachelor of Science in Business Administration, ABC University, 2014
Clerk Typist Resume with No Experience
Hard- working and motivated individual with a drive to learn and expand on clerical and administrative skills. Looking to gain experience as a clerk typist and provide excellent customer service with a friendly disposition.
Skills
Data entry and record keeping
Excellent written and verbal communication
Able to multitask
Detail oriented
Organized
Familiar with Microsoft Office Suite
Adaptable to new technologies
Ability to follow instructions
Responsibilities
Answer phone calls
Greet visitors
Type documents
Copy and scan documents
File and organize records
Input data into a database
Compose emails
Perform light bookkeeping duties
Manage calendars and schedule appointments
Assist with office- related tasks as required
Clerk Typist Resume with 2 Years of Experience
Highly organized, detail- oriented, and professional Clerk Typist with two years of experience in providing administrative and clerical support to departments and personnel. Experienced in data entry, document management, and customer service. Skilled in MS Office and proficient in key data entry techniques. Possesses excellent communication and organizational skills, as well as the ability to multi- task in a fast- paced environment.
Core Skills:
Data Entry
Type 40 WPM
Document Management
MS Office Suite
Scheduling
Time Management
Customer Service
Organizational Skills
Communication
Responsibilities:
Compiled and maintained data and documents for record- keeping purposes
Typed confidential information and correspondence
Organized and answered customer inquiries via phone and email
Entered data into the company database
Managed schedules and arranged appointments
Ensured accuracy of customer information
Made copies of documents and distributed incoming mail
Provided customer service support by responding to customer inquiries
Updated and maintained filing systems, databases, and spreadsheets
Clerk Typist Resume with 5 Years of Experience
A highly experienced and motivated clerk typist with 5 years of experience in a variety of office environments. Demonstrates excellent communication and organizational skills, as well as a demonstrated ability to work independently and in a team. Has the ability to multi- task and prioritize, as well as to quickly learn and use software programs to create and maintain various documents. Possesses working knowledge of various office equipment and a desire to grow and develop in the clerical field.
Core Skills:
MS Office Suite
Typing (60wpm)
Filing and Document Retention
Database Management
Data Entry
Copywriting
Form Preparation
Scheduling
Responsibilities:
Preparing and filing official documents
Preparing presentation materials and reports
Assisting with financial reporting and budgeting
Maintaining and updating databases
Entering information into computer systems
Assisting with project management
Assisting with customer service
Answering phones and interacting with customers
Typing letters and memos
Receiving and sorting mail
Copying and scanning documents
Sorting and distributing files
Clerk Typist Resume with 7 Years of Experience
Highly organized and detail- oriented Clerk Typist with seven years of experience providing efficient administrative support and clerical expertise. Skilled in organizing documents, data entry, and responding to customer inquiries. Possesses excellent communication skills and the ability to multi- task in a fast- paced environment.
Core Skills:
Data entry
Customer service
Document organization
Multi- tasking
Communication
Time management
Responsibilities:
Processed customer orders and inquiries
Entered customer orders into the system
Collected and organized customer data
Performed data entry tasks
Answered customer inquiries efficiently
Organized documents, both digital and hard copy
Compiled reports from customer data
Managed customer accounts
Assisted in administrative tasks
Clerk Typist Resume with 10 Years of Experience
Highly experienced Clerk Typist with over 10 years of experience in data entry and clerical support. Possess excellent organizational, communication and time management abilities, effective in managing administrative functions in a fast- paced environment. Skilled in optimizing processes and systems to ensure efficiency and accuracy.
Core Skills:
MS Office Suite
Data Entry
Typing
Proofreading
Organizational Skills
Multi- tasking
Communication
Problem Solving
Time Management
Responsibilities:
Perform general clerical duties such as filing, faxing, photocopying, and data entry
Type documents accurately, quickly and efficiently
Ensure accuracy of all data entered into databases
Provide administrative support by preparing reports, memos, letters, and other documents
Maintain databases and enter information related to various activities
Organize and manage documents, files and other materials
Assist in organizing meetings, events and other activities
Handle incoming and outgoing calls in a professional manner
Perform other related duties as required
Clerk Typist Resume with 15 Years of Experience
Dynamic and driven professional with 15 years of experience as a Clerk Typist. Proven abilities in data entry, filing, document preparation, and recordkeeping. Possesses solid administrative skills, with a commitment to accuracy and efficiency. Resourceful problem solver and team player, with a passion for delivering excellent customer service.
Core Skills:
Excellent oral and written communication skills
Proficient in data entry, filing, document preparation and recordkeeping
Strong organizational and time management skills
Proficient in MS Office Suite and various office equipment
Detail- oriented and reliable
Able to prioritize tasks and work independently
Excellent interpersonal and customer service skills
Responsibilities:
Transcribe data and compose correspondence, reports, and other documents
Gather and organize data, enter data into computer database
Prepare and modify documents such as invoices, reports, memos, letters, financial statements and other documents
Operate standard office equipment, such as computers, printers, photocopiers, fax machines, and scanners
Create, maintain and store files, records and databases
Receive visitors and answer phone calls, take messages and provide general information
Perform other clerical duties, as assigned
In addition to this, be sure to check out our resume templates, resume formats, cover letter examples, job description, and career advice pages for more helpful tips and advice.
What should be included in a Clerk Typist resume?
A Clerk Typist resume should include key details about your relevant experience and skills necessary for the role. It should also be structured in an easy-to-read format.
To ensure that your resume is comprehensive and stands out to potential employers, include the following key elements:
Contact Information: Include your full name, phone number, address, and email.
Professional Summary: Outline your experience and key strengths relevant to the Clerk Typist role.
Work Experience: Include any relevant experience, such as positions held as a Clerk Typist.
Skills: Highlight your skills related to the position, such as typing speed and accuracy, familiarity with office software, data entry, and customer service.
Education: Include any relevant educational qualifications.
Certifications/Awards: List any certifications or awards related to the Clerk Typist role.
Interests: List any hobbies or interests that may be relevant to the role.
References: Include a list of references with contact information.
What is a good summary for a Clerk Typist resume?
A Clerk Typist resume should provide a summary of your relevant experience, skills, and education. This should include any clerical and typing experience you have had, as well as any office-related software programs you are familiar with. Also, include any customer service experience you have, as well as any other skills that may be beneficial to the position. Additionally, include any volunteer experience or certifications you may have that pertain to the position. This summary should provide an overall view of your qualifications that will make you an ideal candidate for the job.
What is a good objective for a Clerk Typist resume?
A Clerk Typist is an entry-level position that is responsible for data entry, filing, and other administrative duties. When crafting your resume, your objective should focus on the abilities and skills you have that will make you an effective Clerk Typist and how you can contribute to the company. Here are some examples of good objectives for a Clerk Typist resume:
To utilize my strong organizational and multitasking skills to ensure the efficient and accurate completion of data entry and administrative tasks.
Seeking a Clerk Typist position in which to leverage my experience with MS Office and data entry to maximize efficiency and accuracy.
To obtain a Clerk Typist position with a reputable company in order to utilize my strong administrative skills and attention to detail in order to ensure accurate and timely completion of tasks.
To utilize my strong organizational, communication and problem-solving skills to reduce administrative errors and increase data accuracy.
To obtain a Clerk Typist position in which to improve existing processes and procedures and increase company efficiency.
To bring my expertise in customer service, filing and data entry to a Clerk Typist position and provide professional, accurate and consistent results.
How do you list Clerk Typist skills on a resume?
When creating a resume, listing Clerk Typist skills can help to demonstrate your ability to the potential employer. Clerk Typist skills are necessary for data entry, customer service, and office organization, so it's important to include relevant skills in your resume. Here are some of the Clerk Typist skills you can list on your resume to emphasize your knowledge and experience:
Data Entry: Ability to enter data quickly and accurately into a database or spreadsheet.
Attention to Detail: Ensuring all information is accurate and complete before submitting it.
Typing Speed: Demonstrating the ability to type quickly and accurately.
Office Software Proficiency: Demonstrating knowledge of popular programs such as Microsoft Office and Google Suite.
Documentation Knowledge: Understanding how to create and format documents, reports, and other materials.
Professional Phone Etiquette: Showing the ability to be professional and courteous when speaking to customers.
Written Communication: Showing excellent grammar, punctuation, and spelling when communicating via email or other written document.
Organization: Demonstrating the ability to maintain an organized work environment and to prioritize tasks.
Customer Service: Demonstrating the ability to provide excellent customer service when responding to inquiries or requests.
By including these Clerk Typist skills on your resume, you will be able to show potential employers that you have the necessary skills and qualifications to be successful in the role. Good luck!
What skills should I put on my resume for Clerk Typist?
If you are applying for a Clerk Typist position, you will want to make sure you include the right skills on your resume to demonstrate your abilities. Here are some of the most important skills you should include:
Typing: As a Clerk Typist, you will be expected to type accurately and quickly. Make sure to highlight your typing speed and accuracy on your resume.
Office Software: Many Clerk Typist roles require proficiency in common office software such as Microsoft Office, Google Docs, and other programs. Make sure to list any programs you are experienced in using.
Written Communication: The ability to write clearly and concisely is essential for Clerk Typists. Be sure to include any writing or editing experience you have.
Attention to Detail: An important part of being a Clerk Typist is paying close attention to detail. Make sure to highlight any relevant experience or skills you have in this area.
Organizational Skills: Organizational skills are key for Clerk Typists. Showcase any experience you have with organizing documents, filing, and other tasks.
Customer Service Experience: Many Clerk Typist roles involve dealing with customers and providing excellent customer service. Make sure to mention any customer service experience you have on your resume.
Key takeaways for an Clerk Typist resume
When it comes to creating an effective Clerk Typist resume, there are certain key takeaways that can help you stand out from the competition. These tips can help you create a resume that will catch the eye of potential employers and boost your chances of being selected for an interview.
First, consider the job-specific skills you have to offer. As a Clerk Typist, you are likely to have experience with a variety of computer programs and data entry. Make sure to highlight these skills on your resume, as employers will be looking for someone with the technical expertise to handle their clerical tasks.
Second, emphasize your organizational abilities. Good organization is essential for a Clerk Typist, as you will be responsible for keeping track of important documents and information. Show employers that you are capable of staying organized and on top of your responsibilities.
Third, be sure to include any language skills you may have. Many Clerk Typists are required to use multiple languages in their job, so it's important to showcase your language abilities.
Finally, include a list of references. Make sure to include at least two people who can vouch for your professional capabilities.
By following these key takeaways, you can create an impressive Clerk Typist resume that will make a strong impression on potential employers. Good luck!
Let us help you build
your Resume!
Make your resume more organized and attractive with our Resume Builder