Writing a resume as a clerical worker can be tricky. After all, you need to show your potential employer that you have the skills necessary to be an effective and reliable employee. But how do you do that? This guide will provide you with examples and tips on how to write an effective resume for a clerical worker that will help you stand out from the crowd. With information on how to best highlight your skills and experiences, this guide will provide you with the tools to create a resume that is sure to be noticed by employers. So, let's get started and learn how to craft the perfect clerical worker resume.
If you didn't find what you were looking for, be sure to check out our complete library of resume examples.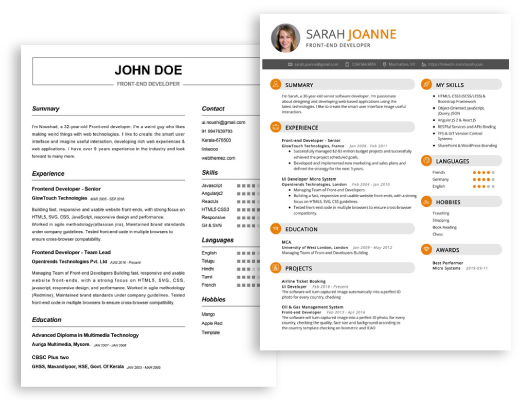 Start building your dream career today!
Create your professional resume in just 5 minutes with our easy-to-use resume builder!
Clerical Worker Resume Examples
John Doe
Clerical Worker
123 Main Street | Anytown, USA 99999 | Phone: (123) 456-7890 | Email: john.doe@email.com
A highly organized and detail- oriented professional with 8 years of experience as a Clerical Worker, I possess excellent communication, multi- tasking and problem- solving skills. Skilled in managing a busy work environment efficiently and effectively, I possess the ability to complete tasks accurately and in a timely manner. I have a proven track record of ensuring quality customer service and a desire to make the workplace more efficient.
Core Skills:
Computer proficiency in MS Office software
Quick and accurate data entry
Excellent problem- solving skills
Proficient in customer service
Excellent written and verbal communication
Ability to multitask and prioritize tasks
Strong organizational and time management skills
Professional Experience:
Clerical Worker, ABC Corporation, 2015- Present
Manage and update company records for accuracy
Respond to customer inquiries in a timely manner
Prepare invoices and report documents
Enter data into computer system according to specified protocol
Troubleshoot data entry issues and quickly resolve them
Assist with the preparation of monthly billing statements
Education:
Bachelor of Science in Business Administration, XYZ University, 2014
Clerical Worker Resume with No Experience
Motivated and organized individual looking for a clerical worker position. Possesses a strong aptitude for learning and adapting to new situations. Hardworking, reliable and a team player.
Skills:
Strong organizational skills
Interpersonal skills
Attention to detail
Proficient in Microsoft Office Suite
Flexible and adaptable
Ability to prioritize tasks
Ability to multi- task
Responsibilities:
Answer phone calls, take messages and respond to inquiries
File documents and maintain filing system
Perform data entry tasks to input and retrieve information
Assist with mail distribution, sorting and delivery of materials
Maintain office supplies, order and replenish as needed
Assist with coordination of office events and meetings
Manage scheduling, calendar and travel arrangements
Clerical Worker Resume with 2 Years of Experience
Diligent and organized clerical worker with 2 years of experience providing exceptional customer service and administrative support. Excellent skills in data entry, filing, and knowledge of office software. Detail- oriented and able to effectively prioritize tasks for smooth administrative operations.
Core Skills:
Data entry
Filing
Excellent customer service
Ability to prioritize tasks
Proficient with Microsoft Office Suite
Strong organizational skills
Written and verbal communication
Responsibilities:
Greeted customers and answered phone calls to respond to inquiries
Processed and updated customer information in computer systems
Composed and distributed emails and letters
Filed and retrieved documents as requested
Maintained office supplies and managed inventory
Edited and proofread documents for accuracy
Organized and scheduled meetings and appointments
Entered and processed data into various software programs
Clerical Worker Resume with 5 Years of Experience
Results- driven and detail- oriented professional with 5 years of experience as a clerical worker. Familiar with customer service, document processing and customer accounts. Skilled in multitasking and problem- solving. Highly organized and detail- focused with expertise in office administration and support.
Core Skills:
Proficient in Microsoft Office Suite, including Word and Excel
Excellent organizational and time management skills
Strong oral and written communication skills
Excellent customer service skills
Ability to prioritize tasks and multitask
Excellent problem- solving and decision- making skills
Knowledge of office procedures and processes
Responsibilities:
Greet customers, answer inquiries, and provide general information
Input customer data into computer systems and databases
Process customer orders and provide tracking updates
Create and manage customer accounts
Maintain a filing system for customer records and invoices
Compile and analyze data for various reports and projects
Organize and maintain office supplies and inventory
Create and edit documents
Monitor and respond to customer inquiries and complaints
Assist with administrative tasks as needed
Clerical Worker Resume with 7 Years of Experience
An experienced Clerical Worker with 7 years of experience in performing various administrative and clerical tasks. Possesses excellent computer skills and a great attention to detail. High proficiency in Microsoft Office Suite and other software applications. Eager to contribute to the efficient operations of an organization through effective organization and management of daily office activities.
Core Skills:
Administrative Support
Data Entry
Organizing Documents
Task Prioritization
Customer Service
Problem Solving
Time Management
Computer Proficiency
Responsibilities:
Performed various administrative and clerical tasks such as filing, data entry, mail distribution and phone operation
Provided customer service to visitors and clients
Organized and maintained filing system, both electronically and manually
Maintained conference rooms and meeting rooms
Processed invoices and payments
Assisted with payroll and personnel files
Greeted visitors and answered incoming calls
Prepared reports and presentations
Managed office supplies and equipment
Assisted with the organization of company events
Clerical Worker Resume with 10 Years of Experience
Highly organized, detail- oriented and customer service- focused administrative professional with 10+ years of progressive experience in office administration, financial recordkeeping, customer relations, event coordination and general clerical duties. Proven track record of providing thorough and accurate support to executive- level staff and customers, ensuring their needs are met in a timely and satisfactory manner.
Core Skills:
General office management
Financial recordkeeping
Customer service
Conflict resolution
Event coordination
Data entry
File organization
Scheduling
Travel arrangements
Oral and written communication
Responsibilities:
Execute a wide range of clerical and administrative duties as assigned, including customer service, filing, data entry, recordkeeping, event coordination and scheduling
Manage office operations and ensure staff and customers receive exceptional service and support
Handle customer inquiries promptly, accurately and professionally
Maintain financial records and process payments
Coordinate travel and accommodation arrangements for staff
Prepare reports, presentations and documents
Monitor inventory levels and place orders for necessary supplies
Assist with the organization of events, meetings and conferences
Assist with the onboarding of new staff and provide support as necessary
Clerical Worker Resume with 15 Years of Experience
Highly organized and detail- oriented Clerical Worker with 15 years of hands- on experience in office management and administrative support. A self- starter with a positive attitude and excellent customer service skills. Highly skilled in managing complex tasks, problem solving, and working under tight deadlines. Possesses excellent interpersonal skills to foster relationships with clients, supervisors, and peers.
Core Skills:
Data Entry
Customer Service
Microsoft Office Suite
Documentation
Filing & Organization
Multi- tasking
Scheduling
Problem- solving
Responsibilities:
Provided administrative and clerical support to all staff members.
Organized and maintained confidential document filing systems for client records.
Coordinated the preparation and completion of documents, such as reports and presentations.
Managed and updated office databases, spreadsheets, and files.
Inputted data accurately into electronic filing systems.
Assisted with the filing of confidential paperwork.
Prepared drafts, memos, and letters.
Answered incoming calls and provided support to clients.
Assisted with special projects as requested.
Performed general office duties such as ordering supplies, sorting mail, and distributing documents.
In addition to this, be sure to check out our resume templates, resume formats, cover letter examples, job description, and career advice pages for more helpful tips and advice.
What should be included in a Clerical Worker resume?
A clerical worker is responsible for providing administrative support for a variety of organizational tasks, such as organizing paperwork and data, filing, scheduling, and other related tasks. To land a clerical job, you must have a resume that stands out from the competition. Here is what should be included in a clerical worker resume:
Professional Summary: A brief summary that outlines your qualifications and experience for the position.
Work History: A comprehensive list of your past work experience, including job titles, dates employed, and a description of the duties performed.
Education: Listing of any educational degrees or certifications you have obtained.
Technical Skills: List of computer skills such as word processing, spreadsheet software, database management, etc.
Language Skills: List of any foreign languages you are proficient in.
Soft Skills: Include any interpersonal skills such as communication, customer service, problem solving, etc.
Awards/Accomplishments: List any awards or special achievements you have received.
References: List of 2-3 professional references with their contact information.
What is a good summary for a Clerical Worker resume?
A Clerical Worker resume should provide a clear and concise summary of the applicant's experience, skills and qualifications. It should demonstrate the applicant's ability to perform the essential tasks of a clerical worker. The summary should focus on the applicant's strengths, such as organizational and communication skills, data entry, filing, customer service and problem-solving. Additionally, the summary should highlight any relevant experience, such as previous clerical positions and volunteer experience. Finally, the summary should include any special qualifications and certifications that the applicant may possess, such as Microsoft Office certification or a typing speed of over 50 words per minute.
What is a good objective for a Clerical Worker resume?
A clerical worker is responsible for performing various office tasks, such as filing, typing, copying, and answering the phone. When writing a resume for a clerical role, it's important to have a clear objective that outlines the skills and qualifications you bring to the table. Here are some good objectives to consider for a clerical worker resume:
To obtain a position as a Clerical Worker where I can utilize my typing, organization, and communication skills to support the company in its daily operations.
To obtain a Clerical Worker position where I can contribute my advanced knowledge of Microsoft Office and organizational abilities.
Seeking a Clerical Worker position where I can apply my filing, data entry, and customer service skills.
To obtain a Clerical Worker role where I can use my ability to multi-task and prioritize tasks efficiently.
Seeking a Clerical Worker position where I can use my excellent communication and interpersonal skills to manage various office tasks.
To obtain a Clerical Worker role where I can utilize my professional experience to provide quality and reliable office support.
By having a clear and concise objective on your resume for a clerical role, you can help demonstrate to employers your capabilities and how you can best contribute to the company.
How do you list Clerical Worker skills on a resume?
When creating a resume to apply for a clerical position, it is important to include all of your relevant clerical skills. This will allow potential employers to get a sense of your abilities, and whether or not you have the right qualifications for the job. When listing your clerical worker skills on your resume, make sure to include any relevant experience, software proficiency, and knowledge areas.
Familiarity with office procedures: Include any experience you have with office procedures, such as filing, typing, data entry, and answering phones.
Proficiency with computer software: Note any computer software you are proficient in using, such as Microsoft Office, Google Docs, and Adobe Acrobat.
Basic accounting skills: If you have experience in basic accounting, such as entering data into ledgers, tax filing, and journal entries, make sure to include this on your resume.
Attention to detail: Clerical work often requires a lot of accuracy and attention to detail. Make sure to highlight any experience or qualifications you have in this area.
Organizational skills: Clerical work requires excellent organizational skills to complete tasks efficiently and effectively. If you have any experience in this area, make sure to include it on your resume.
Ability to communicate clearly: Clerical work also requires excellent communication skills, both verbal and written. Make sure to mention any qualifications or experience you have in this area.
By including all of your clerical worker skills on your resume, you will be able to show potential employers that you are the best fit for the job. Make sure to be as detailed as possible when listing your skills and qualifications.
What skills should I put on my resume for Clerical Worker?
The job of a clerical worker requires a variety of skills. When putting together your resume for a clerical worker position, it is important to emphasize the skills that make you a great candidate for the job. Here are some skills to consider adding to your resume for a clerical worker position:
Organization: A clerical worker needs to be able to organize documents, data and other information in an efficient and accurate manner.
Interpersonal Skills: Clerical workers often have to interact with customers and colleagues, so good interpersonal skills are essential.
Detail-Oriented: Clerical workers need to pay attention to details so they can accurately input data into databases and other systems.
Computer Skills: Clerical workers need to be comfortable working with computers and other technology. This includes knowledge of basic programs such as Microsoft Office and the ability to learn new programs quickly.
Time Management: Clerical workers need to be able to manage their time effectively and complete tasks quickly and accurately.
Communication Skills: Clerical workers need to be able to communicate clearly and accurately in person, on the phone and in writing.
By highlighting these skills on your resume, you can demonstrate that you are a qualified candidate for the clerical worker position.
Key takeaways for an Clerical Worker resume
When you're looking to land a job as a clerical worker, your resume will be an important factor in helping you stand out from the competition. To ensure that your resume does its job of showing off your skills and experience, there are a few key takeaways that you should focus on.
First, list your experience and skills in a way that will demonstrate your value as a clerical worker. Make sure to include any administrative or clerical experience that you have, as well as any additional skills that are relevant to the job. It's also important to showcase any certifications or training that you've received in order to demonstrate your commitment to the profession.
Second, make sure that your resume is organized in a way that's easy to read. Keep it concise and make sure to avoid cluttering it with unnecessary details.
Third, highlight any relevant transferable skills that you have. Even if you don't have direct experience in the field, you may have skills that can still be put to use.
Finally, emphasize your accomplishments and successes. Clerical workers are often responsible for a variety of tasks, so it's important to show that you're able to handle them with a high degree of proficiency.
By following these key takeaways, you'll be able to create a clerical worker resume that will stand out and help you land the job that you're after. With the right resume, you'll be able to show employers that you're dedicated and committed to succeeding in the profession.
Let us help you build
your Resume!
Make your resume more organized and attractive with our Resume Builder